Data Science in Politics: How Big Data is Transforming Political Campaigns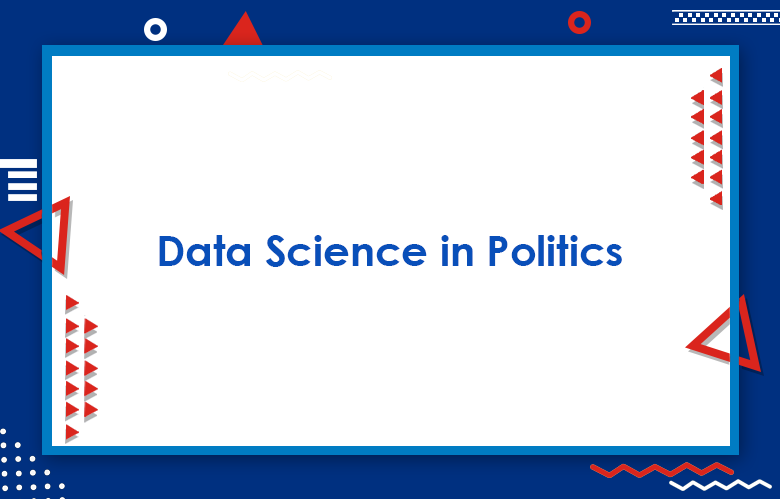 Data Science in Politics: The advent of modern technology has changed how political campaigning strategies are implemented. For instance, the newly evolved branch of modern technology in Data Science and Big Data has got huge potential to analyze and bring forth the statistics of users' behavioral pattern and their journey across every touchpoint. However, Big Data and Data Science come with certain critical guidelines that should be followed.
How Is the Big Data Changing the Way Political Campaigns Are Done?
The Role of Data Science in Today's Politics
Statistical data brings much more diverse change other than just impacting the commercial half of everyone's life. Nowadays, companies are engaged in data warehousing and mining users' data that enables them to figure out users' journeys as social units.
Collectively, these data charts help in reshaping the psychological and emotional fabric of societies. Since politics is embedded in the structural roots of human society and governance, data science plays a major role in impacting the political sphere of the country as a whole.
Now, the question arises that is data science limited to create targeted political Ads? This is not the case, really, as there lies a bigger picture.
Using Big Data Tools for Micro-Targeting Voters for the Political Campaigns
Data Science in Politics:
To mark victory in politics, President Barack Obama virtually called Data Science to be the most important as political parties have started to leverage the potential of Big Data to micro-target voters across every level.
The key in political campaigns is information that should be disseminated properly to the target audience. In this pursuit, campaign managers have started to deliver highly powerful yet personalized messages to targeted individual voters.
Before the internet era, political parties generally used voter's addresses, party affiliations, history, and a few other touchpoints as information to target them.
Unlike in the past, detailed voter information, including their behavioral pattern, is now available for access to campaign managers and parties.
For instance, there are firms like L2 Political that gather voter's information through traditional and digital means for strategizing better political campaigns.
After the assimilation of voter's data through digital algorithms, voters are targeted through respective campaigns of their interest.
Fathoming Election Data Analytics
The classic case of using data analytics in politics was during Barack Obama's Presidential Election time. It was during this time public awareness was raised through the perspective and constructive use of data analysis.
Though it was not the introduction of campaign analytics, it was considered significant in American politics. In American Politics, both the parties – Democrats and Republic, who campaign at a supreme level have access to significant data and statistical resources to optimize their strategizes.
Both the parties hand over the voters' data to their respective candidates, which is authentic, properly structured, and complete by all sense. This collective data is used for ideating political campaigns accordingly.
Data Science in Politics:
However, for smaller campaigns, the story is different altogether. Candidates contesting for local office, those who are from the major national parties, and even those who have failed to get enough traction to meet the party's expectation are considered to have not used the power of data properly.
It is clear that not every political campaign is intended only for candidates contesting for national elections. Campaigning for political actions such as issue activism, voters' registration, and petition filling also need substantial use of data science.
Generally, many parties and candidates having proper resources tend to take the support of vendors for big data and analytics. At the same time, some prefer to implement their campaigns without using data at all.
Using Cloud Computing & Data Science to Win the Political Campaigns
Many technological evolutions are occurring nowadays. The first is the authorized use of public cloud computing that acts as a virtual warehouse for storing the public's structured and unstructured data safely and cost-effectively.
The second technological evolution is the growing use of data science tools like statistical and analytics tools in their 6th generation level.
The all-new emerging technological advancement of modern time is Artificial Intelligence (AI), used to understand voters' and users' behavioral patterns. So, where does the magical confluence of voters and their data occur?
It is all about targeting voters' who are unsure. Targeting them is by understanding their behavioral journey and their interest online by mapping their attributes over the websites and social media sites they visit and engage in.
Subsequently, placing targeted Ads according to their interest at their preferred channels will engage the voters effectively.
All You Need to Know about Data-Driven Political Campaigns
Data-Driven campaigns have become an integral and prominent feature of political campaigns globally. Nowadays, political campaigners show evidence and proof of how effective the use of data plays a significant role in electoral success.
However, the use of data for political campaigns comes with certain limitations in democratic countries as it raises privacy, for that matter. Therefore, data must be used in a legit and authentic manner for targeting voters.
Analytics Powering Data-Driven Political Campaigns
Though data-enabled campaigns are pivotal, some have little or no knowledge of political data analytics companies. These data analytics companies are professionals who know how to optimize the data analytics system and target voters according to their interests.
These analytics companies play a major role in driving electoral success for a party or a candidate contesting the election. Data analytics is undoubtedly a powerful marketing tool that is highly impactful for electoral success.
Data Analytics Tools for Political Campaigns
Several political campaign data analytics tools are as follows:
Polls
Stripe
Donations
Canvasing
User Data
Dialer data
Voter registration
Social Media Stats
Sales merchandising
Assumed Turnout
Append Services
Google Analytics
Online Survey data
Voters Outreach data
Competitive analysis
Voters Data Churning
Door-to-door surveys
Historical data of voters
Targeted Advertisements
Census and fundraising data
Data from events and seminars
Data through email campaigns
Media and market research data
Voters psychographics and demographics
In a Nutshell
One needs to be aware and attentive about the best data practices to follow for data collection. If the gathered data is structured, responsive, genuine, latest, transparent, and understandable, it will be considered an asset and powerful tool to influence voters and increase the chances of winning the election.