Enterprise SEO Checklist: How to Optimize Your Enterprise-Level Site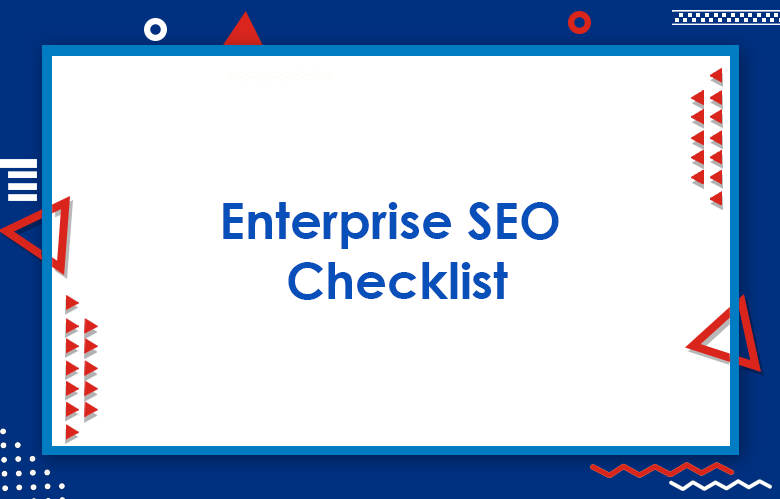 Enterprise SEO Checklist: SEO is the most significant marketing source that can be hyped with emerging promotional strategies and tactics. Enterprise SEO is the only marketing type that requires businesses to roll out unique marketing methods. Moreover, planning the SEO strategy for the enterprise company is more difficult to reach the expected customers.
The giant search engines like Google, Yahoo, and Bing, etc., are the only sources to find customer engagement by launching massive website traffic.
Enterprise SEO Checklist you need to know:
Secure your online brand and online reputation
Correct unwanted product reviews
Produce a high-quality content marketing strategy
Build links through guest blogging/influencer marketing outreach etc.
Keyword Analysis
On-Site Optimization
Take webmaster training courses
Map your existing keywords
Create a keyword inventory
Define your marketing objectives
Research competitors on backlinks
Make sure your site is mobile-friendly
Use analytics to track visitors
Update the website's internal structure
Get external links for the site
Research your competitors
Crawlers, spiders, and bots
Stay relevant
Make use of content marketing
Keyword research tools
Build an effective site map
Create a web copy style guide
Conduct a keyword research
Analyze competitor websites
Information architecture – URL structure and tags
Assess technical optimization areas of SEO
Content Creation Activities (product pages, blog posts, social media, etc.)
Define business goals
Find out the keywords you want to rank for
Do competitor analysis
Make sure your website is mobile-friendly, secure, fast loading, and crawlable
Evaluate current site ranking positions
Strategies content and social media sharing
List out keywords to target
Introduce/remove complex factors
Monitor backlinks and continuously refine
Localization, translation, and multilingual support
Ecommerce website with great UX (user experience)
Site performance and user experience
Geo-targeting – location based searches and access to special offers
Content Marketing
Multimedia Marketing
Brand Promotion
Link Building Campaigns
Webmaster Tools
Mobile Website Implementation
Keyword Ranking Strategy
Content Development Strategy
Onsite Analysis
Link Building Strategy
Verify site architecture
Remove duplicate content
Check rankings and traffic
Create brand messaging
Work on backlinks
Increase on-page elements
Think about your top keywords
Reach out to relevant influencers
Track your progress by using our SEO tracker
Develop a content marketing plan
Improving user experience with blog articles and FAQs
Define Your Audience
Optimize Your Site Structure
Start Local
Use the Right Keywords
Define the goals of the project and tasks
Make a plan to develop a content marketing strategy – short and long term
Define the types of things you will publish
Decide what channels you will focus on
Think about when you will publish items
Create your Social Media Strategy for Enterprise SEO / SMM
Create Keyword Strategy (On-Page + Off-Page)
Update your site structure and navigation
Audit your current SEO structure
Evaluate and improve customer experience
Auditing your marketing funnels and landing pages
Setup social strategies
Compile and build a keyword list
Audit your site structure
Make some sitemaps and submit to search engines
Setup Google Analytics and Google Search Console Tools
Set up Social media monitoring
Assess your current situation
SEO Audit
On-Page Optimization
Off-Page Optimization
Build On-Page Search Features
Monitor and Improve Results over Time
How to set up an SEO checklist for enterprise clients
1: Make your processes FAST
2: Identify your goals and roadblocks
3: What is their budget as well as expectations
4: Create a new blueprint for future clients
5: Start with SEO strategies on low-cost projects
Enterprise SEO Checklist
Keyword Research:
Researching the trending and most searching keywords can let your business website reach a wider audience.
Google Analytics:
Google Analytics is the only platform that offers the pin-to-pin business insights that all brands need.
Analyzing and auditing the issues of technical SEO:
Always be focused on auditing and exploring the technical SEO issues and fix them to reach the business goals.
Fix broken links:
Focus on the broken website links and fix them on the spot to gain engagement.
Google Search Console:
With this, the business brand can launch the optimization and monitoring of the search performance of any website.
Google Tag Manager:
It is the process of tag management that enables you to update the codes easily and quickly.
SEO tools:
The use of advanced SEO tools can enhance the business website's performance by loading quickly.
Build the website to load fast:
Make sure to build a website that loads fast that all visitors are looking to have such type of experience.
SEO Plugins:
Installation of SEO plugins can make the most out of your SEO efforts by making your business tasks simple.
XML sitemap:
The insertion of XML sitemaps allows the search engines to find the practical URLs list from the website domains.
Website architecture:
Build the complete website architecture that leads to generating the million-audience traffic.
Robots.txt:
This enables the businesses to assign the search engine which content of your website is essential to crawl.
Site speed and page load time:
The critical aspect for any business is building a website that loads very quickly without consuming visitor time.
404 pages:
The customized 404 pages direct the visitors to get the information they need and encourage the visitors to discover your website further.
Crawl errors:
When the search engine on its way to get the page of your business website and when it fails, then it can be the crawl error. Try to fix them.
Broken links:
Patch up the broken links of your business website that annoy the visitors.
Broken images:
Identify and fix the broken images of your website to dive your brand into performance growth.
Duplicate content:
Don't add the copied content from the other websites and blogs that lead to copyright infringement.
Mobile-friendliness:
Mobile usage is the primary business traffic generating source for the brands that need to focus more.
Topics:
Choose the right topics that can drive real-time business results with continuous audience engagement.
Primary keywords:
Make use of the advanced tools to find the primary keywords to roll into your business website.
Long-tail keywords:
Make sure to add the long-tail keywords that maintain the long-time engagement of the visitors and improves the ROI.
Map keywords to the buyer's journey:
Add the keywords that are entirely relevant to the website visitors searching for.
Competitor keyword analysis:
Know how the competitors are generating the website traffic engagement with the delivery of craving keywords.
Search trends:
Get alerts of trending topics on the social media channels that are mainly responsible for growth generation.
Meta description:
The meta description is the one that describes what your business content is about and drives website traffic.
Optimized content (on-page SEO):
Add the proper tags in your content that helps in finding the search ranking of your website.
Internal linking:
The inclusion of internal links in the website content lets the visitors discover the other content of your website.
Image optimization:
Compress the images of your website to make use of the fewer data that let the website load faster.
Social media:
Social media engagement is the only growth booster that drives real-time results.
Influencer partnerships:
Partnering with the top influencers can help you find a results-driven business performance by reaching massive customers.
Business partnerships:
Collaboration with the top brands in the market enables you to drive their website traffic to your business website.
Reviews:
Monitor and analyze the customer reviews of your products or services to know how you are performing.
Rank tracking:
Track the search ranking of your website and implement tactics to find the higher search ranking.
Content Marketing:
Make sure to get the unique content exclusive from the other competitors in the global market.
Competitor Insights:
Understand the business insights and make the strategies to overcome your competitors.
Concentrating on topic selection:
The prior knowledge on the selection of the website topics helps in maintaining continuous engagement.
Optimize title tags:
The optimization of the title tags of the website is necessary to get your business on a competitive edge.
Conclusion:
To find the potential customer engagement for your business sales, one should need to impress the giant search engines like Google that hype your brand website at the millions. To do that, one should need to find the SEO checklist that improves the search rank of your website.