Local SEO Checklist: Guide to Grow Your Business in 2023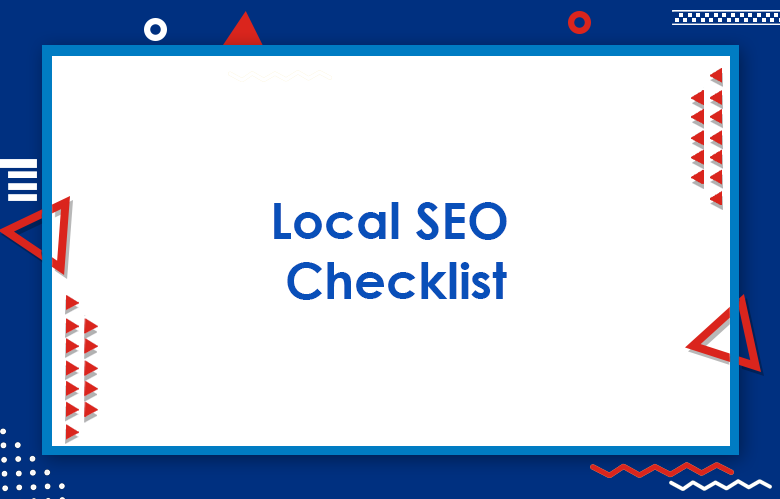 Local SEO Checklist: SEO is the method of implementing strategies to enhance the website traffic that helps improve the business's growth. What does SEO do for business brands? This is the question that confuses marketers.
Search engine optimization enables firms to increase their website's visibility by making their website display in the top search results of giant search engines like Google. When your brand website ranks high in the search engine, that leads to finding more potential customers and improving the ROI of the business.
Local SEO Checklist
Power up the Google Maps:
It is a practical business tool that start-ups can access to entrepreneurs through which local customers can easily trace the company addresses. The company can deliver the customer's required products or services by targeting their behavior.
The local SEO checklist will blow your mind
1. Put the right content in the proper channels
2. Fight for your Audience with typos and spelling errors
3. Use long-tail keywords on your website for ranking power
4. Local SEO is a team sport
Research on keywords:
Be active in looking for the top-performing keywords relevant to your business content, which can increase website traffic.
Find the website's local search ranking:
Get hands-on analyzing the brand website's local search ranking on popular search engines like Google to get the local customer's attention.
Here's a checklist for launching a local SEO strategy
1. Determine if you need SEO or not
2. Can you beat Google search organically?
3. Be sure your business website passes the Google test
4. Is your website designed for mobile? Is it fully responsive?
5. are social profiles all set up correctly?
Mobile optimization is necessary:
The establishment of the website as mobile-friendly can have more chances to gain the place of mobile-first indexing of Google.
Catchy title tags:
Launching beguiling content title tags can enhance your business's success through the Audience's continued engagement.
Local SEO is an easy way to rank higher on Google
1. Add your location to your profile
2. Research hashtags and optimize for user intent
3. Protect your reputation with Google My Business
4. Use geotags in posts, bios, headers, etc.
5. Link your website to local landing pages
Optimization of the images:
Optimizing the website images that include the compression of pictures and adding high-quality photos can expand the website visitor engagement.
Updating the Google My Business page:
Google My Business is cost-efficient, enhancing your business brand visibility on Google Maps and Google Search.
Public citations:
Public citations can help local internet users find the local business brand that significantly affects the ranking of the Google search engine.
I have all of the tips and tricks for local SEO
1. Learn about your businesses neighborhood
2. Get to know your community
3. Start connecting to local bloggers
4. Consider Local SEO only after you're getting leads
5. Make sure you have a website before taking on local SEO
Consistency in social media postings:
Steadiness in uploading and engaging social media platforms with your business content can raise the customer conversion rate.
Delivering the high-quality and most engaging content:
Creating and adding high-quality content produce massive audience growth that tops up your business sales.
Optimization of the anchor text:
The user-clickable hyperlink added in the content is one of the most influencing factors in SEO where the relevant anchor text can be placed that provide massive visitor development.
Local SEO is about ploys…
1. Find your city, and state in Google Autocomplete
2. Try re-targeting someone that searched for your local keyword
3. Use your city hashtag to appear in local trending content
4. Don't be afraid to do something stupid like this
5. Install a work chat app and ask for advice from your clients' friends and families.
Using social media platforms:
It is the best practice for businesses to be the top player in the global market to get in touch with real-time social media users.
Finding customer reviews:
Gather the customer reviews that are being made by your possible customers and do add of the value sustained products or services.
Implementing the SEO-friendly URLs:
To define the specific page relevant to the user search query on Google, the businesses must use the URLs which contain the search query relevant keywords that elevate the search visibility of the business website.
SEO titles and descriptions:
Add unique content titles for each web page that reflects the Audience's eye to know what it is about and be focussed on the length of the title and description.
As a local business, are these six things on your checklist?
1. Check your Google My Business page is up to date
2. Have the same address on every directory
3. Make sure you only claim one city per page
4. Delete retired/low-engagement profiles from 2014
5. Ensure all other sites link to your Google My Business profile. That's how you appear higher in results
Monitoring the frontend and backend SEO:
Online business success can be achieved by establishing a solid site where the internal linking strategy is necessary, and this requires the monitoring of both the front and back end of SEO is essential.
Focus Schema markup:
The schema markup for local businesses is the method of markup code of structured data that can be added to the website, and this enables the search engines to detect which type of company you have and what you perform.
Here's a local SEO checklist to make Google think you're awesome
1. Add your location attribute
2. Optimize your business category
3. Make consistent links to your website
4. Add geo-location data
5. Link up with other local businesses
Analysis of competitor website performance:
Prepare the list of competitors, collect competitors' data that contains the strengths and weaknesses, and know the competitive advantage to explore your brand.
Launching the website audit:
Evaluate website performance by conducting the audit where the website requires redesigning changes by optimizing to drive traffic to your website.
Monitoring the local website ranking:
Use advanced tools to get the complete solution of monitoring the business website's ranking.
Here's a checklist for local businesses to optimize for local SEO
1. Write a meta title and description that contains your important keywords or geo-location
2. Add your business phone numbers and address to your profile
3. Update to the latest version of Instagram and enable location settings
4. Use hashtags as relevant to your geo-location
5. Create original visual content that is Geotagged, unique, geo-relevant, consistent, and branded
User-friendly website optimization:
Always be ahead on listening to the customer queries and get word of mouth from the website visitors to know how your website offers the user experience and make changes according to that.
Optimization of website speed and performance:
The website user experience and customer usability can be improved by optimizing the speed and performance of the particular business website.
Local SEO content delivery:
Including content that explores the local SEO strategy can help you make your website more visible on the local search results of search engines like Google.
Checklist for local SEO success
1. Start an Instagram page
2. Optimize your profile + bio
3. Set up location and store pin
4. Create posts on time every day and engage with users
5. Find influencers in your area who have lots of followers and ask them to post about you
6. Create valuable content consistently, such as demos, product reviews, product tips or hacks, etc.
Make use of Google Analytics:
With the usage of Google Analytics, the business can evaluate the most valuable business data that contains information about the Audience and boosts the website's growth.
Sketch the proper website architecture:
Make sure to build the proper structure of the business website that offers a user-friendly experience to the website users and adds value to your business.
If you have a local business, here's the checklist
1. Choose a category/niche + Target keywords
2. Find influencers and add them as friends
3. Promote your Instagram page on your website
4. Post consistent, 'saveable' content
5. Take action steps every day. Tag your screenshots
Build the Google Search Console:
The monitoring and troubleshooting of the website in the search results of Google can be done by using the Google search console.
Are you ready to rock your local SEO
1. Location tag every post
2. Fill out your bio
3. Include the hashtag for the area you're targeting
4. Include the name of the town/city in the caption or comments
5. Create an About section for your store or profile page
Robots.txt file creation:
This enables the search engines to crawl which type of content should be and which is not. This can be the most impactful factor in diminishing the website's overloading when users access it.
Conclusion:
SEO strategies are necessary for businesses to hype the business products or services at the relevant customers. Launching advanced tools and plans can benefit the brands in reaching their brand expectations. The mentioned list of SEO checklists can let marketers execute the most successful methods.