What is Marketing-as-a-Service (MaaS)?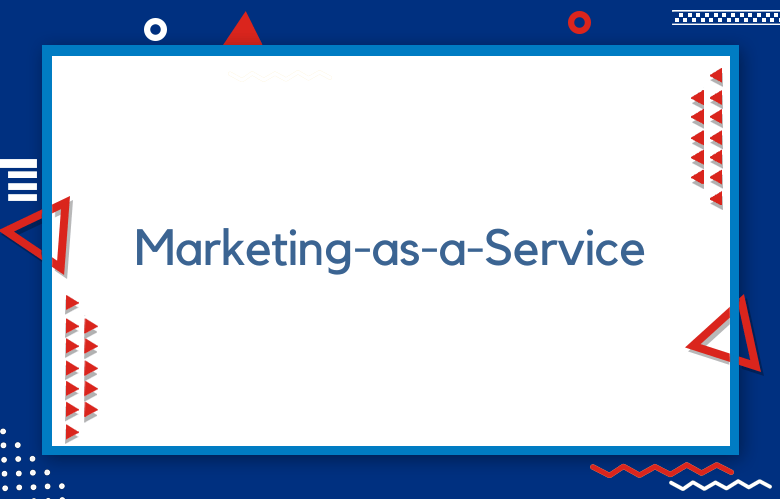 Companies seek cost-effective and efficient ways to manage their marketing in today's competitive business environment. One solution that is gaining popularity is marketing-as-a-service (MaaS).
But what exactly is marketing-as-a-service, and how can it benefit your business? We'll look in-depth at MaaS, explore its advantages, and see how it can help drive your marketing campaigns to success.
Marketing-as-a-service is a business model where businesses outsource their marketing activities to a third-party provider.
MaaS is an end-to-end marketing solution where companies can avail of a complete marketing package, from strategy formulation to execution.
This includes creating and executing marketing plans across email, social media, and search engine marketing channels.
How does Marketing-as-a-service MaaS Work
MaaS providers typically have a team of marketing professionals who work together to offer a range of services to their clients.
The process starts with an initial consultation where the MaaS provider will discuss the specific needs and requirements of the business.
Based on this information, the MaaS provider will create a customized marketing plan that includes various services, such as SEO, social media management, email marketing, content creation, and more.
Once the plan is agreed upon, the MaaS provider will execute it and provide regular reports to the business to track the progress of their marketing campaigns.
How to Choose the Right MaaS Provider
Choosing the right MaaS provider is crucial to the success of your marketing campaigns.
When selecting a provider, it is essential to consider factors such as experience, expertise, price, and customer support. An experienced MaaS provider will have a proven track record of delivering results to their clients.
Additionally, the provider should be able to offer a range of marketing services that align with your business goals and objectives. Lastly, the provider should have a robust customer support system to help you with any issues or problems.
Understanding the Power of Marketing-as-a-Service (MaaS)
Marketing is an essential part of any business, and it can be challenging for small to medium-sized businesses to compete with more prominent companies since they often have bigger budgets.
This is why marketing-as-a-service, or MaaS, has become increasingly popular in digital marketing.
MaaS can offer businesses of all sizes the opportunity to develop a consistent marketing strategy that can help them improve their brand recognition, increase their sales, and become relevant players in their respective industries.
In this article, we will take a closer look at what MaaS is, how it works, and how it can benefit your business.
Marketing-as-a-service (MaaS) is a marketing strategy that offloads the responsibility of marketing from a company's marketing team to a third-party marketing agency.
Marketing-as-a-service (MaaS) – The Future of Marketing
Marketing has always been an integral part of business growth. Over the years, we have witnessed a drastic transformation in how businesses market their products and services.
With the advent of technology, digital marketing has taken the world by storm and has become an indispensable tool for businesses worldwide.
Recently, a new buzzword has been doing the rounds in the marketing industry known as Marketing-as-a-service or MaaS. We will discuss what MaaS is, how it works, its benefits, and why it is the future of marketing.
Marketing-as-a-service (MaaS) is a modern approach to marketing where businesses can outsource their marketing tasks to a third party instead of hiring an in-house marketing team.
MaaS provides businesses with a turn-key marketing solution by offering all the services needed to execute a comprehensive marketing campaign, such as content creation, social media management, email marketing, SEO/SEM, and analytics.
MaaS providers offer their services on a subscription basis and are accountable for delivering results, making it a cost-effective solution for small and medium-sized businesses.
The Ultimate Guide to Marketing-as-a-Service (MaaS)
Marketing-as-a-Service (MaaS) is a relatively new concept in digital marketing. With the constant evolution of technology, MaaS has emerged as one of the most promising and cost-effective marketing strategies for businesses of all sizes.
In a nutshell, MaaS provides a full suite of marketing services, such as SEO, social media, email marketing, and content creation, on a subscription-based model.
MaaS has become increasingly popular among businesses looking to enhance their online presence and attract more customers. I will explore MaaS, how it works, and why you should consider making it a marketing strategy.
Features of Marketing-as-a-service MaaS
MaaS is much more than just outsourcing your marketing tasks. It offers a wide range of features that help businesses meet their marketing goals effectively. The key features of MaaS are:
Customized marketing initiatives
The marketing agency creates marketing strategies that meet your business objectives.
Dedicated marketing team
A team of expert marketers works specifically for your business.
Proactive marketing strategy
Constant monitoring of marketing performance metrics and adapting the strategy to increase overall success rates
Quick turnaround time
MaaS provides a faster turnaround time for marketing campaigns than traditional marketing approaches.
Benefits of Marketing-as-a-service MaaS
MaaS provides businesses with numerous advantages. It is a cost-effective marketing strategy that offers incredible ROI. Here are some of the critical benefits of marketing-as-a-service:
Cost savings
MaaS saves costs, as hiring in-house marketing staff or investing in expensive marketing tools or technologies is unnecessary.
Scalability
Businesses can scale up or down their marketing efforts based on their requirements.
Focus on core business.
MaaS allows businesses to focus on core operations while outsourcing marketing needs.
Faster turnaround time
MaaS offers a quicker turnaround time for marketing campaigns than traditional marketing strategies.
How MaaS Can Help Your Business
MaaS can help your business improve its bottom line in many ways, including:
Increased sales
MaaS services can help businesses achieve higher conversion rates and increase sales.
Build brand reputation
MaaS focuses on creating marketing campaigns that help build and establish your brand.
Access to specialized talent
MaaS gives your business access to a team of marketing specialists with diverse skill sets.
Trackable results
MaaS provides tracking metrics to determine the success rate of marketing campaigns, ensuring it meets business objectives.
Conclusion
Marketing-as-a-service is a cost-effective, streamlined way to outsource your marketing activities.
By working with MaaS providers, businesses can access specialized marketing teams, technologies, and tools to drive results.
Whether you're focused on social media, email marketing, search engine optimization, or all of the above, marketing-as-a-service providers can provide tailored solutions that drive ROI. If you're looking for a way to elevate your marketing game, try marketing-as-a-service!