Top 100+ Lead Generation Strategies for 2023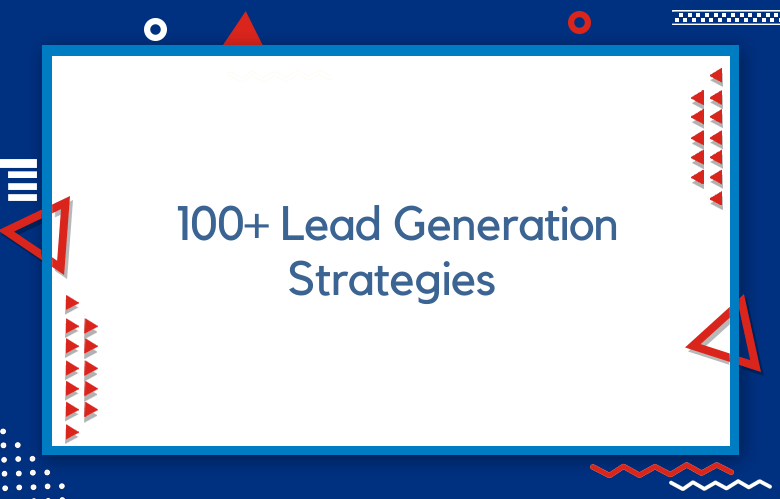 The marketing world is constantly evolving, and finding success in 2023 is vastly different from what it was two years ago. Keep up with all changes by reading this blog post for strategies that will help you generate leads in 2023!
A lead generation strategy is a plan for generating leads or new customers. A successful campaign can bring in more than 500% ROI, so it's essential to have a robust system. This blog post will cover 100+ toplead-generationn techniques you should use now and into 2023.
The marketing world is evolving, especially regarding lead generation. You must know your consumers' expectations to stay ahead of the curve. The 2020s will be a decade where people who want information on products or services will be looking for companies that can provide them with what they need quickly and easily. In 2023, the most effective lead generation strategies will involve generating leads through mobile marketing campaigns like email marketing or SMS text messages.
Top Lead Generation Strategies for 2023
To help you with your lead generation, I've compiled a list of the best strategies for 2023. Use various marketing techniques, such as SEO and social media, regarding lead generation. They're crucial for a successful business.
It's hard to believe that 2023 is almost here. It seems like it was just yesterday that 2023 was coming, but now we're looking at the following year!
According to a study, 7 out of 10 small businesses plan on adding customer retention features. The top 3 strategies for this include automated emails, chatbots, and live support.
Use ads to target specific audiences.
Create a blog and write informative, helpful, and engaging articles for your audience.e
Find influencers in your industry with large followings and work with them to promote your brand.
Build an email list of people interested in what you're doing by providing value through emails or offers they can't refuse
Offer free content on social media platforms like Facebook Live or YouTube to engage potential customers.
Employ a CRM to track your company's leads
Utilize social media for lead generation
Offer free consultations to build trust with prospective customers
Create an online blog and use SEO tactics to drive traffic back to the site
Build relationships with influencers in your industry who can share information about your products or services on their channels
Utilize social media
Target millennials and Gen Zers for potential leads
Offer a free trial to generate interest in your product or service
Use video marketing to demonstrate how your product works
Develop a referral program that rewards people for referring their friends and family
Use social media to reach out to people who might be interested in your product
Create an email newsletter that includes tips, tricks, and promotions for your business
Reach out to bloggers and influencers who can share their experience with your company's products on their blog/social media account
Hold events where you offer coupons or discounts on products
Content marketing – create articles that are informative and engaging
Social media advertising – use platforms like Facebook, Twitter, and  YouTube to promote your business
SEO (search engine optimization) – optimize your website for search engines so it can be found more easily by potential customers
Create a blog and post regularly
Use social media to reach new customers
Engage with current customers by asking for feedback, testimonials, and reviews.s
Include a call-to-action on all your marketing materials that encourages people to contact you or visit your website.e
Evolve your website to have a more personalized feel
Utilize social media to connect with potential customers
Add live chat functionality so that you can answer questions in real-time and provide instant support for your products or services
Use email marketing to continue building relationships with past clients
Create an FAQ page on your site so that people will know the answers before they even ask
Get leads by speaking to them in person
Use social media influencers to promote your brand
Create an email list of potential customers who are interested in your product
Send out postcards with a coupon code
Offer free samples of products or services that they might be interested in
Create a blog that educates your customers about their needs
Offer content upgrades to incentivize people to subscribe to your newsletter
Create an email marketing campaign with personalized subject lines and content for each subscriber
Use social media ads on Facebook, Twitter, Instagram, LinkedIn, or YouTube
Implement lead generation best practice
Establish an efficient lead funnel
Leverage the Internet of Things (IoT)
Use AI/Machine Learning
Participate in video marketing
Create a lead generation plan
Determine your target market
Learn from your mistakes and improve
Build your business on autopilot
Invest in a marketing automation platform
Target senior-level executives
Generate leads from multiple channels
Implement a Lead Management System
Use Email Marketing
Create effective landing pages
Offer a lead generation strategy in place of an ad
Exclusively list leads directly with the advertiser
Layout the unique selling point for each ad
Have an easy-to-use landing page that leads to your site
Have a marketing plan in place for when leads show up
Targeted SEO
Content marketing strategies
List building strategies
Target the right market
Be consistent and authentic
Find relationships and partnerships
Collaborate with influencers and bloggers
Get your audience involved; tell them stories
Use social media to create authentic connections and produce accurate results.
Use search engine marketing
Have a digital marketing strategy
Produce great content
Invest in retargeting ads
Start Using Online Video
Be Transparent and Informative
Personalize Every Element of Your Marketing
Partner with content marketers
Focus on high-quality traffic
Work with local business
Be consistent
Make business prospecting easier
Develop strong list-building campaigns
Develop an effective CRM
Develop strong content marketing campaigns
Adopt E-marketing solutions
Enhance your product
Pay attention to the value of your product
Money management strategies
Keyword research and topic selection
Categorize, measure,e and benchmark
Improve the quality of leads generated
Better lead generation resources
Empower employees to create leads
Have a dedicated inbound marketing strategy for leads
Have a reliable inbound marketing team
Clearly define what lead generation is and why it matters
Identify ways to improve lead generation
Chat with the sales team to discover the  needs
Figure out what works and what does not
Know who your target market is
Review your current marketing tactics
Share content that will attract leads
Reduce costs of contact campaigns
Collaborate with your competitors
Mind the millennials
The evolving technology of blockchain
How to attract millennials through customer experience
Hiring the right people
Content curation: Curation collects, screens, and organizes information or data into easier-to-consume packages. You could consider curation as sorting through information to find what's important to you. It also helps us become aware of new topics, allowing us to generate original content quickly.
Events and Meetings
Influencer and Marketplace Marketing
Brand your Marketing Strategy
Be the first to market
Leverage new technology
Attract the largest audience possible
Have regular content
Provide quality lead-generation tools
Equip your teams with standard procedures
Train your team properly
Set up measurable objectives to track success…
Target Everything
Build Your Brand
Focus on List Building
Optimize your email subject lines
Make a content calendar
Get a bounce-back control
Use a call to action
Use a lead nurturing tool
Know your audience
Generate quality content
Stay relevant
Differentiate your content
Be active on social media
Make sure your site is mobile-friendly
Use webinars to generate traffic
Changing user behaviors
Discounts and ads
Use customer email database
Use social media to create awareness of the company
Create a blog for your business with guest bloggers and contributors
Develop an email newsletter that is sent out regularly
Utilize video marketing to showcase products or services in action
Focus on building relationships with customers through customer service
Utilize social media to create a following and share your content
Create an engaging blog post that will generate traffic and lead generation
Use email marketing, such as newsletters or autoresponders, to stay in touch with customers and prospects
Make sure you have clear contact information on your website so people can quickly get in touch with you
Offer free consultations for prospective clients
Create an engaging blog post
Use social media to increase your brand awareness and reach new customers
Send out a monthly newsletter with updates on company news, testimonials, offers, etc
Add videos to your website or Facebook page that shows how the product works
Offer free trials of products in exchange for email addresses
Use social media to generate leads- post on Facebook, Twitter, Instagram, and LinkedIn
Create a blog where you share your expertise in your industry with helpful tips for people looking to buy what you have to offer
Use search engine optimization (SEO) tactics such as keyword research and backlinks to rank higher in Google searches for relevant terms that lead prospects might be searching for
Automate email marketing
Optimize landing pages for better conversion rates
Create a social media following to engage with your audience
Use video ads on Facebook and YouTube to connect with people who are most likely to buy from you
Build a strong company culture that will attract great employees
Utilize social media to increase your online presence
Create a blog that offers valuable content on topics important to your industry
Make sure you have an email list of subscribers who are interested in your brand's range and products
Offer free samples or discounts for first-time customers
Content marketing
Social media advertising
Linkedin ads
video marketing
Lead generation partnerships with other businesses in your industry
Utilize a CRM to track your leads
Use social media as an effective lead-generation tool
Send out regular newsletters with information for customers and prospects
Create a blog on your website that provides helpful content to readers
Offer freebies or discounts from time to time to attract new customers
Use social media to create a following and build your brand
Develop an email list of potential customers by offering something valuable in exchange for their contact information
Create content that is engaging and shareable on social media, such as infographics or videos
Offer incentives to get people to sign up for your newsletter or download your app
Leverage social media to drive traffic
Target specific audiences with personalized content
Create a blog and use it as a lead-generation tool
Develop an email marketing strategy that is integrated into your website's conversion funnel
Use video to create more engaging content for prospects.
Conclusion
What are some of the top lead-generation strategies that will dominate 2023? The following is a list of 100+ ideas to get you thinking about how your business can attract more leads. Contact us to get information on these topics or if you need help with your marketing strategy.
If you wish to take your lead generation game to the next level, contact me for Lead Generation Consulting. I will explain how to increase customer acquisition rates and improve sales by deploying some marketing strategies that are not yet mainstream in business today. You can find more about my services here or fill out this form with details beloLet'st'schatst soon!