Trends Shaping The Future of OTT Advertising in 2023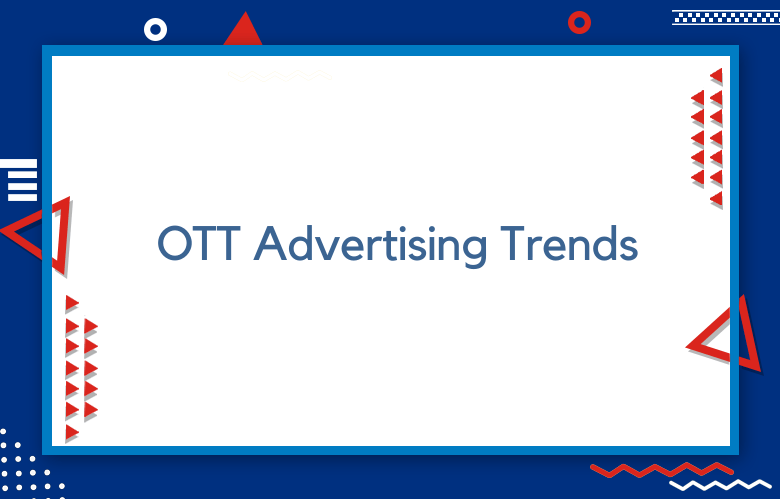 OTT advertising is projected to grow significantly in the next few years. But what trends will shape this fast-growing industry? In this blog post, we'll take a look at some of the most important factors that will influence the future of OTT advertising. So, read on to learn more!
Wonder no more! We've compiled a list of trends shaping OTT advertising in 2022. From personalization to interactivity, these trends will dominate the industry in the years to come. Keep reading to learn more!
The Future of OTT Advertising in 2023
OTT television viewing will be a seamless experience that combines broadcast-quality content with online-delivered advertising.
On-demand viewing habits will have an enormous impact on traditional TV and video advertising. Innovations in advertising will occur within the context of the programming and audience participation. Television advertising will be a lot different. Ads will be delivered to viewers on their schedule and based on other viewer characteristics.
OTT advertising will become more prevalent. Real-time advertising will become necessary as more people cut the cord from their traditional cable provider and switch to OTT services.
The marketing possibilities of OTT are likely to explode. Deloitte said advertisers would start their "purchase journey" in an OTT environment instead of desktops, mobile devices, and web portals. OTT ads will likely be tailored to the individual viewer.
Over-The-Top (OTT) video, such as pay-TV, YouTube, and online video, will become the most effective advertising medium in the world, with an estimated $210 billion in ad spending worldwide in 2021. Advertising will be one of the most critical sectors of the entertainment industry and made possible through the growth of popular on-demand services like Netflix and Hulu.
Consumers will access their personalized news feeds that combine live, recorded, and on-demand content. They will be able to cut to the front of lines for concerts, movies and make reservations for dinner. Advertisers will create ads easily shared by viewers online instead of purchasing ad space on broadcasters' websites.
A study predicts that online video viewers will shift more of their time away from VOD (video-on-demand) offerings to OTT Advertising services. That means advertisers will begin spending less on home entertainment experiences for the masses and more on "micro-hit" offerings for niche audiences.
Online video advertising will allow viewers to simultaneously watch or view online programming and advertising. Viewers will have the opportunity to deduct their online video advertising experience and interact with the programming in a single online video experience. OTT advertising could be as common as traditional video advertising outlets such as television, DVD, and cable.
Online TV advertising will no longer be a banner ad at the bottom of the page but will become interactive, providing the viewer a chance to "lean forward" in their experience and potentially impact the show's outcome.
OTT advertising will deliver transparency and accountability while becoming a more contextualized and measurable medium.
Consumers will enjoy a personalized video experience with OTT Advertising or Over-The-Top Advertising. Digital advertising has already gotten personal with advertising-supported video platforms like YouTube, Vevo, and Netflix. This is because when ad-supported videos start and stop, commercials need to be inserted at just the right moment.
Advertisers will be able to mine the data and profile of audiences, target them more effectively, and track the effectiveness of their campaigns and strategies in near real-time.
Advertising will be a seamless part of user experiences without using the technology. Advertisers will pay for the demonstration of a specific attribute relevant to the product discreetly but effectively.
OTT advertising will take on the look and feel of advertising today, but the targeting will occur on the individual without going back to centralized tracking methods.
Digital programming will be repurposed for TV screens and distributed via broadband connections, the study found. These will be the so-called OTT or over-the-top services. TV change, but new genres of content will evolve, such as new kinds of interactive, mobile, and connected home scenarios. OTT advertising will be created, distributed, and measured in the future, similar to today's TV advertising. Still, there will be fewer limitations and more choices in the OTT world, thereby opening up many novel opportunities.
Entertainment systems such as TV, cinema, Internet, and gaming will be linked through real-time information, shared experiences, and collaborative advertising. And this has offered a new opportunity to close the gap between audience participation and the advertising message.
OTT advertising will only be more worthwhile and effective. OTT will become the new mass advertising medium. Video advertisements will be mini vignettes featuring content about an OTT brand's products or services. Vignettes will be short and live online with short viewing spans and not feature a "skip" button.
Online video will represent about 80% of all advertising, and TV will represent 20%. IP-based television advertising is the bridge technology that will likely bridge the gap between these two worlds.
OTT will not only be a vehicle for connecting consumers to programming; it will forever change the way that advertising is conceived, viewed, and valued. The future of advertising will be consumer-centric. The evolution of second screen technology will allow the consumer to play a significant role in the viewing experience, driving deeper consumer engagement and creating a new and unique form of advertising.
OTT video channels will become more interactive, satisfy more of a viewer's information needs, and be better targeted to address the viewer's interest needs.
Advertising on portable storage devices, memory cards, and other consumer electronics will present new challenges for marketers and regulations. While there is currently no standard for managing ad content on these devices, OTT ads could push for regulation on these devices as early as 2017. Privacy management, consumer location monitoring, and content identification will be among the hottest issues facing OTT advertising platforms.
Online video advertising will appear as TV commercials once did, with more video and sound, including the opportunity of clicking through to a website and interacting with the advertiser's message.
Digital OTT services will need to enhance the engagement and relevance of their ad services to improve the overall value of the viewer experience. This will require the development of new ad formats, formats that reflect new technology and are also more intuitive, informative, and engaging.
Advertising will interactively relate to its viewers. Advertisers will update the advertising in real-time and "teach" the system about the consumer. Connected consumers will have the option to replace commercial advertisements on their favorite shows with custom OTT advertising that is relevant to them.
Viewers will seek out OTT experiences to escape the traditional TV advertising experience. Here viewers can choose to reward or punish the advertisers; the idea is to offer viewers something of value in exchange for their patience with the ads.
Conclusion
The future of OTT advertising is bright. According to a recent study, over 8 million households have cut the cord and only watch TV through streaming services like Netflix or Hulu. This trend will continue as more customers look for ways to reduce their monthly payments by cutting out traditional cable providers.
With these changes in technology come new opportunities for advertisers who want access to this essential demographic – but how can companies get started with OTT advertising? We've outlined some key trends shaping the future of OTT advertising so you can start taking advantage today!
If you need help starting your digital marketing strategy, contact us for expert consultation to implement these principles into your company's goals.