What are Some Real-World Examples of Programmatic SEO?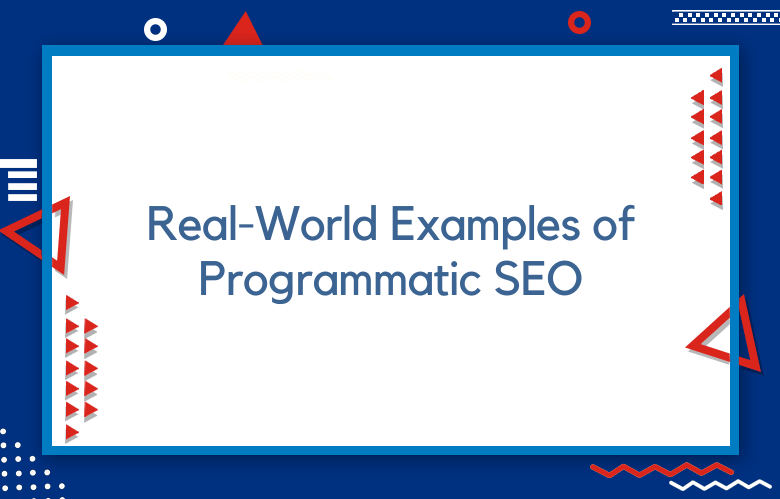 Search Engine Optimization (SEO) is a vital marketing strategy for businesses looking to increase their online presence.
And one of the most effective tools for SEO is programmatic SEO. But what is programmatic SEO, and how can it be used in the real world?
What is Programmatic SEO?
Programmatic SEO combines data science and automation to optimize website visibility and ranking on search engine results pages (SERPs).
It involves leveraging predictive analytics, machine learning algorithms, and artificial intelligence (AI) to identify factors that affect a website's rankings, such as keyword density and backlinks.
Programmatic SEO also uses automated systems to track performance metrics like click-through rates (CTR), page visits, bounce rates, etc.
Real-World Examples of Programmatic SEO
Here are some examples of how companies have used programmatic SEO in the real world:
A retail company implemented a programmatic SEO strategy that utilized AI technology to identify critical areas where their website was underperforming. The AI suggested changes to improve site performance and rank higher on SERPs.
An e-commerce company used AI-driven data analysis to optimize their product listings for better visibility on Google Shopping ads. This allowed them to reach more potential customers by increasing their organic search traffic.
A travel company used programmatic SEO techniques such as content optimization and keyword research to improve its visibility on SERPs. This enabled them to generate more leads and bookings from customers searching for related topics or services.
Google is one of the most renowned brands that put programmatic SEO into practice. From keyword research to content optimization, Google uses different techniques according to the SERPs algorithm updates. It also uses machine learning technologies for higher accuracy and better results. As a result, users can find relevant information faster and more efficiently than ever before.
Microsoft is another brand that has implemented programmatic SEO tactics in its marketing strategies. The company uses advanced algorithms and technologies to improve website performance, such as meta tag optimization, semantic analysis, link building, etc. Additionally, it automatically optimizes content to improve its ranking on search engine results pages (SERPs).
Amazon is another brand that uses programmatic SEO techniques to stay ahead of competitors. Its AI-powered algorithms analyze customer data and provide timely recommendations based on their buying patterns. Moreover, Amazon's automated tools help marketers conduct keyword research faster and more accurately than before.
eBay has been using programmatic SEO since 2015 with great success, helping merchants increase visibility on SERPs by optimizing titles and descriptions for better indexing by search engines like Google or Bing. eBay's web crawlers also add rich content snippets to product listings to enhance customers' browsing experience while using the platform's services.
Airbnb is leveraging various programmatic SEO practices, including automatic meta tag generation and link-building strategies, essential components necessary for effective SEO campaigns today. Airbnb also offers targeted advertising opportunities across multiple channels like search engines, social media platforms, and websites to reach potential customers at scale and boost overall website rankings within SERPs faster than ever before
Walmart has implemented automated tools for collecting consumer data from social networks such as Facebook or Twitter to understand user preferences better and deliver more personalized experiences on its platform accordingly, thus improving its organic traffic numbers regarding search engine rankings significantly over time.
Netflix is utilizing a variety of programmatic SEO strategies, including optimizing video titles & descriptions with their respective target keywords in mind, coupled with A/B testing procedures to maximize their chances of appearing at the top SERP positions when potential viewers do specific searches related to certain movie genres or TV shows within popular streaming platforms like Netflix itself.
Target Corporation utilizes multiple tactics for deploying an effective programmatic SEO strategy, such as incorporating geo-targeted phrases within product descriptions or leveraging micro-moment marketing opportunities to develop successful campaigns to drive traffic toward their online store by creating memorable experiences for potential buyers.
Apple Inc has adopted many sophisticated programs that leverage machine learning capabilities combined with natural language processing (NLP) technologies to automatically optimize their website contents according to the latest algorithms introduced by significant search engines like Google & Bing while aiming to reach high levels of conversion rates.
LinkedIn Corporation has taken advantage of deploying a comprehensive programmatic SEO campaign covering topics ranging from keyword research & analysis through content optimization & link-building activities targeting users interested in particular issues related to corporate careers & job postings, which have resulted in significant improvements regarding organic traffic growth.
A closer look at Programmatic SEO
Programmatic SEO is a data-driven approach to optimizing search engine rankings. It is used to increase visibility and traffic, as well as to build credibility and trust.
Let's take a closer look at programmatic SEO by exploring real-world examples.
One example of programmatic SEO can be seen in the way that companies analyze their website performance.
Companies can track key metrics such as page views, bounce rate, time on site, and many more using Google Analytics and web admin tools.
With these insights, they can identify areas for improvement and create strategies to improve their rankings in search engines.
For instance, if your website has a high bounce rate or low session duration from organic searches, you might want to consider making changes to the content or design of your website to improve user experience.
Another way that companies use programmatic SEO is through keyword research.
This involves analyzing popular search terms related to their industry and examining how customers use them to find relevant keywords to drive more website traffic.
Companies can also use keyword research tools such as Ubersuggest or SEMrush to identify potential new keywords and optimize existing pages with these keywords to rank higher in search results pages (SERPs).
Companies can leverage programmatic SEO through content creation strategies such as blogging and guest posting. Blogging allows companies to share valuable information with readers while also building credibility within their industry by showcasing their expertise on various topics related to their business.
Guest posting allows them to reach new audiences by placing articles on other websites which link back to theirs – this helps boost visibility and build authority for their brand amongst potential customers.
Automated XML Sitemaps
Programmatic SEO uses automatic XML sitemaps to help search engine bots find and index your website's pages quickly and accurately. These sitemaps list all of the URLs on a site and other essential information, such as when the page was last updated and its change frequency. It helps search engines better understand your website's structure, which can lead to increased organic visibility.
Structured Data Markup
Structured data markup is another programmatic SEO tactic that allows web admins to label HTML elements with additional information about a page or piece of content, allowing for greater context for search engine crawlers. Structured data can range from basic contact information such as name, address, and phone number to more complex ratings or product reviews. Utilizing structured data on webpages can help improve their visibility in SERPs and click-through rates (CTRs).
Canonicalization
Canonicalization is a crucial programmatic SEO element that helps ensure a single URL is indexed by search engines rather than multiple URLs containing similar content. For example, if two webpage versions are at www.example.com/page1 and www.example2/page1, canonical tags will tell search engines which one should be indexed while disregarding the other version. It helps eliminate duplicate content issues and improve the overall ranking potential for a given URL.
Robots Tags
Another programmatic SEO element is robot tags, which tell search engine bots whether they should crawl certain parts of a website (e.g., block specific URLs from being crawled). It helps prevent certain pages from being indexed by search engines to avoid appearing in SERPs. It is also helpful when dealing with large websites that might take too much time and resources to crawl otherwise (such as image galleries).
Relevant Internal Linking
Programmatic SEO also involves creating relevant internal links between different pages within your website using the correct anchor text to pass link juice between essential pages on your site and improve their ranking potential in SERPs for relevant queries related to those topics or phrases used as anchor text in those links.
Additionally, internal linking makes it easier for visitors to navigate through related content within your website, leading to increased engagement metrics such as time spent on the page or bounce rate—which can help boost overall rankings indirectly over time due to improved user experience signals coming from these behaviors being tracked by Google's algorithm changes each year.
Optimized Page Load Times
Optimizing page load times is another central programmatic SEO element that has become increasingly important with Google's mobile-first indexing rollout over the past few years—and even more so now, with Core Web Vitals becoming an official ranking factor starting this June 2021 update cycle!
Ensuring every page on your site loads quickly across all devices (desktop and mobile) will ensure maximum visibility across SERPs while also helping reduce bounce rates—which can lead to more organic traffic over time via higher click-through rates (CTRs) due to improved user experience scores.
Server Log Analysis
Regularly analyzing server logs helps uncover issues like redirect chains or 404 errors that could harm your website's performance in search engine results pages (SERPs). You can use server log analysis tools like Screaming Frog Log Analyzer or ELK Stack's built-in log stash parser toolset for this purpose – aiming for zero redirect chains or broken links if possible!
This practice leads towards more excellent optimization opportunities outlined during analysis – thus improving overall rankings across SERPs when fixed appropriately.
Image Optimization & Alt Tags
Utilizing properly optimized images on webpages has become increasingly important due to Google recently rolling out image carousels in its desktop search results – thus encouraging publishers & web admins alike to optimize images used within their webpages accordingly!
Properly optimizing images includes utilizing unique alt tags per image uploaded & making sure they're descriptive enough without keyword stuffing – while compressing file sizes without distorting the quality of said images.
Meta Data Optimization & Schema Markup Integration
Making sure metadata titles & descriptions are written correctly & optimized according to best practices outlined by Google for maximum visibility across SERPs – along with integrating formal schema markup language into webpages are essential programmatic SEO tactics that often get overlooked during general optimizations campaigns set throughout by marketers/SEO strategists working on projects nowadays!
Schema markup integration plans should always be included in any comprehensive optimization campaign for maximum presence across SERPs.
Java Script Rendering & Crawlability Practices
JavaScript frameworks like AngularJS have been utilized frequently in modern development circles due to their ease of use and robust coding capabilities.
Programmatic SEO & Technical SEO Consulting
Programmatic SEO & Technical SEO Consulting are becoming increasingly important as businesses strive to succeed in the ever-changing digital landscape. Programmatic SEO helps brands analyze large data sets to accurately understand their customers and optimize different aspects of their sites. In contrast, Technical SEO optimizes technical elements of websites to help drive traffic from search engines.
With Programmatic SEO & Technical SEO Consulting, businesses can assess their strategies and customize them for maximum success, ensuring longevity for their companies in this rapidly changing world. Consulting with experienced professionals specializing in Programmatic SEO & Technical SEO will ensure your website has all the tools for success and for staying ahead of the competition.
Programmatic SEO & Technical SEO Consulting is an excellent way for businesses to ensure that their websites are up to date with best practices in search engine optimization.
Programmatic SEO will help businesses increase organic traffic from Google and create a lasting place in search engine rankings. Technical SEO Consulting assists in the troubleshooting and setup of technical elements on websites such as link structure analysis, website speed analysis, website security checks, and more — allowing companies to get the most out of their site and drive maximum engagement from users. Programmatic SEO & Technical SEO Consulting can be tailored to the unique needs of each business, ensuring that any issue or optimization opportunity is addressed accordingly.
Conclusion
Programmatic SEO is an effective tool that allows businesses to use automated systems and data analysis techniques to improve their website visibility and rank higher on SERPs.
Businesses can identify improvement opportunities by leveraging predictive analytics, machine learning algorithms, and AI technology and confidently make targeted changes.
Programmatic SEO is a powerful tool that should not be overlooked by any business looking to boost its online presence!