E-E-A-T: What is Expertise Authority Trustworthiness?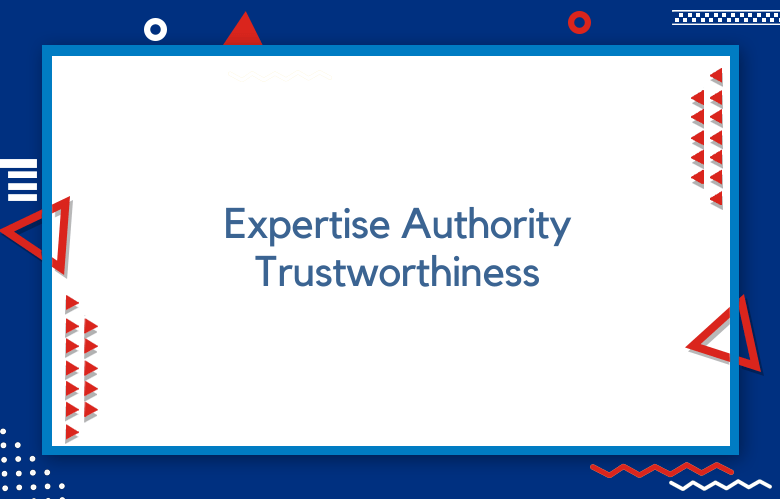 If you work in digital marketing, you've likely heard the term E-E-A-T. But what is it, and why does it matter E-E-A-T stands for Expertise Authority Trustworthiness.
It's an algorithm that Google uses to determine the quality of websites, which impacts their search rankings. Let's have a closer look at how this works. E-E-A-T when it comes to SEO.
If not, then you're not alone. This relatively new acronym stands for Expertise, Authoritativeness, and Trustworthiness, and it has become an essential part of Google's algorithm.
What is Expertise Authority Trustworthiness?
As mentioned above, E-E-A-T stands for Expertise, Authority, and Trustworthiness. In other words, it measures how trustworthy and reliable your website content is. Google wants its users to find high-quality information quickly.
When they perform searches; therefore, they use E-E-A-T to assess which websites are more likely to provide relevant results. The higher your EAT score, the higher your website will rank in the search engine results from pages SERPs.
This system assesses how much Expertise the website creators have in the topics they are discussing, how authoritative the website is when talking about those topics, and how trustworthy the information provided by the website is.
The more expert knowledge a website has about its topic area, the more authoritative it is as an educational resource. Conversely, a website must provide accurate and reliable information about its topic area to improve its trustworthiness score.
How does Expertise Authority Trustworthiness score Improve Your Website?
Improving your website's EAT score can be done through two main approaches: improving the quality of your content and providing evidence that you are an expert in your field or industry. When creating content for your website.
Make sure that all of your facts are accurate and up to date. Ensure you cite any sources you use so readers can refer to them if needed. This will show Google that you are providing reliable information to their users.
Provide evidence that you are an expert in your field or industry by including testimonials from clients or customers who have found success with your services or products; list any awards or certifications you may have received.
Include case studies showcasing successful projects, showcase any media appearances, etc. All these things can boost your website's credibility and trustworthiness in Google's eyes and improve its ranking on SERPs.
Why do Expertise, Authority, and Trustworthiness matter?
Google uses algorithms to determine which websites should appear at the top of SERPs. These algorithms consider keyword usage, page loading times, and other technical elements.
However, one of the most important factors Google considers when ranking websites is whether they meet its EAT standards. Websites that don't demonstrate Expertise in their field or provide reliable information won't rank as highly as those that do meet these criteria;
This means that if you need your website to succeed in terms of SEO, you must ensure you provide quality content that meets Google's standards for EAT.
How does it work?
You must take a few simple steps to ensure your website meets EAT's criteria.
First off, make sure your content is up-to-date and relevant to the topic at hand. You should also ensure that any facts or figures are supported by reliable sources and are properly cited.
Ensure all pages on your site are easily navigable and include clear calls to action when needed.
Establish yourself as an expert in your area by providing helpful content that answers user questions or offers valuable advice. Having a social media presence can help here too!
In terms of trustworthiness, you should ensure all customer reviews are genuine and current and develop a secure payment system if necessary.
This will help build credibility with potential customers while increasing security on your website overall.
How to impact Expertise Authority Trustworthiness Search Engine Optimization?
The primary way that E-E-A-T impacts SEO is by influencing search engine rankings. When evaluating a website's relevance and rankability, Google looks at the level of Expertise, authority, and trustworthiness.
The more authoritative a website is on a particular topic or industry –the higher its level of knowledge– the more likely it is to appear on the top of search results pages (SERPs). Similarly, websites with high levels of trustworthiness
They are more likely to be seen as legitimate sources by search engines like Google and thus gain higher SERP rankings than those without such ratings.
Overall, having solid levels of EEAAT enables websites to create higher-quality content which helps them stand out from other websites in their niche or industry,
which means they get higher SERP rankings than those who don't focus on creating high-quality content or managing their online reputation effectively.
Substantial levels of EEAAT can also help build brand awareness, increasing sales or conversions.
Understanding the basics of Expertise, Authority Trustworthiness
Have you heard people talking about E-E-A-T but need to know what E-E-A-T stands for Expertise, Authoritativeness, and Trustworthiness? It is an important concept to understand regarding content optimization and online marketing.
We will explore the basics of E-E-A-T and how it affects your digital presence.
Expertise refers to a person's knowledge and skill in their field. This could be a doctorate in a specific area or years of experience working on a particular topic.
It isn't just about having credentials; it is about being able to back up those credentials with valid information. When writing content for your website, ensure you can demonstrate your expertise by including facts, data, or other evidence that supports any claims you make.
Authoritativeness relates to how credible your content appears to others. For example, if you are writing about health topics, references from reputable health organizations will give your content more authority than citing ancient sources or personal opinion pieces.
Ensure that all web pages have accurate contact information so readers can contact you directly if they have any questions or concerns regarding the content on your site.
Conclusion
Understanding what EAT means and how it affects your website's ranking is essential for anyone in digital marketing today.
After all, if people are still looking for your website on SERPs, they can only experience some of the great content you have created for them!
Take some time to analyze the quality of the content on your website and ensure that it meets all of Google's standards for accuracy and reliability; this will go a long way towards improving its ranking on SERPs and ultimately helping more people discover all the beautiful things about your business.