Who is an AI Marketing Sales Engineers?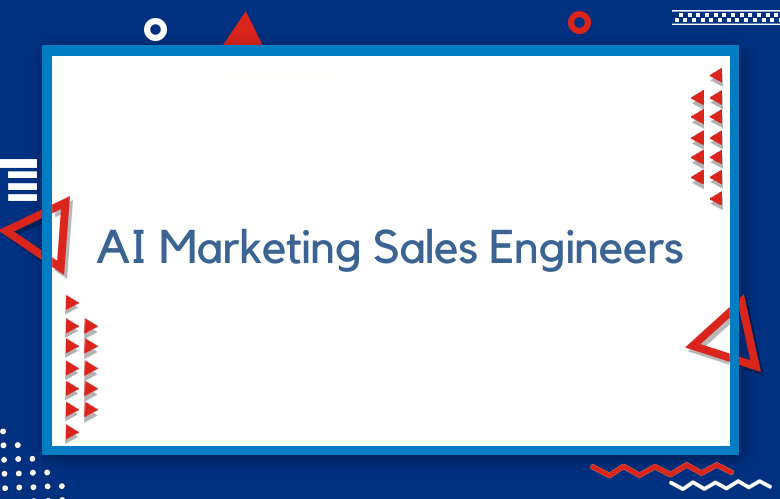 In today's world, artificial intelligence (AI) has become an inevitable asset of every technological domain, and marketing is no exception. AI marketing sales engineers leverage AI-powered tools and software to streamline marketing and sales operations.
They are a crucial part of the marketing team that performs various tasks ranging from product marketing analytics to sales pipeline management. I will explore what AI marketing sales engineers are and what they do.
AI marketing sales engineers are data scientists implementing AI-powered tools to optimize a company's marketing operations. They mainly deal with marketing data and analytics that help organizations understand customers' behavior and preferences.
AI marketing sales engineers work with abundant data, including consumer demographics, market trends, historical sales data, and much more.
They extensively analyze data using different AI technologies, such as machine learning algorithms, natural language processing (NLP), and deep learning, to garner insights that would not have been possible with traditional analytics techniques.
Find the Perfect AI Marketing Sales Engineer Job
As the demand for artificial intelligence (AI) solutions continues to grow, so does the need for talented individuals who can effectively market and sell these innovative products and services. If you are passionate about technology and sales, a career as an AI Marketing Sales Engineer is the perfect fit.
As an AI Marketing Sales Engineer, you will play a critical role in driving your company's success by identifying new business opportunities and effectively communicating the benefits of AI solutions to prospective clients. You will work closely with technical and non-technical teams, using your strong communication and relationship-building skills to help drive revenue growth.
To find the perfect AI Marketing Sales Engineer job, having a potent blend of technical and sales skills and a deep understanding of the AI industry is essential. A bachelor's degree in computer science or a related field can be a vital asset, as can experience working in sales or marketing roles within the tech industry.
Narrow Down Your Job Search for AI Marketing Sales Engineers
As you embark on your job search for AI Marketing Sales Engineers, there are several steps you can take to narrow down your search and increase your chances of finding a suitable role.
First and foremost, it is important to research companies specializing in AI marketing and sales, as they will likely have relevant job openings. Look for companies that are leaders in the field, with a strong reputation and a proven track record of success.
Next, consider your skills and experience, and identify the areas of AI marketing and sales engineering you are most interested in and qualified for. This may include expertise in machine learning, natural language processing, data analytics, and marketing automation.
Filter AI Marketing Sales Engineer Jobs by Category, Experience, Industry, and Company Size
To effectively filter AI Marketing Sales Engineer jobs, it is essential to consider various factors such as category, experience, industry, and company size.
By filtering job listings based on these parameters, you can narrow your search to only positions matching your skills, qualifications, and preferences.
Regarding category, AI Marketing Sales Engineer jobs can fall under different categories such as software development, marketing, sales, or consulting.
By specifying the category you are interested in, you can streamline your job search and focus on opportunities where your expertise will be most valuable.
Experience is another critical parameter when filtering AI Marketing Sales Engineer jobs. You may seek entry-level positions or more senior roles depending on your expertise and qualifications.
By filtering jobs based on experience, you can ensure that you are applying for positions commensurate with your skill set and level of expertise.
Customize Your AI Marketing Sales Engineer Job Search with Advanced Filters
If you are seeking a job in AI marketing as a sales engineer, you know how important it is to find the right fit for you. Different companies have different requirements, and you want to ensure that you find a position that suits your skills and interests.
The most effective way to tailor your job search and find the job of your dreams is to use advanced filters that can help you sort through the various available options.
Advanced filters can be applied to your job search in many ways. You can filter by salary range, location, company size, experience level, educational qualifications, etc. Using these filters, you can quickly narrow your list of job prospects to a handful of relevant positions that suit your specific needs and preferences.
Discover Top AI Marketing Sales Engineer Job Opportunities
As artificial intelligence advances, there is a growing demand for skilled professionals who can apply these technologies to marketing and sales.
Suppose you are a talented sales engineer with a passion for technology and a knack for marketing. In that case, numerous AI marketing sales engineer job opportunities await you to explore.
One of the most exciting aspects of working in this field is the chance to use cutting-edge AI algorithms to optimize marketing campaigns and drive sales.
AI can help with everything from personalized advertising and predictive analytics to customer segmentation and automated lead scoring. As an AI marketing sales engineer, you will be at the forefront of using these technologies to drive business growth.
Explore AI Marketing Sales Engineer Jobs by Job Category
Many opportunities are available if you are looking for a career in the ever-evolving fields of Artificial Intelligence (AI) and Marketing Sales Engineering. To begin exploring these opportunities, you can explore AI Marketing Sales Engineer jobs by job category.
In the realm of AI, marketing sales engineers are responsible for integrating AI capabilities into marketing solutions, helping businesses leverage the power of AI to drive increased revenue and improved customer experiences. As such, AI marketing sales engineer positions typically fall into one of several job categories.
One such category is Product Management. AI Marketing Sales Engineers in this category typically work with internal teams to develop AI-powered solutions that meet business objectives. They work closely with customers to ensure that solutions meet their specific needs.
They also help define market strategies for the company's AI-powered products, ensuring they are competitive and effective in meeting customer needs.
Refine Your AI Marketing Sales Engineer Job Search by Experience Level
When seeking an AI marketing sales engineer job, it is essential to consider your level of experience. This can help you refine your job search and identify suitable opportunities for your skillset and career goals.
One way to approach this is by identifying your current experience level. Are you a recent graduate with minor to no work experience? Or do you have several years of experience in the field? Once you have established your experience level, you can search for jobs matching your qualifications.
For entry-level positions, you may look for jobs that require some basic knowledge of AI and marketing, such as experience with data analysis and customer segmentation.
These roles may also need strong communication and interpersonal skills, as you will be expected to work closely with sales and marketing teams to develop and execute campaigns.
Browse AI Marketing Sales Engineer Jobs in Different Industries
As the demand for AI technology grows, AI Marketing Sales Engineers are becoming more in the market across various industries. Candidates can browse job listings on various online job portals and recruitment websites to find job opportunities in this specialized field.
One of the most significant benefits of pursuing an AI Marketing Sales Engineer career is the opportunity to work in various industries, including the healthcare, finance, retail, and manufacturing sectors.
These industries are constantly evolving and looking for innovative solutions to improve their operations, which is where AI Marketing Sales Engineers come in.
Successful AI Marketing Sales Engineers possess strong technical knowledge of AI technologies, excellent communication skills, and expertise in digital marketing strategies. They partner with sales teams to develop customized technological solutions that meet the prospect or client's needs.
Find AI Marketing Sales Engineer Jobs in Companies of Various Sizes
Artificial intelligence has revolutionized various industries, including marketing, by applying intelligent algorithms that enable the automation of processes, data analysis, and decision-making. As the demand for AI in marketing continues to grow, more companies of different sizes are seeking AI Marketing Sales Engineers to join their teams.
This job position involves designing and implementing AI-driven marketing strategies, creating marketing automation workflows, and collaborating with sales and business development teams to provide solutions that enhance the marketing performance of the company.
To find AI Marketing Sales Engineer jobs in different companies, job seekers can leverage various strategies, such as job boards, social media platforms, professional networking sites, industry associations, and recruitment agencies.
Job boards such as Glassdoor, Indeed, and LinkedIn Jobs often advertise AI Marketing Sales Engineer jobs in companies of different sizes, including startups, small businesses, mid-sized companies, and large corporations.
Social media platforms such as Facebook, Twitter, and Instagram also provide job opportunities through targeted job postings or personal connections with HR managers.
Enhance Your AI Marketing Sales Engineer Job Search with Specific Filters
In today's highly competitive job market, job seekers must use all the tools to maximize their chances of success. One such device uses specific filters while searching for AI Marketing Sales Engineer jobs.
By using specific filters, job seekers can refine their search to focus only on positions that match their skills, experience, and career goals. These filters could include criteria such as location, salary, experience level, preferred industry or company, and required qualifications.
By carefully selecting the suitable filters, job seekers can narrow their search to a smaller pool of potential positions, which can help them save time and energy by not applying for jobs that are not a good fit.
With the added benefit of higher semantic richness, job seekers can also enhance the quality and relevance of their applications by aligning them more closely with the job requirements and employer needs.
Conclusion
AI marketing sales engineers are revolutionizing the marketing industry by leveraging AI tools and software to streamline sales and marketing operations.
They provide significant insights into customer behavior, analyze data, and develop strategies to personalize and optimize marketing campaigns and sales pipelines.
With AI-powered tools and recommendations, organizations can create a more personalized customer experience while improving their bottom line.
In short, AI marketing sales engineers are helping marketers and sales teams take marketing campaigns to the next level by using more innovative, faster, and more efficient marketing techniques.