100+ Artificial Intelligence Marketing Predictions for 2023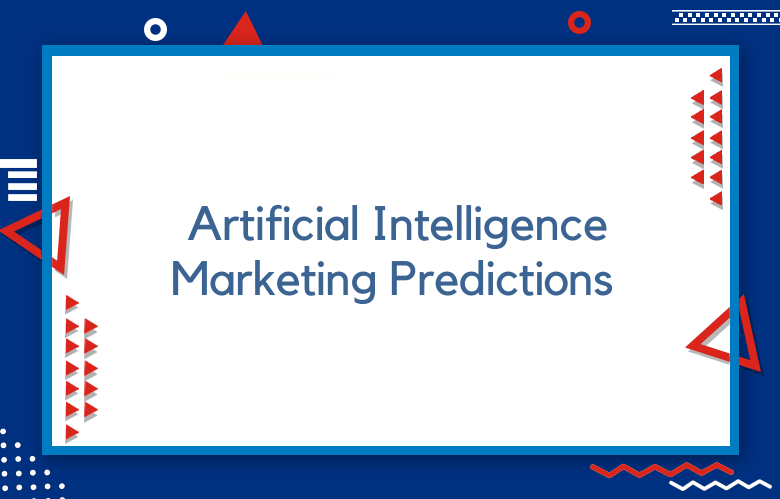 As we progress into the future, it becomes clear that Artificial Intelligence will play a pivotal role in marketing and how consumers interact with brands. In this blog post, I will list some predictions for 2020-2023 regarding AI Marketing.
The future of the marketing industry is in question. With AI and machine learning, marketers are left with many questions about using these technologies for their businesses. Predictions from experts on the subject will hopefully shed some light on what we can expect in 2023.
Since the emergence of artificial intelligence (AI) in recent years, there has been a definite increase in its capabilities. AI is expected to be more prevalent than ever by 2022; here are 100+ marketing predictions for how it will change the marketing industry.
The marketing world will be shaken up in 2022 with artificial Intelligence being used for many things. AI is helping marketers with their work, but it'll become more common as the years go on. Here are some predictions about how AI will change the marketing landscape by 2022: – By 2026, nearly half of all companies will use chatbots to engage customers online – Marketers are expected to spend $1 billion on machine learning software 2023.
Artificial Intelligence Marketing Predictions for 2023
AI-powered chatbots will help you find the perfect product for your needs
Voice recognition technology will allow you to shop from home with just a few clicks
Your fridge will know what food you need and when you need it
AI will be able to create personalized content for each customer
AI will be able to analyze a customer's past purchases and habits, as well as the products they've browsed online, to make recommendations on what they might buy or need next
The use of chatbots will increase exponentially because it is more cost-effective than hiring an actual human being who can answer questions about your company or product
More companies are going to start using AI assistants like Alexa and Siri so that customers can speak with them directly instead of having to call someone
AI will be able to predict people's emotions based on their facial expressions
AI will take over the day-to-day tasks of a marketing manager, such as generating content and scheduling posts
Marketers will use AI to track customer behavior in real-time, which will give them an edge over competitors
Brands that don't have a digital strategy in place by 2023 may not survive
AI will be used to create personalized, targeted ads for individual consumers
AI can predict when a customer is about to make a purchase and offer them an incentive like "buy one, get one free."
AI may start writing blogs or articles on behalf of companies
Marketing departments will change from being primarily staffed by human beings to being mainly staffed by AIs
AI will be able to read your emotions and respond accordingly
AI will learn from every customer interaction, making it more personalized for each person who interacts with it
Marketing teams will rely on AI to provide insights into what customers want and need to create a successful marketing campaign.
Artificial Intelligence will have a profound impact on marketing
AI will be used to generate personalized ads and content for consumers
AI will be able to predict customer needs based on previous purchases, habits, and behaviors
Marketing will be personalized to the individual
Personalized ads will have a higher conversion rate than non-personalized ads.s
AI-generated content will become more common, especially in the form of blog posts and articles.s
AI will be able to predict customer needs and behaviors
AI will be able to optimize the marketing process by identifying which channels are most effective, at what time of day, and for whom
There will be a shift from reactive marketing to predictive marketing as marketers rely on machine learning algorithms instead of human intuition
Marketing budgets will decrease because companies won't need as many people in their departments
AI will be able to create content for your company
AI will write the text on social media posts, emails, and blog articles
AI will organize all of your customer data into a single customer profile so you can better understand them
AI will manage your social media accounts by posting at optimal times with optimized content depending on what it knows about you and your customers
AI will be able to identify and target customers with the right product based on their specific needs
AI will be able to understand customer intent and offer appropriate products or services
AI's ability to read emotional responses in images, video, and voice recordings will allow it to assess a customer's mood and provide an appropriate response
Self-driving cars that can recognize road signs without human assistance will make traffic jams obsolete
Artificial Intelligence will be able to predict how customers are feeling based on their social media posts
AI will analyze shopping habits and then recommend products that the customer may like
AI marketing will be personalized for each customer
AI will be used to predict which customers are most likely to buy certain products
AI will be able to identify when people are in the market for a new car or home and send them tailored content about these products
The marketing industry will start using artificial Intelligence as an automated assistant that can help with tasks like customer service, lead generation, and campaign management
AI will be used to optimize consumer marketing
Consumers will have more control over their data and how companies use it.
Companies not using AI in their marketing strategy will be left behind.d
AI will be able to predict customer behavior and preferences
Companies will use AI to create highly personalized marketing strategies for customers
Marketing teams will start using artificial Intelligence in their day-to-day work rather than just relying on it for insights
Marketers will be able to get real-time feedback on how well their campaigns are performing through AI
AI will be used to predict customer behavior
AI will be able to take over marketing tasks for small businesses
Marketers will use artificial Intelligence to increase conversion rates on their websites by up to 500%
AI-powered chatbots will replace email as the primary channel for customer service, which means more time spent with customers and less time responding to emails
AI will be used to answer customer questions about products, prices, and delivery
AI will be used in chatbots to provide customer service
Companies will use AI to track the performance of their marketing campaigns
Marketing teams are expected to include an artificial intelligence specialist
Marketers will be able to create more targeted ads
AI-powered chatbots will become a standard customer service tool
Marketing teams will use AI to analyze data in real time and make predictions about future trends
Personalized marketing messages will become the norm for all companies
AI will do the majority of the marketing
Marketing teams will work with AI to create customer segments and target audiences.s
AI-powered software will help marketers optimize their content for search engines, social media sites, and email campaigns.s
Marketers won't just rely on traditional data like demographics or purchase history; they'll also use information about the weather, time of day, location, etc., to determine what kind of ad they should display to a specific person at that moment.e
Artificial Intelligence will be integrated into marketing campaigns to provide a more personalized customer experience.s
AI-based chatbots will take over for live support, freeing human resources to focus on another task.s
Marketing automation software will become the norm, with platforms like HubSpot and Marketo leading the way. y
The rise of influencer marketing – brands increasingly rely on celebrities and social media stars.s
Marketing will become more data-driven and personalized
AI chatbots will be used to answer customer questions about products, services, and company information
There will be a rise in marketing automation software that can automate tasks such as lead generation or email campaigns
Automated machine learning algorithms will help marketers make sense of large amounts of data
AI will be used to create customer personas for better marketing
AI will help with forecasting and predicting marketing trends
Marketing teams will rely on AI for insights into what customers want
AI will be used to create personalized customer experiences
AI will be used to identify the most relevant content for each user
AI will be able to predict what customers are interested in buying before they buy it themselves
Artificial Intelligence will be used in marketing to personalize and optimize consumer experiences
AI will be able to understand customer intentions better than marketers can, so it will generate personalized campaigns with the best chance of success
AI-powered chatbots will replace most call center agents by 2022
Chatbots are already being used for customer service and support roles, but they'll also be integrated into email marketing and social media interactions
AI will be able to predict a customer's needs before they even know them
AI will be able to take into account the customer's location, time of day, and recent purchases when determining what products or services it should offer next
Chatbots will become more sophisticated and more accessible for marketers to use as well as integrate with other platforms such as email marketing and SMS campaigns
Marketing teams will have access to aggregated data from all channels that can be used in predictive analytics models
Google has developed a new AI-powered chatbot
The Chatbot is designed to help users with customer service, marketing, and sales task.s
The Chatbot can answer questions about products or services and make recommendations based on the user's location and previous searches.s
Conclusion
We offer a new set of predictions for the coming years every year. This time around, we've taken on Artificial Intelligence and Digital Marketing. What will this convergence look like in 2023? Given how quickly things change with each passing day, we can only guess. But if you want to find out more about what AI marketing might hold for us all just four short years from now, contact me today!
I would love to chat with you about these emerging trends that have been making headlines over the last few months—and my team is always happy to work one-on-one with our clients to stay ahead of the challenging business world regarding digital marketing strategy.