Chief Chatbot Officer: The Next Big Thing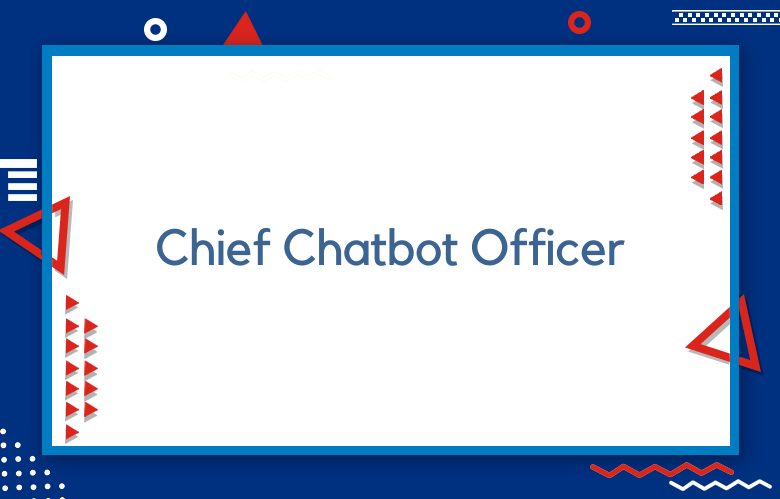 The world constantly evolves, surrounded by new technology and innovations daily. One of the most prominent is Artificial Intelligence (AI), drastically changing how we interact with machines.
Chatbots are one of the most significant advancements in AI technology, so companies are beginning to take notice.
A new position is starting to emerge in the upper echelons of businesses, namely the Chief Chatbot Officer. We'll explore the role of a Chief Chatbot Officer and why it will be the next big thing in the business world.
Chatbots are computer programs that use AI to simulate conversations with humans. They use natural language processing (NLP) and machine learning algorithms to understand and analyze human language patterns, making them an invaluable tool in customer service and sales.
What is a Chief Chatbot Officer CCO?
A Chief Chatbot Officer is a specialized executive who manages a company's chatbot strategy. They are responsible for ensuring that chatbots are designed to meet the company's and its customers' needs and are aligned with its overall goals and values.
A CCO must have a deep understanding of chatbot technology and the ability to communicate effectively with technical and non-technical stakeholders.
In our digitalized, fast-paced world, businesses continually strive to improve customer engagement and communication. One technology that's been increasingly used is chatbots.
Chatbots are computer programs that can converse with customers and provide various services, from answering queries to making reservations.
The adoption of chatbots has been so successful that over 80% of businesses are projected to implement chatbots by the end of 2021.
Why do Companies Need a Chief Chatbot Officer CCO?
As chatbots become increasingly crucial in the business world, the need for a dedicated chatbot strategy is becoming increasingly apparent. A CCO is essential for companies that want to stay competitive and ensure their chatbots are as effective as possible.
By having a dedicated executive to oversee chatbot development and deployment, companies can ensure that their chatbots are aligned with their overall business strategy and that they are built to meet the specific needs of their customers.
What Does a Chief Chatbot Officer CCO Do?
The role of a CCO is multifaceted and varies depending on the size and needs of the company. Generally, a CCO defines the chatbot roadmap, develops use cases, ensures chatbots are integrated with other business systems, and measures chatbot performance.
The CCO must champion chatbot adoption within the company and ensure that all stakeholders, from senior executives to frontline staff, are comfortable using chatbots.
Who is a Chief Chatbot Officer (CCO)?
A chief chatbot officer ensures that chatbots contribute significantly to a company's success.
They will be responsible for managing the chatbot development team and monitoring the performance of chatbots to enhance their functioning.
Furthermore, they will ensure that customers get the best experience with chatbots while ensuring chatbots provide accurate and timely information.
The Role of Chief Chatbot Officer CCO.
CCOs play a vital role in improving customer experience and saving time and resources for organizations. As more companies adopt chatbots, the need for a CCO is bound to rise.
A CCO will define chatbot strategy, develop and manage the implementation of chatbots, and ensure their compliance with industry standards. They will facilitate testing and feedback of chatbots to enhance their performance continually.
Career Opportunities in the Emerging Field.
As the utilization of chatbots rises, the demand for professionals with the skills to design, develop, and manage chatbots is also increasing.
Professionals in this field are responsible for programming chatbots to interpret customer inquiries, identify their intents, and deliver appropriate responses. The creation of this new role will lead to mainstream career opportunities for candidates with relevant skills.
Importance of AI in Conversational Intelligence.
With recent advancements in Artificial Intelligence, there is a growing size of market share and investments in the chatbot industry.
Conversational Intelligence would be the critical ingredient for the successful implementation of chatbots within organizations efficiently.
With a spike in remote work culture, chatbots have been in high demand to provide contextual information without human intervention.
Advancements and Challenges in Chatbot Technology.
Advancements in Chatbot Technology:
Chatbot technology has evolved significantly over the last few years. The advancements come from the intelligent algorithms used in machine learning and NLP to learn from past conversations and data.
The AI-driven chatbots can recognize and respond better to more complicated queries than earlier models. They can also interact in multiple languages, including regional languages. The following are some of the latest chatbot technological advancements:
Chatbot Personalization:
Personalization is the game-changer in chatbot technology. Personalized messages and interaction tone help to enhance customer experience and establish a better connection between humans and machines that understand them.
Interactive Interfaces:
Chatbot Interfaces, such as voice and visual support, such as voice and visual support, provide users with a more natural and intuitive experience. The improved communication channels make it easier for users to interact, ask questions, and receive timely responses.
Integration with RPA (Robotic Process Automation):
Robotic Process Automation in chatbots helps automate routine and repetitive tasks, such as processing data requests, sending reminders, and scheduling appointments.
Challenges in Chatbot Technology:
Although chatbots are rapidly gaining ground in business, developers face challenges when implementing the technology. These challenges often relate to AI, NLP, and data analysis. Some of the significant challenges include:
Natural and Engaging Conversation:
Designing engaging chatbot conversations is difficult and time-consuming, given the context and topic of the discussion and the different conversation styles people use.
Data Security and Privacy Concerns:
AI-driven chatbots process users' data at various levels, making it essential to ensure that users' privacy is protected.
Integration and Compatibility Issues:
Chatbot's performance is based on the backend systems, such as CRMs, ERPs, and other enterprise systems. Integrating these systems with chatbots is a significant challenge.
Conclusion:
The role of Chief Chatbot Officer will be the next big thing in the business world. With the help of chatbots, businesses can streamline their operations, improve customer service, and collect invaluable data for strategy development.
The need for a Chief Chatbot Officer will grow as chatbot technology evolves.
Companies will need someone who can lead the integration of chatbots, optimize their functionality, and ensure they align with their overall strategy. The future of business lies in AI, and chatbots will play a critical role.