High-Impact Local Lead Generation Strategies for Businesses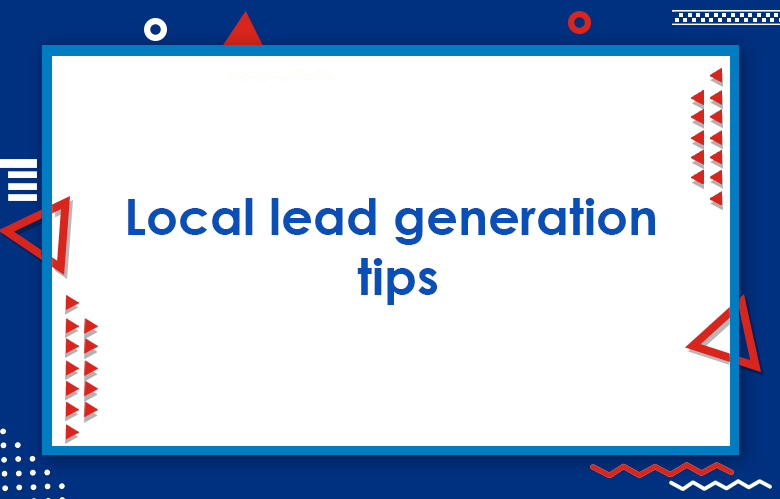 Local Lead Generation: Who doesn't want to find potential leads? From small businesses to entrepreneurs are much eager to get the leads and improve business growth. Engaging the audience is easy but finding high-quality leads is more complicated.
Moreover, finding and reaching the right platforms to promote your business brand and make it visible to the global market. To do this, there are several ways and tools available in the market.
Along with that conquering, the local market plays a significant role in gaining the brand reputation and improve the ROI.
Local Lead Generation Tips
Run events:
Hosting business events with the involvement of industry leaders helps in finding the potential leads for your brand.
Use email marketing:
When you use the method of email marketing with the most personalized approach can find the leads that make conversions.
Do more of what's work:
Before launching new marketing methods, make sure to analyze the existing campaigns and know what working and whatnot are.
Make use of paid online ad campaigns:
The paid ad campaigns can have better chances to gain user engagement.
Connecting with social media prospects:
LinkedIn is the best example to find the social media prospects who can drive sales.
Creating the email list:
Creating an email list can provide your ad campaign by targeting the email list contacts that reach the right leads.
Get active on social media:
Be active on the top social media channels like YouTube, Twitter, Facebook, and Instagram, which provide vast engagement.
Improve the visibility of the search engine:
Search engine optimization is the most considerable thing that all businesses are trying to be effective.
Optimization of local listings:
Make sure to build the optimization of the local business listings to generate sales for your business.
Build awareness and provide a solution:
Build the business brand awareness by providing audiences with intended solutions that are not available in other brands.
Offer proof:
The establishment of social media proof can be the added benefit that builds trust.
Pay for the leads:
Offer the leaded intended payment to the potential leads, which can be the crucial players in the success of your business.
Implement the strategy of follow up of leads:
Find the implementation of the brand strategy of follow-up of leads which can be used to drive the conversions.
Build the location-based lead magnets:
Targeting the location-based lead magnets can have the ability to generate local sales, which is the primary sales method for any business before reaching global customers.
Run social media ads:
Launch the most effective social media ad campaigns that hold the continuous engagement of the audience.
Offer samples:
The customers or leads always look for accessible trails and samples to know what your business products or sales are about.
Create the best performing landing page:
Build the landing pages that are being effective by offering a user-friendly experience to the visitors.
Go offline:
Reach the offline channels and news portals to promote your business brand that finds massive lead engagement.
Identify your audience:
Know your target audience and serve your business ad campaigns that drive the website engagement.
Reach the targeted Google Ads and social media:
Get your leads by implementing Google Ads and social media ad campaigns that help you find the conversions.
Run native advertising:
Native advertising is the most valuable and engaging strategy that allows all audiences to watch your campaigns.
Build a referral network:
Generating the campaign of referral by offering coupons and gift vouchers to get the business growth.
Offer deals:
Provide the best deals that attain the customer attention to look out for your brand products or services all time that you offer.
Offer fun:
Add the content that is being the most entertaining and fun to hold the audience's engagement.
Get in touch with the existing leads:
Keep the engagement of the existing leads by offering promotional coupons and gift vouchers.
Influencer Marketing:
Collaborating with the most influential influencers and businesses to find more leads.
Creation of most engaging content:
Reach the number of resources to create innovative content that keeps the continuous audience engagement.
Segment your Leads:
The segmentation of leads provides the targeted ad campaigns that let add the personalized approach.
Have an optimized website:
Website optimization is one of the most significant aspects that help to get lead engagement.
Creation of best performing blog:
The creation of blog content can let the visitors stick for longer hours at your content.
Text message marketing:
Text message marketing with the inclusion of the business links can let them visit your website to look at your products or services.
Guest post on relevant websites:
Always try to add posts that are entirely relevant to your business website and boost conversions.
Offer advice:
Make product or service recommendations to the customers and audience to get their attention.
Offer personalized advice:
Make sure to give the most personalized business solutions for the others and customer solutions that they are looking for.
Local Lead Generation Strategies
Create a post on your website about creating local leads for sales
Target local small businesses in your area
Lookup small businesses in the yellow pages or local paper
Join local networking groups and lead some meetings
Create a great following on social media and blog about it
Blog about local events and news that are relevant to your target audience
These lead generation ideas will help you find local leads easier
Before you start qualifying leads, do your research and learn how to qualify leads
Determine how much time you are willing to spend per lead
Find out why your clients need to switch from an existing rep
Develop a tracking system
Know what you want to charge for local lead generation jobs
Create pillar content on your topic
Interview other local businesses
Use local publications to promote your business
Classifieds, Yellow Pages, and Newspapers are still strong advertising channels when done right.
Add relevant content to your website
Create a blog and upload guest posts
Use LinkedIn for lead generation (not just job posts)
Advertise your business on Facebook
Use Facebook carousel ads
Host Pinterest contests and focus on visual marketing
Create Youtube videos to help with lead generation and customer education
Start a podcast (from interviews to product tutorials)
Start a newsletter used for local leads and content
Target local companies
Use social media
Create a list of local companies
Target local associations
Contact existing clients
Avoid general web searches
When in doubt, call the local chamber of commerce
Reach out to people you know first
Make sure half your marketing budget is spent locally every month
Practice Your Pitch
Build Your Current Customer Appreciation
Focus on Face-to-Face Visibility
Run local ads
Create your lead generation forms
Set up an autoresponder series
How to generate more leads
Customer retention
Partner marketing
Third-party marketing
Business Website Copy
Use social networks to connect with local business owners
Know your competition and what you offer better than they do
Segment customer bases and cater to the specific needs of each
Don't be afraid to start from scratch
Create a Local Landing Page
Use Social Media To Promote Your Business
Offer Free Content In Exchange For An Email
Have a clear focus
Create content that aids conversion
Make the purchase process easier
Create a sense of urgency
Have a tracking system in place
Text on the fly
Munch on mobile food
Meet with mobile business people
Stay social
Keep Your Foot On The Ground
Use social media for local lead generation
Make a relationship with the decision-maker
Be a resource first, not a salesperson first
Keep your message brief and focused
Use an internet-based campaign to find local business owners
Research, List, and Reach Out
Partner with Local Blogs
Join Local Facebook Groups
Create a Local Landing Page
Share on Social Media Channels
Market your business locally
Offer free services or reports
Create awareness by advertising
Increase the visibility of your business in local directories
Add social proof to your site, contact local influencers and bloggers
Make a connection with realtors, homeowners, and businesses in your area
Use local directories
Become an expert for your target customers
Use the web to uncover prospects online
Connect with those in your local area
Don't be afraid to promote yourself
Learn from others in the same market as you
Segment your data
Track beyond the click
Create a community
Publish opportunities
Brand your campaigns
Get Tested on Google My Business
Make Friends with the Locals
Build a Relationship with the Local Media
Learn to say no
Follow up on leads
Make connections everywhere
6 strategies to find and convert local leads
1. Put a lead magnet on your blog
2. Offer an opt-in with your article
3. Get guest posts in industry blogs
4. Make and send physical cards
5. Try out blogs that allow ads for newbies
6. Speak at events and slide into leads' DMs
When it comes to local lead generation
1. You need a visual landing page
2. You need a strong lead magnet
3. Your targeted audience needs to be hot leads
4. You have to figure out your local lead generation strategy
5. You need to use the right local lead generation platform
Follow our 7 steps local lead generation process
1. Buy an Instagram ad
2. Make a local landing page to entice them
3. Make sure you have video and live video in your marketing strategy
4. Search for influencers in your niche
5. Free Instagram shoutouts
6. Uncover the right hashtags for your market
7. Engage with influencers on other social networks (FB, Twitter, Instagram)
If you want local leads, try doing this
1. Speak to your neighbors directly
2. Post educational content regarding the city you live in
3. Publish events that are happening in the city to get engagement and page reach
4. Educate your followers on local issues
5. Post relevant hashtags to the city you live in
Conclusion:
Perfect planning and audience engagement within the budget are the most considerable that we all need to know. Mostly the consistent engagement of social media platforms like LinkedIn, YouTube, Facebook, Twitter, and Instagram have more chances to find potential leads.