Facebook Ads Checklist: How to Optimize Facebook Ad Campaigns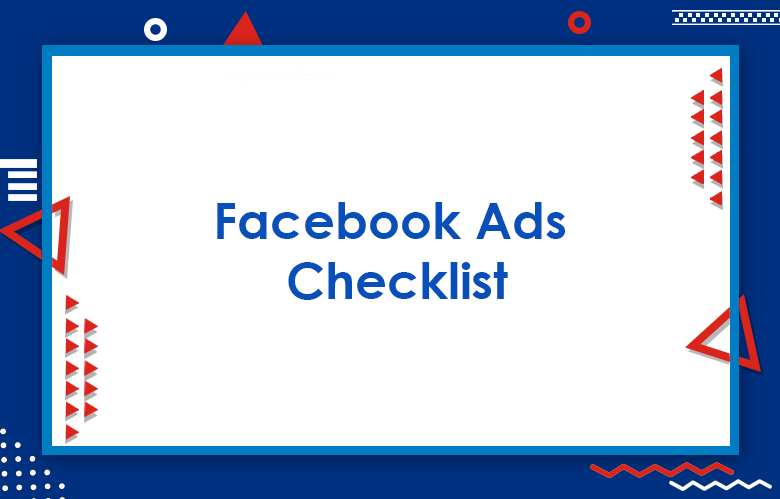 Facebook Ads Checklist: Facebook ads are the most effective and engaging category for businesses to connect with the relevant audience and find conversions easily. Though you launch several ad campaigns, they are not reaching potential customers. The only reason behind it is to establishing effective ad campaigns.
The automation might not work all time as they lack in delivering the right campaigns. Moreover, marketers need to monitor the performance of the campaigns that are being engaged by the audience. Here we've gathered the set of Facebook ad checklist that you need to know to explore your business.
How to Optimize Facebook Ad Campaigns
1. Facebook tells you what people are interested in
2. Find out what works on each platform based on your budget
3. Be real and original
4. Facebook will test different creatives depending on the budget
5. Use the most relevant audiences first, then others
6. Always A/B test your Video titles
7. Use UTM tracking  for all posts
8. Remember audience insights when targeting
9. Pilot ad copy for best results
10. Use a growth hacking mindset as you create your Facebook ad
11. Your first step should be measuring ROI on your campaign
12. You have to know the value you're creating with your ads
13. Measure the actual results of your Facebook ad every day
14. Set up conversion tracking
15. Do A/B testing on copy and imagery
16. You need a consistent engagement strategy
17. You need to optimize your campaigns for conversions
18. Define your campaign objective
19. Optimize your ads
20. Create stellar ads
21. Select an extensive ad set
22. Get creative with third-party ad sets
23. Avoid aggressive callouts/suggestions inside the ad
24. Keep your ad on one idea/offer when you're starting out
25. Keep it clean and simple
26. Don't use referral links unless you know what you're doing.
27. Run tests until you find the offers, images, and copy that work for you.
28. Install the Facebook pixel
29. Create conversion and engagement events
30. Create remarketing lists to reach people who like your business page
31. Use Lookalike Audiences for explosive growth
32. Run FB ads directly from Instagram to grow your audience without paying for Ads
33. Track ad reach, delivery rate, and ROI
34. Ensure the right creatives are being served by a name
35. Ensure you have a high conversion rate on ads
36. Ensure you have enough data for your client
37. Create benchmarks for each campaign
38. Start testing with a small budget
39. Use power editor if you're serious about marketing
40. Boost posts that already got some interaction
41. If it looks like a billboard, don't use it as an ad
42. Boost pictures
Facebook Ads Checklist
Facebook Assets and configuration:
Get access to use all the Facebook assets that include the Facebook pages, Instagram account, Facebook advertising, etc., in the Business Manager that enables the businesses to attain massive customers from the most engaging audience.
Creative:
Millions of businesses are using Facebook ad campaigns, but only a few can obtain the targeted results as they are offering unique and creative content.
Ad copy:
To improve the rate of conversion and business profits, then make sure to get the ad copy by highlighting your brand products or services.
Basic Facebook Pixel Events and configuration:
The Facebook Pixel can help you monitor the sales conversions, especially from the Facebook ads, by optimizing ad campaigns and targeted ads. Also, retargeting the audience can also be possible.
Dynamic Product Ads- related events and configuration:
The dynamic product ads are nothing but personalized ad templates that let the audience find more valuable and significant by using the data of the individual customers.
Audience Creation:
With this custom audience, one can target the existing audience on Facebook and deliver the ad campaign by using the factors like website traffic, list of customers, and Facebook engagement, etc.
Budget:
Plan for the perfect budget to launch an effective ad campaign on Facebook to reach your actual audience.
Think about your advertising goals:
Before launching the ad campaigns, make the advertising goals you want to reach through your business ads.
Segmentation:
Audience segmentation is essential to deliver your ad campaigns that find more engagement.
Gender:
Generate the ad campaigns by targeting the gender category that can be the most efficient way.
Location:
Select the location from where you want your ad campaign to engage more and find the sales growth.
Precise Interests:
This feature enables the businesses to target the audience that is interested or likes the Facebook pages that are relevant to another business page. Moreover, you can target a large audience base by using Precise interests.
Broad Category Targeting:
This can be the aimed category where it groups the audience depending on their likes, apps they are using, added content on their profile, interests, and Facebook pages they like and target them.
Relationship Status:
Targeting the audience through the relationship status is another level of business ad campaign engagement strategy.
Workplace:
Delivering the ad campaigns by targeting the workplace where the audience is can have more chances to boost engagement.
Ad type:
Select the specific type of ad category that is right for your business to get the audience's attention on Facebook.
Choose a bidding strategy:
Choose the right bidding strategy that makes you compose the ad campaign effectively within your budget.
Cost Per Click:
It is the paid ad campaign term that can enable the advertisers to pay the cost to the publishers for each click, and this can work effectively to get the real-time clicks that reach the ad campaign.
CPM:
When you are intended to display your ad campaign to the right audience, then you can bid through the process of CPM action strategy.
Conversions:
When your ad campaign generates a more significant number of conversions, you can confirm that your campaign performs better.
Traffic:
Know the website traffic that is produced through the launch of an ad campaign on Facebook to get enhance the campaign engagement strategies.
App Install:
Understand the number of business app installs you obtain from your ad campaign to find the growth of your business.
Video views:
The optimization of the advertising content should gain the audience's views that let you understand what to implement.
Lead generation:
The Facebook ad campaign should generate potential leads that can help you find the sales conversions.
Expert Ads Manager is necessary:
Make sure to have the expert Ads Manager to gain popularity among the competitors in the market.
Split testing for the ads is essential:
The testing of the ad campaigns in different ad formats is essential to know which type of ads can work better for your business to find real-time results.
Target the audience like friends of fans:
Create ad campaigns that can let you drive more engagement by being shared by the fans with their friends.
Refine the audience through the elaboration of targeting methods:
Find the different types of audience targeting strategies to hold customer engagement with our ad campaign.
Implement the call to action:
Add the call-to-action button in the ad campaign to let the audience be a part of taking the particular action.
Negative feedback such as finding who clicks on hiding this ad:
We focus on understanding who is clicking on hiding this ad which is draining your content performance can let you take the most influential steps.
Checklist to use before creating your Facebook Ad campaign
Pick a niche/product you know about
Target the right audience
Continuously split test ads
Build an email list
Use A/B testing to find the best copywriting style for your Facebook adverts.
Target the right audience
Create a compelling photo
Keep your ad to 120 characters
Define your goal
Create a profile picture and cover image
Customize the link to your page
Optimize your images
Add the correct image dimensions
Put together a Facebook Page
Create a unique landing page for every campaign
Choose the correct geographic location
Review your tracking results
Form an advertising plan
Create a split test ad set and A/B test ad
Set up a Facebook account
Engage your followers
Ask questions
Keep things simple
Use the right tools
Have a plan and strategy in mind
The 20-30-50 rule
Claim your vanity URL
Set a budget ad model and frequency
Understand the types of ads
Create an ad design
Prepare a target audience
Create a unique image that stands out
Use Nice images
No nudity or copyrighted content
Add high-quality User-Generated Content (UGC)
Embrace mobile
Engage with your fans/followers/likers
Use call-to-action buttons
Create story ads that build a narrative about your brand or product
Use videos to tell stories in multiple formats and lengths
Add your website URL to your page
Upload alike target list
Create an Ad Account
Create a pixel and use it on your website
Set up conversion tracking code
Create a conversion goal in the Facebook Ads manager
Engage your readers with list posts
Connect with your followers
Get relevant hashtags for the audience
Create a posting schedule
Add images and use video
Engage your audience with calls-to-action
Conversion Tracking
Run your first test
Conclusion:
When businesses use Facebook correctly, then it can be the conversion treasury that drives the sales. Facebook is the topmost social media platform that holds millions of audience engagement in real-time.