Chief Experience Officer (CXO): Reasons to Hire a Chief Experience Officer (CXO)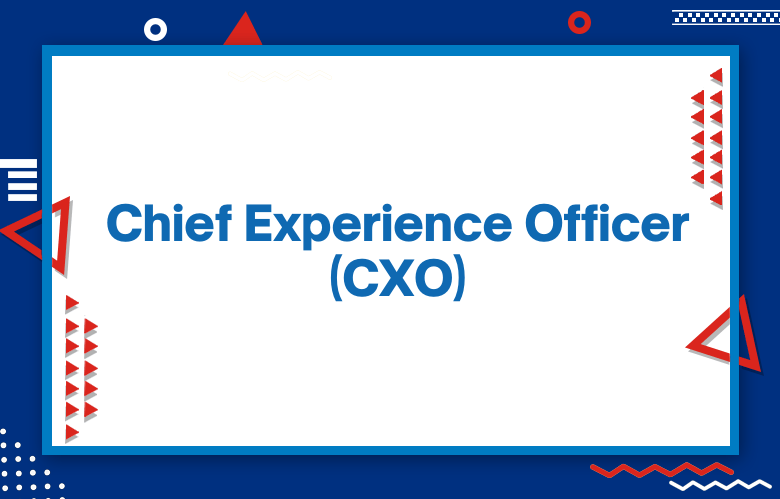 We all want to be a part of something bigger. Something that will last. But what does it take to establish an enduring company? As the Chief Experience Officer (CXO) for one of America's most successful companies, I have learned from experience and research that there are five things you should do to make your company stand out among its competitors:
Design a customer-centric strategy
Focus on quality over quantity
Invest in employees as assets, not expenses
Be innovative with new products and services
Embrace change as an opportunity
Join me for this blog post to learn more about these steps!
The Chief Experience Officer (CXO) is an emerging role in the business world. The CXO's responsibility is to oversee and manage customer experience across all channels, both online and offline. This blog post will explore what a CXO does, how they can help your company grow, and their salary expectations.
What is a Chief Experience Officer (CXO)?
The Chief Experience Officer (CXO) is usually responsible for the customer experience or user experience. A CXO can be characterized by its desire to understand how a customer or other end-user perceives and interacts with their products, services, digital interfaces, and touchpoints digitally or in person.
It's also worth pointing out that it isn't just digital for a CXO. Brands can now use telephones, pop-ups, and so much more to connect with people while they're engaging with your brand, whether buying one of your products or listening to one of your ads on the radio.
A Chief Experience Officer delivers customer experiences across all company channels. They take a 360º view of the customer experience, not just one medium or department.
A Chief Experience Officer champions new customer-facing initiatives and educates teams on leveraging the power of those initiatives through better cross-functional collaboration and touchpoints with customers. The CXO role involves leading different engagement models.
They are ready to work in fast-paced environments where finding success is an ongoing challenge, like when firms are scaling up rapidly or changing industries quickly, and overseeing more stable periods when competition isn't increasing as quickly while maintaining high service levels to maintain revenue goals during recessionary times.
A Chief Experience Officer's responsibility is to ensure that all customer touchpoints (i.e., social media, branding, customer service teams, and marketing) reflect the company culture and goals. The CXO focuses on reducing churn rates from customers to stay longer with a brand that offers their desired experience.
The job of a Chief Customer Officer (CCO), which was previously thought of as less important than a Vice President for Customer Success or Vice President for Marketing, has gained significant importance in recent years because companies continue to see dramatic changes in technology usage among different consumer demographics to engage more effectively with their customers across an ever-expanding set of channels and devices.
What a CXO does?
A chief experience officer is a VP-level executive overseeing an organization's customer experience. Some larger companies might have a CXO, numerous vice presidents, and managers for various aspects of the customer experience. At a smaller company, it's usually just one person overseeing customers' needs in multiple areas – from shopping for accounting management to getting products delivered on time.
A CXO is a Chief (or Vice President) Executive Officer responsible for one or sometimes more business functions.
The role of the CXO goes beyond its function to coordinate activities among different parts of the organization. It typically includes oversight responsibility for organizational performance, strategic planning, and human resource management.
"CXO" is an Americanized term that arose in US VC-funded Silicon Valley startups. As conflicts arise, many responsibilities are delegated from top management down to lower organizational levels. In these companies going from CEO to VP was seen as making sense.
A CXO is a Chief Executive Officer. The CXO may also be considered the Chief Information Officer (or Technology) Officer.
The CEO oversees strategy, operations, and deployment plans and sets the vision for the organization. They're responsible for ensuring that people's needs are met first while striving to make a profit simultaneously.
What exactly does a Chief Experience Officer (CXO) do?
Chief Experience Officers work with cross-functional teams to design the experiences that best serve an organization's clients. They look at industry trends and identify specific drivers of change to prepare the business for growth. One report suggested that a key trend is "designing customer interactions as a service."
A Chief Experience Officer's job has three essential components:
Gathering feedback from internal and external sources, implementing changes based on this insight, and finally measuring how it all pays off in increased sales.
The CXO must have strong communication skills and experience working with different cultures. They'll influence elements like branding and staffing decisions that can disrupt or manipulate people into doing things efficiently.
As the Chief Experience Officer for any company, it is your job to ensure that people enjoy themselves and have a better time using products or interacting with the company.
This might mean creating new customer experiences to nurture relationships, whether through fantastic customer service or an experience like hosting a party.
Your goal is for every person who reaches out to you or works with you on your experience team will want to share this positive connection with their friends, which will then lead to building more relationships and growing the business's reputation, as well as creating a competitive advantage.
Reasons to Hire a Chief Experience Officer (CXO)
A Chief Experience Officer can bring unique skills to an organization's management team. Chief Experience Officers have substantial experience leading customer-facing teams working with major vendors and partners that help the company create a positive client experience.
A more exciting, modern approach to technology, innovation, design, and storytelling can be fueled by one person on the executive team fully dedicated to delivering exceptional customer experiences.
Becoming a Chief Experience Officer is an excellent career choice. In today's tech-driven era, CXOs are essential to any company. However, most companies don't know what they're doing in this field of expertise.
Research shows that 63% of executives have little or no knowledge about how customer experience can generate more revenue and profit for their business. That's where someone with the title of Chief Experience Officer is needed to fill in the gaps and help close the gap between customer expectations and reality.
A chief experience officer is a business executive responsible for the customer experience.
There are four reasons to hire a chief experience officer:
Customer retention – Keeping customers happy with your company
Increasing customer loyalty – Ensuring your customers come back again and again
Improving conversion rates – Drawing more attention from potential customers and converting them into loyal, paying clients
Improving profit margins – Optimizing how you make money from every customer transaction and purchase.
Chief Experience Officers have many responsibilities, including collecting feedback to improve the quality of the service provided. Many in your organization can then use these insights to develop better solutions to problems that constantly arise across various departments.
Customer Experience Management (CEM or CXM)
Customer experience management is the strategic process of managing one's interactions with customers in ways that deliver an exceptional customer experience, and it's a vital component of business operations that influences all other efforts.
"CXM integrates various organizational disciplines such as marketing, sales, human resources, and product development to help orchestrate the entire customer lifecycle from lead capture to renewal. These key elements can benefit dramatically when integrated into an integrated plan."
Ultimately, customer experience is your business. Suppose you're in the hotel business, for example. In that case, if customers have an awful stay at one of your establishments, they could negatively impact future bookings on Expedia or other travel sites simply by voicing their displeasure to these sites.
You want to ensure that all of your customers have a great experience whenever they stay at one of your hotels or eat from one of your restaurants and that it's a memorable experience they don't mind sharing with others. That's where customer experience management (CEM) comes into play.
CEM complements traditional marketing strategies by putting the customer first by making their personal experiences with products and services more satisfying than anywhere else- no matter how those are sourced.
The Benefits of Hiring a CXO
"A CXO is a company's top-level executive. A CXO often has power over the company's departments and may be the controlling shareholder. CXO means Chief Executive Officer, Chief Operations Officer, and Chief Financial Officer.
Decide where your product/service should go based on future trends
Continually change strategies if your current one doesn't work
Lead brainstorming sessions to see what new ways your business can operate in
The benefits of hiring a CXOs include making decisions for the direction of the product or service (often at that level) and consistently changing strategies.
The Evolution of a Chief Experience Officer
Chief Experience Officers are in demand.
Companies understand that their customer experience is critical to the success of their business. What was once a role primarily for hospitality has become a core competency and board-level position at most companies.
They are responsible for delivering a seamless omnichannel experience across all touchpoints, channels, and devices – from product design to customer service.
CXOs have also embraced technology as an enabler to provide personalized customer experiences (the next frontier in AI), which will enable them to be able to serve today's highly demanding customers better with innovations such as voice-activated systems or always-on personal assistants who can handle even more of the interactive tasks than they do now.
Technology and customer behavior are evolving faster than anyone organization can keep up with it. That's where Chief Experience Officers come in; they have more in-depth knowledge about a company, its processes, its customers, and what customers are looking for from them to help solve the organizational problems technology organizations face.
The pace at which CXOs need to evolve is only increasing as companies find themselves on the frontier of new technology innovations.
CXO vs. CMO
The CMO is the Chief Marketing Officer. The CXO is a senior executive expected to have a deep understanding of all lines of business.
A Chief Executive Officer (CEO), starting from employee size and geography, has been seen in small businesses at about five US dollars and 20 employees or less working for them.
A CEO at this level typically works with a Board of directors larger than these numbers but still below the 100+ range, which would entail having an Executive Committee to help run things day-to-day.
The CMO is the person who does marketing for that company. This might mean developing visual identity schemes, advertising campaigns, product positioning strategies, etc.
Some companies have a Chief Executive Officer (CEO) and a Chief Marketing Officer (CMO). The CEO is usually responsible for the company's top-level functionalities, whereas the CMO may be more specific in marketing.
Most CMOs are promoted internally from within marketing – either from the senior account or strategic planning roles. A less common path to the title of CMO was through career paths in sales and finance when there was solid cross-functional experience with marketing decisions made.
The latter seems more likely for large organizations with a separate entity that serves as its sales and finances arm.
Why every business needs a Chief Experience Officer
The chief experience officer is responsible for everything that impacts the customer's experience. From sales to marketing, product development to supply chain, and customer service to social media – the CXO unites and aligns all of these aspects into a cohesive voice that strengthens company value across the board.
By deploying this model, organizations can make better decisions as they become more data-driven and people-centric, giving them an advantage over their competitors and helping them grow in new ways.
Companies who sign up for Chief Experience Officer services will find a competitive advantage in acquiring new customers while managing existing ones or even turning prospects into lifetime brand evangelists.
The Chief Experience Officer can help define and measure the intersection of customer experience, marketing, service, and business.
With the rise of digital transformation at all enterprise levels, from market research to manufacturing and product development processes, managing expectations has become increasingly crucial for businesses.
Generally, when things go wrong, there's a tendency to point fingers in different directions, which leads to increased customer unhappiness.
A good Chief Experience Officer will be aware of the various groups involved in any process and work towards coordinating everyone seamlessly to provide a seamless customer experience without compromising quality or deadlines.
Furthermore, with advancements in technology that allow companies to track customer feedback on social media platforms such as Facebook or Twitter, it is essential for company CEOs.
The Chief Experience Officer (C-XO) is exceptionally influential in business today. Often, the C-XO is more important than the CEO.
Every company faces an experience crisis as competition has begun to focus on the quality of experience, throwing customer expectations higher than ever before.
Today, customers expect companies to always be available at the proverbial drop of a dime, no matter where they are. Pressure from social media influencers has put pressure on businesses to innovate and provide better customer experiences or risk irrelevance constantly.
CXO Experience and Skills required
All businesses need to be making business decisions. That's the responsibility of all levels in an organization.
Executives primarily manage people, strategy, finances, and risk.
So they have to work closely with different departments throughout the organization – and lead teams that might cross organizational boundaries.
This requires three kinds of skills:
Assessing technical information about products or services; Designing sustainable financial strategies; Understanding legal constraints on decision-making.
Leadership skills include empathy, communication, coaching techniques, and negotiation tactics.
Public speaking and presentation skills since executives make speeches at company meetings or public events; Facilitation techniques because nowadays, most.
Tasks might include:
Purchasing goods and services.
Hiring staff.
We manage marketing campaigns, public relations, and advertising.
Duties usually do not include:
An executive's life can be unpredictable, so no one thinks they will always do it during a day at work. A typical task for an Executive would likely depend on what type they are working in and which industry and company they work for.
For example, someone working in retail may need to talk with suppliers about their inventory by telephone or online. Someone running a restaurant may need to inspect the kitchen area to look for hazards before opening up shop for the day.
Conclusion
The Chief Experience Officer (CXO) is a new title in the business world. What does this mean? At least one person in your team needs to have experience and knowledge about how customers think, feel, and react.
To compete with other companies in your industry or niche of interest, it's essential to know what makes people tick when interacting with your company – online or offline.
Conclusion paragraph: The chief experience officer (CXO) provides customer-centric and personalized customer experiences.
They oversee the entire company's strategy to create an optimal consumer experience for their clients and ensure that all employees are attentive to these values.
A CXO will consider business objectives and client needs when deciding how to improve or develop new products and services.
It may seem like this role would be limited to larger companies, but it can also benefit small businesses that want more control over their marketing strategies.
Suppose you want to help figure out who should lead these efforts within your organization. In that case, we can provide insights into finding the right CXO candidate and assisting them to succeed once hired! It's time to contact us today to start building a strategy together.