Chief Marketing and Technology Officer Roles and Responsibilities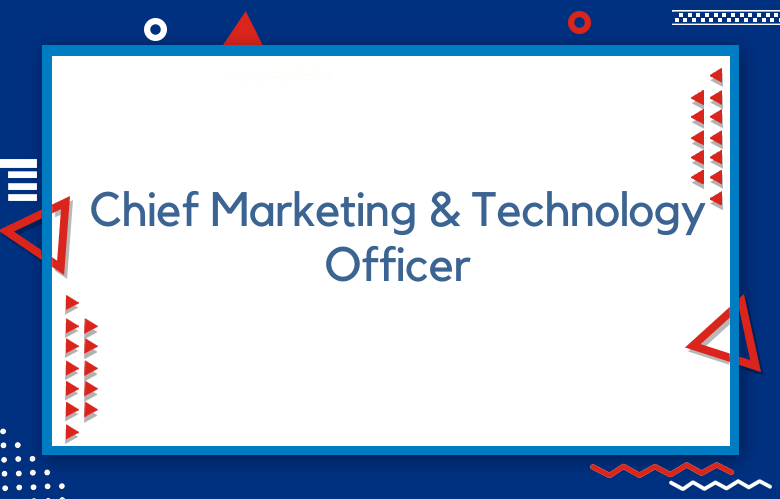 The Chief Marketing and Technology Officer (CMTO) concept is relatively new, yet it's becoming increasingly important in the modern business landscape.
The CMTO oversees marketing and technology operations within an organization, ensuring they work effectively together to meet business objectives.
As technology advances rapidly, organizations must have someone with a deep understanding of marketing and technical capabilities to remain competitive.
A Chief Marketing and Technology Officer typically has wide-ranging responsibilities that include developing strategies for customer acquisition, retention, product positioning, market analysis, budgeting, digital campaigns, and other areas of marketing.
They also need to understand the latest technologies and how they can strategically leverage them to drive growth.
The CMTO will likely work closely with IT teams to develop new products or services and optimize existing ones.
An individual who understands both sides of the equation is essential for successful organizational innovation.
The skills necessary for a successful Chief Marketing and Technology Officer are broad but highly specialized.
Professionals must bridge the gap between technical know-how and creative marketing acumen while maintaining solid relationships with internal stakeholders and external partners.
They must also possess exceptional problem-solving skills to identify solutions that best meet their organizational goals while staying on budget.
Finally, being adept at data analysis is critical to make the right decisions based on real insights rather than guesswork or intuition.
Who is Chief Marketing and Technology Officer?
A Chief Marketing and Technology Officer (CMT) is a senior executive in charge of developing, overseeing, and implementing strategies that combine marketing and technology.
The CMT leads all activities related to the company's marketing and technical needs, including consumer behavior analytics, product development, promotional campaigns, branding initiatives, and digital transformation.
The CMT works closely with the company's leadership team to ensure alignment between its goals and interests and its day-to-day operations.
A Chief Marketing and Technology Officer must have strong business acumen and technical knowledge to succeed.
They must be able to think strategically about the most effective ways to reach the organization's target customers.
They should have an in-depth understanding of cutting-edge technologies such as AI/machine learning systems, predictive analytics models, mobile app development platforms, cloud solutions providers, cybersecurity solutions providers, IoT architecture management solutions providers, and more.
CMTs are expected to stay up-to-date on industry trends and changing customer needs.
A CMT must be able to communicate its strategic vision throughout the organization to ensure that every member of the team understands what's needed for success.
Excellent problem-solving skills are essential for navigating complex situations that arise with any company's marketing strategy or technological implementation process.
Strong interpersonal skills are essential for negotiating with external parties, such as vendors or partners, while motivating internal personnel to execute these projects.
What does a Chief Marketing and Technology Officer do?
A Chief Marketing and Technology Officer (CMTO) oversees the developing, implementing, and managing an organization's marketing and technology initiatives.
This includes leading the design, planning, allocation of resources, and execution of strategies to maximize long-term growth.
A CMTO must possess strong leadership skills to collaborate with effective organizational departments.
The primary role of a CMTO is to create effective marketing plans with measurable goals and objectives that increase customer loyalty and generate profits for the organization.
They will develop new products or services by analyzing market trends and researching customer needs.
Furthermore, they are responsible for ensuring that all technology needs are met in line with company goals. It involves managing budgets related to software development, hardware acquisitions, system maintenance, information security protocols, and other technological upgrades.
They guide data-driven decision-making by creating processes to collect customer feedback, analyze industry trends, and recommend changes to improve product offerings or services.
They also use digital marketing tactics such as email campaigns, SEO optimization, or social media analytics to promote the company's products or services.
In summary, a Chief Marketing and Technology Officer oversees the development of marketing plans and technology initiatives to drive long-term growth while increasing customer loyalty.
They create strategies based on market research and emerging technologies to remain competitive while meeting customer needs.
They manage budgets related to software development & hardware acquisitions to maximize efficiency & maintain system security protocols & implement data-driven decision-making tools such as customer feedback analysis & social media analytics software.
Ultimately their goal is to ensure their company remains competitive by staying current on all fronts involving both marketing & technology initiatives alike.
How to Become a Chief Marketing and Technology Officer
Becoming a Chief Marketing and Technology Officer (CMTO) requires a combination of educational qualifications, technical expertise, and managerial experience.
To become a CMTO, obtaining an undergraduate degree in a relevant field, such as computer science or marketing, is essential.
Pursuing certification in web development or digital marketing can also be beneficial in building the necessary skills essential for the role.
It is also essential to gain experience in technology and marketing roles to develop an understanding of the interaction between both fields and how they integrate into business operations.
It is beneficial to further enhance this knowledge by gaining certifications and higher education degrees specific to technology and marketing strategies, such as a master's degree in Business Administration with a stream in Technology Management or Digital Marketing.
Hands-on experience developing software solutions or creating digital campaigns can help build up the critical skills required for the role.
Aspiring CMTOs must also hone their management abilities by gaining leadership experience within organizations' technology and marketing departments.
It can include managing budgets, teams, projects, systems implementation, and overseeing customer relationships.
Cultivating strong communication skills can also be beneficial when interfacing with stakeholders at different levels of an organization, including customers, vendors, executives, and colleagues.
Finally, CMTOs need to stay on top of industry trends by participating in relevant conferences and networking events that provide opportunities to learn about new technologies and methods related to marketing and technology operations.
To ensure their technical knowledge remains at its peak level of expertise, aspiring CMTOs should regularly take courses offered by professional organizations like CompTIA that focus on topics such as cyber security best practices or cloud computing strategies.
Keeping up with advancements in the industry will allow them to offer valuable insights into how technology solutions can improve their organization's overall performance and profitability.
Chief Marketing and Technology Officer job description
The Chief Marketing and Technology Officer (CMTO) plays a vital role in any organization in the modern age.
They manage any business's marketing and technological aspects, ensuring each arm functions effectively and efficiently.
The CMTO must use their technical knowledge to help businesses capitalize on trends within their industry, as well as helping to shape their customer's experience by developing innovative products or services.
This position demands an individual with excellent leadership and problem-solving skills who can work closely with marketing and technology teams.
A CMTO will be highly knowledgeable in technology, including web development, IT security, software engineering, and architecture. Additionally, they must thoroughly understand customer behavior analysis, segmentation, and product positioning strategies.
This individual must stay current with market trends to ensure their business remains competitive.
The job description of a Chief Marketing and Technology Officer includes overseeing the organization's entire marketing & technological operations.
They should possess strong engagement from boardroom-level decision makers to project teams deployed in different countries worldwide.
A successful CMTO will also have exceptional strategic planning skills combined with superior communication & presentation abilities to present new initiatives across multiple departments or stakeholders effectively.
.Their responsibilities should also include monitoring performance metrics such as cost per acquisition (CPA), average revenue per user (ARPU), or other required KPIs impacting marketing campaigns' ROI while achieving desired commercial objectives by executive management team members.
In addition to managing an organization's marketing & technology functions, a CMTO is expected to develop solutions that allow them to optimally leverage existing technologies while delivering an enhanced customer experience across multiple markets/regions.
Their remit may also include designing systems architectures that adhere to best practices within various industries while incorporating internal/external integration points with other software platforms the company uses; this could consist of integrating 3rd party CRM or social media tools into existing solutions, for instance.
Furthermore, they will need to be adept at utilizing Big Data analytics tools & techniques to gain valuable insights from data sets that have been collected from different sources within & outside of the organization's operational sphere – allowing them to understand customer behavior better & implement changes necessary for optimal results moving forward into future market conditions or product offerings made available by competitors, etc.
Chief Marketing and Technology Officer's responsibilities
Chief Marketing and Technology Officers (CMTO) are becoming increasingly important for companies as technology advances rapidly and marketing strategies become more complex.
In this position, the individual leads a team of professionals to develop and execute marketing and technology strategies to meet the company's objectives.
Specifically, the Chief Marketing and Technology Officer (CMTO) is responsible for developing, managing, and executing marketing initiatives to increase awareness of the company's products or services.
They must understand customer needs and trends to create effective campaigns that attract new customers. They also must stay current with competitive trends to ensure their organization remains competitive.
In addition to overseeing the development and execution of marketing initiatives, CMTOs are also responsible for managing all aspects of technology within an organization.
This includes ensuring that systems are up-to-date with the latest software releases, ensuring hardware performs optimally, overseeing network security protocols, managing mobile device usage policies, and creating data collection and analysis processes.
The CMTO must be able to identify potential weak points in an organization's security posture while simultaneously creating solutions that strengthen protection against cyber threats.
They must also be familiar with emerging technologies such as artificial intelligence (AI), machine learning (ML), and cloud computing platforms that facilitate faster development cycles and greater scalability.
They should have a keen understanding of how different tech systems can interoperate with each other to create better user experiences across multiple channels or devices.
The Chief Marketing & Technology Officer role requires a high level of knowledge across both the marketing and technical sides; this person should possess strong leadership skills and exceptional interpersonal communication capabilities to effectively manage team members from both disciplines.
They must be comfortable working independently but have experience working collaboratively on cross-functional teams to solve problems while achieving organizational objectives correctly.
Consequently, individuals who possess this job title must have a wide range of skills, including strategic planning as well as expertise in customer service operations management systems implementation/integration digital media optimization, customer analytics data privacy program management, organizational change management, agile methodology consulting project management applications architecture software engineering database architecture web development/integration IT operations/infrastructure process engineering system design/development automation tools development network engineering, etc.,
Chief Marketing and Technology Officer skills
The Chief Marketing and Technology Officer (CMTO) is a highly specialized role requiring an individual with a deep understanding of technology and marketing.
A CMTO needs to have an extensive skill set to bridge the gap between these two disciplines, as well as the ability to manage both teams effectively.
They must be able to understand the complex technical requirements of a product or service while also having the capability to plan, implement and monitor successful marketing campaigns.
Organizational skills are paramount for a CMTO, as they need to oversee multiple projects simultaneously, including those involving technology and marketing.
The CMTO should have strong leadership qualities to effectively manage their team members, delegate tasks, and meet project deadlines.
They should also have excellent communication skills to provide clear instructions and foster cooperation between departments.
Furthermore, knowledge of emerging technologies such as AI, blockchain, data analytics, and machine learning is essential for staying up-to-date with trends in digital marketing.
Additionally, the CMTO should possess a sound business understanding to make good decisions about integrating technology into its business model.
It includes developing a comprehensive digital strategy tailored around customer experience initiatives and emerging trends in digital media.
As such, they need to understand current market trends, consumer behavior dynamics, and the competitive landscape.
They should be comfortable working on various platforms, such as mobile apps or web programs, to develop solutions that meet customer needs.
Chief Marketing and Technology Officer role in a company
A Chief Marketing and Technology Officer (CMT) is an executive-level position that bridges the gap between marketing and technology within a company.
Their primary role is identifying, developing, and implementing strategies to leverage the company's technological resources for maximum marketing impact.
The CMT ensures that all marketing activities are supported by the most effective technologies to make their campaigns more efficient and successful.
The CMT must have extensive knowledge and be well-versed in modern digital marketing techniques such as social media, web design, and search engine optimization (SEO).
They should also understand software development, data analytics, database management systems, and cloud computing.
In addition, they will need to be able to evaluate potential technology investments, create tech roadmaps that align with business objectives, lead project teams and identify potential risks associated with new technologies.
The CMT must also possess strong leadership skills to manage cross-functional teams of marketers and technologists while developing new products or services.
They must communicate complex technical concepts in an easy-to-understand manner and have excellent problem-solving skills. Additionally, they should have experience working in a fast-paced environment where quick decisions often must be made.
Lastly, they should understand the importance of staying abreast of industry trends and be able to predict future changes that could affect the company's overall strategy.
A Chief Marketing and Technology Officer is essential for any organization looking to maximize its technology investments for maximum marketing success.
They must possess a unique blend of business acumen and technical savvy to bridge the gap between an organization's marketing activities and technological infrastructure.
In addition, they must have strong leadership skills to effectively manage cross-functional teams while adhering to strict deadlines and budgets. Finally, they should stay current on industry trends to keep their product or service offerings relevant.
Chief Marketing and Technology Officer Case Study
A Chief Marketing and Technology Officer (CMTO) is becoming increasingly important in modern business.
As businesses become more data-driven, technology-based, and customer-focused, their CMTOs must provide insights and solutions that drive their organizations forward.
A successful CMTO must possess unique skills, from technical expertise to creative problem-solving to strategic insight. They should understand the marketing and technology sides of the business – from analyzing customer data and leveraging analytics tools to devising innovative marketing campaigns.
By unifying marketing and technology functions within an organization, a CMTO can ensure that all teams communicate effectively and work together towards shared objectives.
This can lead to enhanced collaboration between departments and improved executive decision-making.
Providing ongoing support for technical projects and initiatives can help maintain operational efficiency while delivering value to customers through improved products or services.
A CMTO must understand how new technologies and digital trends affect their industry's competitive landscape while staying up-to-date on marketing best practices.
They should have strong interpersonal skills and be comfortable liaising with internal stakeholders such as sales teams and external partners like suppliers or vendors.
Furthermore, they need to be able to propose creative solutions based on an understanding of current market dynamics as well as upcoming ones.
At the same time, a successful CMTO must properly utilize analytics tools such as SEMrush or Google Analytics to gain valuable insights into customer behavior, which can then inform positioning strategies or product development decisions accordingly.
They will also need to develop KPIs around each campaign to measure its performance accurately.
Moreover, strong project management abilities are necessary to manage multiple simultaneous projects across both departments without missing deadlines or overrunning budgets.
Ultimately, a CMTO is invaluable in optimizing processes within the organization while creating seamless customer experiences that result in long-term loyalty and positive word-of-mouth referrals across channels like social media or review sites.
In short, this position should not take lightly – it takes a unique combination of skills for one's organization to reach its full potential with maximum efficiency!
CMO + CTO = CMTO (Chief Marketing and Technology Officer)
Chief Marketing and Technology Consulting
Chief Marketing and Technology Consulting is a growing field, offering companies of all sizes the opportunity to tap into the expertise of professionals with diverse backgrounds.
This type of consulting can provide invaluable advice and assistance in areas such as marketing strategy, competitive analysis, market research, customer segmentation, and more.
Technology consulting offers assistance with implementing and integrating new technologies into existing business infrastructure, as well as helping to develop custom solutions that meet a company's unique needs.
The advantages of hiring Chief Marketing and Technology Consulting firms are wide-ranging and depend upon each organization's particular needs.
These firms can help develop comprehensive marketing strategies backed by data-driven insights that allow organizations to optimize their promotional efforts for maximum impact.
These consultants can guide in selecting customer solutions that best meet their needs.
Technology consultants also possess the expertise to identify and implement practical solutions for digital transformation initiatives or other technology adoption projects.
In addition to this technical expertise, Chief Marketing, and Technology consultants often possess a strong business understanding that allows them to make informed decisions regarding core operations or processes within an organization.
This consulting service has become increasingly popular among businesses looking to remain competitive in today's economy while taking full advantage of all available opportunities.