Chief Merchandising Officer: Benefits of having a Chief Merchandising Officer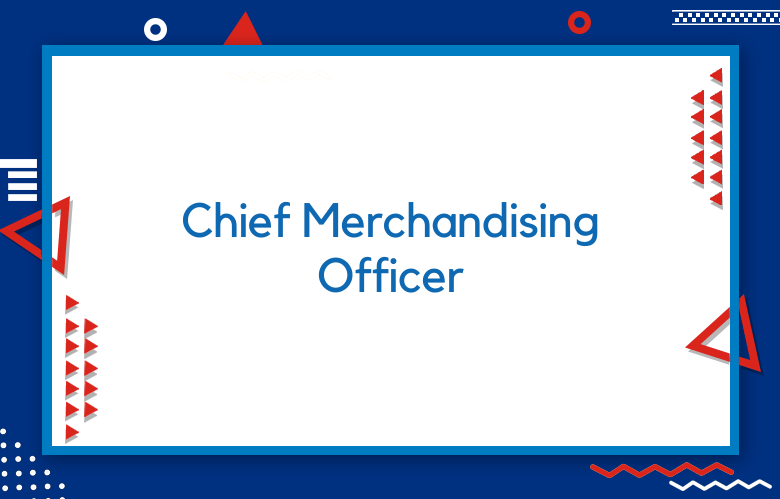 What is a chief merchandising officer? A chief merchandising officer oversees all aspects of the store, from merchandise selection, pricing, and presentation to inventory control. They also collaborate with other departments like marketing and operations to ensure that their vision for the store comes to life.
A good CMO will make it easy for customers to find what they want by creating an organized shopping experience in-store. They also keep up with current trends, so they know how best to showcase products that are trendy now or trending soon. To learn more about this position, read on!
What is a Chief Merchandising Officer, and why are they essential to your company
A chief merchandising officer (CMO) is a company's senior executive. They oversee the buying and planning of all the company's products. As such, they must be knowledgeable about many aspects of the business.
The Chief Merchandising Officer is the person who decides what items go in your store. This person plays a significant role in your company's success, so it's essential to know more about them.
The Chief Merchandising Officer is the person who is responsible for leading and managing a company's merchandising strategy.
Chief Merchandising Officers are responsible for managing all the buying decisions about products. They are in charge of pricing, merchandising, and visual presentation of products within a store.
A Chief Merchandising Officer (CMO) is a company's merchandising head. They are responsible for ensuring all products look attractive and organized in stores.
The Responsibilities of the Chief Merchandising Officer
Oversee the company's product development
Work with the CEO to decide on a company-wide strategy for growth and profit, including financial goals.
Determine what products are needed to meet demand from customers
Create a merchandising plan that will get people interested in buying your products
Develop marketing campaigns that promote your products and increase brand awareness
Develops and implements merchandising strategy
Responsible for the development of product categories, pricing levels, and inventory levels
Oversees all aspects of the buying process to ensure that products are delivered on time and in good quality
Ensures that appropriate inventories are maintained at all times by monitoring sales patterns and adjusting purchasing accordingly
Determine the company's overall merchandising strategy
Create and maintain a merchandise selection plan for all product categories
Develop, direct, and control the company's buying function
Maintain relationships with suppliers to ensure quality products are available at competitive prices
Ensure that inventory levels are maintained to meet customer demand and avoid stock-outs
Create a merchandising strategy for the company
Monitor fashion, design, and color trends to stay ahead of industry changes.
Make decisions about what products should be stocked in various store departments.
Ensure that all products are well-priced and marketed adequately to customers
Evaluate the company's merchandising needs
Develop and implement a comprehensive merchandise plan that meets the company's goals
Ensure that merchandise is delivered to stores on time, in good condition, and at an appropriate cost
Manage store operations for customer service, inventory management, and visual presentation of goods
Why should you consider hiring a Chief Merchandising Officer for your business?
The Chief Merchandising Officer manages the inventory and operations of a retail business. They can help you figure out how to move items, how much to buy, and at what price.
When it comes to building a business, having the proper management is vital. A Chief Merchandising Officer will help you find new opportunities for your business and improve customer satisfaction.
A CMO will have a significant impact on the success of your business. The first thing they do is analyze your current operations and look for ways to improve them.
A Chief Merchandising Officer is the person who manages merchandising for a company. This includes inventory, price, and product design.
Benefits of having a Chief Merchandising Officer
Provides a cohesive vision for the brand
Analyzes data and reports on performance
Oversees product development, procurement, planning, sourcing, merchandising, and inventory management
Manages relationships with suppliers and vendors
Balances between cost-cutting measures and customer satisfaction
A CMO can help you find new products to sell
They are responsible for managing the product line
They are in charge of designing your store's look and feel
A CMO will work with suppliers to get the best prices on products
A Chief Merchandising Officer can help you find and sell the right products
The officer can help with product development, including sourcing and production
The officer will work closely with marketing to promote your company's brands and products
They can also be an excellent resource for understanding market trends
The CMO is responsible for developing and executing the merchandising strategy
They are in charge of creating a cohesive look across all products, departments, and stores
They oversee product development and design
The CMO ensures that new products are on-trend with customer preferences
The Chief Merchandising Officer can create a cohesive look for the store
They are responsible for visual merchandising, which includes designing displays and fixtures
They are also in charge of buying products to sell in-store or online, so they have to know what's trending
A good Chief Merchandising Officer can make sure that all stores stay stocked with inventory
Disadvantages of not having a chief merchandising officer in your company
It's hard to plan your list without a chief merchandising officer
You have to rely on sales from other departments to get enough cash flow
There is not one person who has the final say when it comes to product design, price setting, and sourcing new products
Lower customer satisfaction and brand loyalty
Higher inventory costs because there is no one to balance the flow of new products with old ones
Disadvantages of not having a chief merchandising officer in your company
Loss of control over the merchandise in your store
Lack of coordination with suppliers about what products are available
The increased risk that you're missing out on new trends in fashion and style
Difficulty finding someone to take over when the current head leaves
Not having a chief merchandising officer means that there is nobody to oversee the buying and selling of products
This can lead to higher prices for customers since they will have less competition in their market
A lack of oversight also leads to lower-quality outcomes with no guarantee that what you're buying is actually what's on the label
It makes it more difficult for companies to stay competitive in the marketplace
The company is less likely to have a cohesive brand
There will be no one with the responsibility of buying products and merchandising them in a way that is appealing to customers
A lack of merchandising can lead to overstock or understock, which leads to lost revenue
Without someone who has experience creating displays, it's harder for customers to find what they want
Conclusion
The chief merchandising officer (CMO) is an executive position in companies that help oversee the product creation, marketing, and distribution of a company's products. A CMO typically has strong relationships with retail partners and suppliers and may manage all aspects of production or specific areas like manufacturing or sourcing.
Contact us today to learn more about creating an eCommerce Marketing strategy for your business! Our team will work effectively with you on implementing our SEO strategy to generate traffic from search engines while also promoting your brand through email campaigns targeted at potential customers on social media channels like Facebook, Instagram, and Twitter.