Chief Product Officer (CPO): Key Objectives for a Chief Product Officer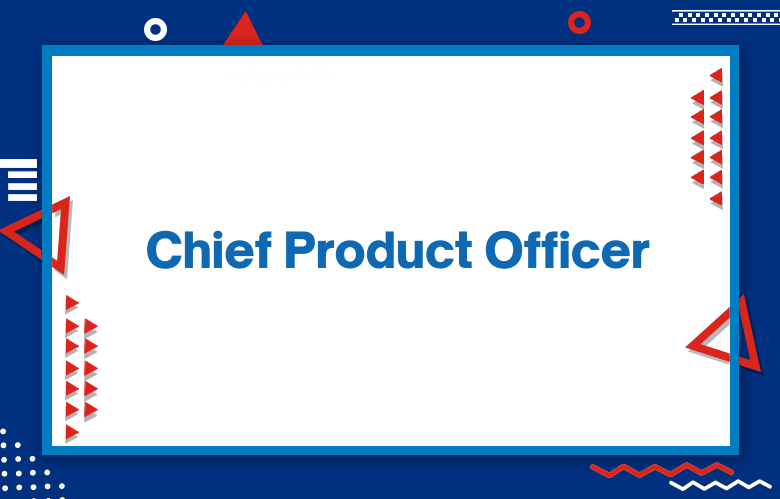 The Chief Product Officer (CPO) plays a vital role in any company with an innovative product. Their responsibilities include: managing the development of new products, overseeing manufacturing and quality control, developing pricing strategies and policies, and much more. As such, they must anticipate trends for their industry and other industries that could affect their business on either side of the supply chain.
How is your team working to increase customer satisfaction with the new product rollout? As a CPO, you want to ensure customers have a positive experience when purchasing and using your company's products. You can do this by measuring customer feedback and making changes to future product versions based on what you hear from your customers.
Before leaping into this career path, this post will explore some things you should know about CPOs.
What is a Chief Product Officer?
A Chief Product Officer is the person who oversees a company's product development and related processes.
A Chief Product Officer oversees the development of a company's products, but they're not in charge of any specific project.
A Chief Product Officer is someone who oversees the entire product life cycle.
The Chief Product Officer is a significant person in the company. The CPO is responsible for all products and sits on the executive committee. They are crucial to ensuring that the product strategy meets business goals and helps ensure quality assurance testing.
The Chief Product Officer is the person who oversees all things products at a company. They are responsible for ensuring that any new products or changes to current products are successful and well-received by customers.
Who is a Chief Product Marketing Officer?
A Chief Product Marketing Officer is in charge of marketing and product development. They determine the best way to market their company's products.
A Chief Product Marketing Officer is a person who works on strategies for the product of an organization.
A Chief Product Marketing Officer promotes a company's products to the public.
A Chief Product Marketing Officer is a leader at a company. They ensure that the product meets customer expectations and how to use it is clear.
The Chief Product Marketing Officer is an important person within a company. This high-level executive oversees the product development process and marketing strategy and maintains close relationships with clients, customers, and shareholders.
Who is the Head of Product Marketing?
In the product marketing industry, there's a lot of talk about building products people love.
The Head of Product Marketing will work with key stakeholders to shape product strategy and marketing campaigns. You will also create a cohesive brand image across all channels.
The Head of Product Marketing holds the position of CEO for a company's product. They're responsible for product strategy, and they need to make sure that all external communications are done in an organized manner.
Are you looking for a Head of Product Marketing with extensive experience in the digital media industry? Then, please read on…
The Head of Product Marketing is mainly responsible for defining the product roadmap and positioning it to buy. The position requires excellent critical thinking skills, communication abilities, and an intuitive sense of advertising trends.
The head of product marketing manages the public perception of a company's products. This person must handle their stress levels, as they deal with many different aspects of running a business regarding product marketing.
What are some Key Objectives for a Chief Product Officer?
One of the Key Objectives of a Chief Product Officer is to drive product strategy and execution across all divisions.
There are many critical objectives for a Chief Product Officer. This includes working with the development team, ensuring products meet high standards, and establishing performance benchmarks.
The main goal of a chief product officer is to help generate income and revenue. Even though product management generally has salespeople that do this, the chief product officer must be able also to increase profit margins.
There are many Key Objectives for a Chief Product Officer, but one of the most important is ensuring that new products meet customer needs.
While "Chief Product Officer" is a fancy title, the role focuses on managing and executing product development. Key objectives include defining your product strategy and planning roadmaps to achieve goals such as increased customer retention.
Develop a product roadmap that includes both short-term and long-term goals.
Define the company's core values, and ensure they're reflected in every decision.
Make sure marketing is aligned with the company's vision
Ensure there is adequate customer feedback to guide decisions
Create and maintain a product roadmap
Define the company's long-term vision for the product
Develop an annual budget for new features and marketing campaigns
Manage internal teams to develop, market, and release products in line with the company's goals
Be the voice for the customer
Define and prioritize product strategy
Manage multiple projects in a fast-paced environment
Develop relationships with external stakeholders, including investors
Develop a product strategy that aligns with the company's goals
Analyze data and metrics to understand customer behavior
Ensure products are marketed effectively
Identify new opportunities for growth
Chief Product Officer vs. Chief Technology Officer
The Chief Product Officer and Chief Technology Officer are two different jobs in a company. The CPO is responsible for creating products people want to buy, while the CTO ensures they're technologically sound.
The Chief Product Officer (CPO) is in charge of product strategy. The CTO, on the other hand, oversees all technological aspects of a company.
Many popular titles at a company include Chief Product Officer and Chief Technology Officer. Many wonder about the difference between those two positions, so I'll review them here.
The Chief Product Officer's role is to ensure the company has good products, whereas the Chief Technology Officer focuses on technology.
The chief product officer is usually a senior executive who makes product decisions based on market and customer research. The chief technology officer develops the company's signature technologies and often leads engineering teams.
How Do I Become a Chief Product Marketing Officer?
The Chief Product Marketing Officer is a strategic leader of the product marketing function responsible for exploring and executing global strategies to optimize product revenue.
To be a Chief Product Marketing Officer, you must have an MBA from a top business school.
The first step to becoming a Chief Product Marketing Officer is gaining field experience.
To become a Chief Product Marketing Officer, you must have at least a Bachelor's degree in business administration with an emphasis on marketing or economics. You will also need 7 to 10 years of experience in the field.
The key to becoming a Chief Product Marketing Officer is experience. Before moving into this position, 5-7 years as a product manager is essential. However, there are many ways to gain the necessary knowledge and skills from blogging.
You should know a few things to become a Chief Product Marketing Officer. First of all, being an expert in the field is essential. Second, invest in your knowledge and keep learning new things by attending conferences.
Product Marketing Manager Roles and Responsibilities
A product marketing manager oversees the company's products and services. They are responsible for analyzing all aspects of their products, including sales trends, consumer preferences, and competitors' actions, for determining how to prove them.
The product marketing manager primarily directs a company's products and services. The critical task of this role is to generate interest in these products by promoting them while also managing existing customer relations.
The product marketing manager is responsible for working with cross-functional teams to develop a clear understanding of the target market and the needs and wants of potential customers.
The Product Marketing Manager is responsible for developing and promoting a product. A PMM should have strong leadership skills, excellent problem-solving abilities, effective communication skills, and the ability to work well with people from all levels of an organization.
Researching the market and competitors
Developing marketing campaigns
I managed a team of creatives, copywriters, designers, and videographers to create content for social media, advertisements, websites, etc.
Collaborating with other departments like engineering or customer service to ensure that all aspects of the product are marketed effectively
Research and analyze customer needs, competitive products, and market trends
Create marketing plans for new or existing products
Develop campaigns that will generate interest in the product
Design advertisements to be used in print media, on TV, radio, online, etc.
Create and execute marketing plans for products
Develop product positioning statements
Work with product managers to create content, including blog posts, email campaigns, and social media posts.
Collaborate with designers on new packaging designs
Develop and execute marketing strategies for products
Create marketing campaigns to increase sales
Analyze data from product performance, including customer feedback, reviews, and other metrics.
Share company product information with customers through social media channels like Facebook or Twitter.
Develops marketing strategies for the product line
Writes content for a website, social media, and other digital channels
Creates an email marketing campaign to reach customers who have unsubscribed or not opened in a while
Maintains relationships with partners and influencers that promote the product on their pages
Create and manage marketing campaigns
Establish marketing budgets
Work with designers to create engaging content for social media, websites, banners, and more.
Develop strategies for promoting products in the marketplace through partnerships with retailers or online sales channels.
Create a marketing plan to promote products.
Develop product strategies and plans, including pricing, distribution channels, and target markets.
Generate publicity for the company's products.
Update website content with new product information as it becomes available.
Analyze market trends to identify potential opportunities for new or modified products.
Develop and execute marketing strategies for products
Monitor competitors and develop a competitive strategy
Manage social media accounts to engage with customers, answer questions, and promote products
Create content to educate potential customers about the product
Collaborate with designers to create graphic design assets for marketing materials such as logos, banners, infographics
Develop sales and marketing plans
Create pricing strategies for products, including discounts and promotions
Conduct market research to determine how the product could be improved or changed to meet customer expectations better
Plan events that promote new products or services
Analyze the competitive environment and develop a strategy based on their strengths and weaknesses.
Create a marketing plan for new products.
Work with the design team to create and update product packaging, branding, logos, etc.
Research competitors' pricing structures to price competitively
Chief Product Officer Roles and Responsibilities
Establish a clear company vision and strategy
Partner with the CEO to create a practical product roadmap
Managed the Product Development team, including hiring, firing, and managing their performance
Ensure that products are delivered on time and of high quality
Develop a product vision
Set the company's strategy for products and features
Work with engineering, design, and marketing to create new products and features that align with the company's goals
Create a roadmap of high-level priorities for your team over the next year or so
Responsible for the product vision and roadmap
Leads a team of Product Managers, Designers, Engineers, and other stakeholders to execute the product strategy
Works with Sales to understand customer needs and drives partnerships with Marketing teams
Develop and oversee the product strategy.
She led a team of designers, developers, and other product professionals to design products that meet customer needs.
Ensure new products align with company values, brand promises, and business objectives.
Identify emerging technologies and trends that could impact the company's future.
Define the company's product strategy and roadmap.
She led the development of new products, including defining requirements and managing timelines.
Manage product releases and ensure they meet quality standards
Work with other departments to prioritize features for future products
Led a team of engineers, designers, marketers, customer service reps, etc.
Manage all new product launches and features in the development
Own the end-to-end experience for customers using your products
Defines the product's roadmap
Oversees all aspects of a new or existing product, including design, development, marketing, and quality assurance
Ensures that products meet customer expectations and business objectives
Identify customer needs and market trends
Create a product roadmap to ensure the company is meeting these needs
Work with designers, developers, content writers, and other team members to create new products or improve existing ones
Write proposals for potential clients outlining how your company can help them meet their goals
Develop a product strategy that is aligned with the company's goals
Define and prioritize objectives for the product team
Work with other executives to identify market opportunities
Led cross-functional teams, including engineering, design, marketing, sales, and customer service
Ensure your products are on time and high quality
Led the team to create products that align with company goals
Manage the release of new products, including timelines and budgets
Coordinate with cross-functional teams to make sure all aspects are in place for a successful launch
Monitor customer feedback on existing products
Conclusion
The Product Marketing and Strategy industry is a fast-growing, exciting field. If you like to become an expert at product marketing or strategy for digital products, we can help! Hire our team of professionals who can assist with everything from strategic planning to execution on your next project.
We offer free consultations, so don't hesitate – to contact me today for information abo the services that best suit your needs and pricing options.
I look forward to and you soon!
As a Chief Product Officer, I know you've been looking for someone to help with your product marketing and strategy. Contact me to learn more about what we can do for your business!