Data-Driven Marketing Strategist: Best Data-Driven Marketing Strategies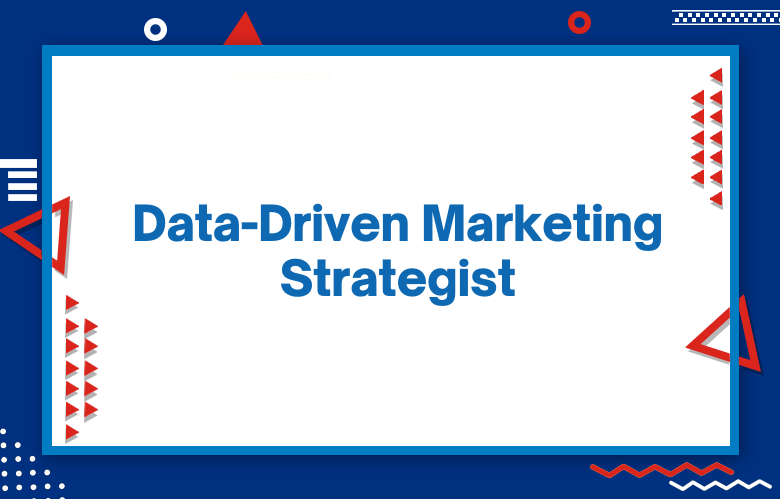 Data-Driven Marketing Strategist: Data-driven marketing is all about using data to drive your marketing strategy. It's not just a buzzword; it's an essential component of any successful marketing campaign. How to implement the best plan for integrating data into your digital campaigns.
The first step in an excellent data-driven campaign is establishing goals and objectives, which should be based on what you're trying to accomplish with your business or organization.
For instance, if you're running a restaurant chain that needs to establish customer loyalty to increase sales, one goal might be getting more people signed up for rewards programs or connecting them across social media platforms such as Facebook or Twitter. The second step would be setting measurable goals: how many new customers do we want.
The best data-driven marketing strategies are those that make the most sense for your business, but it's essential to remember that you need to gather and use the correct type of data to get a good return on investment.
We'll discuss some examples of how marketers can leverage different types of data like social media stats and web analytics to be more effective with their campaigns.
When it comes to data-driven marketing, many strategies can be used. The most successful marketers use a combination of these tactics to reach their goals. We will examine the five best data-driven marketing strategies and show how they can work together for even more success.
The best way to start your campaign is by figuring out your objective and understanding who you are trying to target with your message.
Once you have figured out who you want to market to, it's essential to figure out which channels work best for reaching them – do they spend time on Facebook or Twitter? What about Instagram? With the number of resources available at our fingertips these days, it's easier than ever before!
Who is a Data-Driven Marketing Strategist?
A data-driven marketing strategist is someone who primarily uses numbers to make decisions.
Many positions require a data-driven marketing expert. If you're in business or work in the field of marketing, there's a good chance that you have to deal with numbers regularly.
A data-driven marketing strategist is a professional who uses facts and statistics to make business decisions.
A data-driven marketing strategist is someone who uses data to guide their decisions. As a marketer, you must constantly seek new insights to target your audience better and provide them with the best possible experience.
I'm a Data-Driven Marketing Strategist. I am responsible for helping companies like yours make good decisions about their marketing based on data and research.
What is Data-Driven Marketing?
Data-driven marketing refers to campaigns that are built around data analysis. This will allow companies to understand how their audience views, purchases, and uses their products.
Data-Driven Marketing is a method of analyzing marketing campaigns that combine traditional and modern techniques to help achieve business goals.
Data-driven marketing is a method of analyzing your customers' habits and buying patterns to improve your business. For example, if you know that people who buy product X are often interested in product Y, then it would make sense for you to advertise the product.
"Data-driven marketing" is a buzzword used to describe the use of data in making business decisions.
Data-driven marketing is a business strategy that uses data collected from customers to inform and drive future decisions.
The Advantages of Using Big Data in Marketing
It leads to more effective and efficient campaigns. It can be used for advertising, sales, promotional activities, or any other activity related to the marketing field.
When you use big data, your marketing becomes more targeted and effective.
A large number of marketers are now using big data to develop marketing strategies.
Only 1 in 10 companies are using big data. The other 9 out of 10 could be missing a lot. Those that don't use it often fail to generate new leads and find potential customers.
Common Data-Driven Marketing Challenges
To achieve the most success with online marketing, you need a reliable and accurate data source. This is why many companies turn to Google Analytics for help in optimizing their campaigns.
You'll have to deal with large amounts of data and make sense of it; otherwise, your marketing efforts will fall flat.
In data-driven marketing, one of the most common challenges is the lack of a source to generate insights. The only solution to this problem is creating a group where all members have access to the company's knowledge base and can propose new sources for research.
Best Data-Driven Marketing Strategies
The best data-driven marketing strategies are those that help you understand your customers and their needs.
An effective way to promote your business is by using data. This allows you to better target people who are more likely to purchase from you and cut marketing costs.
If you wish to kick-start a truly successful campaign, it's essential to consider the data. You should be aware of all critical factors of your customer base and have information about what works best for them.
Data-driven marketing is the new wave of digital marketing. With the correct data, you can make informed decisions and improve customer experience.
Data-Driven Marketing Tools
If you want to get results from your marketing, I recommend using data-driven tools. These are the most accurate and can help you reach your customers in the right way so they'll buy more!
The most important thing when you're doing marketing is to track your data and be sure that the campaigns you're running are working. I would recommend using Adbots, a tool that allows you to monitor all of your ad campaigns in one place.
One of the best data-driven marketing tools is Facebook Pixels. It's easy to use and can help you reach your target audience with precision.
To find the most out of your marketing is by using data-driven tools. You'll be able to see what worked and what didn't, allowing you to improve and expand on practical things.
Data-driven marketing tools are a great way to streamline the process of analyzing customer data. As you can see, using these tools is inexpensive and easy.
Elements of a Successful Data Marketing Strategy
The first step to a successful data marketing strategy is to define the audience. The next step is creating a model which will be used for targeting. An important intermediate task is acquiring and storing data because, for it to be effective, you need high.
According to data experts, there are a few things that you need to do if you want your marketing strategy to succeed.
Data is the fuel that will support your business in a digital economy.
Data-Driven Marketing Consultant
What are you looking for in a Data-Driven Marketing Consultant? It's motivated by data and can apply that information to increase profits and decrease costs.
I work with companies to build strategies and tools for data-driven marketing. I used to do that in the past, but now I consult with businesses on using data to improve their sales and customer service.
I'm a data-driven marketing consultant who uses outbound strategies to ensure my clients' brands are top of mind in the public eye.
Our team of Data-Driven Marketing Consultants has extensive experience in providing expertise that will help you succeed.
Conclusion
The science behind how our brains work is evolving at a rapid pace. What used to be understood as "right-brained" or "left-brained" has now been discovered to be much more complex than that, with multiple parts of the brain working in concert for different types of tasks.
We will support you in integrating neuroscience into your marketing strategy so that it truly speaks to your customer and drives them down the desired path towards conversion. If this sounds like something you're interested in, contact us today!
The data-Driven Marketing Consultant team would love to get started on creating an actionable plan for success depends on what we know about human behavior when it's being processed by their precious gray matter.