Chief Marketing Officer(CMO): How to Become a Chief Marketing Officer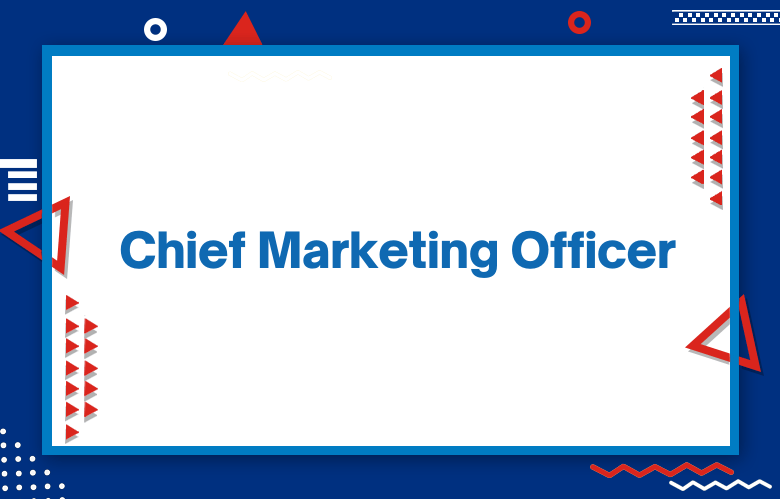 Are you hunting for ways to improve your skillset? If so, then this blog post is perfect for you. It will provide a list of tips that can help you on the journey to becoming a Chief Marketing Officer.
No matter what industry or company size, every business needs an experienced and knowledgeable leader in marketing its products and services.
This person is responsible for everything from determining how audiences respond to various campaigns to leading communications with clients and employees. If it sounds like something that you want, here are some steps that might be helpful:
Who is a Chief Marketing Officer (CMO)?
Every company needs a CMO to make marketing decisions that benefit the company. Marketing Chief Marketing Officer (CMO) helps the company set the direction for PR and advertising strategies to produce plans for digital moves, such as e-commerce acquisitions or responsive Web design.
A CMO has better odds of lasting five years in their position than other executives because they need not worry about managing operations and personnel like CEOs have to.
When it comes time to finalize budgets, the pressure is on, but these are much more manageable tasks without all the added responsibility. All you need is to focus on driving brand awareness and creating an accurate marketing strategy plan with your targets in mind.
A Chief Marketing Officer (CMO) is an employee in a company specializing in marketing-related activities and is responsible for frequent operations of managing, planning, positioning, and developing a brand's customer service and products.
Modern marketing research takes up much of a CMO's time. With so many things to think about – market research, product development cycle planning, or ongoing product innovation processes, including broader digitalization trends – marketers are being pushed into management roles as never before.
Recently, a new title called "Chief Consumer Engagement Officer" has been introduced by some companies, such as Dreamworks Animation. The CEO manages consumer engagement from traditional media buys to social media presence to targeted advertising campaigns.
How to Become a Chief Marketing Officer
A Chief Marketing Officer needs to see the bigger picture and master several different marketing skills. It is also advantageous for CMOs to bring skills from other departments or industries.
A CMO should have solid and strategic brand development skills. Strong communication skills are essential because most CMOs speak in front of large groups or clients about their company's successes and regularly work with journalists on press junkets.
Team-building and relationship-building are also essential since successful marketing often relies on the understanding that markets vary depending on the people within them, grouped by sex, age group, and ethnicity.
Strong analytical skills are also necessary so that you can measure your own campaigns' success as well as judge competitors.
First off, it is essential to set goals so that you can stay on track. This will vary based on your current level of marketing knowledge and experience. If you are a junior marketer, the goal should be to raise awareness about your company and position within the industry while working with clients to increase visibility online.
For more experienced people, the goal might be gaining new clients through product development or expanding into different markets across multiple channels while maintaining profitability.
The following few steps in this article will help guide future Chief Marketing Officers (CMOs) as they work towards achieving their objectives for success:
Build Your Brand
Define Success
Know Your Audience
Develop a Strategy
CMO Roles and Responsibilities
Understand the company's business model, goals, and objectives
Develop a marketing strategy to meet those objectives
Identify target markets for products or services
Establish pricing strategies in line with competitor pricing models
Create advertising campaigns to reach the desired target market(s) and persuade them to buy the products or services.
Manage all aspects of customer relations, including complaints, returns, exchanges, warranties, etc.
Develop marketing strategy
Manage the budget and expenditures for all marketing activities
Create measurable goals for marketing campaigns, including setting a timeline and identifying key performance indicators (KPIs) to scale the success of each campaign.
Ensure that the company's brand is consistent in its messaging across all platforms.
Develops and implement the marketing strategy
Oversees company's advertising campaigns
Manages all customer-facing marketing activities, including product launches, public relations, promotions, etc.
Defines the pricing of products or services to meet market demands and maximize profits
Create and manage marketing plans
Led the company's digital strategy
Manage the customer relationship management system, including CRM software, social media engagement, email campaigns, etc.
Research new trends in marketing to stay ahead of competitors
Build and maintain relationships with key marketing stakeholders
Led the strategic development of marketing programs
Define the company's positioning, messaging, and value proposition for selected target audiences
Develop a strategy to attract customers by identifying customer needs and wants as well as competitor offerings
Manage the budget for all marketing activities, including advertising, public relations, events, promotions, direct mailings, or other programs that support the company's sales goals
Develop and execute a marketing strategy
Oversee the company's advertising budget
Planned, developed, and implemented promotional campaigns, such as product launches or events.
Research market trends to identify potential opportunities for new products or services
Recruit and manage a team of creative professionals to produce content such as videos, graphics, images, etc., for use in marketing materials.
Oversees all marketing activities, including advertising, public relations, and promotions
Monitors market trends to identify opportunities for the company's products or services
Works with sales representatives to develop pricing strategies that will maximize the profitability of the product line
Responsible for setting appropriate budgets and managing costs
Create and manage marketing budget
Develop and execute strategic marketing plans
Manage the company's overall branding strategy, including corporate identity, logo design, advertising campaigns, etc.
Build relationships with key customers to increase sales through customer retention programs or develop new products/services for existing customers.
Oversee the development of all marketing materials, such as brochures, newsletters, press releases, and speeches to shareholders and analysts.
Expand product offerings to meet customer needs.
Create a cohesive marketing message for all channels of communication
Chief Marketing Officer Job Description
The Chief Marketing Officer is primarily responsible for the development and execution of an effective marketing plan.
Global marketing strategy is a company's only responsibility. Chief Marketing Officer must have experience working in at least two companies with a strong record of increasing revenue. They should be able to create an effective online presence through social media, emails, blogs,
The chief marketing officer oversees the market strategies and plans for a business. This includes research and development, product management, market analysis, competitive intelligence, and new product development.
Types of Chief Marketing Officers (CMO)
Chief Marketing Officers can be classified into four quadrants: Creative, Commercial, Converged, and Marketing Automation.
The Creatives are responsible for the Leadership push over creative visual storytelling and creativity. They oversee enterprise-wide marketing campaigns, ideate on new products and services to be marketed, and develop messaging related to critical products and services.
They typically have a strong background in art or design to create brand images that stick with consumers.
The Commercials are best at numbers-driven thinking while looking at the ROI of customer acquisition–they focus on getting in front of any target prospect as much as possible by any means necessary at a reasonable cost…television ads constantly run during commercials breaks; targeted SEO.
Chief marketing officers (CMO) are requisite in establishing the voice and image of a company, bringing this most significant point of contact with a brand to life. The CMO is responsible for communicating the brand's message through various media by increasing sales and profit.
The chief marketing officer brands the company and decides how best to sell their products or services. According to Forbes Magazine, "the CMO is unified at the crossroads of art & business."
They are dealing with both sides of this equation because, on one side, they must be aware of what consumers want but then translate that into real business terms. Ultimately though, it's all about ROI — return on investment.
How to Become a Chief Marketing Officer?
Completing a degree in marketing is ideal—finally, an answer as easy as eating chocolate. But if you already have your degree, are unhappy with your marketing career, or want to take a different path, read on for some advice.
In many cases, people like working in non-traditional roles such as social media manager more than marketing manager because they feel like they're doing what directly impacts sales.
In contrast, those who work with the promotion may only do things indirectly (even if it feels good). They can also offer expertise or perspective without feeling confined by outdated marketing practices.
You first need to search for companies in your desired field and call someone who does marketing. The person who answers the call will give you information about applying for a job, so take detailed notes about what they say – they might not have a website for online applications or job listings!
Companies may post their jobs on websites such as Monster.com, Indeed.com, and CareerBuilder.com…also Craigslist usually has many ads from companies looking for candidates who fit their needs. Linkedin can help with Professionals and Internships!
Skills needed to become a Chief Marketing Officer (CMO)
The Chief Marketing Officer must look for new and upcoming trends, determine what drives them, develop innovative marketing tactics, and allocate resources to different marketing efforts.
Consequently, the CMO must be good at research to know what will happen next. A CMO's primary job is to establish a company's overall long-term growth strategy and drive revenue-generating operations, which are critical in all industries, whether service-based or manufacturing-based.
Answer: Business and marketing degrees are popular choices, of course, but the essential lessons a marketing CMO candidate needs to be savvy in are sales, psychology, economics, and accounting. Understanding these four skills alone will make many other experiences and education a breeze.
With CMOS now requiring new talent with technical backgrounds like data analytics, creativity seems less important than business acumen–especially when we're talking salary. As the size of budgets increases, this will only become more accurate for chief marketers everywhere.
Inside the Mind of Chief Marketing Officer
The Chief Marketing Officer is the head of marketing for a company. This person comes up with ideas to promote their product or service and decides how they will be implemented.
The Chief Marketing Officer (CMO) is responsible for a company's long-term growth. The primary task is to ensure a consistent brand image across all media, including social networks and online video games.
Any company's chief marketing officer ensures the brand identity stays consistent.
What Does a CMO Do?
A company's CMO leads the marketing function, managing product development, branding, advertising, promotional offers, and partnerships. A CMO oversees all aspects of a company's marketing to target its customers with advertising that best meets their needs.
The CMO is nothing but the Chief Marketing Officer, and they are responsible for the company's marketing operations.
The CMO has two broad job functions; inward-facing to manage home-brand marketing activities and outward-facing business development with third-party marketers. As part of the 'top brass,' a CMO must carry out general managerial functions like overseeing financial management, people, facilities, etc.
Who Does a CMO Report To?
The CMO, or Chief Marketing Officer, is often a senior staff member and reports to the Board of Directors. It can also write to the CEO depending on organizational structure – but most companies follow the board-level reporting model.
In whatever model you have in your own company – make sure you align with marketing leaders on what's driving your strategy and how to execute it. Get clarity about KPIs for measuring success and align them across channels and touchpoints. Be clear about budgets, and cut investments if they're not working for you promptly.
What Does a Chief Marketing Officer Do?
Chief Marketing Officers lead the organization's marketing strategy and show how advertising, social media, public relations, and product development can work together to achieve measurable objectives.
Chief Marketing Officers create a favorable "message footprint" for the company—the collective sum of all customer communications.
They then try to understand who these target audiences are so that they know where best to promote the products or services, as well as what kind of language will connect with them on an emotional level. Finally, they deliver targeted messages to achieve conversions and build lifelong loyal customers.
Chief Marketing Officers need an understanding of branding to ensure everything from the design on their packaging to the wording on tweets reflects their cohesive brand.
What it Takes To Become a CMO
Suppose you don't have the ideas, skills, or drive to operate in various marketing channels and equip companies with insights on customer and competitor behavior. In that case, this job doesn't do anything for you. In other words, a CMO can create successful campaigns based on intel from their data and acquired intelligence from the business.
The success of work — both quantitative (reach) and qualitative (engagement)— depends heavily on marketing strategy coupled with technological savvy to execute it, so naturally, a lot of creativity goes into making it all happen effectively.
If your idea is healthy snacks marketed to children because calorie counters are accepted among adult consumers, remember that the potential market includes people.
Conclusion
To become a Chief Marketing Officer, you must have strategic marketing and business development skills. It would be best if you thought creatively and strategically to solve problems for the company.
Innovative thinkers who take risks will thrive as CMO because they drive sales and improve customer experience. If it sounds like that is what you are looking for, read on! We've outlined some steps below for how one can work their way into becoming a CMO.
Have any other questions about your career path? Let us know! Our experienced team members would love to help answer all of your questions or assist you in creating your own success story at our agency.