Chief Technology Officer(CTO): How to Become a Chief Technology Officer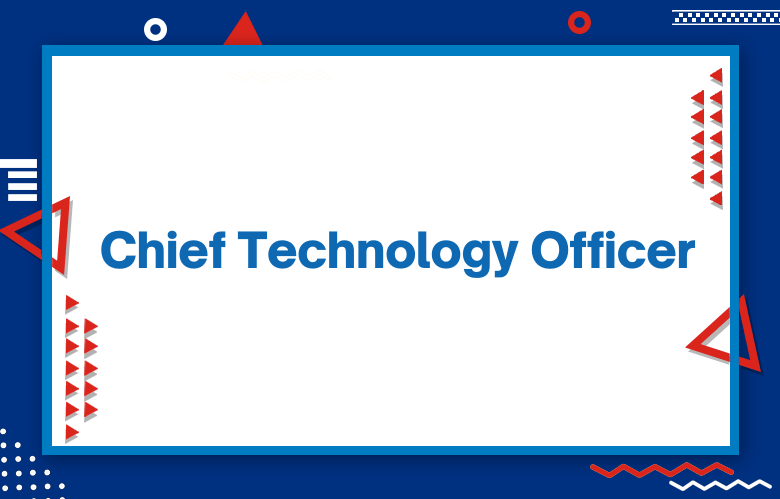 As a Chief Technology Officer, you must know how to manage and oversee your IT department. You are responsible for overseeing all the tasks involved with installing and maintaining technology in your company. Let's learn more about what this entails!
To grow as a CTO, it is essential to keep up with new trends in technology so that you can anticipate when something might go wrong or experience an outage.
It is also critical for the CTO to know their specific industry vertical to speak intelligently on current issues within the industry. Please take advantage of our blog to learn more about these topics and how to apply them as a CTO!
The Chief Technology Officer will research and implement new technologies to benefit the company.
Who is a Chief Technology Officer (CTO)?
A CTO is the highest-ranking technology executive in a business or organization. They are responsible for information systems, including planning, developing, and managing the system's personnel.
The Chief Technology Officer (CTO) is the highest-ranking technology executive in an organization, and he typically reports to the chief executive officer. He oversees all technologies used within a company or organization, which can help maximize efficiency.
A Chief Technology Officer is a person in a company or organization who oversees the development and use of information technology (IT) within the firm. A CTO is typically responsible for developing policies regarding technical issues and coordinating with outside companies.
How to Become a Chief Technology Officer
As the Chief Technology Officer, you are in charge of all technical aspects of an organization. In this article, we'll look at how to become a CTO and describe some of the critical duties that come along with this title.
Chief technology officers are not hired directly based on their technical knowledge. Instead, they're hired because of their ability to lead and manage a team. As such, you'll want to start by developing soft skills like leadership and management early in your career.
To become a CTO, start with an IT degree from a reputable university. Then move up the corporate ladder at several companies to gain experience and earn your stripes.
CTO Roles and Responsibilities
Define the strategic direction of the organization's technology
Develop a plan for how to integrate new technologies into an organization's operations
Manage and lead IT staff, usually with limited or no direct reports
Establish policies and procedures that govern the use of company computers and other electronic devices, such as cell phones and tablets
Responsible for the technical direction of a company
Defines engineering processes, standards, and practices
Oversees all aspects of product development, including design and quality assurance
Ensures that the company's products are competitive in terms of features, performance, and cost
Directs research into new technologies to be used by the organization
Developing and maintaining the technology infrastructure
Ensuring that all departments have access to necessary IT services
Maintaining a high level of security for data and systems, including developing disaster recovery plans
Providing technical leadership in the organization
Liaise with management to identify and prioritize business requirements
Collaborate with the development team to design, develop, test, deploy and maintain new applications
Define architecture strategy for company-wide application modernization or cloud migration projects
Provide technical leadership in all phases of the software development life cycle (SDLC), including planning, analysis, design, programming, and testing
The chief technology officer's primary responsibility is to manage the company's technological strategy.
They are responsible for selecting and implementing new technologies and overseeing a system architecture design that can meet future needs.
In addition, they must oversee all aspects of information security and privacy, including risk management, incident response planning, and disaster recovery preparation.
Led the development team in creating new products and services
Create a vision for the company's future technology needs and set goals to meet this vision
Ensure that technical standards are followed, including software coding guidelines and security protocols
Train employees on best practices and provide feedback on their work
Manage the company's IT infrastructure
Guide on new technologies and their applications
Develop a network-wide security policy
Maintain data integrity and protect against unauthorized access to systems or data.
Provide strategic leadership for the IT organization
Ensure that all company systems are secure and up-to-date
Manage budgeting, forecasting, and capital expenditures for the IT department
Lead technology development projects with other departments to ensure alignment of business needs with technical capabilities
Maintains a team of engineers, designers, programmers, and product managers to create innovative products
Develops strategies for the technical direction of the organization
Provide technical leadership
Manage the IT staff and budget
Monitor IT systems and infrastructure for performance, security, and compliance with company policies.
Identify new technologies that will help improve business processes
The CTO is responsible for the company's technology strategy
They are in charge of selecting new technologies and making sure they are implemented properly
They also oversee all IT operations, including data security, backup procedures, and disaster recovery plans
The CTO is responsible for the overall vision of the company
They are involved in hiring decisions and setting departmental goals
They ensure that all employees have access to the necessary resources needed for their work, including adequate IT support and equipment
Ensure that all engineering teams are aligned with the strategy and have sufficient resources to execute it
Led product design, development, testing, and quality assurance, as well as oversaw software architecture
Manage corporate IT infrastructure and ensure uptime of systems 24/7
Develop new technology and systems
Create a strategy for the company's information technology needs
Manage IT infrastructure, including servers, networks, and data centers
Plan for future growth of the company's IT needs
Provide leadership for the development of all technical aspects of a company.
Define software architecture and design, including database management, data modeling, and information security.
Hire and manage other employees to work on technical projects
Ensure that systems are designed to meet performance standards
Oversee system upgrades
Chief Technology Officer Job Description
The CTO is the top technology official in a company, and they help lead software development. They're responsible for finding new ways to improve products and developing ideas for innovative new programs.
The Chief Technology Officer is the head of technology for a company. They are responsible for directing and overseeing technological development, including planning, implementation, operation, and maintenance.
The Chief Technology Officer (CTO) is the organization's primary information technology strategist, who works with senior management to set the direction and ensure that appropriate resources are in place to support it.
Types of Chief Technology Officers (CTO)
The CTO of a business is responsible for the technical side of operations. This includes managing developers and other tech-related staff members and overseeing the development and maintenance of technologies used by the company.
A CTO is the highest executive in a company. The Chief Technology Officer directs technical development and research and oversees the technical staff.
What type of firm are you running? It would be best if you had a CTO. It is the most critical position in any organization because they are responsible for keeping technology up to date and current standards.
How to Become a Chief Technology Officer?
There are five essential steps you need to become a CTO. You'll need to be tech-savvy, grasp new technologies quickly, develop software professionally and efficiently, understand your business's work, and lead people.
A CTO is responsible for the computer systems in an organization. They manage developers and work with upper management to ensure the company's technology strategy is followed.
First, you need to become a visionary thinker. You have to imagine the possibilities of technology years ahead and understand how it affects your organization.
Skills Need to Become a Chief Technology Officer (CTO)
Strong analytical and problem-solving skills
Ability to communicate technical issues clearly and concisely to non-technical audiences
Experience with databases, including MySQL or Oracle
Knowledge of various programming languages and frameworks
Ability to work with a team, delegate tasks, and provide feedback on other's work
Strong analytical skills for understanding how systems function
Expertise in at least one specific area, such as security or networking
Managing and coordinating the company's technology resources
Ensuring that systems are secure, up-to-date, and functioning properly
Preparing budgets for new technologies or upgrades to existing ones
Working with vendors to ensure compatibility of hardware and software
Leadership skills
Experience in managing people and projects
Expertise in software development, data analytics, or systems engineering
Ability to communicate effectively with executives and other employees
Strong computer science skills
Ability to work in a team environment
Passion for technology and innovation
Leadership experience, preferably as a CTO or VP of Engineering
Must have a bachelor's degree in computer science, engineering, mathematics, or a related field
Should have at least ten years of work experience in the technology industry
Needs to be able to manage and lead a team of engineers and programmers
Experience with programming languages like Python and Java
Knowledge of databases such as Oracle or MySQL
Understanding of how to use various operating systems, including Mac OS X and Linux
Strong programming skills
Ability to work with many different people and organizations
Excellent leadership and communication skills, both in-person and online
Expertise in programming and web development
Knowledge of computer hardware, software, networking, and security
Ability to work with teams from diverse backgrounds
A bachelor's degree in computer science or a related field
Expertise in at least one programming language
Experience with web design and development, data modeling, and information security
Knowledge of database management systems such as MySQL and Oracle
Strong interpersonal skills to interact with clients
Inside Mind of the Chief Technology Officer
The biggest challenge in technology is successfully predicting what we will need tomorrow.
The CTO is a bit of an enigma. He makes the technology department run and remains in the shadows, never getting any credit for it.
Technology executives must be open-minded because a diverse team of talented individuals surrounds them.
Most technology companies are highly secretive about what they're doing; however, I've managed to get a glimpse at the inside of my company.
The chief technology officer is the person who leads a company's technological development, and it can be challenging because your decisions have to account for the changing world of technology.
Are our CTO and CIO the Same?
In most companies, the COO and CIO are separate positions. But in some companies, like Apple or Microsoft, they are combined.
For example, in sizeable bureaucratic government agencies or large multi-national corporations with multiple business arms (think IBM), there may be a Director of Information Management with a distinct focus on technology infrastructure – equivalent to IT management's Chief Technology Officer (CTO) — responsible for the infrastructures and systems that support their respective aggregated business operations.
In other organizations, these responsibilities might be distributed across several individuals who do not identify as CTOs or IT managers but have similar job functions.
What Does a CTO Do?
The CTO's most crucial skill is being interested in technology. They build and execute strategies that will take the company to new levels of growth and sustainability. The CTO reports to the CEO or other high-level management position, such as the Chairman of the Board.
My colleagues have recommended hiring another person with these skillsets as soon as possible, solely dedicated to growing our business before any damage can be done and we fall behind due to lack of maintenance.
Who Does a CTO Report To?
A CTO should report to the CEO, as the CTO is responsible for leading any technological decisions.
Tech companies often have a Chief Technology Officer (in tech jargon) or a Chief Information Officer reporting to the CEO.
A person usually fills the position with solid computer skills and academic experience in engineering or computer science – someone who has shown an aptitude and interest in software development and managing networks.
The position of technical chief can be neglected easily without enormous consequences when it's combined with responsibility for other departments such as sales, human resources, research & development, and production.
In short, if you're not interested in running an entire company (say because you enjoy coding), Tech Ops might not be where you want to
What Does a Chief Technology Officer Do?
The CTO (Chief Technology Officer) is the public face of technical leadership. They provide ongoing top-level technical, creative, and administrative oversight across an organization's technology landscape for developers, system architects, information service managers, and technologists.
They also help shape the company's long-term architecture with their vision of critical initiatives that significantly impact how employees work outside the business and social networks.
A successful CTO must be a leader with executive presence and good communication skills. This person not only represents a specific team or function but also leads overall strategic thinking about innovation.
The quotient between management skills (getting things done) vs. higher-level corporate planning abilities is often at odds within
What it Takes To Become a CTO
The most obvious requirement is a solid understanding of computer science.
This entails excellent skills in implementing abstract data types, proper design of software modules, and distributed processing challenges like resource contention and time-outs.
In addition to core issues like data structures and algorithms, graduates need schooling in innovative solutions such as new uses for existing technology or artificially intelligent brains that can grasp human languages without errors or gaps.
Graduates should also be skilled in implementing principles like optimization algorithms with proofs of correctness and separation theorems (to cordon off blocks within the memory hierarchy).
Excellent problem-solving skills are essential — especially for identifying faster methods for solving general problems. This experience gained through lower-level programming coupled with
Conclusion
If you like to become a Chief Technology Officer, the following steps will help you get started.
A successful CTO is more than just an IT expert; they must think strategically and communicate effectively with organizational stakeholders.
This article has provided some great tips for getting your career on track if this role interests you! Have any questions? I am looking to hearing from you soon!