Chief Customer Officer (CCO): The benefits of having a Chief Customer Officer in your Company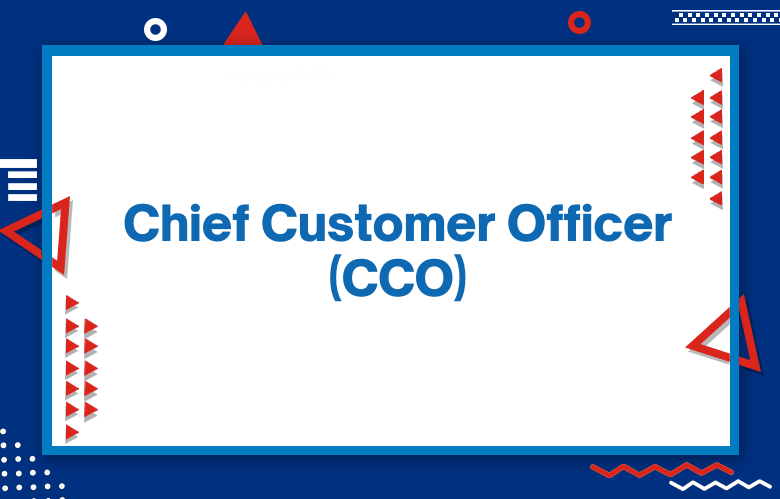 Every Company needs a Chief Customer Officer (CCO). The CCO is responsible for understanding customers' needs and desires. They are in charge of understanding how to keep them happy and loyal.
The Chief Customer Officer must also understand how to make changes to serve customers better.
It's not a simple task, but it's one that every Company should be doing well because, without satisfied customers, you don't have a business.
What is a Chief Customer Officer (CCO)?
A CCO manages and develops relationships with customers in an organization. A CCO often works in senior management beneath a CEO or other top-level management team members, such as the President or Vice President of Marketing.
A CCO focuses chiefly on satisfying customer needs and discovering what customers want. This job would include understanding why customers choose one company over another, conducting surveys and polls for potential new markets, analyzing the competition, etc.
As a manager of sorts to existing clients, a Chief Customer Officer must always be respectful and courteous in their dealings with them to strengthen the relationship between the two companies.
A Chief Customer Officer (CCO) is a high-level executive position responsible for a company's customer satisfaction. They monitor their Company's customers and competitors to help develop strategic aims that benefit both the Company and its customers.
They may also manage departments such as marketing, communications, service operations & process improvement. Generally speaking, the CCO is tasked with making more money from existing clients and finding new ones. The CCO reports to the CEO or President of a Company and works closely with the Company's executive office members.
A CCO is a senior figure in the business. Usually, it works closely with other critical executive team members to develop, communicate and implement sales strategies that will contribute to the Company's objectives.
The role of a chief customer officer varies from Company to Company but typically reports directly to the CEO and includes responsibility for leading marketing functions such as strategy, research, innovation, measurement/analytics, design, and demand generation.
In many organizations with 2+ layer leadership structures, this person may be able to lead some marketing activities. Still, they will not be anyone's boss or have any direct reports within marketing.
What are the responsibilities of a Chief Customer Officer?
Chief Customer officers act as the interface between their organization, clients, and products. They oversee all client-facing activities and can decide what drives company operations.
A chief customer officer is responsible for overall customer satisfaction and may take on various duties, including overseeing sales, marketing, product development, public relations, or any other areas applicable to the Company.
In general terms, a CCO's role may be similar to that occupied by members of the senior management team of decision-makers within an organization (e.g., CEO/CIO), including having ultimate responsibility for deciding what shape and direction the Company will take at any given time.
The responsibilities of a Chief Customer Officer are to meet the customer's needs by creating partnerships with various companies to create and offer the products they're looking for.
Some possible duties are to evaluate offers from vendors or other popular brands, negotiate contracts with these vendors, research markets and their customers, develop forecasts on market trends or changes based on decisions made inside of the Company; also might have to ensure an organization's compliance within the laws governing securities exchanges and corporate governance.
A typical day as a chief customer officer would involve meeting with clients about service delivery issues, discussing marketing plans internally by presenting pitches for new projects, and or coordinating discussions between outside partners such as engineers or even lawyers.
As a Chief Customer Officer, you analyze customer needs and expectations and listen to feedback. Furthermore, oversee elements of the Company's day-to-day operations that interact with customers, including its website, newsletters, branding, and public relations.
You'll be responsible for developing marketing campaigns for your Company and operating its business units.
The Advantages of Having a Chief Customer Officer in Your Company
They put customers at the center of everything they do. With this pipeline in mind, marketing and consumer insights create a world-class experience that meets customer expectations.
A chief customer officer is responsible for the organization's customer interactions. The job requires someone who can speak to clients or customers from all levels of the Company, including different levels of marketing, branding, and strategy, and analyze data to provide leadership and strategize.
In short, you need someone who has analytical skills to map out strategies and understands how to execute them. This person also needs empathy skills to match up what it feels like for your average user to adjust brands accordingly according to what people want and need when it comes.
A Chief Customer Officer is responsible for managing the customer experience.
This includes understanding what customers want and how they feel about your Company's interactions.
They also work to align all of your Company's departments to deliver a consistent customer experience.
The Chief Customer Officer will report directly to the CEO or COO
A Chief Customer Officer can act as a liaison for the Company regarding customer needs
The Chief Customer Officer can help identify what customers want and need, which will make it easier for other departments to provide those products or services
A Chief Customer Officer can manage all customer feedback from one central location
Having a single point of contact with customers helps them feel more comfortable and confident about their purchase
A CCO can support and coordinate marketing, customer service, and product development
A CCO will work closely with the CEO to identify critical trends in your industry
The CCO is responsible for developing a strategy that helps you retain existing customers and attract new ones
A CCO should be able to manage their time well enough to have some free time for other tasks
The Chief Customer Officer is the voice of the customer inside your Company
The Chief Customer Officer can help make decisions that will benefit customers and employees
A Chief Customer Officer helps to create a culture of caring about people, both internally and externally
The CCO is the face of your Company to all customers
A great CCO can increase customer satisfaction and loyalty
A dedicated team within a company means that more people focus on customer service
The Importance of Customer Service to a Company's Success
The importance of customer service to a company's success should not be underestimated.
The relationship between the level of customer service and corporate profits is exponential. A firm can't outgrow its provision of quality customer services.
This can be seen when examining the Net Promoter Score® (NPS®) offerings, which is a measurement that tracks customers' willingness to refer business and measure their satisfaction with your terms and conditions.
When all other things are equal, companies with higher levels on this index outperform those have lower numbers by a 3-to-1 margin over time. It makes sense then that one would expect competitive marketplaces like eCommerce or internet retail to pay closer attention than ever.
Tips for improving your customer service skills
Smile when answering the phone
Be as polite and helpful as possible
Use a calm tone of voice
Listen to what your customer is saying before responding- don't interrupt or cut them off.
Speak slowly and use simple words with customers who speak English as a second language.
Be polite to customers, even when you're busy or stressed
Listen carefully to customer requests and complaints
Ask questions about what the customer needs help with
Offer suggestions for how the customer can solve their problem before getting more involved, but be ready to offer assistance if needed!
Be polite and respectful when talking to customers
Listen carefully to what the customer is telling you, don't interrupt them or finish their sentences for them
Remember that you are not always suitable – if a customer has an issue with your Company's service, they may have valid concerns that need addressing
Don't make promises you can't keep- this will only lead to more frustration on the part of the customer
Listen to the customer's needs and concerns
Offer solutions, not just problems
Be patient with customers who are frustrated or angry
Show empathy for how a customer feels about their situation
Smile and greet customers when they enter the store
Make eye contact with customers when you speak to them
Be assertive, not aggressive, in your tone of voice
Understand that customer service is a two-way street- it's about providing good customer service as well as receiving it
Raise queries to get a better understanding of the customer's needs
Be helpful and empathetic
Use positive body language, such as gesturing with your hands or nodding in agreement.
Offer solutions for the customer's problems, and don't just offer apologies when they're upset.
Listen to what they are saying.
Offer a variety of products or services that will meet their needs
Ask questions to find out more about what they want or need
Be polite, even when you're busy
Listen to the customer and ask questions for clarification
Be empathetic and patient
Offer solutions, not just problems
Don't be defensive or aggressive when the customer is upset
Listen to the customer and show that you care about their needs
Make eye contact with the customer when they're talking to you
Be patient, even if it's hard sometimes
Use a positive tone of voice and speak clearly
Write down important information like names, phone numbers, or email addresses for future reference.
Understand what the customer is saying without interrupting them
Be honest about your product's strengths and weaknesses, but never insult or talk down to a customer
Always have a positive attitude when dealing with customers
How has technology helped or hindered customer service
Technology can work as both a help and a hindrance to customer service.
Technology is often misrepresented as the sole provider of good customer service. Yet, chances are, who you're speaking to on the phone has nothing to do with technology- they're simply doing their job. And yes, if you find a business that delivers excellent customer service without employing any tech, thank you for noticing!
When they contact a company, most people want clear and accurate information about what will happen next in their transaction or which steps they need to take next – this can be managed more effectively in a 1:1 live conversation than via email, where there's less opportunity for interaction.
Why should you hire this person to be your customer's advocate?
Customer advocacy is a crucial approach to customer service that builds customer loyalty. It's not enough for companies to provide excellent products and quality customer service because customers always seek something better.
The customer advocate recognizes these patterns and understands the psychology of what it means to be a customer, aiming to optimize their experience while protecting your Company from newcomers in the marketplace.
Properly executed advocacy starts with identifying loyal customers who unconditionally love what you do and will never change products regardless of how competitive your market becomes – surprisingly, few businesses ever recognize these loyalists. Still, once identified, they should be treated as celebrities within your Company.
Who should be the voice of your Company's customer experience strategy
A company's customer experience strategy should be the voice of the business. Anyone that builds customer interaction in any capacity is part of that customer experience, and it's essential to train team members on tone and execution actively.
That way, everyone is singing the same tune, and over time they'll develop their approach — not unlike American Sign Language, where signers speak as though they were hearing themselves for the first time.
If you think about how your ideal customer would sound, you'll better understand who should represent them.
For example, if your brand is global, but your product appeals primarily to an urban Millennial audience — then there needs to be an urban Millennial person providing insights.
Chief Customer Officer Roles and Responsibilities
As the voice of the customer and a leader of an organization's customer experience, your responsibilities will include the following:
Developing key insights to support the strategic imperatives of growth, innovation, and convenience
Requesting clear objectives from all levels to align resources with company expectations aligned with growth, innovation, and convenience
Driving accountability for a meeting or exceeding company expectations by evaluating both financial performance and customer satisfaction levels
Partnering constantly with internal executive teams to identify new products that meet customers' needs
Ability to speak at conferences on increasing conversion rates through excellent service
Ability to understand opportunities to improve business marketing efforts as it relates to understanding local markets in your region or
Develop and maintain customer relationships
Manage the customer relationship lifecycle
Lead marketing efforts to attract new customers
Ensure that customer needs are met and exceeded
Create a culture of service excellence
Determine the Company's customer needs and wants
Create a strategy for meeting those needs and wants
Define the customer experience
Manage all aspects of customer service, including marketing, sales, operations, finance, legal and human resources.
Develops the vision and strategy for customer experience
Oversees all customer-facing functions, including marketing, sales, service, product development, business analytics
Promotes collaboration between departments to maximize customer satisfaction
Understand the customer's needs and behaviors
Manage customer relationships
She led a sales, marketing, and service personnel team to meet customers' needs.
Make decisions about pricing strategies and promotional campaigns
Measure success by analyzing data on profitability, market share, retention rates
Create a customer-centric culture
Develop customer service standards and guidelines
Set goals to meet the expectations of customers
Define the customer experience strategy for your Company's products or services.
Evaluate how well your Company is meeting its commitments to customers, including quality, availability, and timeliness of delivery as well as pricing.
Developing a customer-centric culture
Defining the Company's customer strategy
Ensuring alignment of marketing, sales, and service to support the customer strategy
Providing leadership for all aspects of the customer experience with an emphasis on creating positive emotions about your organization and its brands
Sharing responsibility for developing key performance indicators that measure progress toward organizational goals
Develop customer-focused strategies
Led the customer experience team
Analyze data around customer behavior, such as purchase patterns, feedback responses, and social media engagement.
Prioritize resources for marketing campaigns that are most effective at reaching your target audience/customers.
Develop and maintain a customer-centric culture.
Manage the customer service team to ensure they are providing high-quality service.
Monitor all aspects of the customer experience, including incoming feedback on social media and phone calls.
Communicate with customers about any changes in their order or delivery status.
Lead teams that manage product development, marketing, pricing, distribution channels, and other areas
Keeps customer satisfaction as the Company's top priority
Ensures that customer needs are always met and exceeded
Communicates with customers to find out what they want from a company's products or services
Manages all marketing efforts for the Company, including advertising campaigns and social media posts
Hire, train, and manage customer service staff
Create a customer service strategy based on the Company's goals
Develop and maintain strong relationships with customers
Ensure that customer service is running smoothly by monitoring performance metrics like call volumes, wait times, and average handle time
Manage the online presence of your Company to build trust with customers
Conclusion
Chief Customer Officers are a new breed of marketing executives responsible for understanding, engaging, and managing customer expectations. They must understand what customers want from their brands and how they expect them to behave online.
It is tricky, but knowing where your audience hangs out on social media or other networks is possible. This post will give you some ideas about how CCOs do this successfully and why personal branding is essential in establishing trust with customers across all channels, including digital platforms such as Twitter and Facebook.
If you're beginning your career or looking to grow up the ladder at your Company, this is the right time to learn more about this rapidly.