Chief Security Officer (CSO): Challenges of Chief Security Officer Security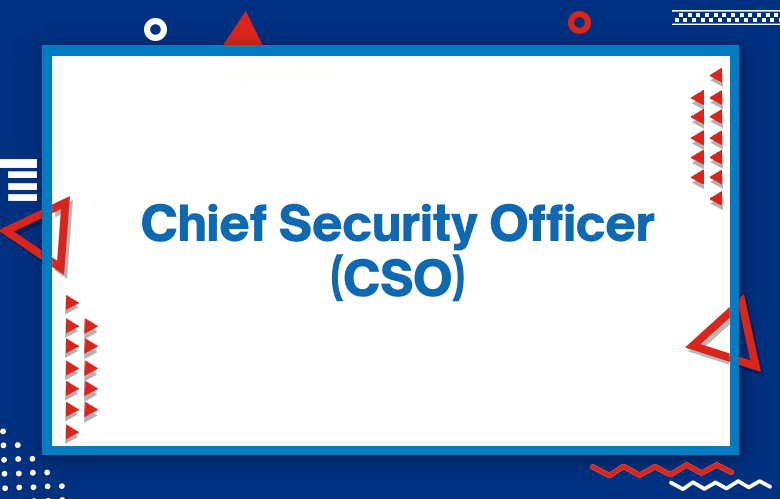 Chief Security Officers (CSOs) are responsible for the security of their company and its information. CSO's must be vigilant about protecting digital assets to prevent costly breaches. Still, they also need to work with other departments such as marketing, HR & finance executives to ensure that IT is not seen as an impediment.
Ways CSOs can help make your company more secure by working with your employees. We'll discuss how you can use these tips to get buy-in from other departments without being viewed as a hindrance.
The Chief Security Officer (CSO) is responsible for the security of an organization's information assets. This includes everything from physical access to a company's data center to personnel and data protection.
As such, it can be overwhelming for anyone to take on this responsibility alone. To help CSO's more efficiently serve their organizations, we have compiled some top tips that will guide in managing risk."
What is a Chief Security Officer (CSO)?
A Chief Security Officer (CSO) is an executive position responsible for overseeing a company's security policy and programs in line with its overall business goals.
A Chief Security Officer (CSO) is a high-level executive who oversees the security of their company. A CSO has to protect themselves and others from danger, but they also must ensure its assets.
A Chief Security Officer (CSO) is a senior executive who leads the organization's security operations. They are responsible for developing and implementing information risk management strategies and enforcing compliance with laws, regulations, best practices, and standards across all technology platforms.
The Chief Security Officer is the person who leads enterprise security efforts. The CSO evaluates and adopts new technologies to improve a company's security infrastructure, ensures that IT systems are secure, and works with executives and other stakeholders.
Chief Security Officer Security Challenges(CSO)
A company needs to have a Chief Security Officer. They are responsible for the safety of their employees and everyone who has access to their information systems, so they should be given the highest priority when it comes to security issues.
Understanding CSOs is a crucial part of business management. They are in charge of securing company data and assets from internal and external threats.
There are many security challenges that CSOs have to face. For example, the director of a company may not be fully aware of all threats.
A CSO is the Chief Security Officer in an organization. This role requires a person with significant experience in security and can make high-level strategic decisions for risk reduction and mitigation of threats to the organization's infrastructure.
The Chief Security Officer plays a vital role in the relationship between an organization's management and its IT department. Their job is to ensure that Information Technology issues do not negatively affect an organization's business goals or reputation.
Protect your perimeter
Keep a close eye on the inside of your network.
Secure all the devices connecting to your network
Installation of anti-virus software and update it regularly is required
Monitor for unusual activity in real-time
Cyberterrorism
Data theft
Viruses and malware
Phishing scams
Hacking attempts to steal information or take down websites
Security breaches happen, and they can be costly
The average data breach costs $5 million to fix, so you need a plan in place before the hack happens.
A security strategy should include prevention, detection, response, and recovery.
Prevention includes firewalls, antivirus software updates, and avoiding risky online behavior like clicking on suspicious links or opening attachments from unknown senders.
Detection involves monitoring systems for abnormalities or any signs of an attack- this is also when you would use your backup system if one exists.
The response includes notifying authorities immediately after detecting the intrusion- it's essential to act quickly because cybercriminals can steal personal information within minutes of gaining access to your network.
Cyber-attacks
Data breaches
Hacking attempts on your network and data systems
Insider threats from employees with malicious intent or disgruntled ex-employee seeking revenge
Unauthorized access to sensitive information by outside actors, including competitors and nation-states
Security challenges are constantly changing
We have to be careful with social media because it makes a company more vulnerable to attacks.
Employees can be the root of security issues, so we need to make sure they know what is acceptable and what isn't
Cyberattacks happen all the time- companies need to stay on top of them
How to become a Chief Security Officer?
The Chief Security Officer (CSO) is an executive-level position with one of the highest salaries, so it's easy to see why the job attracts many aspiring candidates.
The Chief Security Officer (CSO) is a top-level executive or board member of an organization tasked with overseeing and implementing security standards and practices.
CSO is a profession that requires you to have a business-like attitude. To become an effective CSO, learn how to conduct yourself in meetings and think about the bigger picture rather than each case.
The Chief Security Officer (CSO) is responsible for protecting and integrity of a business's assets. The CSO must ensure that both human resources and technology are secure.
Chief Information Security Officer (CISO)
CISO is one of the most respected roles in IT. It incorporates leadership, management, technology, and information security skills.
The role of a CISO is to supervise the security of an organization.
Though the CISO is not a board-level position, they are one of the most critical employees within an information security department.
The Chief Information Security Officer is the head of information security in an organization. The CISO ensures that all measures are taken to protect sensitive data from loss or theft.
Nowadays, it's essential to ensure that your business has an excellent hacking policy. If you don't have one, consider contacting an information security officer (CISO) to help protect you from cyber-attacks.
Chief Security Officer Roles & Responsibilities
A CSO is the primary and final level of security management. Their job entails creating, implementing, managing, and monitoring a comprehensive security program for an organization.
A CSO is the primary and final level of security management. Their job entails creating, implementing, managing, and monitoring a comprehensive security program for an organization.
The Chief Security Officer is the head of the company's security department. They are also responsible for all IT systems, operations, and policies. In general, they're in charge of protecting the company from internal or external threats to its physical assets, intellectual property.
The Chief Security Officer is responsible for overseeing the information security of an organization. They are similar to a Chief Information Officer, but they focus more on information assurance and less on technology implementation.
Protect the company's assets
Assess and mitigate risk
Develop security policies, procedures, and standards for the organization
Develop training programs to ensure that employees are aware of risks and how they can protect themselves from harm
Conduct penetration testing on systems to find vulnerabilities or weaknesses in the system before hackers do
Protect the company's information, assets, and people
Manage the organization's security operations
Develop a risk management strategy for the company
Implement a security policy that complies with legal requirements and industry standards
Monitor all aspects of IT systems to identify breaches or vulnerabilities in data protection
Develops and implements security policies
Ensures the protection of company assets, including information technology systems and data
Oversees all aspects of physical security for the company's facilities, equipment, personnel, and operations
Coordinates with outside law enforcement agencies to prevent terrorism or other threats to public safety
Developing and enforcing security policies
Monitoring the network to detect intrusions, unauthorized access, or misuse of resources
Planning for emergencies by creating contingency plans and disaster recovery strategies
Training employees in security procedures and practices
Design and implement security policies
Monitor security systems to maintain compliance with regulations, such as the Health Insurance Portability and Accountability Act
Perform vulnerability assessments of networks and applications; monitor network traffic for potential malicious activity.
Conclusion
As the Chief Security Officer at ABC Company, I am responsible for protecting my team and company from cyberattacks. To do so, I have implemented several software programs that monitor our network 24/7.
One such program is a firewall that screens all inbound and outbound traffic to ensure no malicious content enters or exits the system. The other tool we use is IDS systems (Intrusion Detection Systems) which identify unauthorized access attempts by hackers and block them before they can cause any damage.