Most Sought After Data-Driven Marketing Skills In 2023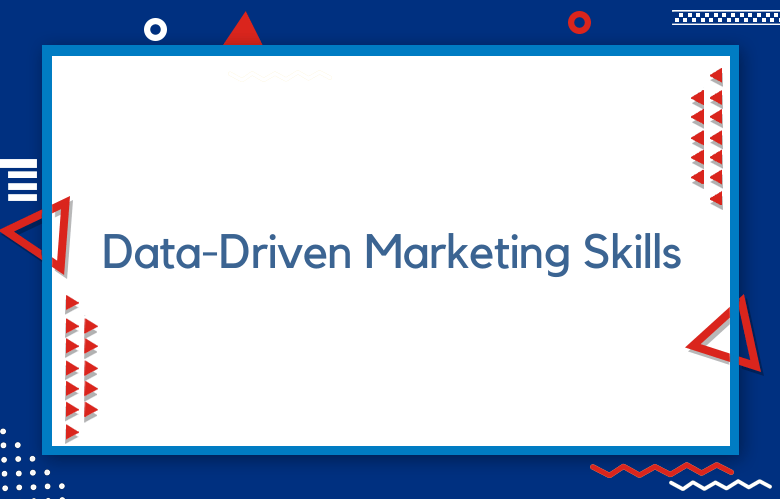 The most sought-after data-driven marketing skills in 2022 are the ones that allow marketers to analyze customer behavior, develop strategies based on insights they find, and then measure their success.
Marketers who have these skills will create personalized customer experiences that increase conversions rates across channels. This is because businesses will need a better understanding of the consumer and what drives them before making an educated decision about market products or services.
The data-driven marketing world is evolving at an exponential rate. To keep up with this ever-changing environment, marketers must stay on top of these trends and update their skills accordingly. So what are the most sought-after data-driven marketing skills in 2022? Read on to find out!
How to use data to create a marketing strategy
Data is one of the most important things to learn how to use when you are creating a marketing strategy. Data will enable you to track your progress over time, measure results, and make decisions based on what's happening rather than speculation.
There are many different ways to apply data in marketing. You can use the data you have about your business or survey your customers and other companies that sell products similar to yours.
One of the essential parts of a marketing strategy is to use data. You can't create an effective system without it!
Why does it matter if your marketing team has diverse skillsets?
When your marketing team has diverse skillsets, you can spread the workload around more. For example, if one person is sick or on vacation, there's still another member who can take up their tasks.
A diverse team of marketing specialists is essential because it helps companies create different content and ideas.
Having a diverse team of marketers is essential because it allows you to cater to many different demographics.
It's essential to have a diverse team because it allows the company to understand the needs of multiple demographics.
It matters because we need to break out of the echo chamber and get input from people who look at problems differently.
Why should you be using data in your content marketing strategies?
Content marketing is the best way to generate awareness of your business. If you're doing it right, you'll be able to understand what customers want and give it to them on a silver platter.
Data is an essential part of content marketing. You can't create something that works without data.
Data is necessary because it shows that content marketing works.
Data and content go hand in hand. 50% of B2B marketers use data to develop their content strategies.
It's essential to be using data because it provides you with insights that can improve your marketing results. Don't forget that the key to content success is constant evaluation and improvement.
Data-Driven Marketing Skills In 2022
The best way to succeed in the marketing industry is by learning data-driven marketing. You can start developing these skills early because they're essential for anyone who wants to succeed in this field.
Understand the importance of data-driven marketing
Know how to analyze, interpret, and use data to make informed decisions
Be able to measure campaign success by analyzing conversion rates and customer lifetime value
Utilize predictive analytics tools like Google Analytics for a better understanding of user behavior on your website
Recognize that customers can come from anywhere – not just search engines – so you need a multi-channel approach to digital marketing.
Data-driven marketing: the process of understanding and interpreting data to identify trends and patterns and then using those insights to inform decisions.
Marketing automation: a system that allows marketers to automate repetitive tasks such as email campaigns or lead scoring.
Programmatic advertising: automated digital media buying through real-time bidding systems based on audience information, location targeting, ad placement algorithms, etc
Marketing is becoming more data-driven
Data scientists are increasingly crucial to marketing teams
Marketers need to be able to collect, analyze, and interpret data on their own
Marketers should have some knowledge of statistics and probability theory
Data mining
Marketing analytics
Social media marketing
PPC advertising
Conversion rate optimization (CRO)
The use of AI and machine learning will grow exponentially over the next few years.
Data visualization skills will be a must-have for marketers in 2022
SEO optimization will become more important as Google places emphasis on local search results
Social media marketing is not going away anytime soon, but it's likely to evolve into something different from what we know today
Marketers will need to know how to use data science tools like Tableau, R, and Python
Marketing professionals will need skills in digital marketing management
Marketers need to understand the psychology of customers
Social media is a must-have skill for marketers
Estimate the difference between data and information
Be able to use Excel effectively
Understand how to read a P&L statement, balance sheet, and cash flow statement
Be able to forecast future activities based on current data trends
Know how to create an effective marketing campaign with limited resources
Learn how to use Google Analytics
Estimate the difference between qualitative and quantitative data
Know what "scraping" is and how it can be used for marketing purposes
Be able to create an Excel spreadsheet that includes formulas, charts, graphs, etc., to analyze your data more effectively
Analyzing customer data to identify patterns
Understanding the psychology of customers and how it applies to marketing
Creating content for specific audiences
Using analytics tools to measure success
The world of marketing is changing rapidly
Data-driven marketers are needed to keep up with the changes in technology
Marketing skills will be more focused on data analysis and optimization than ever before
Data analytics
Marketing automation
Content marketing
Social media marketing
Data analytics
Marketing automation
SEO/SEM (search engine marketing)
Social media marketing
Influencer marketing
Learn how to use marketing automation tools
Get familiar with Google Analytics and other data-driven analytics platforms.
Understand the difference between traditional marketing techniques and digital marketing strategies
Practice using SEO, SEM, email campaigns, blogs, social media advertising, webinars, podcasts – all of which are becoming more important for marketers in the future
You will need to know how to use data-driven marketing skills
You will need to be able to read and interpret the analytics of your website
You will need a solid understanding of social media platforms, including Facebook, LinkedIn, Twitter, Instagram, etc., as well as their advertising options
You'll also have a sense of basic SEO principles
Develop a data-driven marketing plan
Estimate the difference between qualitative and quantitative data
Learn how to use Google Analytics to track your website's performance
Start using social media platforms like Facebook, Twitter, Pinterest, etc., to reach targeted audiences for advertising purposes
Track customer behavior on your site with heatmaps or session recordings
CRM systems
Social media management tools
Customer relationship management software
Marketing teams are becoming more data-driven
Data is collected from every touchpoint with the customer, including websites, social media profiles, and CRM data.
Data analysis can be used to predict the future behavior of customers
The role of the marketer has changed dramatically over the past decade.
Conclusion
In the future, any marketing or advertising company will need to have data-driven skills. With so many companies investing in digital and social media marketing, we need to stay ahead of this curve with a strong understanding of what drives consumers today. Contact our team if you want help incorporating these principles into your strategy!
As the world becomes more reliant on data-driven marketing, it's clear that companies will need to hire individuals with a range of skillsets. In 2022, these are some of the most sought-after data-driven marketing skills according to HubSpot research: Data Warehousing and Reporting; Business Intelligence Analyst; Database Administrator or Developer. If you have any of these talents in-house, contact us for a consultation about how we can help your company grow through our expertise in digital strategy and SEO services!