Data Visualizations Trends for 2023 and Beyond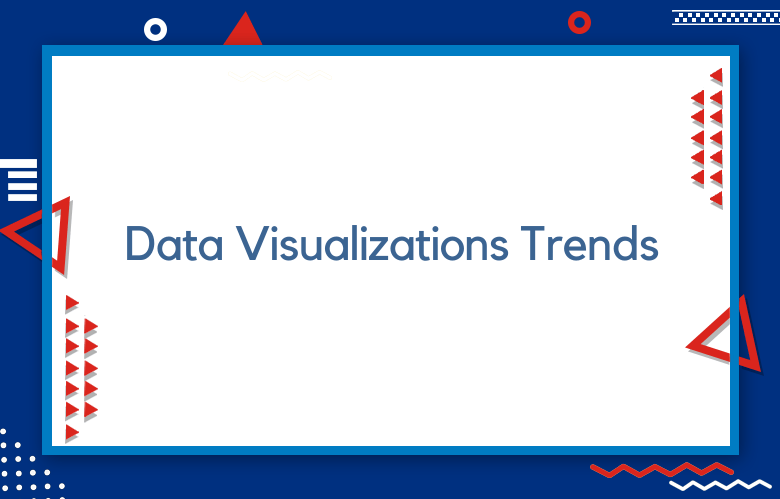 The data is in. And the trends are clear. Data visualization will be a significant player in making sense of all sorts of information in 2022 and beyond.
The world is becoming more data-driven by the day, and this trend will only continue in the future. A Forbes report found that many companies are planning to increase their spending on data visualization tools in the future. This post examines some of the critical trends for visualizing data over the next five years or so.
Data Visualizations Trends for 2023
The rise of the virtual assistant
More people will be using voice to search for things on their phones
3D printers are becoming more accessible and affordable, which means that many people will have them in their homes
Data visualization will be used to create more engaging content
The use of data visualizations in the workplace will grow, and they'll also become a requirement for many jobs
More people will be able to make their data visualizations with tools like Google Sheets or Microsoft Excel
There will be an increased demand for data scientists who can design and analyze data sets
Data Visualizations will be more interactive
Data Visualizations will become more personalized to each user
There will be an increase in the use of data visualization for business intelligence and decision making
The use of data visualizations for scientific research is expected to grow
Data visualization is becoming more and more popular, with businesses using it to make decisions that can help them grow their company or even change the way they operate
The use of data visualizations in business has increased by over 10% in just three years alone, with companies like Walmart and General Electric investing heavily into the technology to understand better what's happening on a global scale
More than 60% of executives say they are already using data visualization tools for analyzing customer behavior and understanding how people interact with their products
Data visualizations will become increasingly interactive- not only will we be able to see trends but also manipulate them so we can see what would happen if different variables were changed
People will use data visualizations to make predictions
There will be a shift towards using data visualization for marketing purposes rather than just informative ones
Data visualization is becoming more important as a way of understanding complex information
Companies are starting to use data visualizations to make their work more efficient and effective
The average person will be able to create simple data visualizations with the help of AI, which will make it easier for people without technical expertise or coding skills
Data visualization tools that were previously expensive and only available on desktop computers will become cheaper and available on mobile devices
Data visualization is becoming more and more popular
More people are using data to make decisions
A lot of changes in the way we use data with regards to social media, marketing, and advertising
Data visualizations will be used to enhance the customer experience
More data will be collected from wearable devices
Data visualization tools are being developed for smartphones, tablets, and other mobile devices.
Data visualization is becoming more popular in journalism to help readers make sense of complex topics quickly.
Data visualizations will continue to grow in popularity
More data sets will be created and used for data visualization purposes
The complexity of the visuals themselves will increase as more people start using them
The internet of things will make up the majority of all data collected
Data visualization is becoming more and more interactive
People are using their mobile devices to visualize data
More organizations are creating open-sourced databases for public use
Visualization tools like Tableau, D3, and Excel have become even easier to use
Data Visualizations will be used in more industries, not just for marketing
Data visualizations will become more interactive and engaging
There will be a greater need to know how data is being collected and analyzed
Data is now more accessible than ever
There are many different types of data, including text, audio, video, and images.
By 2022, the average person will have access to over four devices at any given time.
People are spending less time with traditional media sources like TV and newspapers.
The number of visualizations created will be up by 15%
The average time it takes to create a visualization will be down by 10%
Data visualizations with interactive features, such as clickable charts and graphs, will increase by 50%
There will be a greater focus on data quality and accuracy
Data visualization techniques will continue to evolve to keep up with the needs of businesses today
The use of data visualizations in education will increase as it becomes an important skill for our society
The use of data visualization will continue to grow as more people become accustomed to using technology
Data visualizations will be used in a wide array of industries, including healthcare, finance, government, and media
All types of organizations are using data visualization for both internal and external purposes
Data is the new oil
The data visualization process has changed
Graphs are not enough to illustrate information anymore- infographics are now in vogue.
Governments, corporations, and individuals will be using more data visualization techniques to make sense of their world.
Data visualization will be the most important skill to have in 2022
The cost of data storage will decrease by 50% by 2022
By 2022, there will be a new app every day that uses data visualizations
More and more people are going to rely on data visualizations because it is easier for them to understand complex information
The use of infographics will grow by 2020%
Data visualization software will be used to make data more accessible and easier to understand
The use of augmented reality in data visualization is expected to increase exponentially over the next few years, with a predicted growth rate of 3600%
Virtual Reality (VR) is also predicted to grow at an exponential rate- 400% from 2020-2022
In the future, companies will rely on big data to make decisions and run their business.
Big data is important because it provides insights into the future of a company's success or failure.
Data visualization tools are becoming increasingly popular to give people access to this information.
Data visualization will be used for more than just data
Visualizations will be integrated into everyday life
There will be a shift from static to dynamic visualizations
The use of color, pattern, and texture in visual representations will grow as technology advances
Data visualization tools may become ubiquitous on mobile devices
Conclusion
Data visualization is a powerful way to present data and information. In the future, we predict that data will be increasingly visualized through interactive graphics or 3D models.
Brands will need expert help to create these visuals for their customers – this is where you come in! Our expert team knows how to make datasets more comprehensible with brilliant visualizations and infographics.
Contact us today if you're interested in learning more about our consulting services for brands who want to edge their competitors using innovative data visualization techniques.