The Future of Digital Marketing Consulting and Trends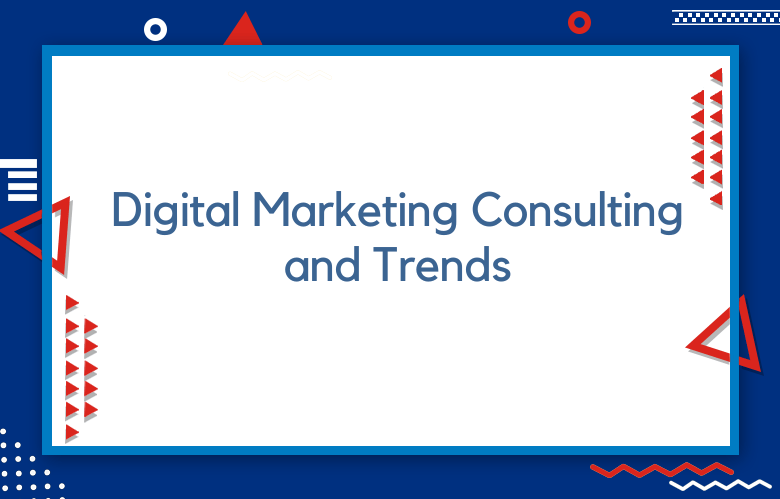 Digital marketing consulting is becoming increasingly important as we move into the 21st century. With some ways to reach consumers, businesses need experts who can help them navigate the digital landscape and connect with their target audiences.
So what trends can we expect in digital marketing consulting in the coming years? Here are some things to consider
Increased use of video content
Greater focus on SEO and website optimization
Expansion of social media marketing
The growing trend of using chatbots for customer service
The increased importance of data analysis and tracking results
The continued growth of influencer marketing
The emergence of virtual reality as a new frontier for marketing campaigns
Digital marketing is constantly evolving and changing. What works yesterday will not work today, and what works today may not work tomorrow. It makes it crucial for businesses to stay updated on the latest digital marketing trends and changes. Failure to do so results in losing out on potential customers and leads. So, what does the future of digital marketing hold? Here are some top trends we can expect to see over the next year or two.
More emphasis on video content – Video content continues to grow in popularity, especially with younger generations. Brands need to start incorporating more videos into their digital marketing campaigns to reach this population demographic.
Increased use of chatbots – Chatbots are becoming increasingly popular due to their ability to handle customer service tasks quickly and efficiently. Businesses should consider using chatbots to connect with customers and provide support.
Greater use of artificial intelligence – Artificial intelligence is slowly but surely making its way into digital marketing. Businesses that utilize AI will gain a competitive edge over those that don't.
More focus on user experience – User experience has always been necessary, but it will only become more critical as more people use mobile devices for online activities.
Brands must ensure that their websites are mobile-friendly and that their content is easy to digest.
The continued growth of social media platforms – Social media platforms continue to grow in popularity, with new ones emerging all the time. Businesses need to keep an eye on which platforms are gaining traction so they can adapt their strategies accordingly.
These are some of the digital marketing trends we expect to see shortly.
The Future of Digital Marketing Consulting and Trends
Digital marketing is constantly evolving. As a result, digital marketing consultants must always be on the lookout for trends. Putting the latest trends is essential to providing effective digital marketing consulting services.
What is the future for digital marketing consultants? How will trends in the industry change and evolve? Only time is sure: digital marketing is here to stay.
As more and more businesses move forward, digital marketing consulting services will continue to grow. With that in mind, let's look at some ways digital marketing may change and evolve in the years to come.
Most experts agree that personalization will be a significant trend in the years to come. As artificial intelligence and machine learning become more sophisticated, digital marketers will be able to create highly personalized content and advertising experiences for their users.
Another big trend we will likely see is an increase in voice search. With the demand for smart speakers like Amazon Echo and Google Home, many people use voice search to find information online. It means businesses will need to optimize their content for voice search if they want to be seen by potential customers.
We expect to see continued growth in video content. Thanks to platforms like YouTube and Instagram, videos are now one of the most popular types of content on the internet. And as broadband speeds continue to increase, we can only expect video content to become even more prevalent in the years to come.
So what is all mean for digital marketing consultants? Only time considered, but one thing is sure: there will be plenty of opportunities for those skilled in this ever-changing field.
The future of digital marketing has many possibilities. For consultants, this means staying ahead of the latest trends to ensure their clients get the most effective campaigns. As consumer behavior changes and more businesses move online, digital marketing will evolve. With the right strategy, consultants can help their clients stay ahead of the curve and remain competitive.
What is the future for digital marketing consultants? Will trends come and go, or will specific methods become permanently ingrained in how we market online?
As the digital world progresses, so too must the strategies used by marketing consultants. What worked yesterday might not be effective today, and what works today may be long forgotten tomorrow.
To stay of the curve, digital marketing consultants must continually adapt and innovate. They must be willing to experiment with new techniques and always look for the next big thing.
Only by constantly evolving can digital marketing consultants hope to stay ahead of the competition and keep their clients' campaigns on the cutting edge.
Digital marketing consultants continue to be agile and adaptable. They must always look for new trends to provide their clients with the best advice and guidance.
It's an exciting time in the digital marketing field, and those who are successful will no doubt be those who embrace change and find creative ways to stay ahead of the curve.
Digital marketing is evolving rapidly, and businesses need to keep up. Consulting services can help companies to stay ahead of the curve and take advantage of the latest trends. However, choosing a reputable provider who can offer unbiased advice is essential.
Digital marketing constantly evolves as new technologies and platforms emerge, and how we market to consumers changes. It can create challenges for businesses that must keep up with the latest trends. Consulting firms specializing in digital marketing can help companies to stay ahead of the curve and make the most of new opportunities.
The future of digital marketing consulting is exciting and full of possibilities. By staying up to date on the latest trends, businesses can gain a competitive edge and reach their target audiences more effectively. As a digital marketing consultant, I can help enterprises to capitalize on these opportunities and stay ahead of the curve.
Conclusion
So, what is the future of digital marketing? We believe having a strategic and well-executed plan to cut through the noise will become even more critical.
The days of throwing money at ads and hoping for the best are over. Consumers are savvier than ever and can smell a scam from a mile away.
Contact us today to put together or improve your digital marketing strategy. Our team has years of experience in online marketing, and we're always up for a challenge. Together, we ensure your business reaches its full potential in this constantly-evolving digital age.