Live Streaming for Political Campaigns: Live Streaming for Your Election Campaign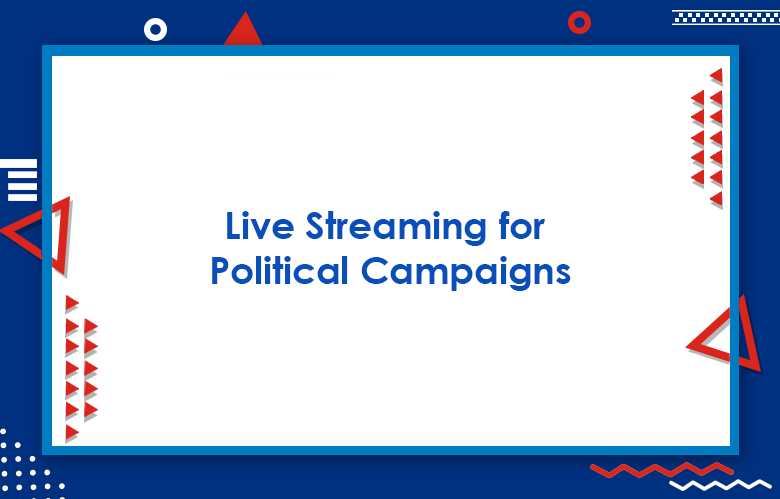 Live Streaming for Political Campaigns: Facebook, Instagram, Twitter, LinkedIn are full of political buzz. Politicians and politics is going live. During the past decades, the only way one could get access to the political news was by either watching television or listening to a radio broadcast. The internet has opened the doors for the politicians to stay connected 24/7 through various social media handles and now even through live streaming.
Politicians and the political parties follow these trends as they want to be in touch with the new younger generation of voters and update them minute by minute. The voters can now watch presidential debates, legislative proposals, local government meetings, and parliamentary sessions through political campaigns live streaming on social media.
Live Streaming for Political Campaigns:
Live streaming politics through live video is indeed a cost-effective way to meet open meetings' requirements and increase civic engagement.
Given a choice between Twitter, 24/7 news coverage, and live streaming, the politicians will undoubtedly choose the internet as the place to keep the general public informed on political happenings.
Candidates with limited experience are now shifting their paradigm towards staying connected through social media, email, and online fundraising. Along with all these social media posts, videos and live streaming have become more critical than ever. Campaigns are now using the videos to mobilize their voters and support their volunteers and fundraising efforts.
The current pandemic has prevented people from gathering or having in-person events, and so virtual events have become extremely popular through services like Facebook Live. Creating a video is no rocket science now. All a person needs is a smartphone that can record and edit the video on the go. Live streaming is fast catching up a fire as people across the country are staying at home and meeting virtually.
Usually, the following are the political campaigns live stream examples –
Campaign rallies, events, and fundraisers for the elections.
Activities that are related to Canvassing.
Participation at legislative sessions or public meetings.
Campaign related behind the scenes.
Updates of Personal candidate.
Get out the vote/ Reminders.
Interviews
Speeches (Mann Ki Baat)
Press releases or slogans propaganda (Abki Baar……)
Debates (Chai Pe Charcha)
Confrontations of the ruling and opposition parties
Commentary on any issue
Features of Live Streaming of Political campaigns
As per a survey, almost 82% of the viewers to see live stream social media posts. Knowing this, politicians and political parties will logically follow the trend of live streaming.
So, what exactly determines a professional online video platform (OVP)? A wide variety of video streaming solutions are now available in the market, all with different features and pricing plans. Many of these streamings have their focus on a specific segment of the industry. Video marketing is one such segment.
Live streaming politics requires some specific vital features and options necessary for political parties, politicians, and governments –
Website embedding:
One should embed a live streaming video to produce successful events, increase the voters' traffic, and gain exposure. This feature is now available with SEO benefits for users. The clicks don't redirect the users to any other social media platform but instead keep them on the same site.
Streaming on multi-platforms:
Live streaming on multiple platforms Like Facebook, Twitter, and Instagram maximizes the audience base and keeps the voters updated.
Expansive Network:
One should try to reach out to the most massive possible audience by using a professional Content Delivery Network (CDN), which reduces the buffering and lag issues while reaching the viewers on any of their devices world.
Security:
Live streams and that too political are usually public. However, some government material or private meetings must stay secure for obvious reasons. Here come handy tools like password protection and geographic or referrer restrictions that allow the political parties or politicians to secure their content.
White Label service:
It means that no external member can insert any other logo on the content of a politician or a party. This service creates branding of the political party while boosting professionalism and increasing the brand awareness of the organization or cause.
Live recording:
The politicians must ensure a video recording at every live event for maintaining VDO records. These records are available to the audience even after the live event has come to an end.
Live countdown:
This feature informs the audience of the time of a particular event to start. It helps build up excitement before the event and keeps the viewers tuned in for the action to begin.
Advantages of Live Streaming Political Campaigns
With an explosion in internet usage, it is effortless to reach most of the audience through political campaigns' live streaming. Many efforts were made to engage the available online audience through various methods like offline videos, images, etc. These efforts were not as successful as they reached only a limited audience.
Now enters the digital political campaign promotion is used extensively by the political parties for promoting themselves. They have taken a step further by using live streaming or real-time videos to promote themselves by increasing the audience's reach. Political campaigns live streaming on social media is undoubtedly trending.
Some of the advantages of live streaming politics are as follows –
Quick and clear conveyance of the message to the audience by the political parties
Political parties need a face and emotion to clarify the policies or criticisms of the opposition party. Live streaming provides that platform for political parties to answer back.
Live streaming of political campaign meetings attracts more than thousands of people ensuring success in elections.
It is publishing even those videos or events which are not covered by the media and fail to reach the audience because of limited accessibility. It happens because of apps that help convey the messages to the missed audience on television.
Live streaming politics is a cost-effective method. It uses smartphones for recording the video and just a few simple pairings and an excellent mixture to achieve the desired video effects and reach the target audience.
The live streaming platform even permits live scheduling, text recording, and sharing events on the numerous social media streaming platforms, ad integration, password protection, branding, and many other features to enhance the user experience.
Disadvantages of Live Streaming Political Campaigns
The following are the disadvantages of live streaming politics –
• Since the videos are real-time, the mistakes and blunders of a politician can become viral immediately and become memorable through online video.
• Videos through free platforms do not save or record videos, so there may be no future reference
• Some venues offer only 24 hours viewing of videos, after which they are off the air.
• Live video streams or political campaigns live streaming on social media prominently display the platform's corporate logo, which often distracts the people from critical political messages.
• The live stream may be available only for a limited duration on specific platforms
• There may be no security features in some media for live streaming videos
• Some venues may not support white label embedding on the parties website
Procedure to Live Stream Political Speeches, Rallies, and Meetings
After understanding the concept of live streaming, the question that comes to mind is, how do we begin live streaming politics?
One option for the live streaming of political campaigns is to opt for a platform, which is B2C, such as YouTube or Facebook Live. These are relatively new platforms and in the infant stages of live video streaming.
They allow anyone with a smartphone and data connection to stream live videos from anywhere. However, the live videos from such a platform may have several above mentioned disadvantages.
The best alternative for political campaigns live streaming on social media is to use a professional online video platform that is well equipped to handle some demanding scenarios and handling some specific requirements.
Such media may even allow a person to stream on multiple platforms simultaneously and has a professional White label stream on the politicians' website.
To conclude, one can say that the live streaming of political campaigns has become an integral part of today's political scenario. Luckily for all those who are into live streaming, the availability of new tools and software making video streaming easier and more effective is easy.
The next time one finds video footage on any of the social media handles, remember it is the live video streaming that is making you updated about the political world today.
Click here for