Political Campaign Cybersecurity: Why Cybersecurity Is essential for current Election campaigns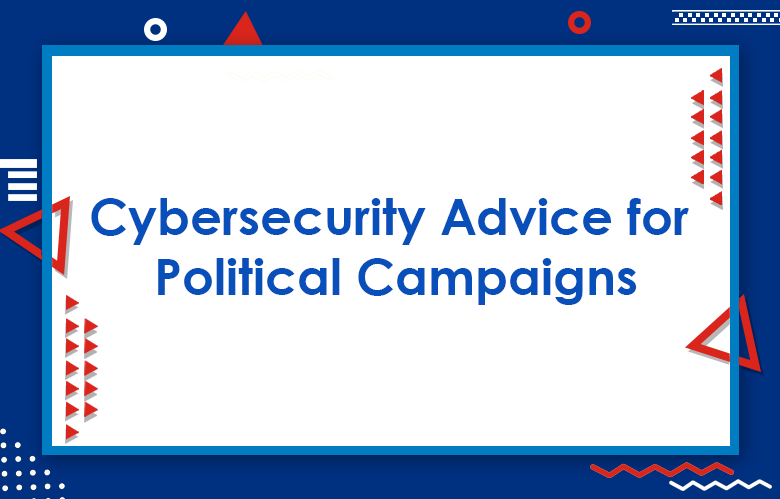 Any political campaign is incomplete without proper communication. It is the life flood of every political campaign. Nowadays, political parties have started using social media to aim for communication strategies and data analytics to target political campaigns.
The growing use of technology in the process of election has made cybersecurity a current crucial issue. There can be a misuse of digital technology through the spread of fake news, hacking, and manipulation of voter behavior. This misuse of digital technology has been encouraging the rapid and chaotic growth of hackers, leading to the harm of the election process's integrity.
The question that arises is, why is political campaign cybersecurity essential for current election campaigns?
Cybersecurity Advice for Political Campaigns
Political campaigns are the targets of hackers or cyber-criminals and the state or nation's adversaries. These campaigns or campaign participants need to resist malicious actors by taking some proactive steps and practicing vigilance. The following are the actions which political campaigns can take for fighting the real world cyber-attacks on their campaign.
Use the latest OS version for the systems and devices useful for the campaign.
Uninstall any apps which are not regularly in use
Install software from App Store only instead of downloading it from any other source
Try using built-in apps if possible, while avoiding any third-party apps.
Use reputable and all-inclusive anti-malware software.
Use a two-way authentication factor wherever possible.
Remove API access from apps that's not in use.
Use a vault with password protection while avoiding password reuse.
Provide or grant a request or access when one truly needs
Share the files only with those people who need them.
Delete old messages automatically
Use encrypted chat for sensitive discussions.
Give proper consideration to the sharing of links from the cloud storage.
Be aware and alert of every link and attachment in the email.
In case of any doubtful links, do not click or open the file.
Try to confirm the sender through various channels before taking any actions related to the link of the attachment.
Avoid using any website which is not having a link to HTTPS.
Change all the default passwords to the apps and devices.
Pay attention to all the browser alerts for the wrong SSL certification.
Make printer, server, computer, and device access authentication compulsory.
Do not forget to lock the domain register along with the DNS settings.
Uninstall or disable any unnecessary plugins or features
Compulsory install a two-way authentication for all accounts.
Make all the security features available throughout the organization.
Cyber Security for Political Campaign Playbook
Political Campaigns have become increasingly digital, and the competitors have found new opportunities to disrupt, steal, and interfere with political campaigns. However, there are several consequences of cyber breaches, and they can be substantial enough.
Presently the political campaign security has become everybody's responsibility. The main cause of exposed cyber-attacks, in most cases, is human error. Therefore, it is up to the candidate or the campaign leaders to create a cybersecurity awareness into the organization's culture.
The campaigns and campaign candidates should find out who is hacking and interfering with their digital technology in the political campaign. It can be anybody from a sophisticated foreign intelligence service to a cybercriminal or a hacktivist with resentment against the candidate who may target the candidate or ruin it.
The political campaign or the candidate has to be alert towards managing cyber-attacks' risks for any vulnerabilities or hazards in the campaign, which are susceptible to theft, alteration, or destruction.
Secondly, any actual threats by the other states or hacktivists or other non-state groups need attention. Lastly, the consequences of the malicious actors capitalizing on risk and their impact.
Cyber Security tips for campaigns
These are the top five checklist items for the political movement and candidates can follow as cybersecurity tips for political campaigns
Create awareness for information security
Make use of cloud storage.
Implement two-factor authentication for all the necessary accounts, emails, apps, storage devices, and so on
Use encrypted chats on messaging for any sensitive discussions or conversations and sharing of materials.
Have a backup plan and prepare to get any legal help if the security is compromised
Securing Your Political Campaign
Secure your political campaign; the following three principles will be helpful
Prepare to establish some basic rules regarding creating a culture of vigilance towards security and ensure that people follow these rules throughout the organizational hierarchy.
Protect the data and devices by providing as many layers of authentication as possible within time and money to reduce the risk.
Persisting to be vigilant, political campaigns need to foresee and develop a plan to deal with any security breaches if one does occur.
The above principles will work efficiently only if the following takes place
Management of cybersecurity strategy:
It is essential that cybersecurity is well integrated into HR and IT as these departments hire professionals, install hardware, and control permissions across different systems.
The starting point:
Cybersecurity is an ongoing process. The cybersecurity check security can start as soon as one gets recommendations and notices any breaches in the protection, which should be taken immediately.
The cost factor:
Political campaigns should have enough budget allocation for hardware and software resources and implement cybersecurity recommendations by installing various products and services. A smaller or bigger campaign drive should try to manage cybersecurity accordingly.
Steps to Securing Your Political Campaign
The following are some of the steps to secure political campaign strategies
Tackling the human error, which is the most critical factor in cybersecurity through creating awareness in the staff, training the candidate/ the press/ staff and anyone with the system, avoid giving credentials to every of the member of the team, have controlled access to online campaign services and use of cloud-based office account by consultants and vendors.
Secure the organization's internal communication through using a cloud-based office suite, using encrypted messaging services, defending the email through turning off auto delete options, and securing all the personal accounts with two-factor authentication.
Account to access and management through using two-way authentication for all charges, making all account and information password-protected, using password managers, creating a separate account for administrator's and users, conducting periodic reviews regarding the access to people accessing different devices and networks, and continuous monitoring of all the campaign staff and related social media account.
Ensuring all the devices and networks have a two-way authenticated access and have original software downloadable from authentic sources and enriched with an all-inclusive malware.
Protect all information operations and public communications by monitoring leaking of false or misleading information, imposter sites, or any DDoS attack.
Have proper planning of any incident that takes place towards breach of cybersecurity. Look out for any legal, technical, operational, and communication implications.
Top 10 Checklist for Securing your Political Campaign Information
The following is the checklist to secure political campaign information
Identify the key supporters and local leaders.
Use of sign in spreadsheets for collection of data regarding local address phone numbers of volunteers
Use encrypted Communications
Use secure third-party apps.
Separate professional and personal data
Using a public profile which is ready and developed for election
Checking of all online facts
Designing a campaign infrastructure
Formulating a cybersecurity strategy
Protection of all campaign-related accounts
Why are Political parties vulnerable to cyber-attacks?
Political campaigns today are soft targets as they are temporary. Political campaigns do not have enough time or money to work on long-term and well-tested security strategies. During elections, candidates of the political campaign employ huge staff very quickly without providing much time for training.
The team is often asked to bring their hardware from home, which may be full of suspicious malware which may be hackable.
Events revolve around campaigning move quickly as the risks are high, and people don't have the time to think about cybersecurity. Therefore, in such cases, many things can go wrong. A lot of data is also at high risk on various servers. These are some of the reasons why political campaigns cybercrime is being tracked.
Why is data security a priority for political campaigns?
Political campaigns and candidates have a tight schedule to follow until elections and face an array of challenges. There are endless events to organize, recruit volunteers, and raise funds and unabated demands of the media.
Data like proprietary data about donors, voters, and public opinion, sensitive documents like opposition research, personnel documents, vulnerabilities studies, first draft policy papers, and emails are at high risk on various servers.
There are always last-minute surprises as well as shortfalls to which cyber-attacks can also be added. An image of a candidate can ruin by just the knowledge of a breach in any cybersecurity.
There is a possibility of theft of personnel data or destructive attacks that aim at the staff computers and critical campaign servers, which may not only slow down the campaign operations for several weeks but also make fuzzy changes in the schedule.
In such cases, the staff needs the training to recognize a potential cyber-attack, develop a strategy, and reduce the risk. They can also implement the response strategies when the worst of the political campaign data security is at stake.
Click here for