How to Make a Political Campaign Video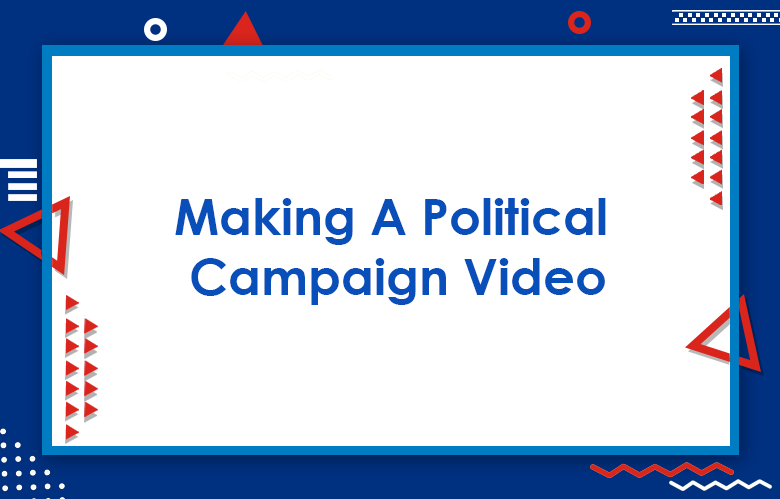 Political Campaign Videos are not only powerful communication tools but also excellent 'sales pitches' for political candidates to get their message across to a broader, often younger, audience, i.e., potential voters. Let's explore some of the ways this superb idea can serve your political campaign.
Making A Political Campaign Video
If you are doubtful about the power of videos, all you need to do is see how popular music video areas are compared to their audio-only versions J. A political campaign video is more serious, which begs the question, 'how do you make one worth watching, one that will be taken seriously?'
Here are some key video ideas that go into making great political videos:
A clear and concise message is paramount. If you are going to be generic, it is best to rethink your approach. Facts are crucial and presentation, even more so
Advertisement campaigns and slogans are a powerful combination. Implementing this idea in your video content can prove enormously fruitful.
Slogans are shared sentiments that your voters are sure to appreciate and relate to on a human level. Your slogan choice should reflect the prevailing mood of your country's voter base, something catchy but also significant.
Repetition, especially when elegantly delivered, can result in campaign success. It is simply not enough to say a good point just once
Decisions are influenced when you use ideas more than once, a concept that has been shored up with adequate research (for instance, in a study published in the 'Journal of Experimental Psychology')
These repetitions can include phrases, one-words, and prevalent voter-centric sentiments. Your choices should reflect aptly in your political video campaign(s)
What Makes A Great Political Video?
Emotion plays a 'make or break' role in such videos, so make sure you hit all the right notes in this regard. No matter how rational your debate or pitch, add an emotional element to your video content. Because people are not politicians, and they feel what you say more than anything else
The best way to do this is to find common ground with your voters (do your research) and then develop that angle using facts and imagery, and music to communicate your message along all the right lanes.
As the saying goes, people might not remember what you said to them, but they will never forget how you made them feel when you said it. Videos are the best platforms to generate emotions, and you will be crazy not to use this notion in your visual content.
Campaign Video Ideas – The All-Powerful Call-To-Action Option
Almost everything you need to know to create successful political campaign videos has been covered under the previous sub-heading. However, all your videos need a call to action at the end; else, they are practically useless, pure entertainment, nothing more.
Ask yourself what you want the viewer/voter to do once watching your political candidate's video.
Asking them to share and subscribe is one thing, but have you earned that action? Have you communicated your message aptly, and did you strike all the right emotional chords?
Being direct sometimes helps, depending on the context of your video's core message. But often, humble requests coupled with voter-centric benefits can go a long way in keeping people's attention (and loyalty) fixed on your candidate.
Start small, meaning never demand something significant from your viewers before establishing a certain level of trust with them.
This, in turn, means multiple videos, all aimed at establishing credibility and trust. Make small calls to action in early videos, and follow that up with a 'big ask' in a crucial game-changer political campaign video.
Benefits of Video Marketing and Advertising for Politicians
There are plenty of benefits of video marketing and advertising for politicians. But none of them will be realized if your videos lack public approval.
To get said approval, i.e., social proof, you need to make the rounds and ask for reviews, as honest as they come. From star ratings to the comments roll, these reviews take varied avatars but impart the same effect, namely, credibility.
It is evolutionary, so to speak, this need to see if others have okay'd something before we try it ourselves. You'll notice that you will be more inclined to follow/subscribe to someone with a verified online badge or who has thousands (and more) followers/subscribers.
Positive testimonials equate to voter trust. Get as many as you can for your candidate's video campaign(s), and let 'online momentum' take it from there. These are some of the most invaluable benefits, namely voter approval and online attention from said voters consistently.
4 Political Campaign Video Ideas to Consider
As covered earlier, let us re-explore this idea now with a simplified list:
Using Slogans
Implementing Repetition
Relying on Emotions
Creating a Convincing Call-to-Action
Best Practices for Promoting Your Political Campaign Video
Stay ethical, stay calm, but most importantly, stay right.
Being a hypocrite helps no one. Stay true to your message, and practice what you preach. Otherwise, sooner or later, nobody is going to take you seriously. Feel free to tell your political candidate this, and hope not to get fired J.
Use an ideal mixture of video templates, emotions, sentiments, music, graphics, and visuals. This ensures attention and retention among voters, but more than that, it encourages interaction.
The latter is what you need. Interaction can take the form of liking, sharing, subscribing, commenting, and whatnot. It accumulates credibility or disapproval depending on your video content.
Emotion begets emotion, so prepare the 'script,' so to speak, on everything you want to see in your videos for political campaigning. Only after you are sure what is going to be added should you go about adding them.
Time is a luxury that politics cannot afford to gamble on. You can quote us, J.
Conclusion
No matter how many tips or ideas you read up on regarding the making of political campaign videos, the buck does not stop there. It would help if you started customizing and tailoring the content to perfectly 'fit' your political candidate.
From their message to how they deliver it, everything factors into how a viewer/voter will respond to the video. The real challenge rests not in making a 'cool political video' but in making it memorable and meaningful.
That takes skill and careful selection, not to mention ample research and scripting, excellent writing, even better editing, and a killer call-to-action.
Click here for