Podcasting for Political Campaigns: Podcast Political Campaign Strategies To Win An Election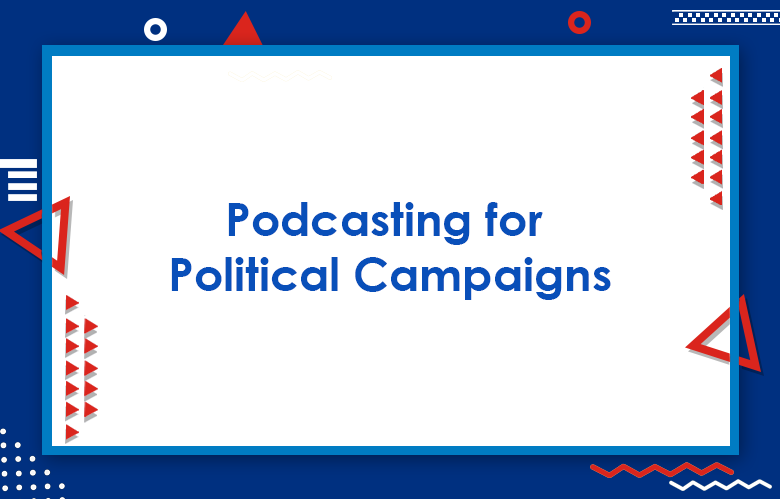 Podcasting for Political Campaigns: Naturally, other politicians followed in her footsteps and improved their strategies. Some surveys indicate that around 82.4% of people listen to podcasts for 7 hours or more in a week. Politicians can definitely benefit from this medium. While podcasting isn't easy, you can create a strategy based on research and logic.
Podcasting for Political Campaigns
1. Set a Goal
The ultimate goal of every campaign is to win the election, but what is your goal for the podcast? She was created to showcase what it's like to run for the presidency.
While that was the overlying goal, the underlying motive was to showcase Clinton's personality and charisma. Candid conversations, open discussions, and honest experiences helped ensure she appeared personable.
Election podcasts should always be goal-oriented and well-planned. Take time to understand what you truly want to achieve from this medium. Explore its unique characteristics before developing a content strategy. Setting a goal provides a target and allows podcasters to create a clear roadmap to achieve that target.
2. Research Your Target Audience
When you look into it, podcasting has some interesting statistics. There are some significant differences in the demographic, which shows that this medium is almost universally appealing. Research conducted by The Podcast Consumer in 2017 suggests that:
Around 56% of podcast listeners are men
84% are under 55 years of age; most are between 25 and 54
45% have a household income of $75,000
85% have attended college
The demographic shifts between niches, but these are telling statistics for any politician. You can assume that listeners will enjoy a thoughtful, intelligent, and direct political commentary. In-depth research into the target audience can help you create tailored content that will fit your goals and appeal to listeners.
3. Develop a Written Content Plan
Podcast conversations often seem organic and casual, but they have a proper order. There's always a beginning, middle, and end to all episodes. Any politician worth their salt emphasizes the importance of writing things down. Create a detailed content plan for every episode, including things like:
Questions from constituents relevant to the current podcast topic.
Interviews with other political commentators.
Discussions on current issues, including national and international politics.
Discussions on different laws, their constitutional validity, and impact on the constituents.
Commentary on political opponents and their agendas.
These are just some of the many topics you can discuss in political campaign podcasts. The channel can be a platform to explain different agendas, plans and help constituents know you better.
4. Create a Script
A podcast should have a conversational tone and candid conversations to maintain a level of authenticity. However, it is easy to go off tangent or deviate from the subject matter. A script allows you to maintain control over the dialogue and stay on topic. The script should include points you want to touch on, important opinions, and even witty rejoinders.
A well-written script provides a clear guideline for the episode. You can add a few comments or improvise like actors do to showcase your personality. Without a detailed script, it is more difficult to deliver a coherent message.
This applies to interviews and group discussions as well. Prepare the questions and talking points in advance. Plan with the co-hosts and decide how to maintain the flow of conversation.
Maintaining a script also helps hosts avoid mistakes. You are less like to misspeak or voice opinions that may hurt people.
Political podcasts can include controversial opinions, but you need to avoid saying things that may agitate the voter base. It is easier to think carefully about different opinions and comments when you write it down in a script.
5. Promote the Podcasts
People discover content through word-of-mouth or cross-podcast promotions. They won't actively go out of their way to find a politician's podcast. Unlike YouTube and other such platforms, you won't benefit from a dedicated subscriber base. Most listeners don't subscribe and aren't particularly loyal to specific channels.
The only way to get attention is to promote interesting content through different mediums. Ask associates, family members, and even reporters to share the podcast information. Reporters can include some of the comments you make in the cast in their articles.
Social media is a viral platform amongst podcast listeners. Around 48% of podcast listeners use Instagram, and 41% use Twitter. Around 39% use LinkedIn, a professional platform that can help you connect with influencers and decision-makers in different fields.
It is a good idea to promote your podcasts for election campaigns on these platforms. You can encourage conversation, create buzz on social media, and gain engagement. Listeners will ask questions on social media platforms, which you can then incorporate into your content.
6. Establish Authority and Earn the Listener's Trust
As a politician, a podcast host already has some authority. However, it is a good idea to go a step further and showcase competence. Recently, a Democrat contestant from Texas' 22nd Congressional district ran a campaign in 21 languages.
He spoke to people in six different languages, including Spanish, Hindi, Hebrew, Mandarin Chinese, and Russian. Campaign volunteers helped communicate with other communities.
Politicians don't need to be polyglots to establish authority. People with a legal background can discuss laws; people with a medical background can discuss policies impacting the medical field, etc.
Establishing authority and showcasing competence can help politicians win more votes. That should be an essential aspect of your political campaign podcasts.
Politicians should combine their traditional campaigning techniques with modern podcast marketing techniques to attract attention and get a strong listener base. This new medium can help you reach a young audience and establish a more direct connection with them.