Social CRM as a Business Strategy and how to maximize customer engagement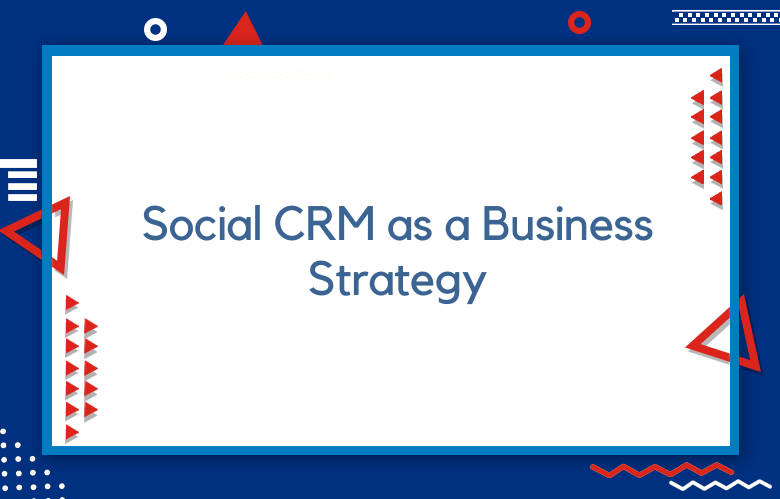 In today's social media world, companies need to have a strong strategy for both their digital and traditional marketing efforts. Social CRM is one way that businesses can use the power of social media to increase sales and customer loyalty. In this post, we'll cover how you can implement a successful social CRM plan by tracking your customers' online behaviors.
What are some benefits of implementing a successful social CRM plan?
We will go over some best practices to get the most out of your business!
The digital age changed the way we do business. Traditional methods of customer relationship management are being replaced by social CRM or Social Customer Relationship Management (SCRM). This new form of CRM is driven by social media and helps companies better understand their customer's needs.
It also enables companies to respond quickly to feedback, complaints, and questions via social media channels like Facebook, Twitter, Instagram, etc. This post will explore the benefits of using Social CRM as a business strategy. Let's get started!
What is Social CRM, and why is it important?
Social CRM is a marketing strategy that uses social media to reach target audiences effectively. Social CRM helps marketers connect with their customers, build brand loyalty, and increase sales.
It's a good idea for businesses to use social media platforms because they have a lot of users. The more people who use your business's services or products, the better it is for you and the company.
Social CRM is a way to identify customers actively engaging with your brand and offer them products and services.
Social CRM is a way to increase your brand's social media presence. This helps you connect with the right people and improve customer service.
Social CRM is nothing but the strategies and tools that help you improve your brand's reputation. Adding visibility to potential customers can also reduce the cost of acquiring a new one.
Social CRM Strategies
Identify your target audience.
Create a social media strategy that is unique to your company
Use analytics tools like Hootsuite and Sprout Social to see who's talking about you on the Internet
Engage in conversations with potential customers, but don't be too pushy or aggressive
Have a social media policy in place for your employees and customers
Find out what the most popular social media platforms are to ensure you're on them
Create a strategy that's tailored to your company's needs, goals, and resources
Schedule posts to go live at optimal times- don't post too early or late in the day
Share high-quality content with valuable information about your business or industry
Define your target audience
Create a social media calendar that maps out all of the content you want to share on each platform for the next six months
Make sure you're using appropriate hashtags and keywords to get found by people searching for what you're sharing.
Post at least once per day, but not more than three times in one day
Engage with your followers- reply to comments, retweet their posts, like photos they post, etc
Get the list of all your current contacts
Create a contact list for each social media platform you use
Add people to the lists as you meet them, and update the lists when they change their information or preferences
Share interesting content on Twitter that is relevant to your contacts' interests
Post status updates about what's going on in your life and ask questions like "What are you up to this weekend?"
Determine the best social media platform for each customer type
Create a content calendar with relevant, engaging posts to use on each platform you're targeting
Use analytics tools to track the performance and engagement of your posts/content
Social CRM Metrics
Number of followers
Number of likes on posts
Posts per day
Engagement rate (likes, comments, shares)
Engagement rate (percentage of followers that like, comment, or share posts)
Reach (number of people who see your post on average)
Likes per post
Comments per post
Number of posts
The average number of likes per post
The average number of comments per post
Total number of likes on all posts
The average number of posts per day
Engagement rate- how many people like, retweet, or comment on your post
Reach- how many people see your post
Number of Facebook followers
Number of Twitter followers
What is the average number of likes per post?
How many shares do the company's posts get on Facebook and Twitter?
Benefits of Social CRM for marketing
It's a way to engage with your customers
It helps you better understand your customers' needs and preferences
You can personalize communications with each customer based on their interests, which will enhance the likelihood of returning to do business with you in the future
Social CRM provides data about how people are engaging with your content, giving insight into what they like best so that you know where to focus efforts
Keeps your customers updated on the latest news
It gives you a way to stay in touch with them
Allows you to see how they interact with your brand and other brands
It helps you reach out to potential customers for sales purposes
Social CRM can help you find and target your audience
It provides a way to measure customer response to marketing campaigns, products, and services
It enables you to create more personalized content that will resonate with customers who are like them
Social media is an effective media to connect with customers
It's easy to find and target potential customers through social media
Social media makes it easier for your business to be seen by people who are interested in what you're selling
It allows you to engage with current and potential customers on the platforms they already use
Social CRM is an inexpensive way to reach potential customers
Using social media can help you find new leads and make connections with influencers
It's easy to measure the success of your marketing efforts through social CRM because it tracks all interactions with people who have interacted with your company or brand on any platform
Companies that use social CRM can better understand their audience, which helps them create more effective marketing strategies
Why merge social and CRM data?
You can increase revenues by using social media to engage with your customers.
Businesses are becoming more and more reliant on social media. It's no longer an option but a must-have for any business looking to succeed in today's world.
Social media is the new customer relationship management (CRM) tool.
So you have a couple of social profiles and a CRM, right? Wouldn't it be great to merge them so you can get a better idea of your target audience?
If you wish to make money from your customers, there's no better way than by offering them relevant content.
How Social media CRM has changed customer service
A new form of customer service has emerged, and it's called social CRM. This is a process that uses social media to enhance the relationship between companies and their customers.
Social media CRM tools have changed the way customer-service reps handle complaints. They've been so successful that some companies are preceding traditional complaint assistance favoring social media channels.
Social media CRM has changed the way we interact with customers. It allows us to be more transparent and reach out to them in a variety of ways.
While social media is no longer a replacement for customer service, it has become an essential tool in modern business.
In recent years, massive people have turned to social media as a way of engaging with businesses, both companies and customers have been forced to adapt.
Conclusion
The idea of social CRM is to incorporate the power of social media into your entire business strategy. This includes using it as a customer-intelligence tool, connecting with customers on every channel they use and even looking at ways to optimize their experience after completing purchases. If this all sounds like something that might be beneficial for your company's bottom line or would help increase customer engagement, contact us!
Our team has extensive knowledge in Social CRM Consulting and is ready to partner with you to improve how your company connects with customers through digital channels. How have you used Social CRM in your marketing plan?