Salesforce Commerce Cloud SEO: Tips for boosting SEO with Salesforce Commerce Cloud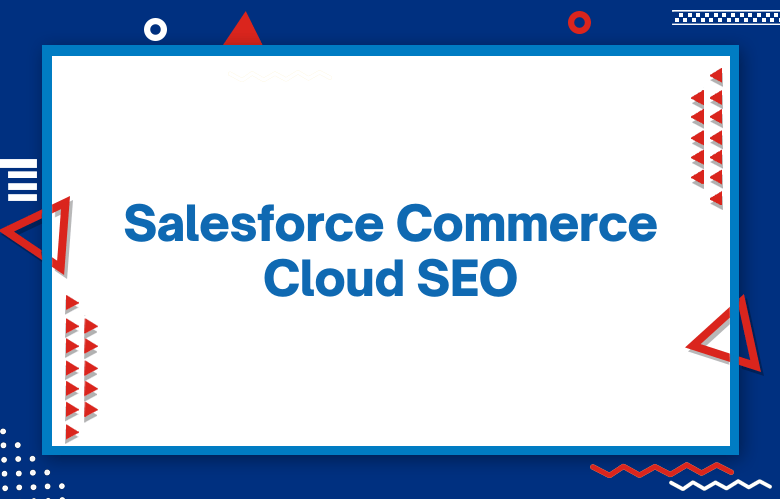 The Salesforce Commerce Cloud is a robust platform that provides eCommerce solutions. It includes an integrated set of tools, all in one place, to manage your digital presence across sites and channels. This makes it easy for marketers to optimize their campaigns and grow their business with less effort.
Salesforce Commerce Cloud SEO is the perfect solution for companies who need help building their online presence by providing everything they need, from search engine optimization (SEO) to content marketing strategies. The company also offers consulting services if you're having trouble getting started or want some expert advice!
What is Salesforce Commerce Cloud SEO?
Salesforce Commerce Cloud SEO is a solution that helps online retailers to manage their ability to sell products and services through search engines like Google and Bing. It's used by companies such as eBay, Autodesk, and Apple.
Salesforce Commerce Cloud is a SaaS-based E-commerce platform that will help you customize your online store, manage inventory and grow your business.
Salesforce Commerce Cloud SEO is a new mobile-first solution for content personalization and discovery.
Salesforce Commerce Cloud SEO is a paid subscription and provides an enterprise-grade e-commerce platform that allows businesses to create personalized experiences for their shoppers. It has advanced analytics capabilities like data enrichment, targeting, and measurement tools like attribution analysis.
You can use it to optimize your product data for the Google Shopping campaigns.
SEO for Salesforce
Use Custom URL Rules
Use Custom Rules for Meta Data
Content Optimization
Minify Files
Internal Link Structure
Segment XML Sitemaps
Preserve Crawl Budget
Discontinued Products Management
Tips for boosting SEO with Salesforce Commerce Cloud
Salesforce Commerce Cloud empowers sellers to generate more revenue and grow their businesses. When you use it, you'll be able to sell faster and wiser.
Salesforce Commerce Cloud is an effective way to boost your SEO. Many people use this platform for e-commerce, and it's the best tool out there if you want to overgrow as an online business.
Create a strategy for your content
Post regularly to keep people coming back to your site
Use the right keywords and tags on social media posts, articles, and videos
Optimize product descriptions with keyword phrases that are relevant to what you're selling
Create landing pages for specific products or categories of products
Create a custom domain with your company name
Make sure that all pages on your site have unique content and are not duplicates.
Add social media links to every page or section of your site
Create a new campaign in Salesforce for each store
Add keywords to your campaigns
Optimize landing pages with dynamic content
Use social media platforms to get the word out about your store
Add your website to the Salesforce Commerce Cloud
Set up Google Analytics so you can track customer behavior on your site
Create a landing page for each product or service you offer and make sure it has a clear call-to-action
Ensure there are at least three links back to your site from other websites to get credit for ranking well in search engines
Set up a Salesforce Commerce Cloud account
Enable the "Commerce Cloud SEO" app and configure it to fit your needs
Create SEO-friendly URLs for products, categories, and pages using the URL Builder tool
Update product descriptions with rich content that includes keywords as well as readable sentences
Add high-quality images to all of your product listings
The benefits of Salesforce Commerce Cloud SEO
Improved visibility on Google, Bing, and other search engines
Increased conversion rates for your website
Enhanced customer experience through personalized content delivery
Real-time reporting of all data points in one place
It's a scalable solution for any business
It allows you to manage your e-commerce data in one place
You can use it to measure the performance of your marketing campaigns and make adjustments accordingly
You can optimize every aspect of your website, from content to design, with this platform
Increase your visibility and conversions
Improve customer experience by delivering personalized content
Gain insights into your customers' behavior with Analytics for Commerce Cloud
Get started quickly with pre-built integrations, templates, and apps to make it easy to set up a store
Salesforce Commerce Cloud SEO helps you improve your search engine ranking
It can help you generate higher-quality traffic to your site
You can use it to create and manage content for social media channels
It will provide insights into what customers are looking for so that you can better serve them with the products they need.
Salesforce Commerce Cloud SEO is the only solution that provides an end-to-end commerce platform for brands to manage their entire digital presence, from content and marketing to payments and shipping.
It's a platform that enables retailers to engage with shoppers across all channels, including social media, email marketing, text messaging, and more.
One of the most popular features of this cloud service is its ability to offer real-time insights into what customers are doing on your website.
Salesforce Commerce Cloud SEO is the only cloud-based tool that provides a complete solution for search engine optimization.
It offers features like intelligent content management, automated indexing, and custom keyword research.
With this software, you can focus on your business strategy instead of worrying about SEO
Salesforce Commerce Cloud SEO is a powerful, scalable solution that helps you reach your customers.
Search engine optimization (SEO) for commerce is an essential part of driving traffic to your store and converting those visitors into buyers.
The tool offers the ability to work with multiple channels at once, such as search engines, social media sites, and display networks.
It also provides analytics tools so you can better understand how shoppers are finding your site.
Conclusion
Salesforce Commerce Cloud can be used to create a personalized experience for your customers. Unsurprisingly, this kind of technology has revolutionized the way people shop online and make it easier than ever before for retailers to compete with one another in an increasingly crowded marketplace. If you want more information about how we use these technologies, contact us today!