SEO Glossary: 600+ Search Engine Optimization Terms & Definitions You Need to Know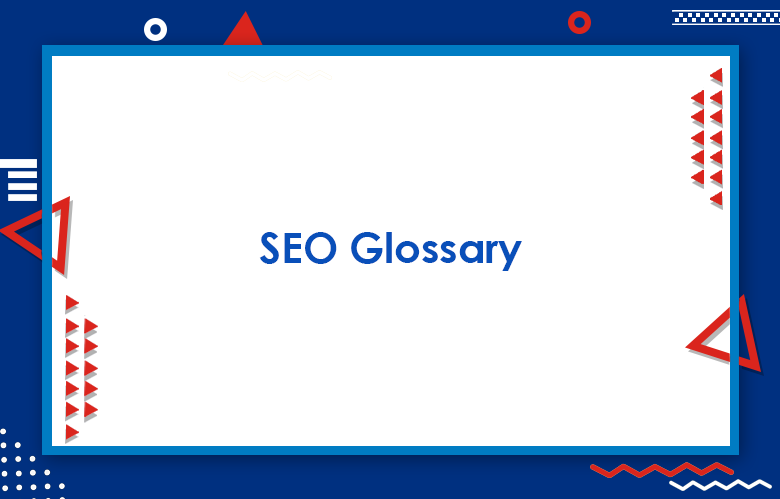 SEO Glossary: Are you excited to become an SEO expert? If you are completely new or not much aware of search engine optimization, then you might not be familiar with the term SEO glossary. Am I right? SEO is the term that all marketers often listen to in the landscape of digital marketing. The optimization of the web page or any blog etc. of a business needs to be done in enhancing the performance of the business brand through which the search ranking of the website must be improved. Several factors exist when you are decided to rank higher on search engines like Google, Bing, etc.
Most of the businesses will obtain the website traffic from the organic search and local search results. When online consumers are surfing the internet, they are mostly looking for answers from search engines like Google and Bing. Depending on the search, the search engine will crawl the website links relevant to the web search. To reach the expectations of the search engine, one should need to understand the essential SEO terms, which can be an SEO glossary that helps in understanding the SEO.
SEO Glossary
.htaccess File
200 OK Status
301 Redirect
301 Redirect or Redirection
302 Redirect
404 Error
404 Not Found
Above the Fold
Absolute URL
Accelerated Mobile Pages (AMP)
Affiliate
Aggregation sites
AJAX
Alexa Rank
Algorithm
Algorithm Change
Algorithm update
Algorithmic penalty
Alt Attribute
Alt tag
Alt Text
ALT Text/Tag
AMP
Analytics
Anchor Text
API
App indexing
App Packs
Artificial Intelligence (AI)
Authority
Authority site
Autosuggest
B2B
B2C
Backlink
Backlinks
Baidu
Baidu Search Engine
Bait and switch
Banner blindness
Bing
Black Box
Black Hat
Black hat SEO
Blog
Blog commenting
Bookmarks
Bot
Bounce Rate
Brand mention link building
Branded Keyword
Branded Keywords
Breadcrumb
Breadcrumb navigation
Breadcrumb Trail
Breadcrumbs
Broad match keyword
Broken link
Cache
Cached link
Cached Page
Call to action (CTA)
Canonical Tag
Canonical URL
Canonical URL (Canonical tag)
Carousel
Cascading Style Sheets (CSS)
ccTLD
Churn and burn SEO
Citations
Click Bait
Click fraud
Click Through Rate/CTR
Clickbait
Click-Through Rate (CTR)
Cloaking
CMS
CMS (Content Management System)
Co-Citation
Comment Spam
Competition
Competition analysis
Competitor analysis
Content
Content is King
Content Management System (CMS)
Content marketing
Content spinning
Content syndication
Conversion
Conversion Rate
Conversion Rate Optimization (CRO)
Cookies
Copied content
Cornerstone content
Correlation
Cost per acquisition
Cost per click
Cost per thousand impressions
CPC
CPM
Crawl
Crawl Budget
Crawl demand
Crawl depth
Crawl Error
Crawl Errors
Crawl Frequency
Crawl Rate
Crawlability
Crawler
Crawling
Cross-linking
CSS
CSS (Cascading Style Sheets)
CTR (Click Through Rate)
Curated content
Customer Journey
Cybersquatting
Data
Dead Link
Dead-End Page
Deep Link
Deep linking
Deep links
De-index
De-indexing
Direct Answer
Direct traffic
Directory
Disavow
Disavow Backlinks
Disavow links
Discover More Places
DMOZ
DNS server
Do-follow
Dofollow link
Domain
Domain Authority
Domain Authority (DA)
Domain name
Domain name registrars
Doorway Page
DuckDuckGo
Duplicate Content
Dwell time
Dynamic Tags
Dynamic URL
E-commerce
eCommerce SEO
Editorial Link
Ego-Bait
Email outreach
Engagement Metrics
Entities
Exact match anchor text
Exact match keyword
Expert document
Expertise-Authority-Trust (E-A-T)
External Link
Favicon
Featured Snippet
Fetch as Google
Findability
Footer Link
Fresh Content
Freshness
Freshness (Freshness factor)
FTP (File Transfer Protocol)
Geotargeting
Google
Google Ads
Google Alerts
Google Analytics
Google Analytics Tracking Code
Google Autocomplete
Google bomb
Google bowling
Google Cached Links
Google Dance
Google Fonts
Google for Jobs
Google Fred
Google Home Service Ads
Google Hummingbird
Google Juice
Google Keyword Planner
Google MapMaker
Google Maps
Google Mobile-Friendly Test
Google My Business
Google My Business Directory
Google Optimize
Google PageSpeed Insights
Google Panda
Google Panda Algorithm
Google penalty
Google Penguin
Google Penguin Algorithm
Google Pigeon
Google Pigeon Update
Google Pirate
Google Play Store
Google Possum
Google Posts
Google RankBrain
Google Sandbox
Google Search Console
Google Trends
Google Webmaster Guidelines
Google's Mobile Friendly update
Google's related searches
Google+
Googlebot
Gray Hat
Grey hat SEO
gTLDs
Guest Blogging
Guestographic
H1
Hamburger Button
Head Tag (in HTML)
Head Term
Heading
Headings
Headline
Hidden Text
Hilltop Algorithm
Hit
Hits
HITS Algorithm
Homepage
Hreflang attribute
Hreflang Tag
HTML
HTML (Hyper Text Markup Language)
HTML heading (H1-H6 tag)
HTML Headings
HTML sitemap
HTML source code
HTTP
HTTP headers
HTTPS
Hub
Hub Page
Hyperlink
Hypertext Transfer Protocol (HTTP)
Iframe
Image filename
Image SEO
Image sitemap
Image Thumbnail
Image title
Images Box
Impression
Inbound Link
Incognito Mode
Index
Indexability
Indexed Page
Indexed Pages
Indexing
Infographic
Information Architecture
Information Retrieval
Internal Link
Internal Links vs Inbound Links
International SEO
Interstitials
IP Address
iTunes App Store
Java
Javascript
JavaScript (JS)
Key performance indicator (KPI)
Keyword
Keyword (not provided)
Keyword analysis
Keyword Cannibalization
Keyword categorization
Keyword competition
Keyword Density
Keyword frequency
Keyword funnel
Keyword Not Provided
Keyword Planner
Keyword prominence
Keyword proximity
Keyword rank
Keyword research
Keyword stemming
Keyword stuffing
Knowledge Graph
Knowledge Panel
KPI
Landing Page
Latent Semantic Indexing (LSI)
Latent semantic indexing keyword
Lazy Loading
Lead
Lead magnet
Link
Link Bait
Link building
Link burst
Link condom
Link diversity
Link equity
Link Exchange
Link farm
Link hoarding
Link Juice
Link outreach
Link popularity
Link Profile
Link reclamation
Link relevancy
Link rot
Link spam
Link Velocity
Linkbait
Local citation
Local Finder
Local Pack
Local search
Local SEO
Log File
Log File Analysis
Long Tail Keyword
Long-Tail Keyword
Lost link
Machine Learning
Manual action
Manual Action Penalty
Manual Penalty
Meta Description
Meta description tag
Meta Keywords
Meta refresh
Meta Tags
Metadata
Metric
Mirror site
Mobile optimization
Mobile SEO
Mobile-first indexing
Mobile-friendly website
Morningscore
Natural Language Processing
Natural Link
Negative SEO
Niche
Noarchive Tag
Nofollow
Nofollow Attribute
Nofollow link
Noindex
Noindex Tag
No-index tag
Noopener and Noreferrer
Nosnippet Tag
Off-Page SEO
Online Reputation Management
On-page SEO
Opt-in
Opt-out
Organic Links
Organic rank
Organic Search
Organic Search Results
Organic traffic
Orphan Page
Outbound Link
Outreach marketing
Over-optimization
Page Authority
Page Authority (PA)
Page cloaking
Page Speed
Page speed
Page title
Page title (Title tag)
Page vs Domain Authority
PageRank
PageRank (PR)
Pagespeed
Pageview
Pageview (Page impression)
Pageviews (Impressions)
Paid links
Paid links (Link buying)
Paid Search
Paid search engine result
Paid traffic
Panda
PBN
PDF
Penalty
Penguin
People Also Ask
Persona
Personalization
Phone Feature
PHP
Piracy
Pogo-sticking
Poison words
Position
PPC
PPC (Pay Per Click)
Precision
Primary keyword
Pull channel
Pull marketing
Push channel
Push marketing
QDF
Quality Content
Quality Link
Query
Query Deserves Diversity (QDD)
Query Deserves Freshness (QDF)
Rank
RankBrain
Ranking Factor
Reciprocal linking
Reciprocal Links
Redirect
Redirects
Referral traffic
Referrer
Referrer String
Reinclusion
Related Search
Relative URL
Relevance
Reputation management
Responsive Web Design
Responsive Website
Return on Investment (ROI)
Reviews (Stars)
Rich Cards
Rich Snippet
Robot.txt File
Robots meta tag
Robots.txt
Robots.txt File
ROI
RSS Feed
SAB (Service Area Business)
Schema
Schema Marketing
Schema Markup
Scrape
Scraping
Search Box
Search Engine
Search engine (SE)
Search engine algorithm (Google algorithm)
Search engine marketing
Search Engine Marketing (SEM)
Search Engine Optimization (SEO)
Search engine rank
Search engine result page (SERP)
Search Engine Results Page (SERP)
Search engine spam
Search History
Search Operators
Search query
Search result snippet
Search visibility
Search visibility score
Search volume
Secondary keywords
Secure Hypertext Transfer Protocol (HTTPs)
Seed keywords
SEM
SEO
SEO audit
SEO Friendly URL
SEO service
SEO silo
SEO silo structure
SEO site audit
SEO Toolbars
SEO URL
SEOnaut
SERP
SERP feature
SERP Features
SERP shaker
Server Log Files
Share of Voice
Similar link
Sitelinks
Sitemap
Site-wide link
Sitewide Links
Skyscraping
SMM
Social Bookmarking
Social Media
Social media marketing
Social media marketing (SMM)
Social Signal
Social syndication
Soft 404 Error
Spam
Spamdexing
Spider
Spider Trap
Splash page
Split Testing
Split Testing (A/B testing)
SSL Certificate
Static URL (Static link)
Status code
Status code 200
Status code 301 (301 redirect)
Status code 302 (302 redirect)
Status code 403
Status code 404
Status code 410
Status code 429
Status code 500
Status code 503
Status Codes
Stop Word
Stop words
Structured data (Schema)
Structured Markup
Structured Snippets
Subdomain
Submission
Taxonomy
Technical SEO
Term frequency x Inverse document frequency (TF*IDF)
TF*IDF
The fold
Thin content
Things to Do
Time on Page
Title (Page Title)
Title Tag
Top heavy
Top heavy (Top heavy algorithm)
Top Level Domain
Top Stories
Top-Level Domain
Top-Level Domain (TLD)
Traffic
Traffic potential
Trust
TrustRank
Twitter feature
Uniform Resource Identifiers
Uniform Resource Locator (URL)
Unique visit
Universal search
Unnatural Link
URL
URL (Uniform Resource Locator)
URL parameter
Usability
User Agent
User engagement
User Experience
User Experience (UX)
User Generated Content
User interface
User interface (UI)
User-friendly
User-Generated Content
User-Generated Content (UGC)
Vertical Search
Vertical search engine
Video optimization
Video Thumbnail
Viral content
Virtual Assistant
Visibility
Visit
Visit (Session)
Voice Search
Web 2.0
Web Scraping
Webpage
Website
Website (Site)
Website Navigation
Website quality
Website structure
Webspam
White Hat
White hat SEO
Whois
Word Count
WordPress
XML
XML Sitemap
Yahoo
Yandex
Yandex Search
YMYL pages
Yoast SEO
YouTube
Wrap-up:
The set of SEO glossary that we have listed above plays a vital role in understanding all the significant terms that search engine optimization is related to. Either you are running the start-up or reputed business brand, the above are the must-know list to master the digital marketing world.