Digital Advertising Glossary: 400+ Terms & Definitions You Need to Know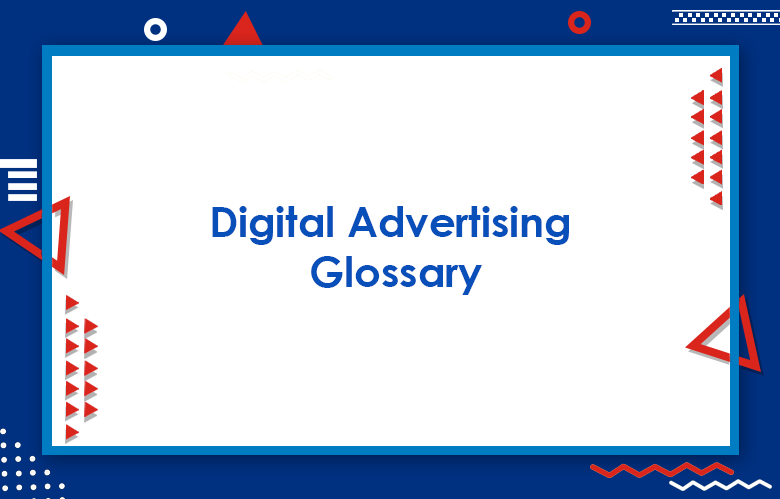 Digital Advertising Glossary: It's most often that newbies of digital advertising can be frightened to face each phase of this industry. At first, it seems to be very complicated that turns several marketers away from the digital ad buying. Though you are a newbie or expertise in digital marketing, you can tackle all issues by knowing the set of terms named digital advertising glossary.
Nothing is more important than implementing an active digital advertising strategy. Several digital ad methods like videos, banners, retargeting, social media advertising, etc. can be used by marketing professionals to explore business growth. However, the only intension of executing a digital video advertising strategy is to boost online visibility. When you are in the path of expanding your video advertising field, then you may come across several terms that you don't know. Hence, to make your digital ad buying journey more than your expectation bow your head to check the set of digital advertising glossary.
Digital Advertising Glossary
360 Video Ads
3rd Party Cookie
Accelerated Delivery
Account
Ad Auction
Ad Completion
Ad Customizers
Ad Extensions
Ad Fraud
Ad Group
Ad Inventory
Ad Network
Ad Pod
Ad Preview and Diagnosis Tool
Ad Rank
Ad Relevance Diagnostics Metrics
Ad Rotation
Ad Schedule
Ad Server
Ad Set
Ad Strength
Ad Tech
Adaptive Bitrate Streaming (ABS)
Ad-based Video On-Demand (AVOD)
Add Observation
Addressability
Addressable TV
AdMob
Ads
Ads Manager
Ads.txt (Authorized Digital Sellers)
Advanced TV
Affiliate Advertising
Affiliate Location Extension
Agency Trading Desk
Aggressive Targeting
All Conversions
Amount Spent
API Integration (Application Programming Interface)
App Extension
App Install Conversion
App Users
Assisted Conversion
Attribution
Audible and Viewable on Complete (AVOC )
Audience (Target)
Audience Extension
Audience Segments
Audiences
Augmented Reality (AR)
Automated Content Recognition (ACR)
Automated Rules
Automatic Placement
Autoplay Video Ad
Auto-tagging
Average Position
Banner Ads
Behavioral Targeting
Bid Adjustment
Bid Strategy
Bid Throttling
Bitrate or Bit Rate
Boost
Bot
Brand Lift
Branded Video Content
Broad Match
Broad Match Modifier
Budget
Bulk Operations
Bumper Ad
California Consumer Privacy Act (CCPA)
Call Extension
Call-only Ad
Call-out Extension
Campaign
Campaign Groups
Change History
Channel
Children's Online Privacy Protection Rule (COPPA)
Click
Close Variant
Columns
Connected TV
Connected TV (CTV)
Conservative Targeting
Content Distribution Network CDN)
Content Recommendations
Content Syndication
Contextual Targeting
Contextual Targeting (Advertising)
Contextual Targeting (Editorial)
Conversion
Conversion Campaing
Conversion Category
Conversion Rate
Conversion Value
Conversion Window
Cost
Cost Per Completed View (CPCV)
Cost Per Point (CPP)
Cost Per View (CPV)
Cost Per Viewable Impression (CPVI or VCPM/VCPV)
Countdown
CPA
CPC
CPC (All)
CPC (Cost per Click)
CPC (Link)
CPCV
CPE (Cost per Engagement)
CPI (Cost Per Install)
CPL
CPM
CPM (Cost per Mille)
CPM (Cost per Thousand)
CPV
CPV (Cost per View)
Cross-Channel
Cross-device Conversion
Cross-Screen Measurement
CTR
CTR (All)
CTR (Click-Through Rate)
Customer Emails
Customer Match
Data Management Platform (DMP)
Data-Driven Linear TV
Daypart
Deal ID
Default Bid
Delivery Method
Demographics
Device
Display Ad Networks
Display Advertising
Display Keywords
Display Planner
Display Targeting
Display URL
DMA
Do Not Optimize
DOOH
Drafts
DSP
DSP (Demand Side Platform)
Dynamic Ad
Dynamic Ad Insertion
Dynamic Ad Insertion (DAI)
Dynamic Creative
Dynamic Keyword Insertion
Dynamic Remarketing
Dynamic Search Ad
Earned View
eCPM
Editor
Effective CPM
Encoding/ Transcoding/ Renditions
Enhanced CPC
Exact Match
Exact Match Impression Share
Experiment
Facebook Pixel
Fifth Generation (5G)
Fill Rate
Filter
Final URL
First Click
First-Party Data
Frequency
Frequency Cap
Funnel
GCLID
Geotargeting
Gmail Ad
Google Ad Manager (GAM), formerly DoubleClick for Publishers (DFP)
Google AdSense
Google Analytics
Google Display Network
Google Forwarding Number
Google Merchant Center
Google Search Network
Google Search Partners
Gross Rating Point (GRP)
GRP
Hashing
Header Bidding
Identifier for Advertising on OTT
Iframe/SafeFrame
Image Ad
Impression
Impression Share
Impressions / CPM
In-app Conversion
Insertion
Insertion Order
In-Stream
In-stream Video
In-Stream Video Ad
Interaction Rate
Interactions
Interactive In-App Pre-Roll
Interactive Pre-Roll
Interactive Video
Interests
Interstitial Video Ad
Invalid Clicks
Invalid Traffic (IVT)
Keyword
Keyword Planner
KPI (Key Performance Indicator)
Label
Language Targeting
Last Click
Latency
Lazy Load
Lead Generation
Lead Generation Campaign
Lifetime Budget
Linear Attribution
Linear TV
Link Clicks
Live Streaming Video
Location Extension
Location Targeting
Long-Form Video
Lookalike Audiences
Lost Impression Share
Makegoods
Manager Account
Match Type
Maximize Conversions
Maximize Lift
Message Extension
Message Recall
Mid-Roll
Mobile Ad Sizes
Mobile Advertising
Mobile Bid Adjustment
Mobile Pre-Roll
Mobile Speed Score
MRC
Multi-Channel Network (MCN)
Multi-Channel Video Programming Distributor (MVPD)
Narrow Targeting
Native Advertising
Negative Broad Match
Negative Exact Match
Negative Match
Negative Phrase Match
Network
Notes
Offer Claims
Offline Conversion
Online Advertising
Open Exchange
Opt In
Optimize
Optimized CPM
Opt-In Value-Exchange Ads (aka rewarded ads)
OTT
Outstream Video Ad
Over The Top (OTT)
Over-the-Top Device (OTT)
Over-the-Top Streaming Video (OTT Streaming Video)
Page Likes
Page Request
Paid Advertising
Parental Status
People Taking Action
Phrase Match
Physical Location
PII (Personally Identifiable Information)
Pixel
Placement
Placements
PMP (Private Marketplace)
Position Based
Post-Roll Ad
Potential Reach
PPC
PPC Ads
PPC Advertising
PPC Advertising Networks
Prebid (Prebid.js)
Pre-Roll Ad
Price Extension
Private vs. Open Marketplace
Product Group
Programmatic Ad Buying
Programmatic Advertising
Programmatic Direct
Programmatic Non-Reserved
Programmatic TV (PTV)
Promotion Extension
Quality Score
Quartile
Quartiles
Queries Per Second (QPS)
Radius Targeting
Reach
Real-Time Bidding (RTB)
Recommendations
Remarketing
Remarketing List
Remarketing Lists for Search Ads
Reports
Reseller
Responsive Display Ad
Responsive Search Ad
Retargeting
Retargeting (Remarketing)
Return path data (RPD)
ROAS
RON
ROS
RPM (Revenue per Mille)
Script
Search Advertising
Search Query
Second-Party Data
Segment
Seller Ratings Extension
Sellers.json & SupplyChain object
Sell-Through Rate
Server Side Ad Insertion (SSAI)
Set-Top Box
Share of Voice (SOV)
Shared Budget
Shared Library
Shoppable Image Ad
Shopping Campaign
Short-Form Video
Showcase Shopping Ad
Site Category Options
Sitelinks Extension
Skippable Pre-Roll
Skippable Video Ad
Skyscraper
Smart Bidding
Smart Shopping Campaigns
Social Media Advertising
SPO (Supply Path Optimization)
SSP
SSP (Supply Side Platform)
Standard Delivery
Standard Pre-Roll
Status
Sticky Video Ad (aka adhesion ad)
Streaming
Structured Snippet Extension
Subscription Video On-Demand (SVOD)
Target Audience
Target Rating Point (TRP)
The Coalition of Better Ads Initiative
The General Data Protection Regulation (GDPR)
Third-Party Ad Server
Third-Party Data
Time Decay
Top Content
Topics
Tracking Template
TrueView
TrueView In-stream
TrueView Video Discovery Ad
TV Everywhere
Unique User/Device ID
Universal App Campaign
User Generated Content (UGC)
ValueTrack
VAST
VAST (Video Ad Serving Template)
vCPM
Vertical Video Ads
Video Ad Completion
Video Ad Completion Rate (VCR)
Video Ad Serving Template (VAST)
Video Advertising
Video Aspect Ratio
Video Completion Rate
Video Consumption
Video Discovery
Video Engagement
Video level data
Video Multiple Ad Playlist (VMAP)
Video On Demand (VOD)
Video Player-Ad Interface Definition (VPAID)
Video Viewability
View
Viewability
Viewability Rate
Viewable Completion
Viewable CPM
Viewable Impression
Viewable Video Impression
View-through Conversion
Virtual MVPD (vMVPD)
Virtual Reality (VR)
VPAID
VPAID (Video Player Ad-Serving Interface Definition)
VTR
Website Conversion Value
Website Visitors
Yield
Yield Management
YouTube
YouTube Users
Conclusion:
Getting familiar with the glossary mentioned above can let you be on the competitive edge of the digital advertising industry. Moreover, you can come up with the most valuable blog posts regarding digital marketing and digital advertising.