Content Marketing Glossary: 650+ Content Promotion Terms & Definitions You Need to Know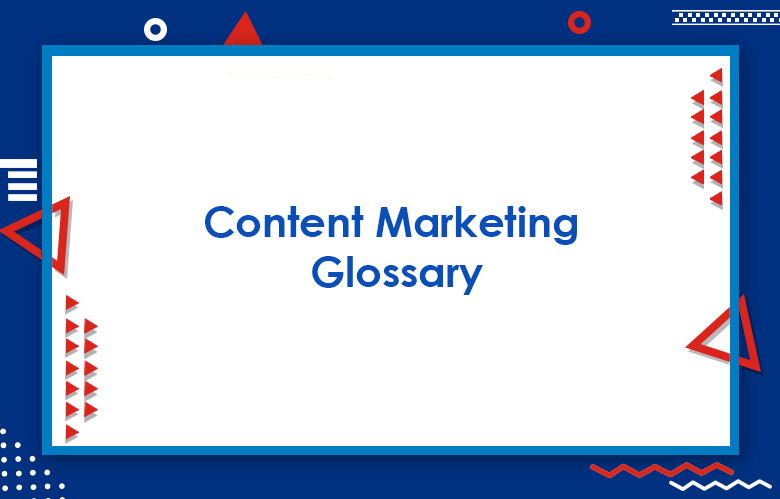 Content Marketing Glossary: With the most advanced technologies and trends in the digital marketing world, the distribution of content finds more chances. Moreover, content creation is seeking more innovation that holds the audience's attention. Simply content is not what it was, and it is about being assertive in creating the buzz of the business brand.
The informative content has more chances to engage the audience rather than ad campaigns pushing products or services. Delivering high-quality content is the only goal of companies that helps them to find potential customers and enhance business growth.
Getting all on board with the launch of an effective content marketing strategy within available resources is the only target of business brands. Content is the only solution for all the frustrating consumer queries. By business brand perceptive, we have listed the comprehensive set of content marketing glossary that lets you become the content marketing expert.
Content Marketing Glossary
A / B testing
Above the Fold
Accessibility
Account Executive or Account Manager
Account Manager
Action
Active verb
Active Verbs
Ad Space
Adaptive Content
AdSense
Advertorial
AdWords
Affiliate Marketing
Aggregated Content
Agile
Algorithm Update
ALT-Tags
Analytics
Anchor Text
App
Article
Article Marketing
Astroturfing
Atomization
Attribution
Attribution Models
Audit and Mapping
Authorship
Autoblog
Autoresponder
B2B
B2B Marketing
B2C
B2C Marketing
Backlinko
Backlinks
Bad Neighborhoods
Banner Ads
Big Data
Bing SEO
Black Hat SEO
Blacklist
Blacklists
Blog
Blogging
Blogosphere
Boilerplate
Bookmarking
Boost Blog Traffic
Bottom of the Funnel
Bottom of the Funnel (BOFU)
Bounce Rate
Brand Awareness
Brand Building
Brand Engagement
Brand Evangelist
Brand Journalism
Brand Terrorist
Brand Visibility
Breadcrumb Links
Business Bolts
Buyer Journey
Buyer Persona
Buyer Personas
Buyer's Journey
Buying Cycle
Buzz
Call to Action (CTA)
Call-to-Action (CTA)
Canonicalisation
Canonicalization
CAPTCHA
Case Study
Citizen Journalism
Clambr
Click Bait
Click Fraud
Click Paths
Click-Through Rate
Click Tracking
Clickbait
Clickthrough Rate
Click-Through Rate (CTR)
Cloaking
CMS
Content Aggregator
Content Audit
Content Brief
Content Champion
Content Curation
Content curation portal
Content Curation Software
Content farm or Content mill
Content Management System (CMS)
Content Marketing
Content Shock
Content Strategy
Contextual Advertising
Conversation
Conversion
Conversion Funnel
Conversion Rate
Conversion XL
Convince and Convert
Cookies
Copyblogger
Copyscape
Copywriting
Cornerstone Content
Cost Per 1,000 Impressions (CPM)
Cost Per Action (CPA)
Cost Per Click (CPC)
Cost Per Sale (CPS)
Creative Commons
Creative Commons Licenses
Crowdsourced Content
Crowdsourcing
Curation
Customer Persona
Customer Relationship Management (CRM)
Data Extraction
Data Mining
Data-backed Content
Dead Link
Deep Link
Defamation
Device Detection
Digital Commerce
Digital Marketing
Digital Sharecropping
Direct Marketing
Direct Response
Directory
Disavow Tool
DNS
Domain Authority
Domain Strength
Doorway Page
Double Opt-In
Drop Out Rate
Drupal
Duct Tape Marketing
Duplicate Content
Dwell Time
Dynamic Content
Dynamic Keyword Insertion
Earned Media
Ebooks
Echo Chamber
eCommerce
eCommerce SEO
eCRM
Editing
Editorial Brief
Editorial Calendar
eLearning
Email Marketing
Embedding
Emotion
End-User
eNewsletter
Engagement
Entrepreneur on Fire
Entry Page
EPC
Ethics
Evaluation
Evergreen Content
Exit Page
Exit Rate
Experimental Content
External Linking
Ezine
FAB
Facebook
Facebook Application
Facebook Marketing
Fact Browser
Factbrowser
FAQ
Feature
Feed
Feed Reader
Fizzle
Flat Rate
Flog
Focus Group
Fold
Formats
Forum
Freelance writers
Frequency
Frequency Cap
Fresh Content
Freshness Algorithm
Funnel
Gain Higher Ground
Gamification
Gap Analysis
Gated Content
Geographical Targeting
Ghostwriter
Ghostwriting
Goal
Google AdSense
Google AdWords
Google Analytics
Google Hummingbird
Google Juice
Google News
Google Panda
Google Penguin
Google Search Algorithm
Googlebot
Graph Search
Grey Hat SEO
Groundswell
Guarantee Images
Guest Blogging
Guest Posting
H1 Tag
H2, H3 etc tags
Habitual Decision Making
Halo Effect
Hangout
Hard Bounce
Hard Sell
Hashtag
Heading Tags
Head-To-Head Competition
Heat Map
Hidden Object
Hidden objection
Hidden Text
Hit
Homepage
Hosting
House List
House Style
HTML
HTML Sitemap
HTML5
HTTP
Hubspot
Hyperlink
Hypertext Markup Language (HTML)
Ignite Social Media
IM
IM Impact
Impression
Impression Fraud
Inbound Link
Inbound Marketing
Indexed Pages
Industry News
Influencer
Influencers
Infographic
Information Architecture
Instagram
Integrated Marketing
Integrity
Interactive Content
Interactive Learning Environment (ILE)
Interactivity
Internal Link
Internal Site Search
Internet Explorer
Internet Marketing
Internet Press Release
Interview
IP address
IxD
Jargon
Java
JavaScript
JIT
Job Lot
Joint Demand
Joint Venture
Joomla
Judgment Sample
Junket
Junkmail
Kaizen
Kanban
Keep-Out Pricing
Kei Analysis
Key Account
Key Buying Criteria
Key Buying Influential
Key Items
Key Performance Indicator (KPI)
Key Performance Indicators (KPIs)
Key Phrase
Key Prospects
KeyWirky
Keyword
Keyword Density
Keyword Frequency
Keyword Ranking
Keyword Research
Keyword Stemming
Keyword Stuffing
Keywords
KISS Principle
Klout
Knocking Copy
Landing Page
Landing Pages
Lead
Lead Generation
Lead Management
Lead Nurturing
Lead Scoring
Leads
Lean Content
Learning Management System (LMS)
Learning Style
Lifecycle Stages
Link
Link Bait
Link Building
Link Checker
Link Exchange
Link Farm
Link Popularity
Link Profile
Link Reclamation
Link Rot
LinkedIn
Load Time
Local Search
Long Tail
Long-Tail Keywords
Market Profile
Market Research
Market Segmentation
Marketing Automation
Marketing Mix
Marketing Plan
Mashable
Mashup
Mass Customization
Membership Site
Meme
Mentions
Meta Data
Meta Element
Meta Keywords or Keyword Tag
Meta-Search Engines
Metric
Metrics
Microblogging
Microsoft Search Alliance
Middle of the Funnel
Middle of the Funnel (MOFU)
Mini Browser
Mirror sites
Mobile
Mobile Marketing
Mobile-First Indexing
Monetizing
Multimedia
Multipurpose Content
Multivariate Testing
Narrow and Deep
Native Advertising
Natural Search
Navigation
Need profiling
Negative SEO
Netiquette
New Media Marketing
New Visitor
Newbie
News Reader
Newsgroup
Newsjacking
Newsletter Marketing
New-to-the-World Product
Niche
Niche Marketing
Niche Product
Nofollow Link
Noindex
Nomenclature
Offer
Offers
Off-page Optimization
Omnichannel
Online Press Release
Online Press Room
Online Reputation Management
On-page Optimization
On-Page SEO
Open Graph
Open Rate
Open Source
OpenSearch
Operational CRM
Opt-in
Opt-out
Organic Search
Original Content
Original Referrer
ORM
Outbound Links
Outreach
Overture
Owned Media
Page Exit Ratio
Page Tags
Page Title
Page Views
Page Views per Visit
PageRank
Paid Inclusion
Paid Media
Paid Search
Pass on Rate
Pay Per Click (PPC)
Permalink
Permission Marketing
Persona
Personalise
Personalization
Personalize
Phishing
Pinterest
Plagiarism
Plug-In
Podcast
Podcasting
Popup
PPC
Press Release
Private Label Rights (PLR)
Product Differentiation
Programmatic Advertising
Promoted Content
Promotion
Pushing Social
Q&A
Qik
QR Code
Q-Sort Technique
Qualified Lead
Qualified Traffic
Qualitative Data
Qualitative Forecasting
Qualitative Media Effect
Quality
Quality Assurance
Quality controls
Quality Creep
Quality Score
Quantcast
Quantitative Data
Quantity
Query
Questions
Quicksprout
Quicktime
Quotes
QWERTY
Ranking
Ranking Signal
Rational Appeals in Advertising
Rational Buying Motives
Reach
Readability
Reciprocal Linking
Referral
Remarketing Or Retargeting
Repeat Visitors
Repurposing
Reputation Capital
Responsive Design
Responsive Web Design
Retargeting
Return On Investment (ROI)
Return Visitor
Revenue Share
Reviews
Right to Be Forgotten
Roas
Robots.txt
ROI
RSS
Salesforce
Schema.org
Scraper
Search Algorithm
Search Engine Marketing (SEM)
Search Engine Optimization (SEO)
Search Engine Results Page (SERP)
Search Term
SearchStatus
Seasonal content
Seeding
Segmentation
SEM
Sentiment
SEO
SEO (Search Engine Optimization)
SERPs
Session
Share
Short URL
Smart Passive Income
Snackable Content
Social
Social Graph
Social Media
Social Media Examiner
Social Media Explorer
Social Media Optimization (SMO)
Social Optimization
Social Proof
Social Signals
Social Triggers
Soft Bounce
Spam
Spider
Split Testing
Split-Testing
Splogs
Sponsored Content
Sponsored Links
Stakeholder
Stories or Storytelling
Storytelling
Streaming Media
Subject Matter Expert (SME)
Sweating Your Content Assets
SXO
Syndicated Content
Tabs
Tags
Target Market
Targeting
Taxonomy
Technical Content
Technical Writer
Templates
Tentpole Content
The Sales Lion
Third-Party Cookie
Thought-Leader
Title Tags
Top of the Funnel
Top of the Funnel (TOFU)
TopRank Blog
TouchPoint
TrackBack
Tracking
Tracking Codes
Traditional Media
Traffic
Trawler
Troll
Trust
Twebinar
Twitter
User-Generated Content (UGC)
Ultimate User
Unbundling
Undifferentiated Marketing
Unique Content
Unique Forwarders
Unique Page Views
Unique Selling Proposition (USP)
Unique Visitors
Unit Cost
Unit Margin
Unit Market Share
Universal Search
UNIX
URL
URL Rewriting
Usability
Useful
User Acceptance Testing
User Advocate
User Experience
User-Friendly Content
User Interface
User Research
User Testing
Users
Usp
Vampire Effect
Variable Costs
Veblen Effect
Vendor
Venture
Venue
Vertical Channel Conflict
Vertical Integration
Vertical Search
Video Blogging
Video Marketing
Vimeo
Vine
Viral
Viral Marketing
Virality
Visit Duration
Visit Referrer
Visitor Session
Visitors
Visual Content
Vlog
Voice
VoIP
W3C
Web 2.0
Web Analytics
Web Application
Web Content
Web Design
Web Presence
Webinars
Website Content
Website Curation
White Hat SEO
White List
White Paper
Whitepaper
Whitepaper Marketing
Widget
Widgets
Wiki
Wireframe
Word-of-Mouth
WordPress
WordTracker
Writing for the Web
WWW
XML
XML feeds
XML Sitemap
Yahoo!
Yield Management
Youtility
YouTube
Z Chart
Zeitgeist
Zemanta
Zero Level Channel
Zerys
Zone Pricing
Conclusion:
Simply the creation of content is not enough to blow the success of the business brand. The creative content, along with strategic planning, is essential for winning hearts.