Lead Generation Glossary: 350+ Sales & Marketing Terms & Definitions You Need to Know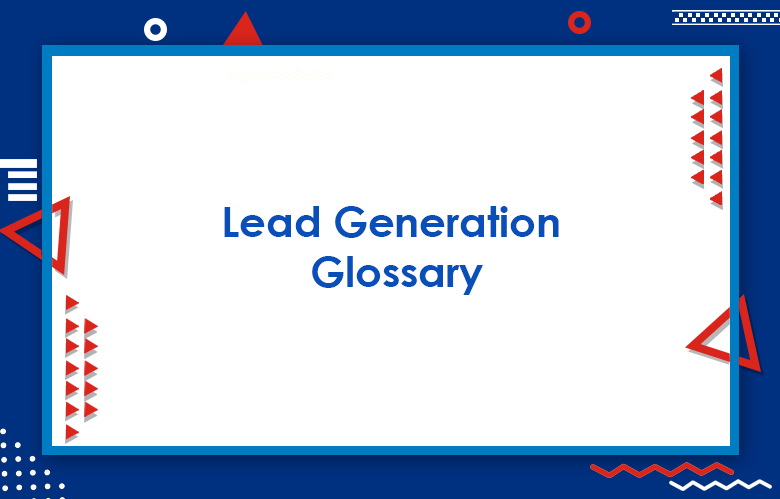 Lead Generation Glossary: Lead generation is the way the website visitors to be treated and find conversions. The businesses are looking for potential leads who can become the part in driving the bottom of the sales funnel. The best lead generation strategies will accelerate the leads into business sales opportunities into new clients. The companies are finding scalable revenue growth.
The leads can be the ones who are interested in buying your products or services that let them be your customers. What do we need to know? The marketing techniques and strategies can stimulate and hold the customer's and client's attention towards a specific business brand. The strategy for the lead generation comes from social media, blogs, and digital marketing and advertising, etc. To make lead generation play around your digital marketing strategy, you should go through the listed lead generation glossary.
A/B testing
ABC
ABC – Always Be Connecting.
Above-the-Fold
Account
Account Development Representative (ADR)
Account executive
Account Executive (AE)
Account-Based Marketing (ABM)
Account-Based Selling (ABS)
Accounts Payable
Accounts Receivable
Ad hoc reporting
Adoption process
AIDA
Annual contract value (ACV)
Annual Recurring Revenue (ARR)
API
Application Programming Interface (API)
Artificial Intelligence (AI)
Assessment
Asset
Authority
Autodialer
Autoklose
Autoresponder
Average Contract Value (ACV)
Awareness stage
B2B
B2C
B2C2B
BAB Formula
Bad Leads
BANT
BANT framework
Benefit
Big Data
Black Hat
Blacklisting
Blogging
BOFU
Bottom of the funnel
Bottom of the Funnel (BOFU)
Bounce rate
Brag Book
Bulk Email
Business development representative (BDR)
Business intelligence
Business to business (B2B)
Business to consumer (B2C)
Buyer Behavior
Buyer Persona
Buyer's Journey
Buyer's persona
Buyer's Remorse
Buying Criteria
Buying Intent
Buying process
Buying Process/Cycle
Buying Signal
Calculator
Call to Action (CTA)
Case study
Cases
Cash Flow
Channel Partner
Chat
Cheatsheet
Checklist
Churn Rate
C-Level Executives
Click-Through Rate (CTR)
Close a Deal
Closed Opportunities
Closed-Lost
Closed-Won
Closing Ratio
Cloud-based CRM
Cold Calling
Cold Outreach
Commission
Commitment and consistency
Consultation (free)
Consumer
Content
Content management system
Contract management
Conversion
Conversion path
Conversion rate
Conversion rate optimization
Cost of customer acquisition (CAC)
Cost per lead
CPQ software
CRM analytics
Cross-platform marketing automation
Cross-Selling
CTA
CTR
Customer
Customer Acquisition Cost (CAC)
Customer Churn
Customer Experience (CX)
Customer Lifetime Value (CLTV)
Customer lifetime value (CLV)
Customer Relationship Management (CRM)
Customer success
Dark
Data Entry/Processing
Deal Flow
Decision Maker
Decision-Maker
De-Dupe (Deduplication)
Demand Generation
Design
Direct Mail
Direct Sales
Discount
Discovery Call
Display Name
Draw
Drip Campaign
Drip marketing campaigns
Ebook
Email Automation
Email bounce rate
Email marketing
Email Tracking
Email validation
Emotional Sale
Employee Engagement
Engagement
Enterprise
EOD
Escalations
ESP
Evaluation stage
FAB
Facebook
Feature
Field Sales Rep
Firmographics
Fiscal Year
FOMO
Forecasting
Fortune 500
Forward Revenue
FUD
Gated content
Gatekeeper
Goodbye Message
Go-to-Market Plan
GPCTBA/C&I
Gross Margin
Guides
Hard bounce
Headline
Honey Pot
Hyperlink
Ideal Customer Profile (ICP)
Inbound Lead Velocity (ILV)
Inbound marketing
Influencer
Infrastructure as a Service (IaaS)
Initial Public Offering (IPO)
InMail Messages
Inside Sales
Intellectual Sale
Interactive content
Interactive whitepaper
Joe Job
Key Accounts
Key Performance Indicators (KPIs)
Keywords
KPI or key performance indicators
LAIR
Land and Expand
Landing page
Lead
Lead capture form
Lead Generation
Lead magnet
Lead management
Lead Nurturing
Lead Qualification
Lead quality
Lead scoring
Lead segmentation
Lead to customer conversion ratio
Lifetime Value (LTV)
Lifetime value of customer
Liking
LinkedIn
List Hygiene
Loss aversion
Loss Leader
Low Hanging Fruit
LTVCAC
Machine Learning
Margin
Marketing automation
Marketing Automation Platform
Marketing funnel
Marketing qualified lead
Marketing Qualified Lead (MQL)
Marketing segmentation
Mark-Up
Middle of the Funnel (MiFu)
Middle of the Funnel (MOFU)
Mid-Market
Minimum Viable Product (MVP)
Mirroring
Mobile optimization
MOFU
Monthly Recurring Revenue (MRR)
Natural Language Processing (NLP)
Needs Assessment
Net New Business
Net promoter score
Net Promoter Score (NPS)
Newsletter
Non-Sales-Related Activities (NSAs)
Objection
Onboarding
On-premise CRM
Opportunity
Opportunity management
Opt In
Optimization
Outbound Sales
Pain Point
Performance Plan
Personalization
Personalized emails
Phishing
Pipeline
Pipeline management
Platform as a Service (PaaS)
Plays
Point of Contact (POC)
Positioning Statement
Predictive Analytics
Procurement
Product email
Product Lifecycle Management (PLM)
Product Qualified Lead (PQL)
Profit Margin
Proof of Concept (POC)
Prospect
Prospect analysis
Prospecting
Puppy Dog Closing
Purchase stage
Qualified Lead
Quarter
Quiz
Quota
Reciprocity
Referral
Reply Rate
Report
Request for Proposal (RFP)
Responsive design
Responsive Email Design
Retargeting
Return on Investment (ROI)
Revenue performance management
ROI
Sales Acceleration
Sales and marketing alignment
Sales Automation
Sales dashboard
Sales Demo
Sales development representative
Sales Enablement
Sales funnel
Sales Methodology
Sales Operations
Sales performance management
Sales Pipeline
Sales pipeline coverage
Sales Process
Sales Prospect
Sales qualified lead
Sales Sequence
Sandbagging
Scarcity
Scraping
Segmentation
SEO
Service Level Agreement (SLA)
Signature
Silos
Social media
Social proof
Social Selling
Soft bounce
Software as a Service (SaaS)
Sound Bite
Spam
Spoofing
Stage
Structured Data
Subject line
SWOT
Target
Targeted content
Template
Tire-Kicker
TOFU
Top of the Funnel (TOFU)
Touchpoints
Triggers
Twitter
Unicorn
Unique Selling Point (USP)
Unsubscribe rate
Upselling
Up-Selling
User
User experience
User Experience (UX)
User Interface (UI)
User-Generated Content (UGC)
Value proposition
Value Statement
Value Triangle
Viral content
Virtual Machine (VM)
Visitor
Warm Outreach
Webinar
Weighted Pipeline
Weighted sales pipeline
Whale
White Hat
White Label
WIIFM
WordPress
Workflow
Xenocurrency
X-Inefficiency
Year to Date Net Income
YouTube
Zeit
Zeroed Out
Conclusion:
The intention of implementing lead generation is influencing the customers, which means when they know that a specific business brand exists. The involvement of additional marketing strategies will play around the customers in enhancing the interest that lets them buy the products or services.