Google AdWords Glossary: 275+ PPC Advertising & Definitions You Need to Know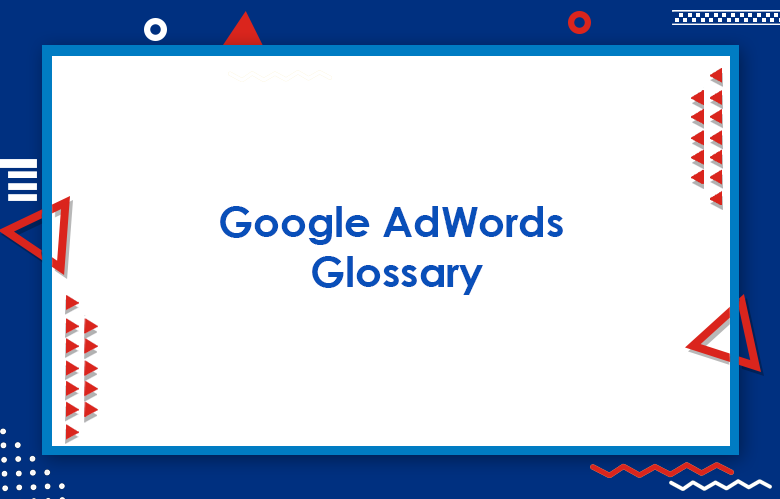 Google AdWords Glossary: Google AdWords is all about optimization of ad campaigns and improving the return on investment (ROI). The digital transformation of the marketing industry is popping up with the number of new terms every day. When the users are looking for queries on search engines like Google, the ad campaigns are delivered to the relevant audience. To optimize the ad campaigns effectively, it is necessary to know the set of terms named PPC Advertising Glossary that helps your ad campaigns reach the target audience.
Google AdWords let the businesses to bid on the particular keywords to display their ad campaigns at the right audience. The advertisers need to choose the set of keywords that are most relevant to the ad campaigns. These types of ads are the pay per click. Before doing all these, the advertisers must know the Google AdWords glossary terms that make your ad campaign go viral.
Google AdWords Glossary & PPC Advertising & Definitions You Need to Know
A/B Testing
Accelerated Delivery
Account
ACoS
Ad Campaign‍
Ad Copy
Ad Customizers
Ad Delivery‍
Ad Extensions
Ad Groups
Ad Network
Ad Position
Ad Preview and Diagnosis Tool‍
Ad Rank‍
Ad Relevance
Ad Rotation
Ad Schedule
Ad Scheduling
Ad Strength
Add Observation
AdMob
AdSense
AdWords
AdWords API
AdWords Editor
AdWords Express
Affiliate Location Extension
Aggressive Targeting
All Conversions
API
App Extension
App Install Conversion
App Users
Assisted Conversion
Attribution
Attribution Reports‍
Audiences
Automated Rules
Automatic Bidding
Automatic Campaigns
Automatic Placements
Auto-tagging
Average Cost per Click
Average Position‍
Bid
Bid Adjustment
Bid Management
Bid Optimization
Bid Strategy
Bidding Types
Bounce
Broad Match
Broad Match Modifier
Budget
Bulk Operations
Bumper Ad
Call Extension/Click-to-Call‍
Call Only Campaigns
Call to Action‍
Call-only Ad
Call out Extensions
Call-To-Action (CTA)
Campaign
Campaign Experiments‍
Campaign Groups
Campaigns
Change History
Click Fraud
Click Through Rate (CTR)
Click to Call
Clicks
Click-Through-Rate (CTR)
Close Variant
Columns
Conservative Targeting
Contextual Targeting
Conversion
Conversion Category
Conversion Optimizer
Conversion Rate
Conversion Value
Conversion Window
Cost
Cost Per Action or Cost Per Acquisition (CPA)
Cost Per Click (CPC)
Cost Per Mille (CPM)
Countdown
CPA (Cost Per Action)
CPC (Cost Per Click)
CPL (Cost Per Lead)
CPM (Cost Per Mile)
CPV (Cost Per View)
Cross-device Conversion
CTR
CTR (Click Through Rate)
Customer Emails
Customer Lifetime Value
Customer Match
Daily Budget
Default Bid
Delivery Method
Demographics
Description Line 1
Description Line 2
Destination URL/Display URL‍
Display Campaigns
Display Keywords
Display Network
Display Planner
Display Targeting
Display URL
Do Not Optimize
Drafts
Dynamic Ad
Dynamic Keyword Insertion‍
Dynamic Remarketing
Dynamic Search Ad
Earned View
Editor
Effective CPM
Enhanced CPC
Exact Match Impression Share
Excluded Locations
Expanded Text Ads
Experiment
Extensions
Filter
Final URL
First Click
Frequency Cap
Frequency Capping
GCLID
Geographic/Location Targeting
Geo-targeting
Gmail Ad
Google AdSense
Google AdWords Express
Google Analytics
Google Display Network
Google Forwarding Number
Google Forwarding Phone Number
Google Merchant Center
Google Search Network
Google Search Partners
Headline
Hits
Image Ad
Impression
Impression Share
Impressions‍
In-app Conversion
Interaction Rate
Interactions
Interests
Invalid Clicks
Keyword
Keyword Bids
Keyword Match‍
Keyword Match Type
Keyword Mining
Keyword Planner‍
Keywords
KPI (Key Performance Indicator)
Label
Landing Page
Landing Page Experience
Language Targeting
Last Click
Linear Attribution
Location Extension‍
Location Targeting
Long-tail Keyword‍
Lost Impression Share
Low Search Volume
Managed Placement
Manager Account
Manual Bidding
Manual Campaigns
Match Type
Match Types
Maximize Conversions
Maximize Lift
Message Extension
Mobile Bid Adjustment
Mobile Speed Score
Narrow Targeting
Negative Exact Match
Negative Keywords‍
Negative Match
Negative Phrase Match
Negative Placement
Network
Notes
Offline Conversion
Opportunities
Optimize
Other SKU
Parental Status
Phrase Match
Physical Location
PLA (Product Listing Ads)
Placement
Placement Exclusion
Placement Tool
Placements
Position Based
PPC (Pay Per Click)
PPC Bid
PPC Spend
Price Extensions
Product Group
Promotion Extensions
Prospect
Quality Score‍
Quartile
Radius Targeting
Recommendations
Redundant Keywords
Remarketing
Remarketing List
Remarketing Lists for Search Ads
Responsive Display Ad
Responsive Search Ad
ROAS (Return On Ad Spend)
ROI (Return On Investment)
Same SKU
Script
Search Engine Result Page (SERP)
Search Network
Search Query
Search Terms
Segment
Seller Rating Extensions
SERP (Search Engine Results Page)
Shared Budget‍
Shared Library
Shoppable Image Ad
Shopping Campaigns
Showcase Shopping Ad
Site Category Options
Sitelinks Extension
Smart Bidding
Smart Campaigns
Smart Shopping Campaigns
Split Test
Split Testing
SQR (Search Query Report)
Standard Delivery
Status
Structured Snippet Extension
Target ACoS
Targeted Locations
Time Decay
Top Content
Topics
Tracking Code‍
Tracking Template
TrueView
TrueView In-stream
TrueView Video Discovery Ad
Universal App Campaigns
ValueTrack
View
Viewable CPM
View-through Conversion
Website Visitors
YouTube
YouTube Users
Conclusion:
The performance of the Google ads should be measured, and to do this, the terms mentioned above can best fit. Moreover, the measuring metrics contain the click-through rates, which projects how relevant the ad campaigns to the set of keywords.