OTT and VOD Glossary : 100+ Video On Demand (VOD) & Definitions You Need to Know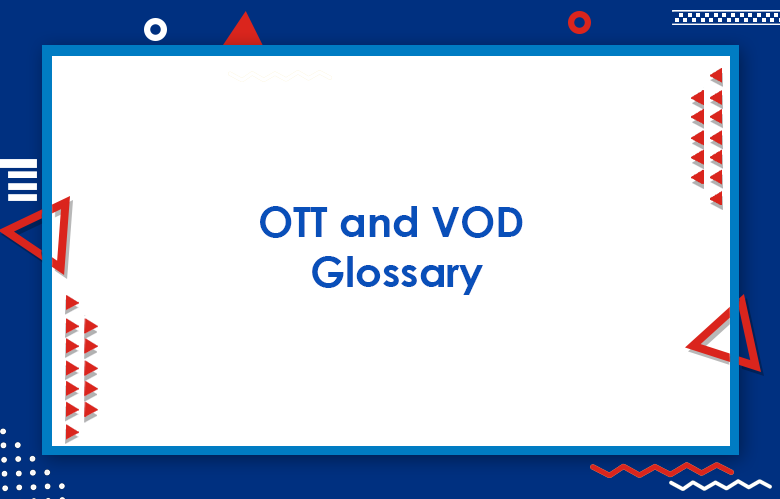 OTT and VOD Glossary Welcome to the era of OTT video streaming, where there of confusion takes place in the minds of the advertisers while choosing the best engaging OTT and VOD platforms.
OTT video platforms distribute both linear and non-linear video-on-demand content. OTT and VOD enable the audience to watch the video content when they want. It requires no scheduling of TV programs, and the audience can schedule the programs when they want.
The OTT and Video-on-demand services can be accessed over multiple devices. The top players are BBC iPlayer, Netflix, Hulu, and YouTube, etc.
Over the internet, they both are delivered either by free or paid ways. OTT can be defined as the subset of the VOD category and OTT service providers completely replacing the traditional cable services.
Over the top, or OTT, is hot with a market that's forecasted to double to $12 billion by 2022. OTT is not only changing the shape of the marketing landscape but also how consumers are buying content and media.
OTT and video-on-demand are two trending topics in the online video industry. This post provides a breakdown of each technology and offers a simple definition for each. It discusses the markets each technology can support and clarifies when OTT and VOD are interchangeable terms.
Over the top (OTT) refers to streamed entertainment content delivered from the cloud instead of a traditional broadcasting network. More simply, it's all video-on-demand services. Examples include Apple TV, Hulu Plus, Netflix, and Amazon Instant Video.
Over Top (OTT) services. You might have heard about them – these services are taking a bite out of the TV + Cable business model. On the upside, this disruption is opening up some cross-industry players in streaming video and entertainment.
Industry giants such as Google, Apple, Amazon, and Netflix are making their moves into this space, each with their strategy. This post will be exploring OTT & Online Video Ecosystem and shed some light on what is this OTT thing all about. It also aims to provide insights into what different strategies to execute and some possible outcomes.
OTT (over-the-top) is not a new concept, but it's a growing means that consumers are using to stream video content. The emergence of "cord-cutters" and "cord-nevers" has added more fuel to the fire. The expectation of what content should be delivered at a specific time is being altered by OTT technology. Businesses are struggling to adjust both their strategies and services to an impatient audience.
To play around with the OTT and VOD platforms, the business brands must be in touch with the significant terms, OTT and VOD glossary.
OTT and VOD Glossary: 100+ Video On Demand (VOD) & Definitions
360 Video Ads
4K
Academy eLearning Model
Ad Pod
Adaptive Bitrate Streaming (ABS)
Ad-based Video-On-Demand (AVOD)
Addressability
Addressable TV
Advanced TV
Amazon Fire TV
API
Apple TV
Audible and Viewable on Complete (AVOC )
Augmented Reality (AR)
Automated Content Recognition (ACR)
Autoplay Video Ad
AVOD
AVOD – Ad-supported Video On Demand
Bitrate
Bitrate or Bit Rate
Branded Video Content
CDN
Channel
Chromecast
Closed Captioning
Cloud Video Distribution
CMS
Connected TV (CTV)
Content Delivery Network (CDN)
Content Distribution Network CDN)
Cost Per Completed View (CPCV)
Cost Per Point (CPP)
Cost Per View (CPV)
Cost Per Viewable Impression (CPVI or VCPM/VCPV)
Cross-Screen Measurement
D2C or DTC – Direct To Consumer
Data-Driven Linear TV
Digital Rights Management
Dynamic Ad Insertion (DAI)
Dynamic Creative
eLearning
Electronic Sell-Through
Encoding
Encoding/ Transcoding/ Renditions
Endpoint
FAST – Linear Free Ad-supported Streaming TV
Genre-Specific SVOD – Genre-Specific Subscription Video On Demand
Gross Rating Point (GRP)
HD
HLS
HTTP Live Streaming
An identifier for Advertising on OTT
Ingest
In-Stream Video Ad
Intelligent OTT
Interactive Video
Interstitial Video Ad
IPTV
iVOD
Keyframe
Latency
Live Streaming Video
Long-Form Video
Media Player
mLearning
Monthly Recurring Revenue
Multi-Channel Network (MCN)
Multi-Channel Video Programming Distributor (MVPD)
MVPD – Multichannel Video Programming Distributor
Native Advertising
Night School eLearning
OBS
OBS Settings
Online Academy
Online Course
Online Video Business
Online Video Platform
Online Video Subscription Business
Opt-In Value-Exchange Ads (aka rewarded ads)
OTT
OTT Infrastructure
OTT Streaming Platform
OTT Streaming Service
OTT Video App
Outstream Video Ad
Over-the-Top Device (OTT)
Over-the-Top Streaming Video (OTT Streaming Video)
Packet Loss
PlayStation
Pure-Play vMVPDs – Pure-Play Virtual Multichannel Video Programming Distributor
Quartiles
Real-Time Messaging Protocol (RTMP)
Resolution
Return path data (RPD)
Roku
RTMP
Server-Side Ad Insertion (SSAI)
Set-top box
Short-Form Video
Skippable Video Ad
Smart TV
Smart TV Platform
Software Development Kit (SDK)
Sticky Video Ad (aka adhesion ad)
Stream Key
Streaming
Streaming On-Demand
Subscription Business Model
Subscription Video-On-Demand (SVOD)
Subtitles
SVOD
SVOD – Subscription Video On Demand
Target Rating Point (TRP)
Teasers
Trailers
Transcode
Transrate
TV Everywhere
TVOD
tvOS
User-Generated Content (UGC)
Vertical Video Ads
Video Ad Completion
Video Ad Completion Rate (VCR)
Video Ad Serving Template (VAST)
Video Aspect Ratio
Video Hosting
Video level data
Video Monetization
Video Multiple Ad Playlist (VMAP)
Video On Demand (VOD)
Video Player-Ad Interface Definition (VPAID)
Video Subscription Service Platform
Viewability Rate
Viewable Video Impression
Virtual MVPD (vMVPD)
Virtual Reality (VR)
VMVPD
vMVPD – Virtual Multichannel Video Programming Distributor
VOD
VTT Caption Format
Xbox
Advantages of OTT and Video-on-demand
Streaming makes people feel at home.
Streaming leads to less advertisement and better entertainment choices
Video-on-demand has become more affordable
Video-on-demand contains ads that users can click on
It is flexible and convenient
It allows freedom of ranging the programming to cater to viewers' preferences.
It enables broadcasters and cable providers to create a business niche for themselves.
Content is uncensored
Allows for niche programming
Prices are lower and flexible
On-demand viewing is more convenient for subscribers
Provides competition for cable providers
Watch the video on TV, tablet, or computer
Pay per view
Video download service
On-demand download
Higher revenues per customers
More efficient management of cost
Better customized contents to market needs
Expertise to sell niche products more efficiently
More investment in exclusive contents
Cheaper than cable
Access to more TV shows & channels
The seamless on-demand viewing experience
Do away with internet cables and TV sets
Avoid monthly service charges
Watch what you want, when you want
Low cost
No recurring payments
OTT content is future proof
The devices are less expensive
TV channels are made into Apps
It is more flexible than cable
Broadcasters can charge for individual programs
It boosts live sport coverage
Viewer analytics enables better decisions to be made regarding content scheduling and remuneration.
Reduction in costs
Major companies have already developed apps for it
Users have the option of on-demand and live viewing
Consumers can watch whatever they want to watch whenever they want
To be reached on the go
To protect what you want to watch
To have free time where no cable is accessible or Wi-Fi is poor
To avoid security issues
Pay per view
Cable cutting
More viewing options
Original content
Subscription-based model
The content is produced and distributed by the service provider
There is more control over the cost of content
There are no limitations in terms of platform or device used
Users will not have to subscribe to multiple services
Saving money
Play content anywhere and anytime
Save on data and storage
Takeaways:
Streaming Video-on-demand is a different way of viewing films
Use this information to enable a targeted message to be shown at the right time on the right platform
OTT (over-the-top) content is here to stay; it's just growing.
This could potentially develop into another valuable revenue stream if you're willing to think outside the box.
OTT can be just the thing to help your content stand out and attract more viewers.
Video-on-demand and OTT content are the ways of the future, so embrace it!
If you are a content provider, you need to learn how to be an OTT and/or VOD provider.
Some of the most successful businesses today leverage on-demand video to reach their customers
Conclusion:
Different OTT and VOD platforms are having varied types of structures. To make your ad campaigns, you need to know which terms are key factors in engaging the audience. For example, Vimeo is the one that provides the article about the Vimeo OTT terms dictionary.