What is Social Selling Index (SSI)?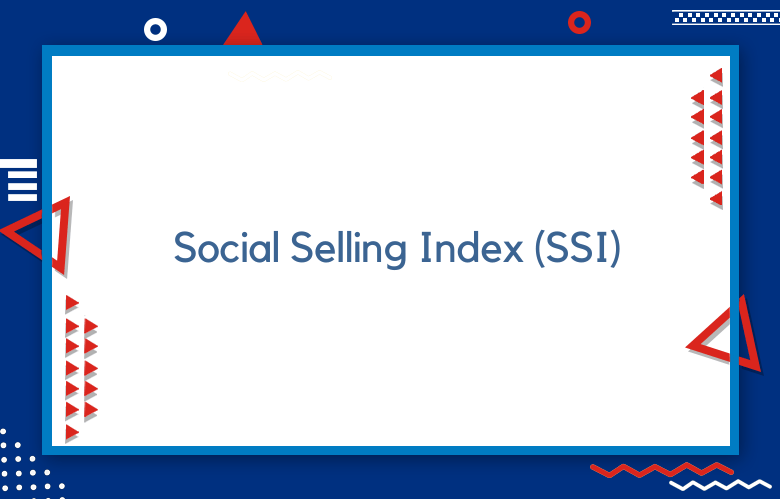 Social Selling Index (SSI) is an online metric measuring how well your company uses social media to engage with customers. It provides an overall score on a scale to help companies understand.
How effective their social selling strategies are. In today's digital age, understanding your SSI score can provide valuable insight into the performance of your business. Let's look closely at SSI and how it can benefit you.
What is Social Selling Index?
Social Selling Index (SSI) is a score that measures how effective a business is at using social media to influence sales. It takes into account factors such as content engagement,
Network growth and brand sentiment. In short, it's a way to measure the success of social selling campaigns. The higher the score, the better your company does with its social selling efforts.
How does Social Selling Index work?
The Social Selling Index (SSI) measures the effectiveness of a company's social selling efforts through four key metrics findability, engagement, content creation, and amplification. The higher your score, the more effective.
You are utilizing social media platforms to engage with potential customers. Here's a breakdown of each metric. It considers four key metrics; profile strength, engagement, responsiveness, and content sharing.
Profile strength looks at how complete your profile is on each platform; for example, LinkedIn has fields for job titles, education history, employment history, etc. Engagement looks at how often you interact with other people on these platforms.
Commenting on posts, liking updates, etc. Responsiveness looks at how quickly you respond to messages and comments from other users. Lastly, content sharing examines how often you create new content and share links from other sources.
Why is Social Selling Index important?
A high SSI score cannot be overstated, as it directly impacts your ability to reach potential customers online. A good SSI score will make you visible to people searching for your product or service
while helping you build relationships with them to convert them into paying customers. If your business is using social media advertising, having a high SSI score will help ensure that your campaigns are more successful by making sure they reach the right people in the right way. Social Selling Index SSI matters.
It provides feedback on your social selling activities' success and allows you to compare yourself to others in your industry to identify areas where you need to focus more effort.
Where there may be opportunities for improvement, businesses can ensure that they are making the most out of their social selling efforts and achieving maximum ROI by understanding these areas and addressing them appropriately.
How can Social Selling Index Help Your Business?
Findability
This measures how easy it is for potential customers to find you on social media platforms. It includes profile completeness and keyword optimization in bios and posts.
Engagement
This metric looks at how well you interact with customers through comments, likes, shares, etc., and how often you quickly answer customer inquiries or questions.
Content Creation
This metric examines how often you create content on various social media platforms and whether that content resonates with your target audience. It also considers the frequency of new posts versus reposting older content.
Amplification
This metric focuses on measuring the reach of your content, including views, clicks, and shares from followers and people outside of your network who may have come across your post organically or through other channels, such as paid advertising or influencers.
Benefits of Social Selling Index
Increased brand awareness
When you use social selling, you're increasing your brand's visibility and reach. By sharing your content on social media, you're exposing your brand to a broader audience, which can help to increase brand awareness and name recognition.
More leads and sales
Social selling can also generate more leads and sales for your business. When you share relevant and engaging content on social media, people are likelier to click through to your website, leading to more sales.
Improved SEO
Sharing social media content can also help improve your website's SEO. When you post links to your website on social media, you're helping to increase the number of backlinks to your site, which can boost your search engine ranking.
Greater customer engagement
Social selling can also lead to greater customer engagement. When you interact with potential and current customers on social media, you build relationships that can increase customer loyalty and satisfaction.
Increased web traffic
Sharing social media content can also drive more traffic to your website. People who see your content on social media are likely to click through to your site, which can increase web traffic.
More targeted marketing
Using social selling, you can target your marketing efforts more effectively. By targeting specific groups of people on social media, you can ensure that your marketing messages are seen by those most likely to be interested in them.
Improved customer service
Social selling can also lead to improved customer service. When interacting with customers on social media, you can promptly address their concerns and questions, improving customer satisfaction.
Reduced marketing costs
Another benefit of social selling is that it helps reduce marketing costs. Because you're using existing platforms such as Facebook and Twitter to share your content, you don't have to invest in advertising or marketing tools. Because social selling is relatively easy and quick, it requires little time or effort from you or your team.
A larger network
When engaging in social selling, you can expand and grow your network. You only know who might be interested in what you're selling once you put it out there. Expanding your network opens up more opportunities for yourself and your business.
It helps You track Your Social Media Performance
The Social Selling Index (SSI) is a metric that LinkedIn created to help users track their social media performance. The SSI takes into account factors.
Such as the number of connections you have, the number of interactions you have with other users, and the number of times your profile has been viewed.
It helps You benchmark Your Social Media Performance
The SSI can also help you benchmark your social media performance against other users. LinkedIn gives users an SSI score out of 100 and ranks them in their percentile. This allows you to see how you compare to other users regarding your social media activity.
Conclusion
Social Selling Index (SSI) offers potent insights into the performance of your business by measuring its success in engaging with potential customers on social media platforms by understanding which areas are working well.
And which needs improvement; businesses can focus their efforts where they will be most effective in reaching their target audience, driving sales growth, and having an understanding.
SSI can provide invaluable insights into your business's success in utilizing social media strategies to reach its goals. Ultimately, this will help companies to succeed in today's digital age!