Ways to use WhatsApp Marketing Strategies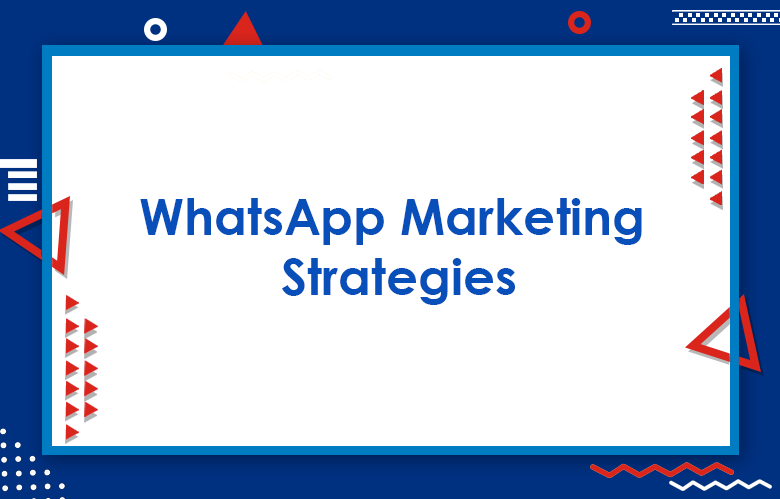 WhatsApp Marketing Strategies is a brief guide on how brands and companies can use the most popular messaging app in the world to create new fans, followers, and customers. The book enables a business to learn how to innovate on the "free" medium.
Master strategies for using WhatsApp to promote your business, drive sales, and build customer relationships.
1. WhatsApp for Customer Support:
Utilize WhatsApp for customer communication, which can generate more than 39 percent more engagement. Many people didn't like the unknown calls for some marketing but responded in their free time regarding personal messages. So, utilize the application for communication purposes.
2. Customer Support:
As marketing has changed majorly from PC to mobile browsers, customer support can also be done through WhatsApp rather than calling to chat support box.
3. Team Communication:
You can communicate with the team member in marketing internally using WhatsApp to discuss privately in a team to implement a different process. It is a valuable communication tool.
4. Promotion:
Marketers have already experimented with the marketing and development of the products using the WhatsApp application and got successful. It is not for spamming people with promotional messages but to connect with loyal customers to your company.
5. As a Booking Platform:
Make WhatsApp a shopping platform by displaying the product images buyer requests.
6. Research :
The cheapest and most effective platform to reach customers online. You can communicate with the customers and others by providing your brand information and knowing their taste and what people exactly like from your brand.
7. Video Marketing:
Promote your brand video and relevant content about your products and share them with the phone book on WhatsApp. It helps you to grab the proper attention of the people.
8. Image Marketing:
Create your brand-related photos and infographic charts about your products and share them.
9. Conduct Q&A as a part of the research:
Engage the audience with a question and answer section in a creative to know their interests.
10. Discount Coupons:
Create attractive seasonal and off-season discounts as coupons for your loyal customers and send coupons to them.
Here are the Top 5 WhatsApp Marketing Strategies
1: B2B – Focus on creating WhatsApp Broadcast Lists
2: B2C – Create smaller lists and create engagement on a 1 to 1 level
3: Building Relationships – Engage in conversations (inform, entertain)
4: Recruitment – Have you got the right person for the job?
5: Brand Awareness – Exploit Shout-Out features
Here's how to grow your business through WhatsApp
1: Have conversations with your customers on WhatsApp
2: Have a specific WhatsApp Marketing Strategy in place
3: Create adverts in WhatsApp groups that link to landing pages
WhatsApp is the most popular messaging app
1: There are 1.2 billion active users
2: 81% of people use WhatsApp to chat with friends
3: 57% of people use WhatsApp as a source of news
4: 30% of groups have over 200 members. The average group size is 143
How to successfully market your brand on WhatsApp
1: Create an excellent business WhatsApp group
2: Create a unique & funny WhatsApp profile photo
3: Add some valuable members to your group
4: Make sure all members are committed to the group & keen to work from home part-time.
5: Design a sales funnel for WhatsApp Viral Promotions and scaling up using mobile agents
WhatsApp marketing works for a variety of businesses
1: Anyone can do it.
2: It's cheaper than other social channels
3: It's more personal than other social channels
4: It's available on every device, so it's the easiest to access.
6 WhatsApp Marketing Strategies
1: Send an engaging welcome message
2: Ask your new followers to like and comment on a few of your updates
3: Use video calling to make them feel special
4: Ask for permission before every marketing call
5: Run contests to get an opinion from the crowd
6: Give them something to take home whenever they talk with you. (eg. An article)
5 WhatsApp marketing strategies you need to try
1: Be a sales rockstar
2: Track your message performance over time
3: Be funny
4: Be personal
5: Use video to stand out
The time to start WhatsApp marketing is now
1: Identify your audience
2: Pick a type of WhatsApp messenger
3: Identify your channels
4: Start a group chat with influencers
5: Be consistent and never give up
We've got the best WhatsApp marketing strategies
1: Share your content with influencers
2: Socialise your brand through shareable content
3: Engage your fans and followers
4: Teach your audience something new
5: Reverse-Engineer viral content
Want to see WhatsApp marketing strategies that work?
1: Shorten your message
2: Create stories for your audience
3: Start a private WhatsApp Group for your service/product
4: Some Fan pages work great here too
These are 5 WhatsApp marketing strategies
1: Bam! WhatsApp hacks for your business
2: Look at this fantastic engagement strategy
3: Increase your chances of getting a reply by adding 'Please.'
4: Make your message sound natural using emojis and burst out loud with exclamation points!
5: Use these eye-catching text & images to attract attention to your ad.
Ways to Grow Your Business on WhatsApp in 2022
1: Start by creating a WhatsApp list
2: Add private groups
3: Engage with customers during weekdays
4: Send private messages
5: Use limited-time offers and contests
6: Encourage reviews and ratings
7: Create WhatsApp exclusive offers
8: Create high-quality content that people want to share
9: Run polls and giveaways to attract followers who may also become leads or customers.
WhatsApp is a beautiful way to stay in touch with clients
1: Ditch the emails and SMS messages
2: Always be in touch with your clients, even if you're busy
3: Rather than selling, like provide value
4: Create anticipation for your content
5: Send out company updates and newsletters from your WhatsApp Business profile frequently.
Learn the secrets of advertising on WhatsApp
1: Know who to message and why
2: Create a unique USP
4: Answer messages promptly
5: Pay attention to your budget
5 Tips to Avoid WhatsApp Addiction
People are often seen messaging or calling their friends even when they are on the move. Sometimes, the addiction goes to the extent that they become unaware of the things happening around them, putting their lives in peril. In this context, I remember people on the call while they are walking on the road, making the motor drivers' life difficult.
They will not move away even if you tell them you are coming from the back with high-sounding horns. They become so interested in the application that they forget everything else. It might even make them forget other things as well. Hence, it is high time they should avoid using such applications.
In this article, we will list the tips they need to follow to minimize the use of WhatsApp.
Remove WhatsApp Icon:
To avoid the temptation to use it now and then, it is better to remove the icon of this application from the home screen. This way, they will get to see less of this application.
Avoid Notification:
Another way to make this happen is to switch off the notification. This will prevent the people from looking at the phone for any information on the new message's arrival. This will let them devote their mind to some other valuable things.
Reply Late:
They should learn to take some time to reply to the messages. If the messages are not urgent, they can make time to answer them. This would give them ample time to do other works that people should do. This will also help you get rid of the addiction.
Stop Forwarding Messages:
People should stop forwarding the messages that keep coming to them. They could be jokes, videos, images, or any other damn thing. Otherwise, they will end up in meaningless chats with their buddies for extended periods.
Don't Change Display Picture:
People should not be changing the display picture quite often. Other people don't check whether they have evolved the display picture daily. Hence, they should restrain themselves from turning it daily.