The Ultimate Guide to Blog Marketing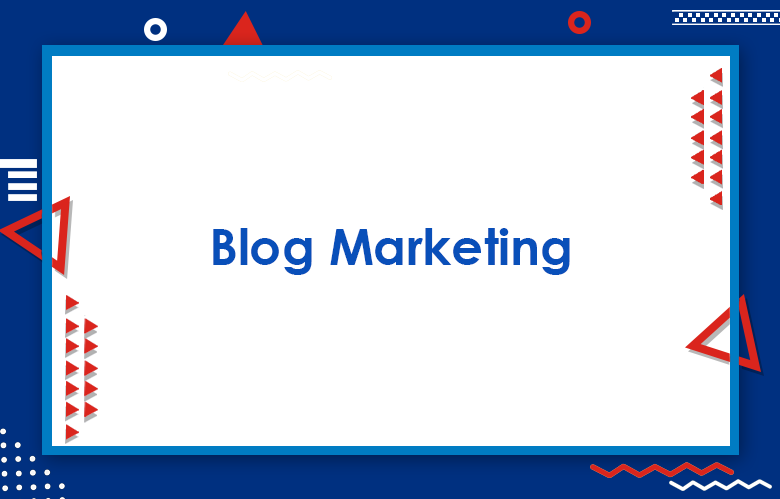 Blog Marketing: A blog is a journal maintained by a blogger. Blog Marketing is any process that publicizes or advertises a  business, brand, or service via blogs. In short, the promotion of activity through the blog is blog marketing. As the number of bloggers has seen phenomenal growth, a business can also be promoted on this platform, and below are some of the methodologies in this direction.
Blog Marketing using SEO:
Marketing efforts start with a goal and end with achieving success; the intermediate step is measuring success. As always, SEO plays a vital role in online marketing as well. Given below are some of the steps to social SEO success.
1) Customer personas: Business blogging is more about empathy with customers and takes a customer-centric approach to promote the business.
Collecting data through various channels like surveys and social monitoring is required to prepare customer profiles. This profile has contents like behaviors and preferences, leading to leading promotion plans.
2) Prioritizing USP (Unique Selling Proposition) helps to distinguish your content. Communication of USP needs to be concise, specific, and show proof and identifies the key benefits of the contents of your blog.
3) Points 1 & 2 above represent the intersection of your customer interests and the goals of your blog. Here comes the role of SEO.
Resources like Google's keyword research tool can be used to find words/phrases in demand, and you can incorporate the same in your blog.
4) Once the keywords are finalized for inclusion in the blog, you need to create your content. The content needs to be accurate and attributed to the business goals.
5) Content promotion is sharing content across various media. Great content needs to be upgraded in a relevant way to reach its goals.
Blog Marketing Process
1. Audit your existing content
2. Schedule posts in advance for a month
3. Pick a day on which you won't publish anything
4. Write more, and post less
5. Delete all the updates you made to previous blog posts
6. Tweak your SEO with Yoast for precision
7. Identify your target audience & give evergreen content
8. Perform outreach to your audience instead of social media
Blog Marketing using Facebook:
Facebook has proved its supremacy in terms of its increased number of users; hence, marketers can take advantage of this popular social media site. Below are some valuable tips in this regard.
1) Bigger images get better engagement. Use pictures to get more attention compared to posts without photos.
2) Ensure short updates, as your blog already have large text. The '140 Twitter' character count can be ideal to ensure active updating on Facebook.
3) Ensure witty, short, and intriguing questions are posted and reply solicited from your fans. The issues should be relevant to your blog article as well.
4) Use short quotes from your blog.
5) Ensure your Facebook update is more readable, without any links.
6) Use interactive content on your blog and promote your blog contests on your Facebook page.
7) Use targeted Facebook ads to drive traffic to your blog.
Here's how blogs can help you market your business
1. A blog can be the hub for all of your content
2. A blog can act as Value Exchange (VE) on what you know well
3. Use the same articles to build an authority website in your niche
4. Consistently add fresh and quality content to your blog
5. Write guest posts on other blogs in the industry
What works in Blog Marketing?
1. Write on topics you know well
2. Write from the perspective of your clients
3. Use a blog post to pitch your product/service
4. Add a link directly to your product/service
The Top organic growth hack for Bloggers
1. Upping your 'customer lifetime value.'
2. De­clut­tering your blogs
3. Sharing posts promptly
4. Upping engagement with your audiences & subscribers
5. Don't hide behind a 'business to business' tone of voice
Blog Marketing using Content Marketing:
Blogs, the home base, are central to the content marketing system. The following reasons establish why blogs are to be used as a content hub:
1) Blogs are owned media. You are the owner of your blog content. You can create, edit, and delete the contents of your blog as per your requirement.
2) Blogs are a form of social media enabling social sharing, comments, and guest posts and providing the basis for building a targeted community.
3) Blogs enhance SEO as they are search-friendly. As the blog owner, you can increase search-friendliness using keywords.
4) Blogs can drive sales as you can promote your products, highlighting your product's uses and the advantages of your products over the competition.
Blogging isn't dead
1. Guest Posting is a great way to improve your SEO
2. Linking out to your content improves search ranking
3. Promoting Evergreen content generates traffic
4. Having a mailing list helps convert prospects
80% of marketers say Blogging is a crucial part of their marketing strategy
1. Blogging is one of the most cost-effective ways to build your brand
2. Blogging works for any business size and industry
3. Recent research shows Blogging boosts ROI and conversions by an average of 38%
4. It's easy to go from writing once a year to write every day
Use your Blog as a Marketing Tool
1. Publish about Google, SEO & content marketing tips for beginners
2. Guide your audience on how to improve their blog posts
3. Use your blog as a live case study of what works for you and what doesn't
4. Answer common questions about Blogging people make and keep it updated
If you're a blogger, you need to be doing Blog Marketing
1. Create unique shareable content with in-depth research
2. Create video blogs consistently
3. A/B Test your blog posts
4. Find influencers in your niche and get them to repost your posts
5. Network with other bloggers via comments and emails and cross-promote each other's content.
Want to gain traffic and followers to your blog?
1. Add a newsletter subscription option at the end of every blog post
2. Give away content in exchange for an email address
3. Make your articles more shareable
4. Make your articles more SEO-friendly
5. Promote, promote, promote!
Blog Marketing Strategies: 
You are gathering market intelligence about the performance of your products vs. that of the competition.
We are engaging bloggers by commenting on crucial business topics.
Advertising on blogs to reach influencers.
Humanizing your company with corporate blogs (involving more employees of the company to blog)
Do a social media audit.
Drive traffic from external websites to your blog
Find relevant guest post opportunities
Find a topic that your audience will share
Share links to your blog content
Keyword research
Content creation
Social media marketing
Website traffic-building strategies
Brand building through Blogging
Acquire more followers
Find guest posting opportunities
Make your blog reader-friendly
Don't spam people
Stay up to date with blogging news
Write an interesting blog post
Submit to social media directories
Use directories to get more blog hits
Create, create, create
Produce content that helps others
Elevate Blogging to more than a hobby
Find guest bloggers who can provide more value than you do.
Improve Your Content
Build an email list
Launch an Email Campaign
Promote on Social Media
A blog is an easy way to create an apparent online space where you can publish your thoughts or anything you want at any time of the day or night!
They are sometimes called online journals and are quick and easy to set up.
Know your niche
Create great content
Promote, share, and use social media
Get more out of your content
Keep your writing on trend
Lead people into content
Cross-post your content
Use a call-to-action widget
Publish regularly
Use Linkedin to market your blog
Learn from authoritative bloggers
Generate leads for your business
Engaging titles
Quality images
Please keep it simple
Optimize your blog content
Choose the right time to post
Make it easy for readers to share your content
Link building strategies
Look into guest posting opportunities
Focus on Thought Leadership
Use your blog to generate leads
Add value to your customers
Publish infographics
Post engaging content
Use social media networks
Utilize email marketing
Promote your blog through other blogs and news sites
Write articles and optimize them organically
Generate backlinks to boost its authority
Create a catchy title
Blogging for business
Writing an effective title
A touch of SEO
Update your blog regularly
Selecting a blog niche
Surveying your competition
Setting up an RSS feed
Choosing your blog name
Getting the attention of search engines
Learn copywriting and WordPress optimization
Build relationships with other bloggers
Give away free only once
Always be learning
Join a community
Create targeted content
Use keywords and SEO tags
Link internally
Optimize your page for search engines
Email list management
Mobile Responsive Site
Video Blogging
Call to action to build loyalty
Interaction and engagement with your audience
Choose a topic
Research your market
Set goals
Create a content plan
Engage an audience
Monitor and improve!
Develop a content strategy.
Plan your promotion
Create a customer profile
Use influencers to expand your outreach
Split test and measure results
Step out of your comfort zone
Develop clear and intentional content strategies
Use every tool at your disposal to market and publicize blog posts
Create a plan
Market your blog
Maintain it
Do the research and read other blogs
Make a blog schedule
Use the right tool for the job
Write great content
Make lists
Use social media to drive traffic
Create internal links
Work with affiliate programs
Add captions Under Photos
Add, Link, and Cross-Promote on Social Media
Repurpose content into Videos and Slideshare Presentations
Get a premium domain name
Make sure that you have something to say
Keep your content regularly
Don't try to promote every post you make on every single social media platform
Takeaways:
Blogging is a great marketing tool that can help any business
Blogs can help you grow your business, but first, you have to start Blogging
Blogging is similar to other forms of marketing; there are specific tactics you can use to get more people in front of it. Here are a few tips.
When done right, it's a hell of a lot easier than you think. The technique is more important than effort. If you don't believe it, try it.
Figure out how to reach your readers above the fold and on multiple platforms.
Blog marketing is an excellent long-term strategy for producing quality content and attracting readers/visitors.
Blog marketing is essential to any successful business; learn how to start blogging correctly now!
Marketing is crucial for attaining your blog goals. You can't just write great content and expect people to come knocking.
Growth hacks your way to Blog marketing success.
It would be best if you had a plan for your blog because you want an end goal for your blog.
A blog is a great way to promote your business and give your company an edge over competitors.
Blog marketing is a great way to promote your brand, especially when you already have a following.
The best way to promote your blog is to focus on quality content
Don't just abandon your blog after you've launched it! Blogging plays a significant role in your SEO strategy. The more relevant content you have, the better!
….Overall, blog marketing is a continuous process, and it is required that companies focus on an adaptable marketing strategy, including blog marketing.