Free Website Traffic : Ways to Increase Website Traffic in 2023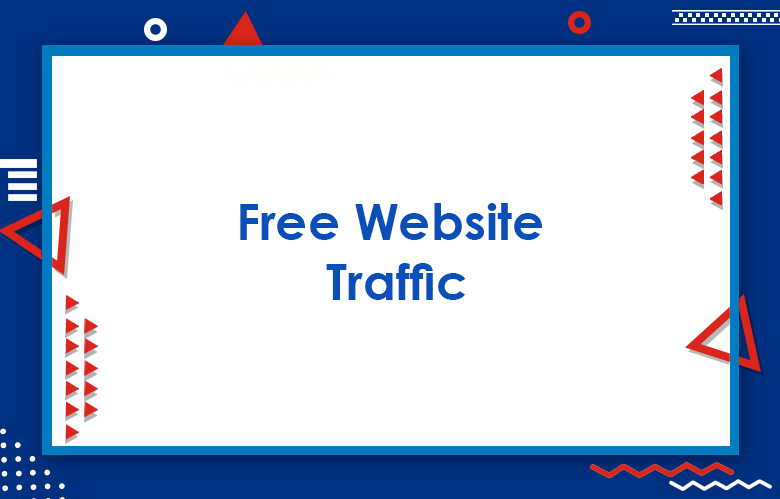 Today, every company owned a website to have an online presence. Millions of websites crawl across the web and generate colossal website traffic sites are the identities of the business and service providers.
A good website helps you to reach the targeted demographics within a short span. When it comes to an e-commerce website is the heart and soul of the e-commerce business, as the entire business transactions can only be done on the website. So, the sites must be optimized appropriately, designed, and maintained to acquire good results.
Here is the ultimate guide to free website traffic by exploring the different ways and tactics. Here we go.
Increase Website Traffic through Social Media Marketing
Social media is the most effective way to drive people toward your site. Social media allows brands and companies to build their presence and connect to their site's visitors. The content plays a significant role in acquiring free traffic to your website by utilizing social media power and features.
Don't go blindly to market and increase your sales. Just connect with the people, interact with your products, and provide them with relevant information that is needed for the audience interested in it. Focus on consumer problems and discuss them on social media.
Don't forget to build a social media presence for your website on different social platforms like Twitter, Facebook, YouTube, etc. So visitors can know more about your website, the products, and everything related to your business.
The consistency of publishing the content also plays a significant role in the success of driving traffic toward your website.
So, go with original and unique content. Be a helpful and valuable person to your community in your niche and gain the trust of your articles. Embed the social sharing buttons on your website and blogs. Please search for the relevant towns and join them.
Also, be a volunteer and help the communities in your niche with your suggestions and knowledge to get connected with them.
Boost your traffic with Facebook.
Create your Facebook page for your website and link it to your site. Also, do create a mobile application. Create an interest in visitors by launching a pure competition with rewards and some free stuff. Discuss and display the product images and information about the website to drive good traffic toward your website.
Boost your traffic with Twitter.
Set up a good Twitter account in the name of your website, follow the relevant people to your niche, and maintain the business and personal accounts separately.
Don't forget to retweet the content of a relevant audience. Tweet your content with hashtags. Also, tweet the range several times as Twitter posts update very quickly, and your post might not have reached the audience's eye.
Increase Website Traffic through Content Marketing
Content is always King if it is unique and has good quality. One can drive traffic toward your website with content marketing with an effective and efficient content marketing strategy.
Quality Content always matters.
Don't repeat the same thing repeatedly because that can bore the visitors and audience. Content quality plays a significant role in reaching people. The quality and uniqueness of the content are essential as it is the main factor in achieving good rankings on various search engines to drive traffic.
Informative Content
Generate informative and valuable content for your visitors and audience without focusing entirely on your marketing and sales. Create useful and helpful content to grab people's attention toward your site.
Go with different content forms like infographics, Memes, videos, case studies, etc. Approaching the various types of content can ensure better visibility and good traffic to your site.
Increase Website Traffic through Influencer Marketing
Influencer marketing is today's most significant trend in Internet marketing on every social platform and across the web. Regarding the increase in website traffic, influencer marketing is the best option. First, one must find the right influencers across the web in your niche.
Know about the influencers with an excellent following and popularity in your niche and who can influence the people towards your site and products. So you can hire an influencer to promote your website and the information related to you in their blogs and sites; finding the best influencer is the best way to achieve things with influencer marketing for your website traffic.
Increase Website Traffic through Organic SEO
Organic SEO is the best way to boost website traffic. Organic SEO generally refers to the different methods utilized to get high search engine rankings on the result page with unpaid techniques, typically based on an algorithm that can boost your website rankings across the search engines.
Organic SEO practices include optimizing the web pages with content that has excellent relevance and incorporating Meta tags.
Increase Website Traffic through Viral Video Marketing
Viral video marketing is also the best way to reach the audience and drive traffic toward your site.
You can launch your pre-website trailer and connect the website trailer via Youtube with viral video content by following the latest trends that generate massive traffic toward your site. Viral video creation is complex, but viral videos can bring excellent results.
Increase Website Traffic through Email Marketing
Email marketing is the traditional way to target the visitor of the website. Though the old technique is active when driving traffic toward the website in one go. So target your consumers and visitors with informational emails and emails with reasonable offers from your site.
But do not disturb your customers and visitors with your emails and email campaigns. So, offer them an unsubscribe button in your email by giving importance to their privacy. But many email campaigns and email marketing had successful and achieved things.
All the above ways target the free website traffic to achieve better identity on search engine results and establish the best website and company. The performance has solely depended on the way you follow the above techniques.
Different Types Of Website Traffic and Their Advantages
Once, we should think about how people get into your website; if we believe in this, we inevitably get unique ideas to improve your marketing strategy and website traffic.
Using a service like Google Analytics lets us know from which country people are viewing your site, which page they are spending more time on, and various calculations. Different kinds of ways websites can get traffic, mainly Direct traffic, Search traffic, Referral traffic, Organic traffic, and Bot traffic.
Direct Traffic:
• Some people know your brand and the direct URL of your site. So they directly type URLs in web browsers to visit your website.
• This is called direct traffic, which is not scalable or measurable.
• Because you don't know whether they purchased or not, you can't estimate how many of them are known to brands and URLsLs
• If you publish a set of broaches, that will show that you are increasing direct traffic.
• Direct traffic comes in three ways,
Brand awareness.
Through offline marketing.
Another mouth of the word refers to you.
Referral Traffic:
• If you are getting traffic from referral links throughout the website. That means somebody is referring you to visit through links.
• Almost referral traffic comes from social media websites; the most used sites are Twitter, Facebook, LinkedIn, etc.
• It is simple to increase your links. If you get more links, your site will become more popular.
• You should be more careful while building links with your referral traffic; Google bots will identify you are spamming the websites through backlinks, and you lose complete organic results.
• Referral traffic grows from your friend's list; if more friends refer you, you will get more traffic to the site, then Google also gives your authorized rank to your site.
Organic Traffic:
• Inorganic traffic people come to know your website through online web browsers.
• Half of people search through Yahoo, Bing, Chrome, and other search engines.
• The best way to increase your organic traffic is through
• It is scalable and measurable, and you will see excellent results.
• By placing your links on other sites also, you can get organic results which means you should ask another person or website owner to post your link on your behalf.
• This is a genuine way of getting original traffic to your site.
Paid Traffic or Campaign Traffic:
• Campaign traffic increases and measures your online marketing effectively. Google Adwords is one of the best ways for paid traffic.
• You can add paid links to online marketing sites to get traffic through your shopping carts quickly.
• You can add tags in your blogs and some other websites to view them on top of the browser, sidebars, etc.
• Ad words are the extremely best way to get targeted people who are planning to buy some products online.
• If you know which keyword people are most familiar with, you can purchase that ad word.
• Post your ad words on LinkedIn, Facebook, Twitter, and other social media sites.
Google Bot Traffic:
• It is part of online marketing, an activity the spider and Google bots automatically do.
• If you have the best quality content on your site, a spider visits the site. Bot traffic continuously varies according to the nature of your site changes.
• If you have made minute changes, the bot looks into your site daily. There are two types of bots available bad bots and good bots.
• Good bots are helpful for internet search engines. They are advertising measurement bots, search engine bots, e-reputation bots, etc.
• Bad bots are used to hack email addresses, steal content from other sites, spam blogs, comments, etc.
• Google Analytics can do the filtering of bots and spiders.
How to Convert Website Traffic into Lead Generation
E-commerce has significantly developed across the web, and marketers mainly depend on e-commerce websites as their customer shopping platform.
The first thing that generally, marketers do is to build a functional website and connectivity with the blog management to the website to interact with the customers. The following other thing is SEO for the website and social media marketing to expand the customer reach and to promote the content related to the store on multiple platforms.
But sometimes all these above things can't deliver the leads to the business. Though your website has good traffic, it may be about visiting and not purchasing sometimes. This situation can be overcome with different tactics, and here are some ways to convert your website traffic into lead-generation sales.
Converting traffic to the lead generation sales
Offer something attractive and worthy
Create compelling content with some offer attached to it, and everything must target customer interaction and brand awareness to lead them to the purchase.
Offer special discounts to your potential customers and discount coupons to customers purchasing for the first time in your store. This can help you to reach the audience and increase the leads.
Call to actions
Calls to action are the best way to increase the leads toward your site. Integrate the call to act directly in the offers. Allow people to download after they signup to download the request.
The call-to-action buttons quickly grab the customer's attention and take the person toward the landing pages. One can utilize the different call-to-action controls through the website through emails, blog posts, and many other offers with reasonable marketing efforts as a campaign.
Measure the things
One must be aware of measuring the marketing metrics with the essential elements in the conversion process, including the call to action, the landing pages, and the offerings.
The main metrics to watch are click-through rates on the call to action and must have two to three different CTA for the landing pages.
The CTA can pull the people. One must also measure the coercion rates of landing pages and the number of leads.