B2B Tech Marketing Trends for 2023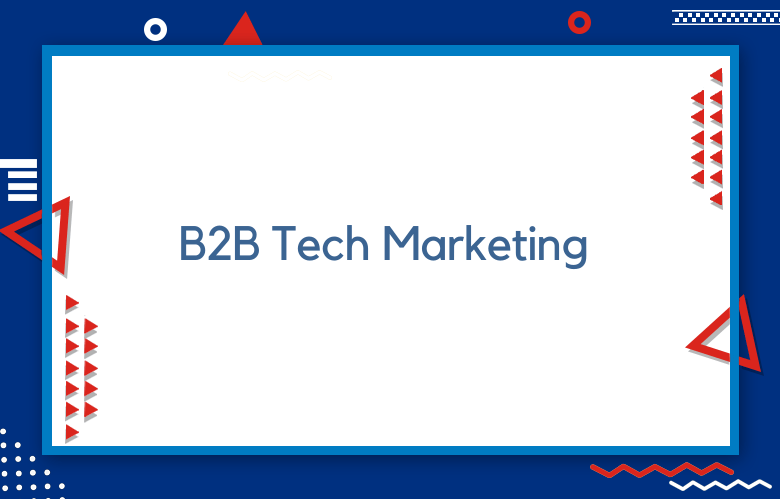 It isn't easy to believe that we're already halfway through the year, but with 2022 just all around, it's time to start thinking about what trends will be prevalent in B2B tech marketing over the next 12 months. We'll look at some of the hottest trends for 2022 and discuss how you can capitalize on marketing efforts.
The technological world is ever-changing, and businesses must stay competitive. As we move into 2022, a few marketing trends will be crucial for B2B tech companies to keep in mind. We'll outline four of the most important trends to watch out for and provide tips on how you can capitalize on them.
B2B Tech Marketing Trends for 2023
B2B technology markets will become saturated with products and services from both established companies and start-ups. Companies will try differentiation and low pricing to gain market share. Future needs will be crowded, and technology buying decisions will be more driven by customer experience and vendor reputation than today's technology offerings. In the future, the prediction is that B2B technology markets will be highly specialized with products that rarely cross-vertical or provide market boundaries.
B2B technology marketing will focus on stakeholders, particularly the customer, not companies or products. In particular, marketers will focus on presenting customer value propositions and marketing content that is usable and attractive.
Companies will have adopted digital marketing to an increasing degree, and business-to-business (B2B) marketers will need to market smarter, faster, and more effectively because there are more buyers than sellers now.
B2B technology marketers will engage decision-makers with content using social media, video, mobile applications, and more, rather than holding an event with a poor attendee to vendor ratio, the study found.
Companies will continue their marketing and sales interactions and business partnerships, sharing information and working together in various development projects.
Businesses will more than likely be more open to new ideas, technology, and approaches to branding and marketing. This will increase the possibility for breakthrough technology, design, and marketing to be used. Businesses will be more tech-savvy and know the capabilities of new technology and its potential effects on their industries.
Technology suppliers will find ways to position and market their products to different business-to-business buyer groups in other industry channels. In addition, they will employ an indirect channel sales strategy using a mix of direct sales forces and indirect resellers.
B2B Tech Marketing will focus on high-touch, online techniques such as inbound marketing to reach the narrow target market and drive revenue.
B2B marketers are best positioned to be business technology enablers. They will look beyond their own organization's sales and marketing needs and offer solutions for their total customer bases, including their customers, prospective customers, and even competitors or other related businesses that complement their offerings.
Social networks will influence B2B buyers and sellers, and brand signals will be generated from activity in social networks.
Marketers will likely focus more on email marketing, events and workshops, informative brochures, and document sharing. They'll also have to track success with lead generation and other metrics to attract customer, partner, and vendor loyalty.
Companies will focus on creating a company-specific value proposition (CPV). CPVs will target the inner wants and needs of the potential customer.
The Internet will enable businesses to market to other companies over the Internet. Through this medium, companies will communicate with other companies, and more importantly, do business with them. Companies will communicate and share information, pricing, and availability, negotiate deals and make transactions online.
B2B tech marketing will be a new way to reach buyers, who will make better decisions to purchase technology products or services.
The support of business-to-business technology brands will be based on the expectations of corporate and industrial customers. Rather than product information alone, these customers will be guided by "tech-savvy" salespeople. Customers will plan whole purchasing strategies around technology brands and expect brands to "understand" their requirements in the future.
B2B technology marketers will have to be far more strategic and tactical than they have been in the past. The study showed that marketing initiatives have to be measurable and immediate.
B2B marketing will be an interactive televised experience for customers. Engagement will be a two-way process, and B2B marketers will have to monitor and track customer emotions as they participate in branded communications.
The innovative B2B technology CMO will need to develop a platform of technologies that will allow them to better connect in real-time with networked organizations that might have subscription-based implementations of innovative technologies.
Business-to-business (B2B) marketing technology will become more mature, and more sophisticated B2B marketing technologies will come onto the market.
Business-to-business marketers will understand that prospects utilize multiple platforms when researching potential vendors. They will make more use of social media, utilize gamification and augmented reality, and maximize client and third-party content. The focus on ROI and measurable results will continue as well.
Companies will use a blend of science, art, and technology to influence the customer. Companies will focus on developing appropriate customer relationships, not convincing customers to buy.
B2B Tech Marketing will be a combination of online, mobile, and offline. Marketing will move to a hybrid interactive approach that involves traditional methods with an online/mobile twist. B2B Tech Marketing should be agile and adaptive.
Marketing professionals will need to shift from an approach based on push to a system based on the pull. The driving force will come from the end-user and not the technology manufacturer.
Every technology-based business will have a substantial online presence and thrive on social media, blogs, and websites. Most of these companies will expand the number of targeting methods and consider online marketing a top marketing priority.
Enterprise/B2B companies will spend a lot of marketing dollars emphasizing the human side of their businesses. Today's market has become increasingly competitive, which will continue well into the future.
Businesses are expected to showcase their product offering through highly interactive multimedia technologies such as AR, VR, and SM. They will use tech to "build to order" to reach their audience.
Technology providers will take a high-touch approach to business by combining web strategies and technology solutions with in-person events. Companies that market to enterprises are looking to technology providers to provide a one-stop-shop for their business-to-business needs, like consulting services and financing. At the same time, IT specialists want to focus on technology services.
Conclusion
2022 is just around the corner. What new marketing trends do you think will dominate the B2B tech space? Let us know in the comments below, or contact us for a consultation. We can help you stay on the edge of the curve and plan your marketing strategy accordingly. Thanks for reading!