Chief AI Officer (CAIO): The Role of a Chief AI Officer in Today's Business Landscape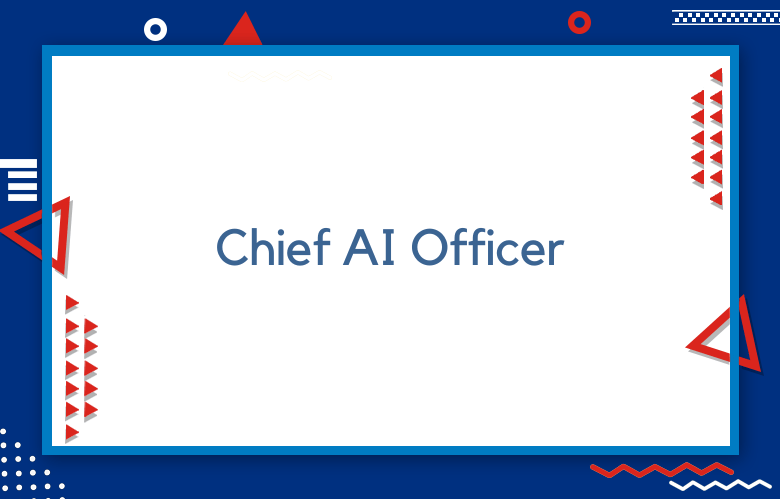 Artificial Intelligence (AI) has become the backbone of many businesses worldwide, fueling growth, efficiency, and innovation. With AI becoming a strategic priority for all companies, a new position is emerging – Chief AI Officer (CAIO). We will explore the role of CAIO in today's business world and why companies embrace this position as a critical part of their overall business strategy.
What is a Chief AI Officer?
A Chief AI Officer (CAIO) is a senior executive responsible for leading an organization's AI strategy and implementing AI solutions to achieve their business goals. The CAIO is often a C-level position, reporting to the CEO or the CTO, depending on the organization's structure.
They work with other departments to gather data, design, deploy AI models, and drive digital transformation. They define the company's AI strategy, ensure its alignment with business goals, and work with cross-functional teams to implement AI solutions.
CAIOs typically have a solid technical background in data science, machine learning, and executive leadership experience.
Why is the CAIO Role Important?
With AI taking over an increasing number of tasks, the role of CAIOs is gaining importance. AI helps companies streamline and automate their operations, improve decision-making, and enhance customer experience.
A CAIO helps businesses harness the benefits of AI by leading the implementation of AI models, overseeing data management, and optimizing AI systems.
They work with other c-suite executives to develop AI strategies aligned with the organization's goals and cater to the needs of both internal and external stakeholders.
How to Hire a Chief AI Officer CAIO.
When hiring a CAIO, companies must look for a leader with a deep understanding of AI to lead their AI strategies.
These leaders must also have the professional experience to move their companies forward but can collaborate with other C-level executives.
Companies should look for candidates with a track record of leading innovative initiatives, developing strategies, and implementing data-driven decision-making programs.
The Role of a Chief AI Officer in Today's Business Landscape.
Artificial Intelligence (AI) is no longer a futuristic concept. It has already become essential to modern businesses' operations, processing data, and making decisions. With advancing technologies and innovative techniques, the future of AI is brighter than ever.
To leverage its potential to the fullest, companies need leaders who can drive AI initiatives forward. This is where the Chief AI Officer (CAIO) comes in. We'll delve into the role of a CAIO, their skills, and why businesses should hire one.
The Future of AI and the CAIO Role.
The future of AI is incredibly bright, and the CAIO will continue to play a critical role in leading and driving practical AI adoption. As AI continues to emerge as a core technology in every industry, businesses will become even more reliant on CAIOs to ensure their AI strategy aligns with their business goals.
As AI systems become further integrated into everyday business processes, CAIOs will monitor AI solutions for errors, helping organizations stay ahead of emerging AI trends and continuously evaluate the latest emerging technologies.
The Rise of Chief AI Officers (CAIOs): What You Need to Know.
Artificial Intelligence (AI) is rapidly changing the way companies do business. From customer service to financial analysis, AI improves processes, reduces operational costs, and increases efficiency.
As a result, companies are now recognizing the need for a Chief AI Officer (CAIO) to lead their AI strategies. We'll explore what a CAIO is, their role within a company, and why they are becoming increasingly valuable.
Best Practices for Chief AI Officer (CAIO).
Job Description of CAIO
A Chief AI Officer is responsible for developing and managing AI strategies and exploring ways to innovate products and services, develop new AI capabilities, and ensure efficient and effective delivery.
A CAIO must be well-versed in AI technologies, data science, machine learning, and related fields. The position also requires strong leadership, strategic planning, and business knowledge.
Advantages of Having a CAIO
A dedicated CAIO can help businesses leverage AI effectively to enhance their growth strategies and deliver successful outcomes. The CAIO provides companies with a unique perspective and experience to plan and implement AI strategies that can drive business benefits.
They can effectively manage, facilitate and foster the integration of AI technologies and identify new opportunities to enhance the customer experience and optimize operations.
CAIOs as a Catalyst for Innovation
In today's business world, innovation is critical to stay ahead of the competition. CAIOs can help companies unlock new business opportunities using machine learning, predictive analytics, and big data.
They can collaborate with teams and departments across the organization to identify innovative uses of AI, creating insights into new products, services, or business models for their companies.
The Road Ahead for CAIOs
The increasing importance of AI in driving business growth and innovation is expected to result in more demands for CAIO positions in the coming years. Companies will require talented and experienced professionals who can go AI strategies across the organization and make critical decisions for the future.
The role of the CAIO will be crucial in ensuring the effective and efficient use of AI is embedded throughout the business. With AI becoming central to business strategy, CAIOs will become more critical than ever to an organization's success.
What are the Benefits of Having a CAIO?
Having a CAIO can provide several benefits to businesses, including:
Improved AI capabilities:
By having a CAIO, businesses can develop and implement AI strategies that align with their business objectives and deliver measurable results.
Compliance with regulations and ethical standards:
A CAIO can ensure that AI-enabled systems and tools comply with ethical standards and regulations, reducing the risk of legal and reputational issues.
Competitive advantage:
By improving their AI capabilities, businesses can stay competitive in the marketplace and differentiate themselves from competitors.
Innovation:
A CAIO can foster a culture of innovation and excellence, driving the development of new AI-enabled products and services.
Conclusion:
The role of the CAIO is gradually gaining importance in the business world due to AI's increasing use and impact.
The CAIO can help a company integrate and optimize AI use throughout the organization. Their expertise can help the organization to achieve breakthrough growth, innovation, and cost savings.
As AI continues to transform businesses, we expect the CAIO position to grow in importance, and any business that wants to stay ahead of the competition should be looking towards investing in this position.