Chief Strategy Officer: Benefits of having a Chief Strategy Officer on staff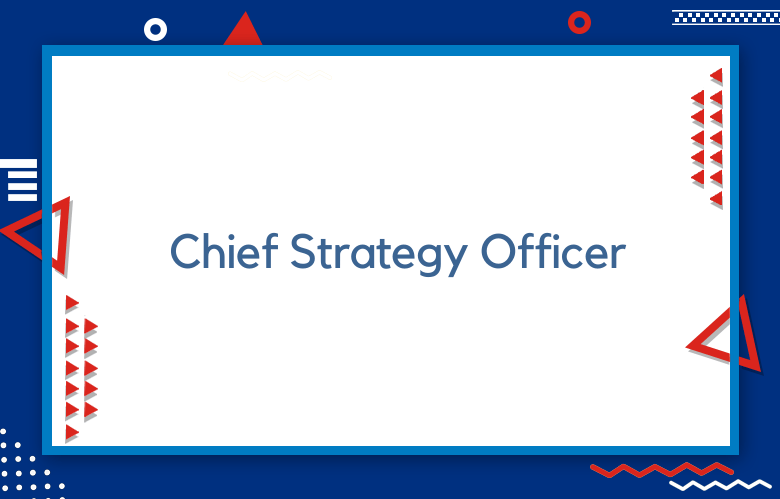 Do you have a strategic mindset? Do you understand the value of innovation and creativity in business? Would you like to take your career to the next level with an opportunity that will utilize both your skills and passions? If so, then become a Chief Strategy Officer.
Are you a C-level executive who is looking to take on a new role? Maybe you're going back to school and want to pursue a marketing degree. Or perhaps your current company isn't the right fit for where you want your career to go.
Whatever it is, there are many reasons why someone would be interested in becoming a chief strategy officer. But what does this job entail? That's what I'm here for! Read on as I tell you everything about the top strategy officer position so that you can decide whether or not it's right for you!
Many people have a misconception that the Chief Strategy Officer is just a figurehead. In reality, they are an integral part of the company and play a significant role in strategic decision-making. They also guide other employees on how to make decisions based on their expertise.
What is Chief Strategy Officer (CSO)?
"Chief Strategy Officer (CSO) is one of the top positions in a company. As the head of strategic planning, it falls to them to plan for future growth and revenue streams."
CSO is the executive who oversees all aspects of an organization's strategy. This person ensures the company makes changes to stay relevant in a rapidly changing market.
The Chief Strategy Officer is a member of the top management team responsible for developing and communicating the organization's long-term vision, mission, and values.
The Chief Strategy Officer is the head of a company's strategic planning. They are in charge of designing the plan that will guide the business, innovate their products and services, manage their budgets, and improve overall performance.
A Chief Strategy Officer is a high-level executive responsible for developing and implementing a company's strategic plan.
The qualities of an effective Chief Strategy Officer
Must have good strategic thinking skills
Must be able to work with a variety of people and organizations
Must be able to identify, evaluate, and prioritize business opportunities for the company
Ability to make decisions quickly when needed
Ability to think strategically
Strong analytical skills
Excellent communication skills
Good organizational skills
Ability to work across teams and departments
Must have a strong understanding of the company's business model
Must be able to anticipate and solve problems before they occur
The ability to see trends in the market and predict future developments is key
Must have good communication skills, both verbally and written
Understands the company's vision and mission
Keeps up with industry trends to stay relevant
Communicates effectively, both verbally and in writing
Sets goals for the company, as well as individual employees
Is a team player who is committed to collaboration
Understands the company's culture and values
Knows how to create a vision for the future of the company
Has an understanding of what is going on in the industry
Can articulate a clear strategy that aligns with both short-term and long-term goals
Communicates effectively, including with stakeholders inside and outside the organization
Benefits of having a Chief Strategy Officer on staff
A Chief Strategy Officer can help your company grow
They are experts in strategy and will be able to help you make the right decisions
The CEO doesn't have to worry about strategic planning because they are focusing on other aspects of the business, like operations and finance
A Chief Strategy Officer can help your company stay ahead of the curve
The CSO can act as a liaison between different departments within the organization, helping to increase communication and productivity
The CSO can improve organizational efficiency by making sure that all departments are working together towards the same goal
A Chief Strategy Officer will help you think about your business's long-term goals
They can provide a fresh perspective on the company and its customers
They'll be able to identify risks that could threaten the company's success
CSOs can also map out possible solutions for those risks—and what it would cost to implement them
A Chief Strategy Officer can develop strategies for the company
The strategy officer will make sure the company is always looking ahead to stay competitive in their industry
They can help with branding and marketing, which are crucial in today's world of business
They have a degree in organizational behavior or finance, so they know what it takes to be successful
A chief strategy officer can help you find new ways to grow your company
They can identify and evaluate opportunities for growth, as well as develop a plan to reach those goals
A CSO will be able to take on some of the responsibilities of other executives to free up their time so they can focus on what's most important
A CSO is an expert in assessing trends and identifying future risks or opportunities
What is the Chief Strategy Officer's role in an organization?
The Chief Strategy Officer oversees the company's strategic planning
They are responsible for setting goals and developing a plan to reach those goals
They typically work with senior management, including the CEO, CFO, and other executives
The CSO is tasked with developing and implementing an organization's strategy
They are responsible for the company's vision, culture, and values
They also serve as a liaison between employees and management
Developing and executing the organization's strategy
Leading the strategic planning process
Working with senior management to ensure that their strategy is aligned with organizational objectives
Defining, communicating, and monitoring performance against agreed-upon goals
Developing the company's long-term strategy
Leading and overseeing day-to-day operations
Ensuring that all aspects of the business are aligned with the company's strategic plan
Overseeing and implementing changes to ensure alignment with company goals and objectives
The CSO is responsible for the company's long-term vision and strategic direction.
They are also involved in developing a company's business strategy, including setting goals and objectives.
The CSO oversees the organization's risk management process to avoid problems that could lead to significant losses or opportunities that could create significant gains.
The responsibilities of a Chief Strategy Officer
Develop a company's strategy
Provide leadership and direction to other employees
Communicate with stakeholders, including investors, customers, suppliers, and partners
Manage the company's finances
Develop strategic goals for the company
Work closely with other executives to create a cohesive vision and strategy.
Identify new opportunities, monitor trends in the marketplace, and provide feedback on potential threats or opportunities.
Create an annual business plan that aligns with the company's vision and strategy
Communicate plans to stakeholders internally as well as externally
The Chief Strategy Officer is responsible for managing the company's long-term strategy
They are responsible for making sure that the company has a plan to grow and develop in a way that ensures it stays relevant and competitive
They have to be able to work with the CEO, CFO, and other executives of the company
They need strong leadership skills so they can lead their team effectively
Ensure that the company is meeting its goals
Develop and implement long-term strategies for the organization
Lead a team of strategists to develop and execute strategic initiatives
Collaborate with other executive teams and key stakeholders to ensure alignment with corporate strategy
Identify ways to improve performance, efficiency, and value creation
Develops the company's long-term strategy
Oversees financial, operational, and human resource management
Sets the direction for all business functions at a company or organization
Works with senior-level executives to provide strategic advice on significant issues.
Conclusion
We all know that marketing is a critical part of the business. But many small businesses don't have the resources to hire an in-house Marketing Manager, and they may not even be aware of how much they need one! A Chief Strategy Officer can fill this gap by overseeing your entire digital strategy (including SEO) and providing research on what campaigns work best for you or your customers.
If you want someone with expertise who can help turn your website traffic into sales, contact me today to discuss my services for managing outbound efforts like advertising and content marketing.
As you see, there are several benefits to having a Chief Strategy Officer on staff. Having someone who is solely focused on analyzing your company's marketing strategy and advising the CEO or General Manager may be just what you need to take your business to the next level. If this sounds like something that would benefit your organization, contact me for more information about how I can help implement these changes in our Marketing department.