Competitor SEO Audit: How to Beat Your Competitors by Competitor Analysis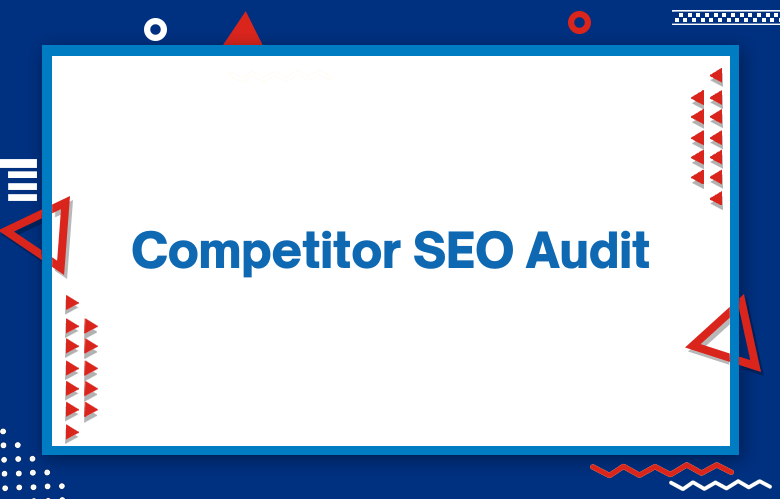 Competitor SEO Audit: SEO is a competitive game. You're not just competing against other websites in your niche but the best SEO professionals out there. To become top of your competition and rank higher than them, you need to know what they do and how they use their marketing strategy to beat you at your own game. This post will let you know how to do competitor analysis to build an effective SEO strategy for yourself and win the war!
Do you want to challenge your competitors with SEO? Looking for a way to get ahead of your competition? If you're not employing competitor analysis in your marketing strategy, you could miss out on significant opportunities.
This post will discuss using competitor analysis as an SEO strategy and why it's essential.
We'll also offer tips for finding the right companies to analyze. Something valuable can be learned from studying them through SEO, whether they are direct or indirect competitors.
What is Competitor SEO Audit?
Competitor SEO Audit is a tool that helps you find your competitors' keywords and content. It provides keyword ideas for PPC campaigns, identifying which of their products are most popular, and finding new ways to expand your business.
It's a comprehensive checklist of things you can do to improve your SEO.
Competitor SEO Audit is a tool that helps you find your competitor's backlinks.
With Competitor SEO Audit, you can see the keywords your competitors are ranking for. This tool will let you know which pages get more links and social shares if they type better than you. This way, if there's
Why SEO Competitor Analysis is Important
Before understanding why SEO competitor analysis is essential, let's first look at some of the most popular search engines and their market share.
You should always check out your competitors' actions, like looking in the mirror. If they're successful and you aren't, then it might be because of their actions.
SEO competitor analysis is extremely important for any business that wants to succeed. This article will show you how to analyze your competitors and achieve success through SEO.
An SEO competitor analysis is essential to determine your weaknesses and strengths. It would help if you did this as a way of becoming more competitive in the market, but also so that you can learn from your competitors' methods for achieving their higher rankings.
You may wonder how to compete with your competitors. While it's impossible to know every action they're taking, conducting SEO competitor analysis can help you find insights into the work that goes into their campaigns.
How to Do an SEO Competitive Analysis
Make a list of your top competitors. Then, search for their most shared content. This enables you to see what works best for them.
A competitive analysis is a great way to see how your website ranks against others in the same niche. It also helps you increase traffic as well as sales.
There are lots of reasons why doing a competitive analysis is essential. For one, it can help you determine what your competitors are up to!
How to Identify Your Competitors
Your competitors are the people you will compete against on this topic. Identifying your competitors can help you determine where you stand with them and what else you require to get ahead.
You can find your competitors by searching on Google or Facebook.
One way to identify your competitors is by using an Internet search engine. You can make use of tools such as SpyFu.
The first step is to check your Google Analytics. You'll want to see where visitors are coming from to understand who your competitors are. If you don't know what this means, read up on the basics of digital marketing.
You can identify your competitors in a few ways. First, ask yourself who you have to beat. Make a list of the top ten people or businesses in your market.
How to do Competitor Keyword Analysis
At the heart of successful SEO is analyzing your competitors. You can never have too much information about what's working for them and ensure you're not missing out on opportunities. To do this, we'll be using SEMRush.
"A great way to understand your competitors is to analyze competitor keywords. It's simple, and you can use it with any business."
Start by doing a Google search for "competitor keyword analysis." As you read through the results, please consider how each company approaches its competitor research.
Competitor keyword analysis measures a website's traffic for specific keywords and then uses this data to find profitable keywords to target.
How to do Competitor Backlink Analysis
You can find backlinks using Majestic, Ahrefs, or Open Site Explorer.
Backlink analysis is an essential first step in understanding your website's health.
One of the trending factors of SEO is link building. When done correctly, you'll get a considerable ranking boost in Google.
How to do Competitor Content Analysis
There are two main methods of competitor content analysis. The first is to go through the website or app and note down all the features you will include in your site/app, then compare it with your competitors.
One way to improve your content is by analyzing your competitors' writing. This will give you an idea of how they position themselves and what their target audience wants.
The first step is to visit your competitor's site. Once there, click on the menu bar and select "About Us." This opens a page with its mission statement and different pictures and videos of its staff members.
How to do Competitor User Experience Analysis
There are many different ways to analyze competitor user experience. The first step is to find a few competitors that offer the same product or service you do (if you can't find any, try doing competitor analysis on other industries.)
Understanding the user experience of your competitors is essential for staying ahead of them.
The first step is to visit your competitor's website. You can find a list of competitors in the business directory. Once there, you should record all the actions required for a user to complete a task.
There are many reasons to perform competitor UX analysis. You can learn from other sites, discover new competitors you didn't know, and plan your features for the future.
How to do Competitor Social Media & Customer Interaction Analysis
First, you must find your competitors' social media pages and decide which interests you most. Then, follow their accounts or subscribe to their feeds.
I recommend doing competitor social media & customer interaction analysis because it helps you understand your competitors better and increases the chances of success. It's also an excellent way to learn what other businesses are doing well or poorly by paying attention.
Crafting competitive intelligence is a multi-step process. First, you must set up the right metrics and analytics for competitors on social networks like Facebook, Twitter, Instagram, and Pinterest. Second, use these insights to make strategic decisions about how you can expand.
Beat Your Competitors by Competitor Analysis of Their Best Content
You want to beat your competitors by figuring out what their best content is and how much traffic they get.
Do you want to beat your competitors? Use competitor analysis of their best content to determine what they're doing well and then do better!
Use a content marketing strategy to beat your competitors and develop a competitive edge.
Competitors' Digital Marketing Opportunities Audit
The Competitors Digital Marketing Opportunities Audit to understand how you are doing against your competitors in digital marketing.
A competitor's digital marketing opportunities audit will help learn how to expand its business. A more complex website can generate more leads and sales than a simpler one.
Best Practices for Competitor SEO Audit
Find your competitor's website.
Look for duplicate content or outdated information on the site
Check out the backlink profile of the site to see where they rank in search engines
Analyze how many social media followers they have and if their posts are optimized to be seen by a larger audience
Determine whether or not you're able to compete with them
Identify the top 10-20 competitors
Analyze their SEO strategy and tactics, including what they do and do not do well.
Find out how much traffic each competitor is getting from organic search
Research keywords for which your competitors are ranking in the top 5 positions
Create a list of on-page SEO best practices to implement
Check out their content and find their keywords
Research the competition's backlinks, social media presence, and Google rankings.
Analyze what is working for them regarding SEO and adjust your strategy accordingly.
Please perform a search for your competitors to find their sites
Review the competitor's site and see what is similar and different from your own
Click on any links that are not on the homepage to see where they lead you
Create an Excel spreadsheet of keywords, domains, URLs, and notes
Know the competition
Analyze site content and navigation
Find keywords and phrases to target
Check for broken links or pages that have been removed from the website
Run a backlink audit to see who is linking to your competitor's site
Competitor SEO Audit & Reporting
A competitor SEO Audit & Report is critical to any successful SEO campaign. Ensuring that you can understand your competition and their strategies will directly correlate with the success of your website, which in turn can help drive traffic to your site.
Find out how your competitors are getting ahead, and learn the best tactics to use in SEO. We'll investigate everything from the structure of their website to their backlink profile.
We can offer more comprehensive competitor SEO audits and reports than any competitor.
Conclusion
We discussed some ways you could use competitor analysis to beat your competitors. You learned to identify and assess website weaknesses and strengths and see where they overlap. We also walked through a step-by-step process that will help you better understand what's working for them so you can avoid making the same mistakes.
Finally, we shared our best tips on leveraging social media data in Google Analytics to get an accurate picture of your competition's traffic sources with just one click. If all these steps sound overwhelming or you need help executing any of them, please get in touch with me directly for a Competitor SEO Audit."
If you've read this far, it's probably clear that competitor analysis is essential to your marketing strategy. But how do you find out what the competition is up to? We can help with a Competitor SEO Audit!
This audit will provide you with actionable insights about where and how competitors rank for keywords in their industry, along with links to organic traffic data, so you know who they're taking business from. Contact us today if it sounds like something that could be valuable for your company or website!