CRM Glossary: Customer Relationship Management Terms & Definitions You Need to Know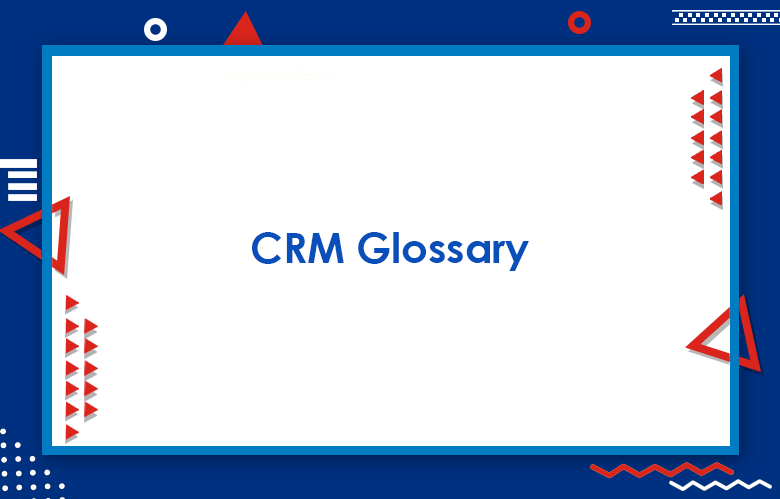 CRM Glossary: The secret behind every successful business marketing and sales is maintaining a constant consumer relationship. Customer Relationship Management describes the management of their company's interactions and relationships with their potential customers. Most commonly, CRM is used to refer to manage, track, schedule business interactions with such clients.
These CRM Glossary terms help to understand the technical features related to your business processing. Let's take a moment to go back to the essential CRM Glossary rounded up customer relationship terms.
To be successful as a small business owner, you need to understand customer data and analyze it to improve your sales and profitability.
CRM allows you to truly connect with your customers and monitor their behavior to inform business decisions.
Knowing the answers to these questions can help you make smart decisions about how your company's CRM system should evolve and which features are most important in providing you with the right information for your business.
Knowing your business goals and how you will achieve them will allow you to decide on the types of features that are most important for your company's success.
The customer relationship management (CRM) industry is a multi-billion dollar industry in the United States alone. It's growing rapidly as a result of technological advances and attacks on traditional sales channels.
What is customer relationship management?
1. It's how businesses make sure their customers are happy and return to buy more
2. It's using the right tools to grow your business and reach your customers when they are ready to buy
Why you need a CRM
1. For engaged customers
2. For loyal customers
3. For pushing back against competitors
4. For task automation
Why CRM is crucial for small businesses
1. It's a more scalable and trackable marketing strategy
2. It creates more goodwill in your community
3. It allows you to get more leads from existing customers
4. It builds better relationships with your existing customers
5. It's the best way to create loyal customers
5 easy ways to improve your customer relationship management
1. Go beyond scope
2. Get continuous feedback
3. Show your appreciation when it's due
4. Engage with them personally
5. Measure everything you do
Why does customer relationship management matter?
1. Better Experiences
2. An overwhelming amount of data
3. Happy employees
4. Mint-Fresh Customers
What if I told you that you could reach your customers better?
1. Use a CRM to track everything
2. Use a review request email that gets read
3. Use the data to adapt and create better customer experiences
4. Use a friendly call-to-action on the email
Your biggest mistakes in customer relationship
1. Not getting your email list ready.
2. Sending out mass emails to everyone.
3. Not segmenting your list.
4. Using salesy top of the funnel marketing
5. Spending too much time with low priority customers
CRM Glossary: Customer Relationship Management Terms & Definitions You Need to Know
360-degree customer view
Account
Account Management software
Account Settings
Accounts
Actions
Active Currency
Activities
Ad Hoc Reporting
Administrator
Analytics
API
AppExchange
Approval Process
Artificial Intelligence (AI)
Assignment Rule
Audit Log
Auth token
Auto Number Field
Auto Responder
Automation
Autonumber field
Auto-responder
B.A.N.T.
Best Time to Contact
Blueprint
Business Card View
Business Hours
Business intelligence (BI)
C.H.A.M.P.
Campaign
Campaign management
Campaigns
Canvas View
Case escalation rules
Cases
Channels
Closed Sale
Cloud CRM
Cloud- or web-based
CommandCenter
Common Operations
Community
Company Details
Compliance Settings
Configure/ Price/ Quote (CPQ)
Connections
Consulting Partner
Contact
Contact database
Contact management
Contact role
Contact Roles
Contacts
Contract Management
Converted Lead
Co-owner
Copy Customization
Create Record Action
Criteria Pattern
CRM
CRM Analytical Reporting
CRM Database
CRM Software
CRM Variables
CSV file
Custom code
Custom fields
Custom links
Custom modules
Customer data
Customer Experience (CX)
Customer Experience Management (CXM / CEM)
Customer Journey
Customer Profile
Customer Self Service (CSS)
Customer Service and Support Automation (CSS or CS&S)
Customer service management
Customer Success Management
Customer valuation
Customization
Dashboards
Data Enrichment
Data Privacy
Data protection
Data sharing rules
Dead Lead
Deals
Demand Generation
Developer Space
Differential Discount
Edition
Email Notification
Email response management
Email templates
Enterprise Edition
Escalations
Exchange Rates
Export
Feeds
Feeds Slider
Field
Field properties
Field Update
Field-level security
First Touch
Fiscal year
Flat discount
Forecast
Formula fields
Functions
Funnel Velocity
Gamescope
GDPR Compliance
Hierarchy Preference
Home Currency
Hot Leads
Image Validation
IMAP
Import
Inactive Currency
Indemnify and hold
Inside Sales
Instant Actions
Integration
Intellectual property rights
Invoice
Java SDKs
Junk Lead
Kanban View
Knowledge Base
Last Touch
Lead
Lead conversion
Lead Conversion Process
Lead Conversion Rate
Lead Generation
Lead Management
Lead management/nurturing
Lead Qualification
Leads
Lead-to-Cash
Line Items
Linear
List View
Machine Learning
Macro
Macro Suggestion
Marketing Attribution
Marketing Automation
Marketing Funnel
Marketing-Accepted Lead (MAL)
Marketing-Qualified Lead (MQL)
Marketplace
Matrix Report
Mobile SDKs
Module Views
Module-level security
Modules
Multiple Currencies
Multi-select Field
My Jobs
Natural Language Processing (NLP)
Navigation
Node JS SDKs
Object
Online Calendar
On-Premise CRM
On-premises
Opportunity
Opportunity Management
Opportunity stage
Page layout
Partners
Personal Field
Personal Settings
Picklist field
Pipeline
Pipeline Management
Pipeline stages
Pipelines
POP
Portals
Power Dialer
Prediction
Predictive Analytics
Price Book
Probability
Process Management
Products
Professional Edition
Profiles
Project Management
Prospects
Purchase Order
Python SDKs
Quota
Quote
Quote Management
Raw Leads
Recent Items
Recommendation
Record
Record Owner
Record-level sharing
Recurring event
Related List
Relationship Intelligence
Relationship management
Remarket Lead
Remove Sample Data
Reorder level
Reporting Hierarchy
Reports
Review Process
RFM
Roles
Ruby SDKs
Rule
Salesforce automation
Salesforce Automation (SFA)
Salesforce management
Sales Funnel
Sales optimization
Sales Order
Sales Performance Management (SPM)
Sales Pipeline
Sales Pipeline Management
Sales Quota
Sales Stage
Sales team
Sales Velocity
Sales-Accepted Lead (SAL)
SalesInbox
SalesIQ
Sales-Qualified Lead (SQL)
Sales-Ready Lead (SRL)
SalesSignals
Sandbox
Scheduled Actions
Schedules
Scoring rules
SDK
Sections
Segmentation
Self Service Portal (SSP)
Server Side SDKs
Shift Hours
Social integration
Software as a service (SaaS)
Solutions
Special fields
Stage Probability Mapping
Standard fields
States
Super Admin
Super Administrator
Suspects
Tags
Task
Tasks
Telephony
Territory Management
Third-party integration
Time Decay Attribution Model
Transactional Reporting
Transition
Translations
User
User content
User interface (UI)
User role
U-Shape Attribution Model
vCards/VCF file
Vendors
Views
Visits
Voice of the Customer (VoC)
Warm Leads
Web Form
Web Form A/B Testing
Web Form Analytics
Webhooks
Widgets
Wizards
Workflow
Workflow alerts
Workflow automation
Workflow rules
Workflow Suggestion
W-Shape Attribution Model
Customer Relationship Management (CRM) is a term used in the field of Customer Relationship Management. CRM is award-winning, cloud-based software that helps retail buyers and sellers conduct sales and relationships through an integrated platform.
No matter if you're managing customers, employees, vendors, or just a list of contacts; you can be more productive and efficient with our powerful tools.
Chatbots can automate customer service tasks and improve customer engagement with your business. Chatbots can also help you build an effective customer relationship management (CRM) system.
Chatbot users will act as a third-party customer to your company and can be used to access critical account demographic information like profile picture, location information, and purchase history.
As chatbot technology matures, it will be used for similar tasks as human customers – such as answering customer questions, creating personalized messages, and serving as a point of contact.
Customer Relationship Management (CRM) is a business intelligence software solution that allows you to manage and control your customer relationships in real-time.
Leveraging intelligence from your customer's profiles, CRM allows you to send personalized communications, respond to inquiries and act on behalf of your customers with consistency and efficiency.
CRM is used by over 80% of companies with 18% of organizations saying that they use it to help improve customer satisfaction.
Conclusion:
A significant customer relationship is only possible when you are aware of technical terminally related to your business. Within the above Elements, everyone can track other things pertinent to your content management and advising regarding Portfolios, New Business, and more!