Customer Data Platform Glossary: CDP Key Terms & Definitions You Need to Know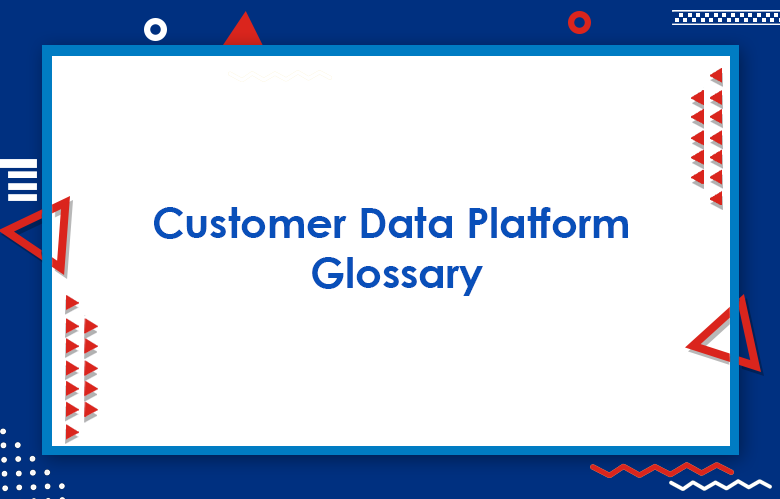 Customer Data Platform Glossary: Customer data still seems to be a headache for businesses and marketers. The customer data platform that can let you know the customer experience over your business brand.
Now each customer has a unique opinion while purchasing the products or services in the market. Also, the customers are not just buying the products or services, and they do complete research on what they are buying. Moreover, the number of brands in the market is giving great competition in satisfying customer requirements.
When one can't run the strategic marketing methods to reach the target customers, then it is necessary to concentrate on customer data platforms which can let the businesses find what the customers are looking for.
Most of the enterprises are collecting customer data insights and establishing successful MarTech. How's it happening? We've listed the customer data platform glossary terms that can let you reach your target customers.
Step 1
Create Your Customer Data Platform (CDP)
Step 2
Destinationize Your Customer Data Platform (CDP)
Step 3
Enrich Your Customer Data Platform (CDP)
Step 4
Optimize Your Customer Data Platform (CDP)
All you need to know about the Customer Data Platform
1. It is a tool meant for advertisers
2. Why should you use it?
3. How will it benefit you?
4. The benefits are significant!
Use a customer data platform to get all your client data in one place
1. A data platform gives you all this data in real-time
2. A great platform knows how to filter, organize, and visualize your data
How AI is shaping the future of CRM
1. Learn about what a Customer Data Platform is
2. The benefits of a CDP for your business
3. Make your business smarter
Ever wondered how you can use your Instagram data in more ways?
1. Get some customer data on your business
2. Identify all your potential customers
3. Use that list to create a custom marketing funnel.
If you want to grow your business faster, use this secret tool.
1. ABC is a customer data platform that helps to gather and harness data from anywhere
2. Find the best leads for your business
3. Identify marketing opportunities that would skyrocket the growth of your business
4. Work with professionals to increase your organic reach by 40% in 3 months
5. Use Marketo's cURL program
Why you need a customer data platform
1. It helps you gain important cross-platform insights
2. It uses tactics that are relevant to your business goals
3. It will help you better understand your customers
4. It allows you to connect your CRM and all channels in one place
5. It provides competitive analysis insights and tools so you can beat your competitors
Is your business looking to work with a Customer Data Platform?
The best Customer Data Platform + Marketing Automation System for small and midsized businesses.
Consolidate your customer, user, and post-sale data into one marketplace that allows you to change the way you interact with them.
1) Know what your audience wants when they want it
2) Deliver relevant content and track engagement in real-time
3) Use data for cost per acquisition segmentation (where you
Let's discover why customer data platforms are the future of marketing
1. Staying current in your craft is cheaper than you think
2. CDPs save money and time for marketers across every department
3. The new digital infrastructure will stabilize the economics of social media
4. Social media is too big to stay small
Why you should use a CDP
1. It helps analyze your marketing data
2. Eliminates repetitive work
3. Makes optimization easy and fast
4. Analyzes all your customer data in one place
5. Helps you focus on customers with the most profit potential
How to empower sales and marketing teams with relevant data
1. Data is king for every industry
2. A CDP is an affordable way to solve your business data
3. Encourage collaboration between departments
4. Map out your customer's journey from prospect to customer.
5. Track everything
What if I told you you can turn your customer data into revenue?
Imagine using your customer data to grow your business with local ads.
Nice title! CDP means taking all your online customers' data, moving it into one central source, and then building marketing capabilities on top of it.
Apply to more ad platforms and takes your CRM to the next level
Reach out to brands you don't already deal with or find new customers in the remaining 70%
Give up none of your customer's data to anyone (no matter what)
Automatically update your website whenever you get a new client Identify
People don't know what CDPs are
1. Empower anyone to become a data scientist
2. Send your data to enterprise systems
3. Protect the privacy of sensitive data
4. Share insights with your analysts
CTA: Like and comment on our post for more info!
3. Giveaway a product/service
Customer Data Platform Glossary
Ad exchange
Activity Feed
Ad fraud
Ad server
Ad targeting
Addressability
Addressable TV
Advanced TV
Analytics
API
Approve & Publish Access
Attribution modeling
Audience
Audience content recognition (ACR)
Audience suppression
Audience targeting
Behavior
Big data
Browser Property
Campaign
Campaign Rule
Check-In
Closed-loop analysis
Closed Loop Offer
Confused
Connected TV (CTV)
Cookies
Cross-channel/multichannel marketing
Cross-device marketing
Customer
Customer Frequency
Customer ID code
Customer Monetary Spend
Customer Profile
Customer Recency
Customer Status
Data ethics
Data hygiene
Data integration
Data Management Platform (DMP)
Data matching
Data onboarding
Data privacy
Data quality
Data-driven marketer
Demand-Side Platform (DSP)
Digital Property
Digital Video
Dynamic creative
EEEEK!
Email Service Provider (ESP)
Event
Event Stream
Execution
External Message
Extract, transform, and load (ETL)
First-party data
Geofence
Graphic Display
Identity Resolution
Inbox Message
Linear TV
Look-alike modeling
Loyalty Points
Marketing measurement
Marketing stack
Match rates
Messaging Campaign
Mix optimization
Mobile Property
Module
Multichannel video programming distributors
Native advertising
Offer
Offline attribution
Offline data
Omnichannel marketing
One-to-one marketing
Online data
Outcome
Over-the-top video (OTT)
People-based marketing
Personalization
Personally identifiable information
Platform Administrator
Platform User
Premium publisher
Programmatic advertising
Promo Code
Promotion Campaign
Push Notification
Read & Write Access
Read Access
Real-time bidding (RTB)
Recognition
Retargeting
Reward
Reward Store
RFM
Second-party data
Secure
Segmentation
Self-service
SMP
Social data
Tag
Tag management
Target
Targeted Advertising
Targeting
Test Device
Test Persona
Third-party data
Tier
Upfronts
Victim
Video
Yield optimization
Conclusion:
The customer data platforms are the process of combining the data by using different tools, especially in creating the database of the customers. By using that data, the businesses can categorize the customer data into different forms through which they launch effective marketing ad campaigns that help in improving the ROI of the business brand. One should need to understand the terms that can only help in evaluating customer preferences.