Data Analytics Trends to follow in 2023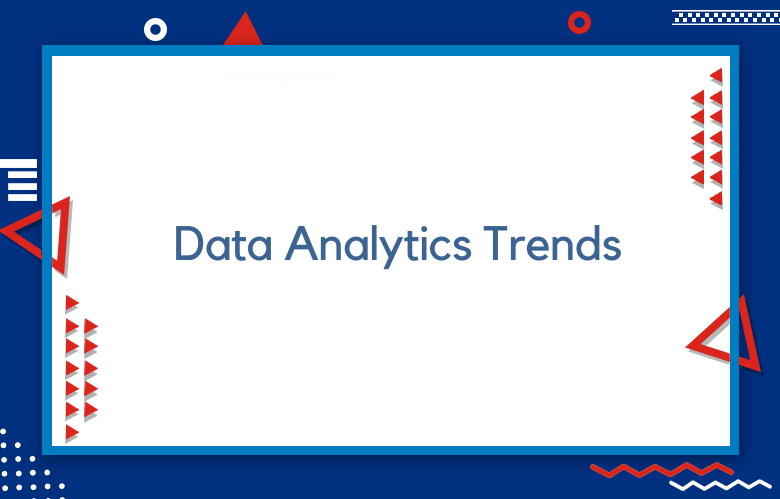 Data analytics is rapidly changing and evolving. As we move into 2022, specific trends will emerge and dominate the field. We will explore some of the top data analytics trends to watch for in the coming year. So, what are these trends? Let's take a closer look!
The world of data analytics is evolving every day. Businesses are looking for new and innovative ways to collect and analyze data to make better decisions. Here are three trends that will dominate the field of data analytics in 2022.
Data Analytics Trends to follow in 2023
Predictive analytics will become even more popular. Predictive analytics uses historical data to predict future events or trends. This technology can improve decision-making in various areas, such as business strategy, product development, and marketing.
The use of artificial intelligence (AI) will increase. AI involves using computers to perform tasks that usually require human intelligence, such as understanding natural language and recognizing objects.
The use of "intelligent" sensors to collect data from the environment
Connected devices that can communicate with each other and analyze information for you
Artificial intelligence embedded in systems, including robots, drones, and autonomous vehicles
More advanced processing power – computers will be able to process more data at a faster rate than ever before
Data as a service will be more accessible to small business owners
There will be a rise in data-driven decision making due to the increased use of AI and machine learning
The internet of things (IoT) will create new opportunities for data collection
A greater focus on privacy and security of user data
Data will be collected and analyzed by sensors in the environment, not just humans
Machine learning will replace most human-driven data analysis
The rise of intelligent agents to help us find and analyze data for ourselves
The rise of the data scientist
Data science in healthcare
The power of predictive analytics and AI to transform customer experience and marketing
Consumerization of big data and analytics in enterprises
Data analytics will be used in more industries
Businesses will use data analytics to predict customer behavior and needs
More companies will start using data analysis for marketing purposes, including email campaigns and social media ads
Companies without a data analyst on staff will outsource their work to third-party providers
Data will be more accessible
Data security will become a major concern
Machine learning algorithms will analyze the data, giving human analysts better insights into trends.
Data-driven decision-making is a trend that will continue to grow in the next five years.
The use of big data and predictive analytics will be key to the success
Artificial intelligence will become more prevalent, with chatbots being commonplace
In 2022, we can expect increased automation in customer service interactions
Data will be collected from a wider range of sources, including IoT devices and sensors
The number of data points collected per person will increase exponentially
Companies will use predictive analytics to make decisions for their customers before they even know what they want or need
Artificial intelligence (AI) systems will become more prevalent in the workplace as well as in consumer technology
AI systems could eventually replace human workers
The number of data points will continue to increase exponentially
Data scientists will become more specialized in their field, and the demand for them will be high
Artificial intelligence (AI) is predicted to advance at an exponential rate as well
Big data projects are expected to be completed much quicker than before
The use of AI to analyze data will grow
Data security breaches will increase, but so will the awareness of them and the ability to combat them.
For example, big data analytics projects are becoming more common- they're often used in marketing campaigns.
More people than ever before using their devices as tools for analyzing data.
Data will be collected from more sources than ever before
The "data of things" will lead to a new generation of analytics
Organizations will work hard to protect their data and privacy rights
Individuals' personal information will be used for marketing purposes, but they'll have the ability to opt out at any time
The rise of Artificial Intelligence and Machine Learning
Big Data, the new currency for businesses
Hacking will be a major concern as more data is stored in cloud-based systems.
New technologies such as blockchain will disrupt industries and redefine relationships between consumers and organizations.
Data is more critical than ever
Analytics will be used to make decisions in all aspects of life
More data on individuals will be collected, increasing the need for privacy protection
The amount of data generated by IoT devices will continue to grow exponentially
Data storage costs are decreasing while processing power is increasing
Data will be used for more than just marketing
There will be an increase in machine learning to make better decisions.
Artificial intelligence will be able to predict consumer behavior
Personalized shopping experiences are going to grow exponentially
Data will be used to predict outcomes- for example, the likelihood of someone becoming a customer
More people will have access to data and analytics tools because they are cheaper and more user-friendly
Data scientists will continue to be in high demand
Artificial intelligence (AI) is expected to become more sophisticated as it takes on more tasks that humans once did
Data will be the most valuable commodity in 2022
There will be more data than ever before, coming from all different sources.
The IoT (Internet of Things) is expanding exponentially, with millions of devices generating data 24/7
Data analysis tools are improving – for example, machine learning algorithms can now extract insights from unstructured data like emails or chat messages.
Data-driven decision-making will become the norm.
AI will be used to optimize decision-making processes
The cloud will continue to grow in importance as a data storage platform
Blockchain technology will evolve and transform into new industries, including healthcare
Data is the new oil
The demand for data-driven decision-making will continue to grow, and organizations will need to find ways to increase their data analytics capabilities.
Organizations will be increasingly challenged by a skills gap in this area of expertise and may need to consider training or outsourcing staff with these skillsets.
Artificial intelligence (AI) and machine learning (ML) are increasingly used as part of the data analytics process, which has implications for how we think about privacy protection, security, ethics, and bias.
The rise of predictive analytics and machine learning will continue to disrupt industries.
Privacy concerns will grow exponentially as more data is collected in various formats, from wearables to smart homes.
Companies that have a strong cybersecurity stance will better protect themselves against cyberattacks.
Data will be used to make decisions in every industry, from finance to healthcare.
Artificial intelligence will transform the way we work and live
Companies that don't use data analytics will fail
Technology-driven companies with a strong culture of innovation and creativity will thrive.
Conclusion
Data analytics is one of the fastest evolving fields in marketing and will continue to be so. In 2022, we'll see more data-driven decision-making that moves beyond customer analysis into other verticals such as product development and sales forecasting.
Three major trends have driven this evolution:
Data democratization,
Big Data explosion, and
Increased analytical innovation.
If you want a head start with this trend but don't know where to turn for help, contact us for Marketing Consulting services today!