Enterprise SEO Strategies to Look Out in 2023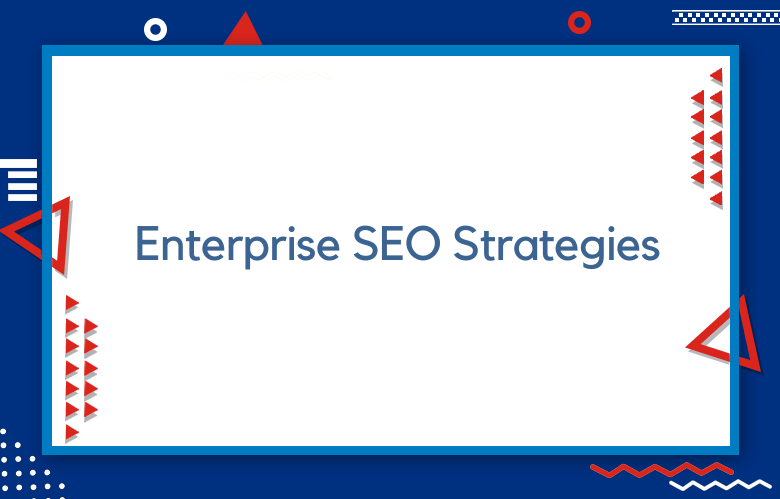 Search engine optimization is a field that is constantly evolving. What works today may not work tomorrow. In this blog post, we'll discuss three of them. Remember that these are just general guidelines – your business will likely require different tactics. But if you want to stay ahead of the curve, read on!
Enterprise SEO Strategies to Look Out for in 2023
Enterprise SEO strategies should be accommodating of the extensive data ecosystem.
Search engines will have more power and more impact on search engine optimization. Search engines—such as Google, Bing, Yahoo!, and others—will use different signals beyond keyword searches and links to give search users more relevant and quality search results.
Every business will have a strategic web presence with a marketing strategy that ties into its business strategy.
Customers will return to brands they trust, buy more, and spend more money and time interacting with them. Enterprise SEO will also change. The findings show that 47 percent of companies will outsource search engine optimization to outside providers.
Companies will employ various tactics to gain customer traction, including search engine optimization, social marketing and search advertising, signature content, viral marketing, and mobile marketing/optimization. Those who strongly emphasize innovation and articulate an innovative ideology may be best positioned to dominate the future.
Enterprise SEO Strategies will become one of the significant aspects of business strategy development, focused on building and earning more traffic, leads, sales, and ROI through relevant, visible, and targeted content.
SEO campaigns will be increasingly valuable to enterprises. SEO experts will become more critical to enterprises and more sophisticated in their knowledge of what it takes to work on an enterprise level.
Enterprise SEO Strategies will be very integrated with Web Content Management. Companies will need to know their products and services and their business goals.
Enterprise SEO Strategies will be a part of a firm's digital marketing strategy. Online marketing teams will practice it. Online marketing analytics tools will measure it. And it will be supported by back-end online marketing technologies, including infrastructure and website technologies.
Businesses will need to pay more attention to their search engine optimization (SEO) strategy on a trim level.
Enterprise SEO Strategies aim to find and publish Enterprise resource planning (ERP), Customer Relationship Management (CRM), Human Resource Information Systems (HRIS), enterprise data warehouse, enterprise artificial intelligence, and business reporting solutions, which are obscured by enterprise cloud computing.
Enterprise SEO strategies will focus on large databases, high volumes of data, and stream-based structures. Most enterprises will have hundreds of separate, stand-alone systems. These enterprises will realize that they must rethink their information technology infrastructures, processes, and digital marketing methods. These are the critical drivers of SEO in the future.
Enterprise SEO Strategies will be a service and a process that allows companies to outsource, manage and measure their inbound marketing.
Enterprise search engine optimization strategies will focus on deeper site indexing, advanced search capabilities, structured content, user customization, and integration with the enterprise's other business intelligence systems.
Businesses will not just pay for perceived improvements in rankings and traffic but measurable improvements in customer behavior: visitors turning into buyers, buyers spending more money, buyers returning to the site more frequently, and buyers recommending the company to their friends and colleagues.
Enterprise SEO Strategies will be developed to focus on the audience first rather than just keyword optimization. The business will have a firm grasp on which metrics are vital and will be tracking them regularly.
Enterprise SEO will be a part of a more significant focus on content creation, social media, Web optimization, and overall marketing strategies.
It will be a war of the websites. It will become increasingly important to control corporate websites to highlight their strengths. This will be done through great content, proper keyword use, and SEO strategies investment.
The web will seem to have disappeared, with searches taking place on kiosks (or in the cloud), voice-activated search engines, and head-mounted displays. The online and offline worlds will blend.
Google will continue to optimize search and digital ads. With Google constantly tweaking its domain and content-dominance algorithms, companies must stay on top of the latest SEO strategies and best practices to ensure their website is visible and mature and compete with giant players like Amazon online.
Organizations will use big data to determine the decision-makers on a project and ensure they access the best information. They will use enterprise social networks to leverage their professional communities' experience, expertise, and intelligence.
Enterprise SEO Strategies promises to be more closely aligned with IT and Marketing. With technology advancements, enterprises will work with vendors and develop their internal capabilities – including technology and people – to lower costs, increase effectiveness and improve the delivery of Enterprise SEO strategies.
The discipline of Enterprise SEO will be more embedded into the firm's development process. It will include building "machine learning" and "Artificial Intelligence" capabilities into corporate search tools so that databases, spreadsheets, and other applications can generate their searchable content, providing an embedded source of the search for all employees within a company.
Digital strategies will merge with traditional marketing strategies and integrated media plans.
Digital assistants will be more integrated into our lives, and SEOs will need to optimize
The rise of smart cities means that "smart" SEO tactics like local search rankings will become increasingly important.
It's not just about the number of keywords you're targeting anymore- it's also about relevance, so focus on long-tail keywords rather than short ones.
AI is becoming a significant part of creating content, so ensure your content is optimized for machine learning algorithms.
The importance of SEO will continue to grow as more and more people use the internet.
Mobile-friendly websites will be critical in 2023 as mobile usage increases globally.
As voice search becomes increasingly popular, businesses must ensure their site is optimized for voice commands.
Artificial intelligence will play a more significant role in the future of SEO, with algorithms getting more intelligent and innovative.
SEO will be more and more personalized – Website owners can use tools like Optimize for Google to find out what keywords their customers use, which pages those customers visit most often, and how long they stay on the site.
Mobile-friendly websites will become a requirement.
The internet is becoming increasingly cluttered with misinformation as people game search engine algorithms.
Artificial intelligence will have a significant impact on SEO in 2023
Focus on high-quality content that is relevant to your target audience
Create a mobile-friendly site
Use social media channels to increase awareness of your brand and products
Invest in quality SEO services
Increased investment in enterprise SEO by organizations
The rise in the number of businesses that employ a chief marketing officer (CMO) with an emphasis on digital marketing strategy
A continued rise in the importance of social media as a primary channel for advertising across all industries
Mobile SEO will be even more critical in 2023
The importance of content will continue to grow
More companies will use video for their SEO strategy, especially since it's easier than ever and the ROI is so high.
Voice search will become more popular, so voice SEO strategies should be a priority for many businesses.
Be transparent about what you do and why
Monitor the competition to stay ahead of them
Ensure your content is up-to-date, relevant, and engaging to all users.
The SEO landscape will continue to shift with the introduction of new algorithms.
You must be aware of any changes made by Google, Yahoo, Bing, and other search engines.
Continually monitor your website's performance to ensure it meets all standards set by search engines.
Update your site content regularly and include keywords in titles and headings throughout the page.
Use links strategically- internal links can help improve rankings, while external links can boost traffic.
Focus on your customers and their needs
Stay up to date with the latest SEO trends
Keep your content fresh, relevant, and engaging
Create a blog that is optimized for search engines
Use social media channels to share information about your business
SEO will be about the customer's experience and not just keywords
Companies will need to invest in UX professionals to improve their site navigation and design
There will be a shift from keyword-based optimization to content and social media marketing and increased podcasts, videos, and infographics.
Enterprises will seek not to present a website on their domain simply but to understand how their brand is perceived and how searchers interact with that brand in search results, how they intend to interact, and what channel.
Enterprises will focus on individual user experience and use targeted search engine marketing for each user.
Company websites will be organized and formatted according to search engine ranking algorithms. The site will connect seamlessly to other company sites – or businesses with which it does business – for data sharing and cross-site search engine indexing.
The critical skill for a successful Webmaster is understanding consumer behavior, said White. "SEO is always about trying to figure out what people think about the Internet, search engines, and the product you are promoting," he said. "One of the most important things Webmasters need to understand is that people search for reviews, not for sites. People use search engines to find reviews of products they want to purchase or services they may want to use."
Conclusion
It would be best if you had a sound digital marketing strategy regardless of the company's size or industry. In 2023, the SEO landscape will look very different, so companies must change their system accordingly. Reach us today if you would like help incorporating any one (or more) of these trends into your current plan!