Political Campaign Videos: How to Influence Your Audience using Video Advertising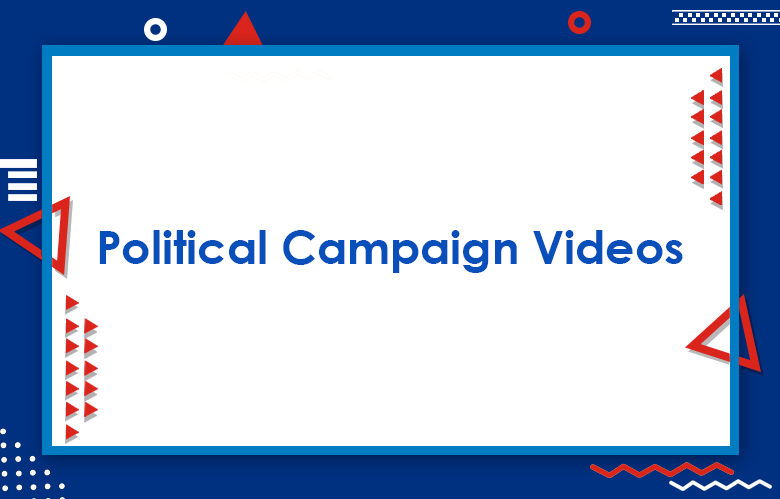 Political Campaign Videos: Video marketing and political campaigning go hand in hand. They complement each other in some of the most powerful ways. Videos are some of the most effective media tools to influence and convince voters of your cause.
What Can Video Advertising Accomplish in Politics?
Not only does it improve web traffic, but it also enhances lead generation.
In addition to this, videos promote awareness on an extensive scale.
Testimonials and loyal voter banks are gathered mainly due to good video marketing.
Political Campaign Videos.
Statistics say a lot. According to SocialMediaToday, 80% of all consumer internet traffic is associated with video advertising. Those consumers can just as quickly be voters.
Basics of Video Marketing for Politicians
You're going to tell the world a story, and you're going to do it using facts and truths to help your campaign succeed.
Elections are all about working toward a single goal, which is why each party involved has a slogan that best captures what they promise to bring to their office if or when elected.
Your video content should slightly elaborately reflect these promises and messages so everyone gets details instead of generic chatter.
While a strategy is essential, the tremendous visual direction is just as crucial to 'selling' your image and ideas, especially about political matters.
Every politician, though they are striving to attain higher office, should be relatable to ordinary people. Video marketing makes this relatability possible, but only if done right.
Inspire your target audience in every video you make. You need to evoke feelings (emotion, sentiment) and instill messages, not just share lackluster debates that most people will not view in full.
Be transparent at all times. Hiding information to suit your goals is not a healthy long-term strategy.
What do you bring to the table? What are your strengths? What is your expertise in this or that political matter? Include these and more in your video adverts.
A political candidate's website, social media accounts, blogs, and email marketing strategies should all have a video advertising option/angle if their campaign is to make serious progress in the real world. People are more inclined to watch and interact with video content than written content.
Importance of Social Media for Video Posting
This is precisely where you have decided to post/upload your videos.
Social media should be your number one decision.
Everyone is on there, and people can interact instantly with your video and its message.
Anyone who likes what they see will readily share your video, veritably spreading the word about your campaign without even being paid or asked to do so
Social media posting is, therefore, a powerful and must-consider option for all your video ad posts for politicians.
Recommendations: YouTube, Facebook, Instagram, Twitter.
Potential voters will more easily stay in touch with all your future adverts on social media than any other online portal. Social platforms are the fastest way to spread the word, and for political candidates, they become the most valuable field to gain voter trust and ensure that you win all the good votes in your favor.
Know Your People
The rule of thumb is never to try to get everybody to your side of the political ring.
Target and focus your video adverts around select denominations of people
You can create multiple videos that concentrate exclusively on this or that racial type.
Your aim is not to 'catch them all' (pardon the Pokémon term) but to convince all the right people.
All political campaign staff should research where their target audience is online at different times.
The next logical step is to get to them in a language they will understand. Communication is vital to the voting public.
What issues and challenges do the viewers face,e and how best can you help them with them? Offer promises you can hold, and follow through on if/when you attain office.
Going viral should never be the aim, as tempting as that may sound. You must work on quality video content that people will approve and discuss online. This is how you gradually build your image instead of going viral overnight and being forgotten the following day or week.
Call-To-Action
A clever call to action, or CTA, accompanies every online marketing tool.
It's pretty simple. After all the talks, inspiration, messages, and ideas shared via your videos, you give people a chance to respond definitively.
Call to action can be anything from requests to stay in touch online to leave comments and opinions on what they thought about your video advert content.
This is a decisive move to get voters involved in your campaign, i.e., meaningful engagement.
Calls to action often come at the tail end of videos. The logic is that viewers who saw the video through to the future are thet likely to want to be part of your political campaign.
Suggest other videos that they may be interested in. Use good visuals and graphics that inspire them to click and visit.
Provide links that direct interested viewers to your website and other political campaign pages.
Suggest sundry alternative content associated with the core of your video advertisement.
Ask if they would like to connect/subscribe with/to your other social media profiles and accounts.
These are ways to make people respond, interact, and support you in your electoral campaign.
Conclusion
The power of video advertisements for political campaigning purposes is more than crucial; it is imperative. Any politician worth their salt will hold high the importance of an excellent public image. Emphasize the word 'public' because your video advert content should be people-centric.
This means targeting the right audiences, ensuring you get your messages across, communicating openly and transparently, and providing all your voters (potential and otherwise) with calls to action. No video ad for politics should be posted or uploaded that does not cover all these basics and then some.
Click here for